ABC Finance is not a direct lender, but a credit broker capable of finding business loans and commercial mortgage deals that may be inaccessible to a company that searches for funding directly – but does it have good reviews?
While this means that you will need to deal with a third party in your search for financial assistance, and pay an addition broker fee, working alongside ABC Finance could provide opportunities and connections that would otherwise be out of reach, especially if your business has a less-than-perfect credit score.
Just be aware that ABC Finance typically deals with larger, lump sum lending to be repaid over a longer term, not short-term cash flow advances. You will likely need to borrow a large amount to make this arrangement fiscally prudent for your business.
ABC Finance business loans and finance
Pros and cons of ABC Finance for business loans
| Pros | Cons |
| --- | --- |
| ✓ Access to a wide array of lenders across the UK, some of which will only work with brokers | ✗ ABC Finance is a broker, not a direct lender, so the process will take slightly longer to complete |
| ✓ Bad credit does not need to be a stumbling block for a business loan or commercial mortgage application | ✗ You will not know what interest rates you will be charged or the length of repayment terms until connected with a lender |
| ✓ Cheaper rates than many rival brokers, especially on commercial mortgages | ✗ Broker fees apply and will be applied to the total amount due on a business loan |
| ✓ Very good online reviews and reputation for customer service | |
ABC Finance pros and cons
Business loans
ABC Finance enjoys access to a range of business lenders that may be willing to offer an unsecured or secured loan, on terms that suit your company best.
ABC Finance will assess your business credit profile (you will likely be asked to download a full credit report from a credit reference agency) and needs, matchmaking you with the most cost-effective lender for your needs.
This can be more successful than applying for funding directly if your needs are complex, you have limited trading history, or you have experienced credit issues in the past, as ABC Finance can access deals that are only available to brokers and understand how underwriters think, so the company will offer advice on how to negotiate potential hurdles.
Commercial mortgages
Mortgages of all kinds, including commercial mortgages, bridging loans secured against a property, and development finance, are a speciality of ABC Finance. As with business loans, ABC Finance will not finance your business directly, but will arrange for lending from a provider that may only agree to work with professional finance brokers.
This can unlock a range of deals that are otherwise unavailable to your company, especially if you are a start-up with limited trading history or have a poor credit history. Interest rates and eligibility will vary depending on the lender that you agree to work with.
Asset finance
Not a direct speciality of ABC Finance, but it's worth discussing your needs with this broker as they may be able to connect you with a suitable lender. If you prefer to apply directly to a lender, see best asset finance.
Business vehicle finance
Not a direct speciality of ABC Finance, but it's worth discussing your needs with this broker as they may be able to connect you with a suitable lender. If you prefer to apply directly to a lender, see business vehicle finance.
Invoice finance
While this broker can connect you with a business willing to help you, it will be much faster to apply directly as invoice financing is usually comparatively straightforward. See invoice factoring.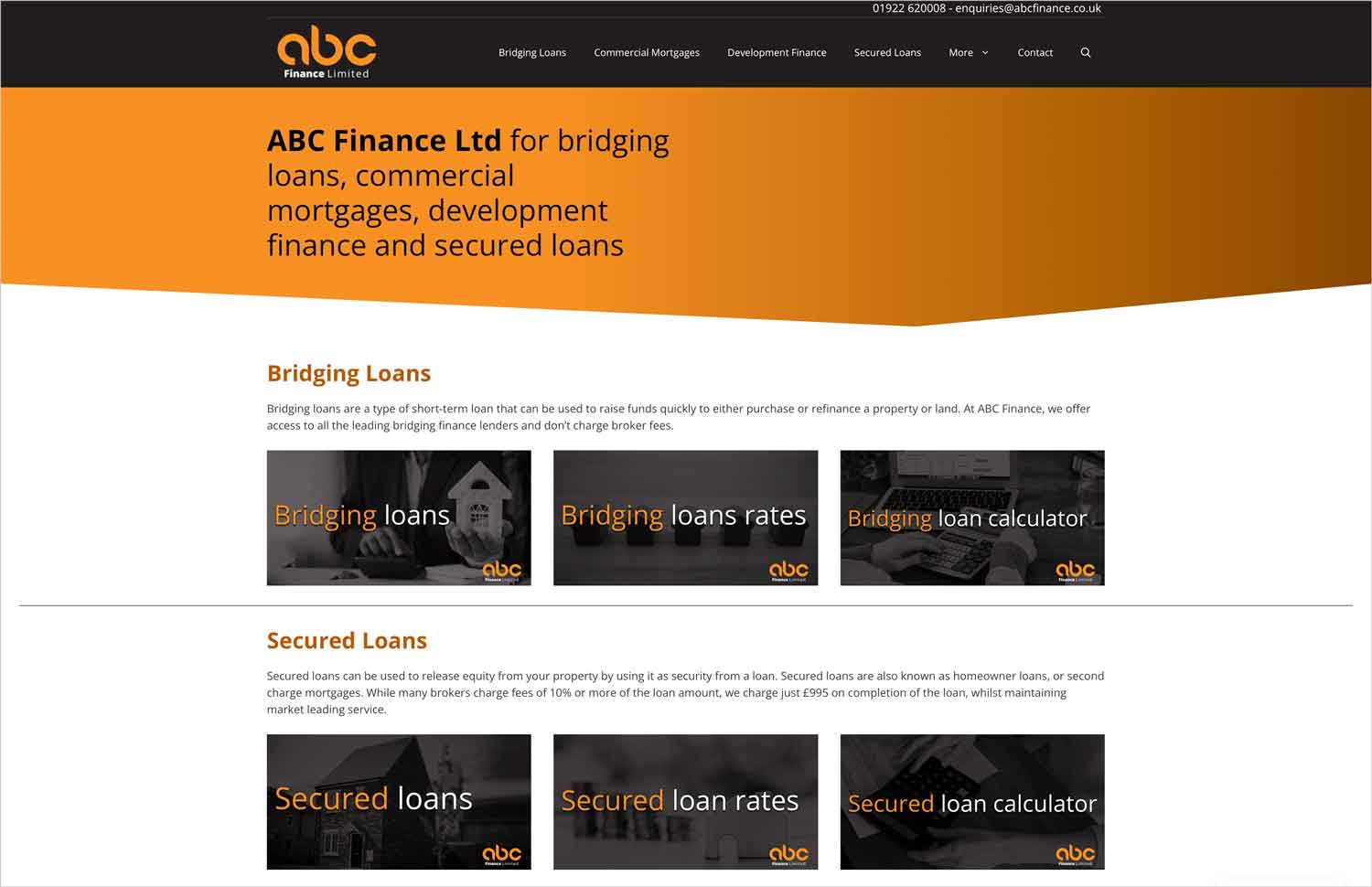 Merchant cash advance
✗ Not available from ABC Finance. See merchant cash advance.
Business credit cards
✗ Not available from ABC Finance. See business credit cards. 
ABC Finance key information
| | |
| --- | --- |
| Phone number | 01922 620008 |
| App downloads | N/A |
| Website | www.abcfinance.co.uk |
| Number of branches | N/A |
| FSCS protected? | No |
| Founded | 2000 |
Key information
ABC Finance reviews
| Review platform | Score | Number of votes |
| --- | --- | --- |
| TrustPilot | 4.6/5 | 32 |
| Feefo | Not reviewed | N/A |
| Reviews.io | 4.9/5 | 54 |
| Smart Money People | Not reviewed | N/A |
| Which? | Not reviewed | N/A |
| Average score | 4.75/5 | 86 total votes |
ABC Finance reviews and ratings
Business eligibility criteria
ABC Finance was willing to discuss any kind of funding need, but as this is a broker rather than a direct lender, the criteria required to qualify for lending depends on whoever is providing the money.
ABC Finance will ask a range of questions to determine your financial needs and, armed with this information, seek out appropriate lenders that will be willing to work with you, will acting as your point of contact throughout the application until the funds reach your account.
Business finance alternatives
As ABC Finance is a broker rather than a lender, you may wish to look for a direct supplier of business loans.
Additional considerations
While our focus here has been on business loans, ABC Finance can provide a wide array of lending opportunities. Contact the business if you are looking for a cash injection to see how they can help, especially if you have been declined by other lenders.
FAQ
How do I apply for an ABC Finance business loan?
The process begins with a phone call to ABC Finance, or by leaving your details on a website contact form and requesting a callback. From here, ABC Finance will discuss your situation and locate lenders that are willing to work with you.
Will ABC Finance work with me if I have bad credit?
Bad credit may prevent you from accessing direct funds from many lenders, but ABC Finance has a wide reach and may be able to find a supplier willing to work with clients that have bad credit, especially on a secured funding basis.
How much will my business be able to borrow through ABC Finance?
Once ABC Finance understands how much you are looking to borrow, they will work to pair you with a lender that is willing to meet your needs. Most unsecured loans will be capped at around £25,000, but secured borrowing can run into eight figures if you are eligible. If your precise request is not achievable, ABC Finance will discuss alternatives that are within your reach.
How long does it take to get funding through ABC Finance?
This really depends on the lender that you work with, but working with a broker will invariably take longer than borrowing directly as there is an extra link in the chain. Thankfully, ABC Finance has a reputation for efficient and proactive communication.
How much will a business loan through ABC Finance cost?
You will need to pay ABC Finance a broker fee, in addition to the capital and interest repayments on your loan. This sum will be added to your total owed. Take this under advisement, deciding if these extra fees are cost-effective – it may be cheaper to get a loan directly from a lender if that is an option. 
Will I need to secure my lending through ABC Finance against an asset?
ABC Finance will endeavour to find unsecured business loans for your company, but if this is not an option, you may wish to consider a secured loan guaranteed against a property to gain the funding that you need. This will usually be a residential property that you own, but other assets – such as a high-value vehicle – may also be accepted.