Aldermore is a highly-regarded challenger bank that offers business customers highly competitive interest rates on savings accounts. Saving with this bank means that you can access your funds at any time, or lock your money into a fixed rate account at a higher interest rate.
Compare business bank accounts
What are you looking for?
In partnership with
Tide

Co-Op Business Banking
✓ Business Current Account
✓ Online, App & High Street Banking
✓ Quick & Easy Application Process


HSBC Business Banking
✓ Business Current Account
✓ In-Branch, Online & App Banking
✓ FSCS Protected


Metro Business Banking
✓ Business Current Account
✓ High Street Presence
✓ FSCS Protected


Mettle Business Banking
✓ Business Bank Account
✓ Online & App
✓ Quick & Easy Application Process


Monzo Business Banking
✓ Business Current Account
✓ Dedicated mobile app experience
✓ FSCS Protected


Tide Business Bank Accounts
✓ Free, Plus, or Pro Account
✓ iOS & Android Mobile App
✓ Upload & Auto-Match Receipts


Virgin Money
✓ Business M Account
✓ In-Store, Online & App Banking
✓ Insights & Forecasting Platform

This bank also works with property, providing a range of business mortgage products, and business finance lending streams to help remain on top of your cashflow. While this bank does not provide business current accounts, it still has plenty to offer many SMEs.
Aldemore business banking services
Pros and cons of Aldermore for business services
| Pros of Aldermore | Cons of Aldermore |
| --- | --- |
| ✓ Competitive interest on savings accounts | ✗ No current accounts |
| ✓ FSCS protected | ✗ Minimum deposit of £1,000 |
| ✓ Business credit available | ✗ No branch support |
Pros and cons of Aldermore business banking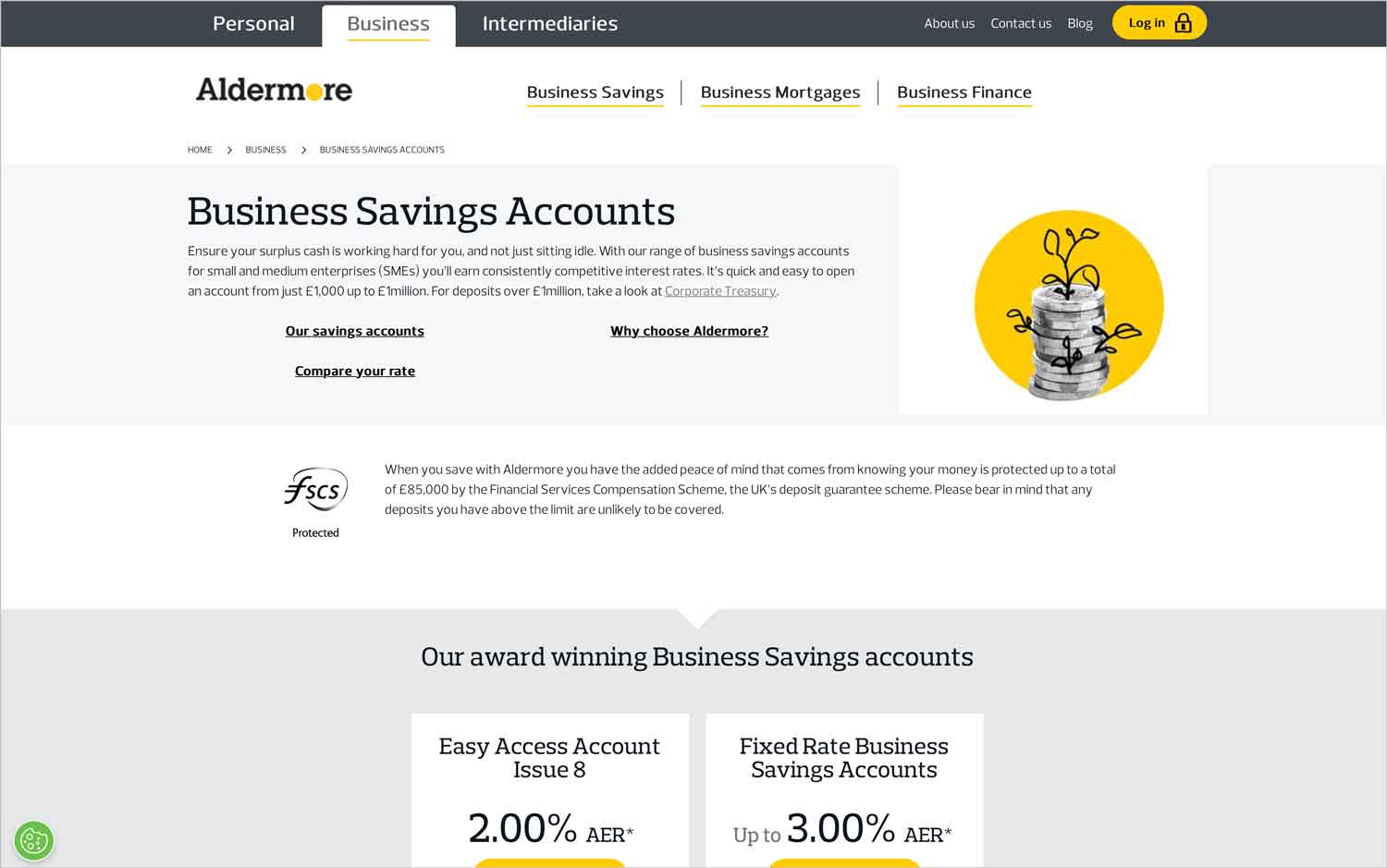 What's new with Aldermore in November 2023?
Aldermore has announced new buy to let mortgage availability. The new buy to let products are fixed at 5 years with a 5.00% product fee.
Business current accounts
✗ This bank does not offer business current accounts. This bank specialises in business savings accounts, business mortgages, and business lending.
Business overdrafts
✗ Not available through Aldemore.
Business savings accounts
Aldermore offers three types of business savings account:
​​Easy Access business savings account
This savings account has a minimum deposit sum of £1,000, and funds can be added or withdrawn at any time. Interest on his account is calculated daily, weekly, or monthly. The average interest rate on an Aldermore Easy Access account is 1.98% per month, and you can hold up to £1,000,000 in the account.
​​Fixed Rate business savings account
A Fixed Rate savings account with this bank can host between £1,000 and £1,000,000 for sox months or one year. You will not be able to withdraw the funds until this term has passed. If you choose a six-month Fixed Rate account, the interest rate has an AER of around 2.52%. For a one-year account, this increases to 3.0%.
Corporate Treasury business savings account
If you wish to hold more than £1,000,000 in an Aldermore savings account, you will need to apply for a Corporate Treasury account. These will be discussed upon application, where a bespoke interest rate and other terms and conditions will be provided.
Aldermore at a glance
| | |
| --- | --- |
| Phone number | 01733 821321 |
| App downloads | N/A – Aldermore does not have an app for business customers |
| Website | www.aldermore.co.uk/business |
| Number of branches | N/A – online only |
| FSCS protected? | Yes |
| Founded | 2009 |
Aldermore bank key information
Aldermore business loans and finance
Aldermore offers additional products alongside savings accounts:
Business finance
Aldermore offers two lending streams to business customers:
Invoice finance
This bank will loan you up to 90% of the value of an outstanding invoice and take over credit control. Once this invoice is settled, Aldermore will release the remaining amount outstanding, minus a fee for their service. See our guide to invoice factoring.
Asset finance
Aldermore will finance the purchase of expensive equipment or apparatus, or release a cash sum secured against assets that your business already owns. See our guide to asset finance.
Business mortgages
Aldermore offers three types of business mortgage lending:
Commercial mortgages
Lending of up to £25,000,000 for a mortgage on a trading premises. See commercial mortgages.
Buy-to-let mortgages
For businesses and SPVs that wish to operate a property portfolio with a maximum value of £5,000,000.
Property development finance
For developers that run larger projects.
Aldermore reviews
What are other business banking customers saying about this bank?
| Review platform | Score | Number of votes |
| --- | --- | --- |
| TrustPilot | 4.3/5 | 3,206 |
| Feefo | Not reviewed | N/A |
| Reviews.co.uk | Not reviewed | N/A |
| Smart Money People | 3.44/5 | 25 |
| Which? | Not reviewed | N/A |
| Average score | 3.87/5 | 3,301 |
Aldermore business banking reviews and ratings
Business eligibility criteria
To successfully apply for a savings account with this bank, you must be aged 18 or older, and an HMRC-registered sole trader or the director of an SME listed on Companies House. You may be asked to provide bank statements to prove your financial status, and the minimum deposit for any savings account is £1,000.
Lending will be assessed on a case-by-case basis, and a decision will be made based on your unique circumstances.
Business finance alternatives
You will struggle to find a bank that offers interest rates as competitive as those of this bank, but you may prefer to use a service that can also provide in-person support. In that instance, consider a high street building society that works with business customers.
Additional considerations
Aldermore is not just generous with their interest rates – this bank also looks after its staff well. The bank offered lower-paid staff two cost-of-living crisis bonuses in 2022, showing that this is a bank with a good social conscience.
FAQ
Is Aldermore a proper bank?
Yes, Aldermore is a fully authorised and regulated UK bank. It is also part of the Faster Payments Scheme, meaning customers can make real time payments between UK accounts and make use of the popular Direct Debits and Standing Orders services. Therefore, this company can be considered a proper bank.
How to open an Aldermore business bank account?
To open an account, you just need to fill out and submit their online application form. You will need to provide information about your business, including registration number, address and contact details. After the initial application is complete, the account approval team may ask for additional documentation such as proof of identity or proof of trading. Once approved, you can use your account as soon as the account is activated.
What are the key features of an Aldermore business bank account?
This account offer a range of banking services and features designed to help businesses manage their finances more easily and efficiently. These include:

• Top-up and withdrawal facilities
• Debit cards for business transactions
• Faster payments with no charge for transfers between accounts
• Direct Debits and Standing Orders for making regular payments
• Access to online banking portal
• Option to receive monthly statements by post or email
• UK telephone support 7 days a week
What fees does Aldermore charge?
This bank does not charge a monthly fee for using their business bank accounts. However, there are fees that may apply to certain services and transactions such as international payments, cash withdrawals and transfers. Please refer to their website for more details on their pricing structure.
What services does Aldermore offer?
This bank offers a range of banking services for businesses, including current accounts, savings accounts and loans. They also provide additional services such as Online Banking and Telephone Banking. Additionally, their business savings accounts offer competitive interest rates to help businesses save money without risking capital.
What types of payments does Aldermore accept?
Aldermore accepts payments in a range of ways, including debit and credit cards, direct debits and standing orders. They also offer international payment support for businesses that need to make overseas transactions.