Assetz Capital is a peer-to-peer lender specialising in the property market, though substantial SME loans for other purposes are also available – but does it have good reviews?
All borrowing through Assetz Capital is secured, so you'll need a property to act as a guarantee for your loan, and interest rates can vary wildly depending on which investor chooses to work with you.
If you're looking for a big-ticket cash injection or commercial property purchase, however, Assetz Capital can be one the most prominent names on your list of considerations.
Assetz Capital business loans and finance
Pros and cons of Assetz Capital for business finance
| Pros | Cons |
| --- | --- |
| ✓ Ability to borrow seven figures over as an SME loan | ✗ No access to loans below £2,000,000, with all other products related to property |
| ✓ Option to borrow anonymously, though this may limit your pool of willing investors | ✗ Lack of transparency about interest rates and fees relating to borrowing ahead of application |
| ✓ A dedicated relationship manager will be assigned to your application | ✗ Most online reviews are written by investors, so borrower feedback is limited |
Assetz Capital pros and cons
Commercial mortgages
Property finance is the primary offering of Assetz Capital, with funding provided by external investors. The following products are available through Assetz Capital:
Business mortgages
Borrow up to 70% of the value of a commercial property on a mortgage basis, typically charged at an interest rate of 4% plus cost, though this interest rate will be confirmed upon application. Assetz Capital offers a mortgage calculator that will provide an idea of how much you may be able to borrow.
Bridging finance
Borrow between £500,000 and £50,000,000 on a short-term basis to plug a gap in your finances. This loan will need to be repaid in full within 24 months at longest, so you will need to display a clear and obvious exit strategy. Interest rates are usually a little lower,m starting at 0.75%, but you'll also need to pay an arrangement fee.
Development finance
Loans between £1,000,000 and £50,000,000 are available for businesses seeking structured loans on substantial property development. Interest rates may exceed 10%, and you will be expected to settle the debt within three years.
Residential refurbishment
If you wish to convert unused business premises into a residential property that attracts rental yield or a sale, this funding choice could be for you. Borrow between £500,000 and £50,000,000, repayable for up to 24 months at interest rates that begin at 0.75%.
Buy-to-let for landlords
If your business is an SPV that offers property to private rental tenants, Assetz Capital can offer loans between £2,000,000 and £50,000,000 to help you build your portfolio. As with commercial mortgages, lending is capped at 70% of the value of the property.
Business loans
While Assetz Capital primarily works within the realm of property, SMEs looking for a cash injection over £2,000,000 can apply for a loan. Repayment terms can be set to up to 25 years, and interest rates start at 4% plus additional fees – though this will depend on your business finances and which external lenders are willing to work with you.
Asset finance
Despite the name of the business, Assetz Capital does not offer traditional asset finance products. You may be able to take out a second-charge mortgage on a commercial property and redirect these funds elsewhere, but if you are seeking a dedicated service, see our guide to the best providers of asset finance.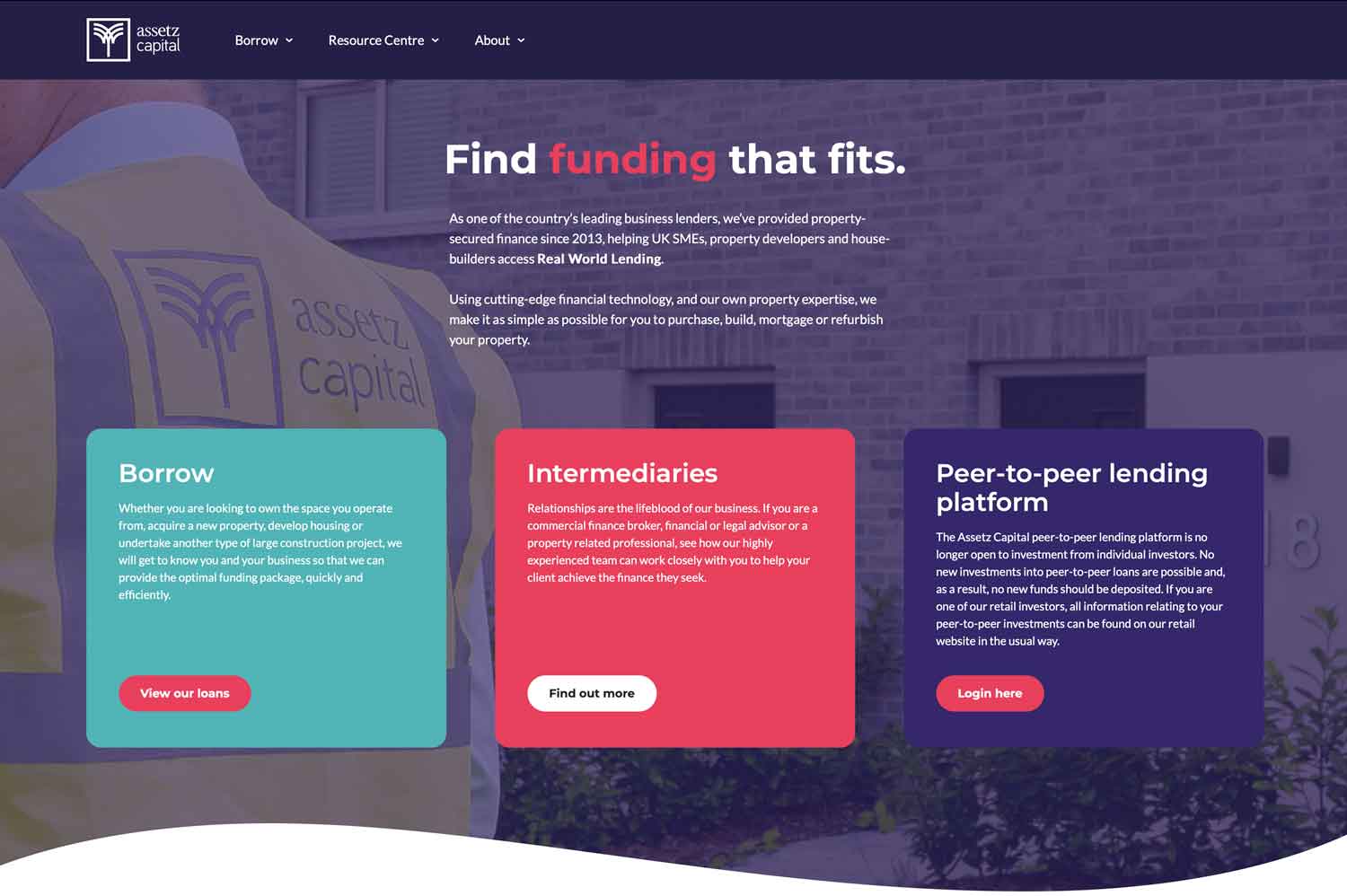 Merchant cash advance
✗ Not available through Assetz Capital. See merchant cash advance.
Invoice finance
✗ Not available through Assetz Capital. See invoice factoring.
Business vehicle finance
✗ Not available through Assetz Capital. See business vehicle finance. 
Business credit cards
✗ Not available through Assetz Capital. See best business credit cards. 
Assetz Capital key information
| | |
| --- | --- |
| Phone number | 0800 470 0430 |
| App downloads | N/A |
| Website | www.assetzcapital.co.uk |
| Number of branches | N/A |
| FSCS protected? | No |
| Founded | 2013, Manchester |
Key information
Assetz Capital reviews
| Review platform | Score | Number of votes |
| --- | --- | --- |
| TrustPilot | 3.3/5 | 1,284 |
| Feefo | Not reviewed | N/A |
| Reviews.io | Not reviewed | N/A |
| Smart Money People | 4.59/5 | 78 |
| Which? | Not reviewed | N/A |
| Average score | 3.945/5 | 1,362 |
Assetz Capital reviews and ratings
Business eligibility criteria
As Assetz Capital does not lend directly, criteria are really assigned by private investors that supply funds. As all lending is secured you'll need a property with sufficient equity to guarantee your borrowing, and given the numbers involved in SME loans, you'll also need impressive turnover to attract a financier willing to work with you.
Business finance alternatives
There are plenty of business lenders that offer smaller SME loans than Assetz Capital. If you are seeking mortgage funding, consider a building society that will work with commercial clients.
Additional considerations
Since withdrawing from the retail lending space, Assetz Capital is placing greater and greater emphasis on commercial property. Recent headlines were made through a £2,830,000 loan for a South London development. 
FAQ
How do I apply for finance from Assetz Capital?
Register with Assetz Capital online and a dedicated relationship manager will make contact with you, discussing your needs and building a credit profile that will help you find a lender. From here, it could take several weeks to receive your funds, depending on how quickly the lender releases money.
Does Assetz Capital offer any unsecured lending?
No, all loans from Assetz Capital must be secured against a property or asset of equivalent value.
How much can I borrow from Assetz Capital?
On paper, you can borrow as much as eight figures from Assetz Capital, but it really depends on the purpose of your borrowing and how much equity you may have on the asset that you use to secure your loan. 
What interest rate will Assetz Capital assign to my lending?
This depends on the lender that you decide to work with. Assetz Capital is not transparent about interest rates ahead of application for this reason.
Are there any hidden fees when borrowing from Assetz Capital?
Before signing on the dotted line and agreeing to lending from Assetz Capital, ensure you are fully aware of what fees will be involved. You may need to pay a broker fee or be charged for early repayment.
Will registering with Assetz Capital impact my credit rating?
No, Assetz Capital does not run a credit check on your business, so registering with the website will not show up on your credit report. Naturally, if you find a lender that is theoretically willing to work with you, credit checks will follow.