Bluestar Leasing is a financial broker that specialises in teaming businesses with lenders for commercial loans and asset-based lending.
This broker is most suitable for a company seeking financial assistance to complete a furnishing fit-out, raise money against existing apparatus, or invest in assets that will bolster business. Lump sum commercial loans are also available if your business has been trading for at least two years.
Bluestar Leasing business loans and finance
Pros and cons of Bluestar Leasing for business finance
| Pros | Cons |
| --- | --- |
| ✓ Wide array of asset-based lending as well as commercial loans | ✗ No online reviews, despite being in business for over 15 years |
| ✓ Reputation for accepting many loan applications | ✗ Broker fees will apply |
| ✓ Choice to purchase assets upon completion of a lease | ✗ Costs can vary, depending upon the lender Bluestar Leasing connects you with |
Bluestar Leasing pros and cons
Business loans
Bluestar Leasing offers business loans to any company that has been trading for at least two years, with lending starting at £5,000. Loans are repayable between three months and five years, and can be taken out on a secured or unsecured basis.
Asset finance
Asset finance is the speciality of Bluestar Leasing. This can take several forms, covering a wide array of industries and apparatus requirements, with lending beginning at £1,000:
Finance lease
Bluestar Leasing's most popular product, a finance lease can run for up to five years. At the end of this term, Bluestar will sell the asset to a third party.
Hire purchase
Bluestar Leasing will purchase an asset on your behalf and you will hire it for a term of up to seven years, making monthly payments. At the end of the term, you will own the asset outright.
Operating purchase
Designed for equipment that is likely to depreciate in value over time, with this drop in residual value being reflected in the payments your business will need to make. When the lease term concludes, you can hand the apparatus back to Bluestar and start a new agreement with an upgraded asset.
Refinancing
If you have existing assets in your business that carry value, release funding against this apparatus for up to five years.
Business vehicle finance
Vehicle finance is available from Bluestar Finance for a single company car or a fleet of automobiles. Bluestar Finance will not source the vehicle themselves – that responsibility belongs to you – or provide contract hire terms. The financing option can be taken out on a finance lease base, whereby you eventually return the vehicle, or you can take out a hire purchase agreement where you eventually own the asset.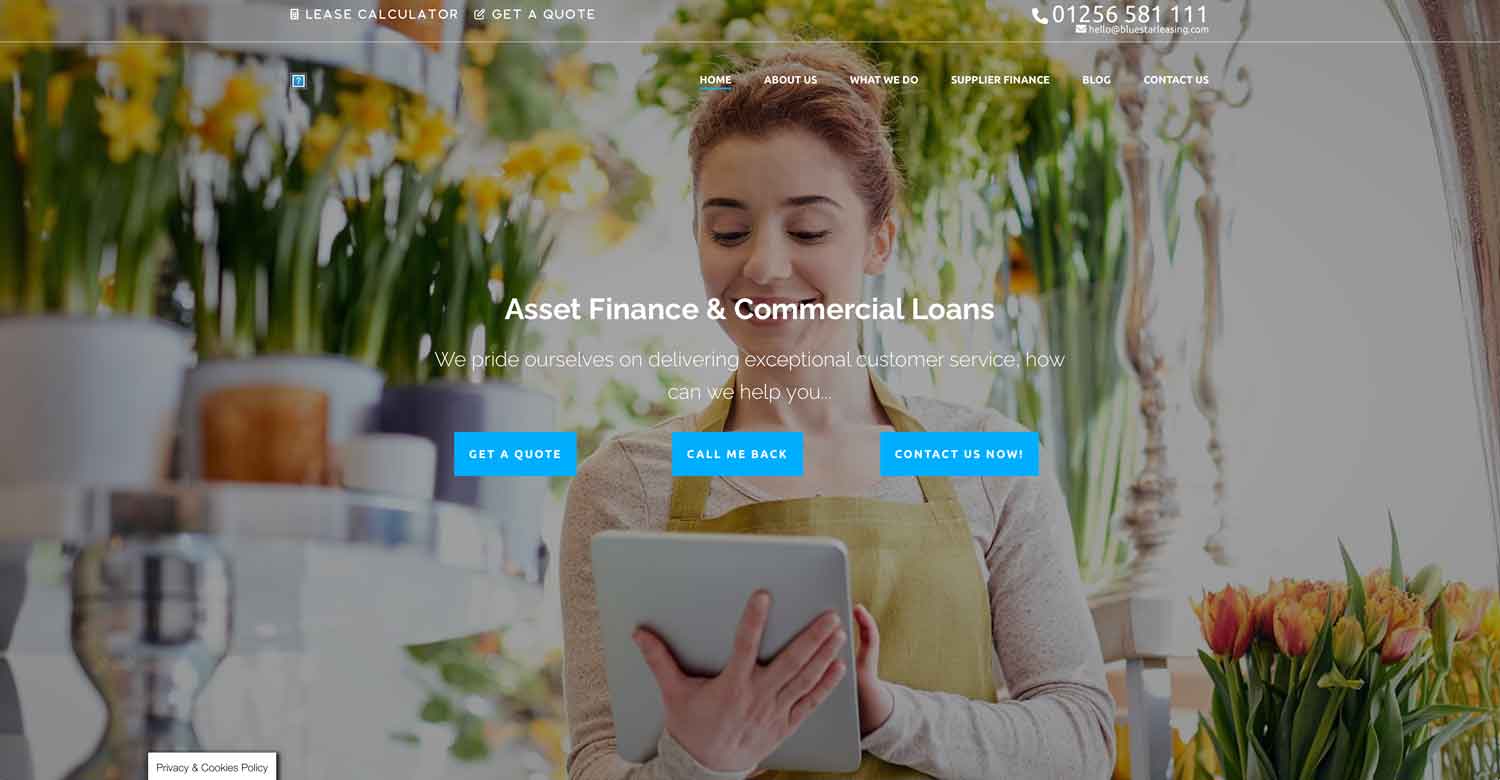 Invoice finance
✗ Not available from Bluestar. See invoice factoring. 
Merchant cash advance
✗ Not available from Bluestar. See merchant cash advance.
Business credit cards
✗ Not available from Bluestar. See business credit cards. 
Commercial mortgages
✗ Not available from Bluestar. See commercial mortgages.
Bluestar Leasing key information
| | |
| --- | --- |
| Phone number | 01256 581111 |
| App downloads | N/A |
| Website | www.bluestarleasing.com |
| Number of branches | N/A |
| FSCS protected? | No |
| Founded | 2007 |
Key information
Bluestar Leasing reviews
| Review platform | Score | Number of votes |
| --- | --- | --- |
| TrustPilot | Not reviewed | N/A |
| Feefo | Not reviewed | N/A |
| Reviews.io | Not reviewed | N/A |
| Smart Money People | Not reviewed | N/A |
| Which? | Not reviewed | N/A |
| Average score | No online reviews | 0 total votes |
Bluestar Leasing reviews and ratings
Business eligibility criteria
If you wish to take out a commercial loan through Bluestar Leasing, you will need to have been trading for a minimum of two years. Asset-based lending, especially finance leases, is available to start-ups, though monthly fees may be higher for a company with limited trading history.
Business finance alternatives
You may find it easier to obtain a commercial loan from a more traditional lender, including high street banks, if you are a start-up business. Other brokers will also offer a range of asset finance products.
Additional considerations
Bluestar Leasing is among the most flexible lenders when it comes to asset financing, working with more industries and accepting more applications than many competitors.
FAQ
How do I apply for a Bluestar Leasing business loan or asset finance?
If you are looking for a loan or asset finance, fill out a very short application form on the Bluestar website and await a callback. Bluestar will investigate your options with a range of lenders and come back to you. 
Will Bluestar Leasing work with me if I have bad credit?
Bluestar Lending are not specialists in bad credit borrowing, but they may be able to find a lender willing to work with you. When Bluestar gets in touch with you, be honest about any historical issues your business may have encountered – there is little to gain by undertaking a hard credit search that brings this to light.
How much will my business be able to borrow through Bluestar Leasing?
Bluestar Lending will theoretically consider any sum under the right circumstances, though whether your application is accepted really depends on the lender that Bluestar puts you in touch with. Remember that Bluestar is a broker, not a direct lender.
How long does it take to get funding through Bluestar Leasing?
This really depends on the lender that you work with, but working with a broker will invariably take longer than borrowing directly as there is an extra link in the chain. Thankfully, Bluestar Leasing has a reputation for efficient and proactive communication. Be clear with Bluestar if you are looking for your funding in a hurry and they will see what they can do to help.
How much will a business loan through Bluestar Leasing cost?
Interest rates on your borrowing will depend on what rates are assigned by a lender that agrees to work with you. Once you get in touch with Bluestar and explain what you are looking for, you will be provided with a range of quotes. If you decide to accept one of these, Bluestar will also add a broker fee to your borrowing.
Will I need to secure my lending through Bluestar Leasing against an asset?
Bluestar Leasing will endeavour to find unsecured business loans for your company, but if this is not an option, you may wish to consider a secured loan guaranteed against a property to gain the funding that you need. This will usually be a residential property that you own, but other assets – such as a high-value vehicle – may also be accepted.