If you are a sole trader or SME owner with a questionable credit history, it can be difficult to find a bank willing to accept your business. Cashplus is the outlier in this regard; formerly a prepaid MasterCard provider, CashPlus earned status as a bank in 2021, and does not run a credit check upon application for a business account.
Compare business bank accounts
What are you looking for?
In partnership with
Tide

Co-Op Business Banking
✓ Business Current Account
✓ Online, App & High Street Banking
✓ Quick & Easy Application Process


HSBC Business Banking
✓ Business Current Account
✓ In-Branch, Online & App Banking
✓ FSCS Protected


Metro Business Banking
✓ Business Current Account
✓ High Street Presence
✓ FSCS Protected


Mettle Business Banking
✓ Business Bank Account
✓ Online & App
✓ Quick & Easy Application Process


Monzo Business Banking
✓ Business Current Account
✓ Dedicated mobile app experience
✓ FSCS Protected


Tide Business Bank Accounts
✓ Free, Plus, or Pro Account
✓ iOS & Android Mobile App
✓ Upload & Auto-Match Receipts


Virgin Money
✓ Business M Account
✓ In-Store, Online & App Banking
✓ Insights & Forecasting Platform

It is not cheap to run a Cashplus account, but if you are willing to take a hit on fees and charges, this bank will unlock the opportunity to open a business account and even access lines of credit such as overdrafts and credit cards.
Cashplus business banking services
Pros and cons of Cashplus for business services
| Pros of Cashplus | Cons of Cashplus |
| --- | --- |
| ✓ No credit checks to open an account | ✗ £69 annual fee |
| ✓ Lending streams available | ✗ Transaction fees when you use the account |
| ✓ FSCS protected | |
| ✓ Excellent online reviews | |
Pros and Cons of Cashplus business banking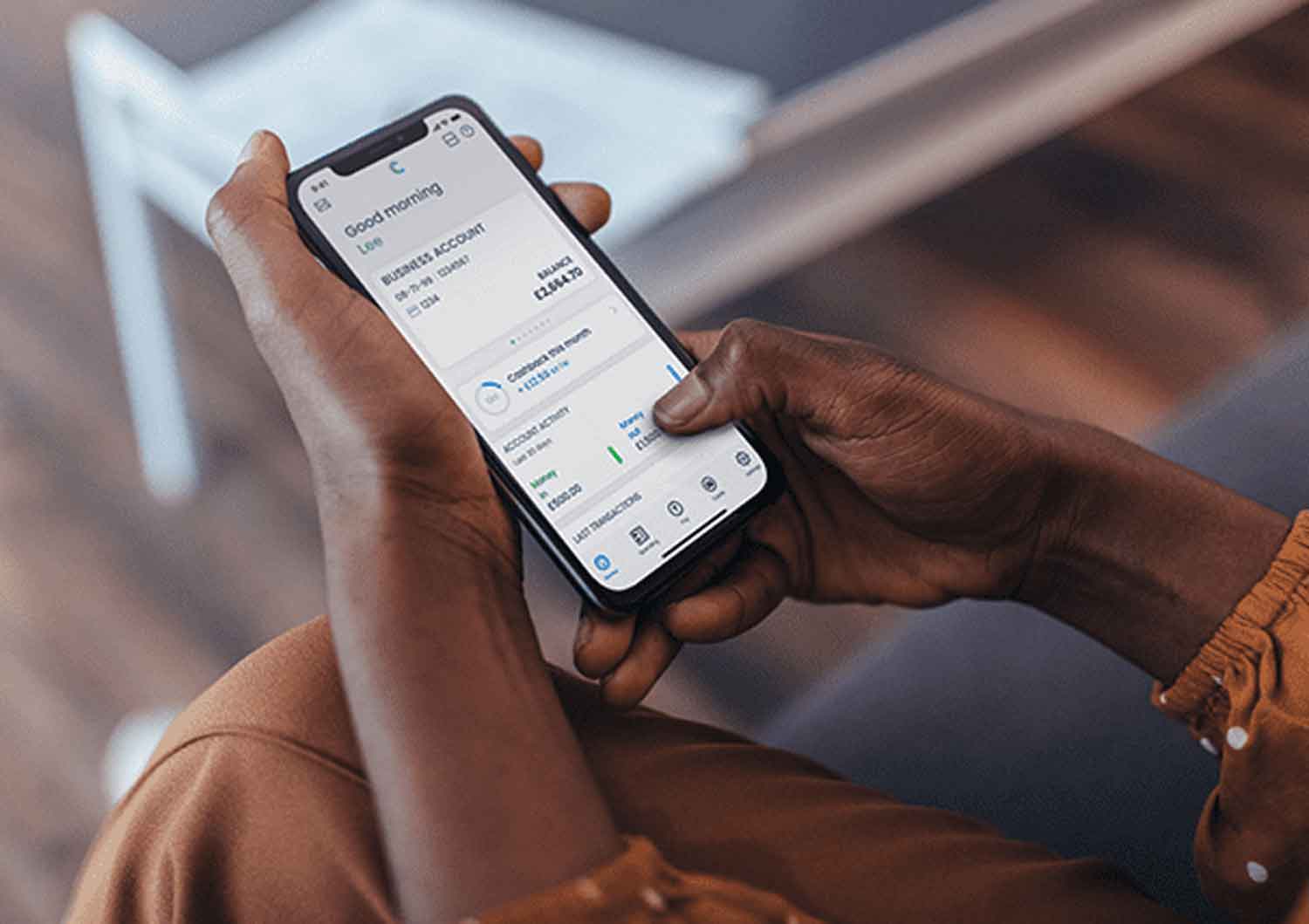 Business current accounts
Cashplus Business Go account
A Cashplus Business Go account costs £69 per year, and attracts the following transaction charges.
| Type of transaction | Fee or charge |
| --- | --- |
| MasterCard debit card | One-off fee of £9.95 |
| Debit card payments | 3 free, then 30p per transaction |
| Outgoing automated payments | 3 free, then 30p per transaction |
| ATM withdrawals | £2 per withdrawal |
Cashplus business bank account fees
Cashplus Business Extra account
For a monthly fee of £9, you can upgrade to a Cashplus Business Extra account. This increases your free monthly debit card payments and electronic transactions to 10, reduced ATM withdrawal fees to £1, provides a free debit MasterCard, and unlocks access to more Cashplus features. You will still need to pay the £69 annual fee on top of this monthly subscription.
Business overdrafts
A Cashplus business overdraft of up to £2,000 is available upon request if you pass a credit check. Use of this overdraft will be charged at an interest rate of 0.0795% per day, or an average APR of 32.4%. An annual fee will also be charged.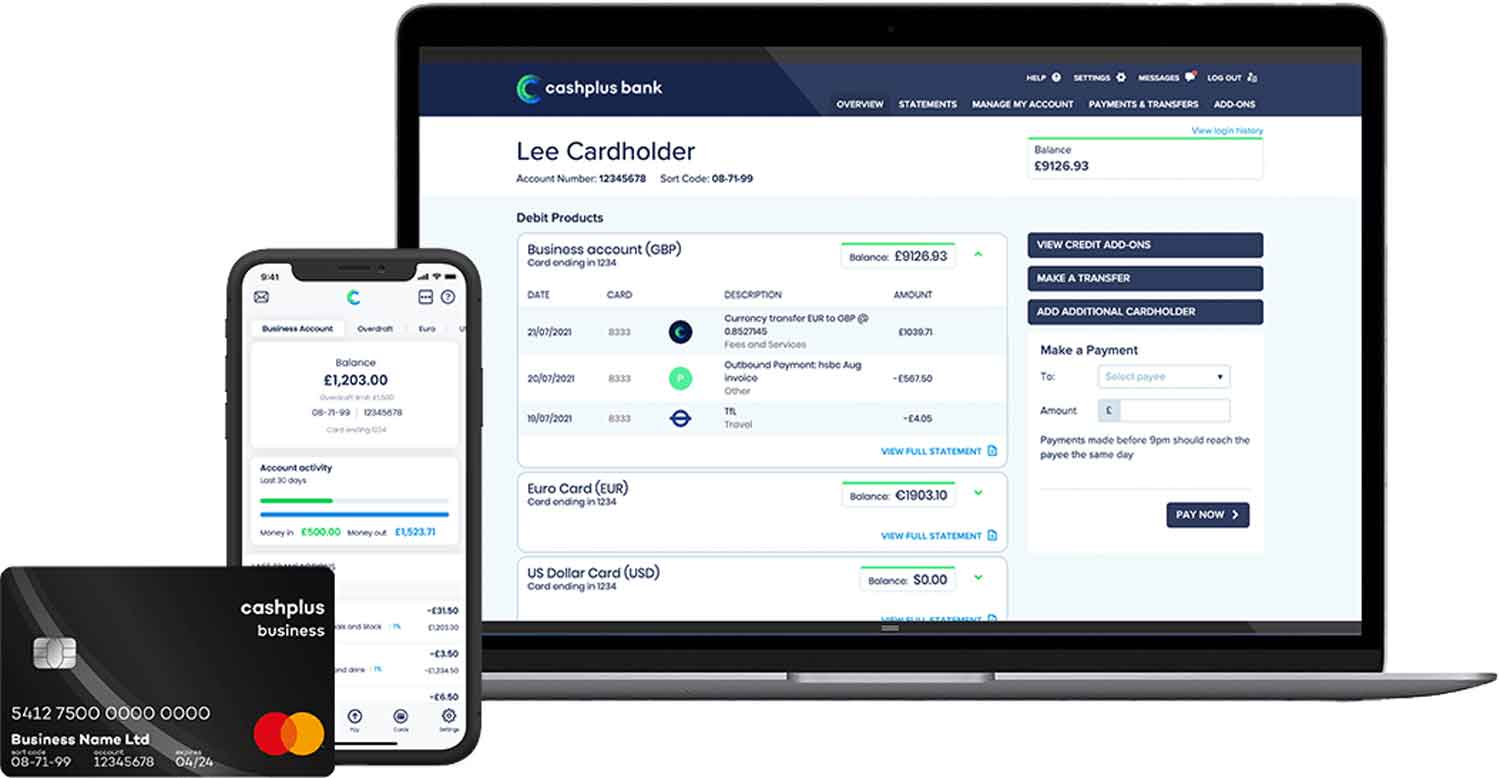 Business savings accounts
✗ Not available through Cashplus.
Cashplus at a glance
| | |
| --- | --- |
| Phone number | 0330 024 0924 |
| App downloads | iOS; Android |
| Website | www.cashplus.com/business-account/ |
| Number of branches | N/A – Cashplus is an online-only challenger bank |
| FSCS protected? | Yes |
| Founded | 2005 as a prepaid MasterCard service, 2021 as a bank |
Cashplus key information
Cashplus business loans and finance
Cashplus also offers the following products to members, subject to approval:
Business credit card
The Cashplus business credit card offers an average APR of 29.9%, 1% cashback on purchases, and 56 days of interest-free credit if you clear your balance in full.
Business expense card and travel card
If you prefer to avoid running up credit card debt, consider preloading a balance onto a Cashplus expense card, or fill a travel card with a foreign currency.
Business Creditbuilder
Pay Cashplus £9 per month for a Business Go account and you will be entitled to access to Business Creditbuilder. Cashplus will move these funds to a separate account for one year and notify credit reference agencies that you are keeping up with regular payments, building your company credit score.
Business cash advance
Cashplus may contact you to offer access to a cash advance on future earnings. This is not availanle upon request; you will need to wait to be invited to apply for this.
Cashplus reviews
What are other business banking customers saying about Cashplus?
| Review platform | Score | Number of votes |
| --- | --- | --- |
| TrustPilot | 4.0/5 | 8,091 |
| Feefo | Not reviewed | N/A |
| Reviews.co.uk | Not reviewed | N/A |
| Smart Money People | 4.82/5 | 9,204 |
| Which? | Not reviewed | N/A |
| Average score | 4.41/5 | 17,295 |
Cashplus business eligibility criteria
As Cashplus is so flexible with bad credit, there is no reason that any sole trader or SME owner aged 18 or over with £69 to spare for the annual fee will be denied an account.
Cashplus business finance alternatives
Cashplus is a rarity in that it welcomes consumers with poor credit and still offers lending streams, albeit at higher interest rates than most more traditional rivals. The closest competitor to Cashplus is Acorn Account, but this provider offers a considerably more basic package.
FAQ
Is Cashplus a proper bank?
Cashplus is now a traditional bank. It used to only provide prepaid Mastercard services but since 2021 has been offering business bank accounts too. Cashplus does not offer savings accounts or loan facilities, which are key features of many traditional banks. However, Cashplus does provide customers with an alternative way to manage their money. It also offers a range of other financial products, such as foreign exchange services and business accounts, making it an attractive option for those who need more comprehensive financial services than traditional banks can provide.
How to open a Cashplus business account?
Opening a Cashplus business account is relatively simple. The first step is to apply online, which requires providing some personal and financial information. Once the application is approved, customers will receive an email confirmation with their account opening details. After this, customers can transfer funds into their accounts and begin using the services provided by Cashplus. Customers can also opt to use Cashplus's mobile app, which allows them to manage their accounts on the go.
What fees does Cashplus charge?
Cashplus offers a range of different services and products, each with its own fee structure. Generally, Cashplus does not charge an account-opening fee, but it does charge transaction fees for certain services, such as withdrawing cash from ATMs or transferring money to other accounts. There are also monthly subscription fees associated with some of their services.
What services does Cashplus offer?
Cashplus offers a range of services and products, including prepaid Mastercard cards, foreign exchange services, business accounts and credit cards. Cashplus also provides customers with access to their online dashboard, which allows customers to easily check account balances, view transaction history and manage their financial accounts in one place.
What types of payments does Cashplus accept?
Cashplus accepts a range of payments, including direct debit and credit card payments. Customers can also use their Cashplus cards to make payments in person or online, as well as via bank transfers. Cashplus also allows customers to make international payments with the help of its foreign exchange services. All payments made through Cashplus are secure and encrypted.