The full name of this lender is Catalyst Property Finance, which should give you an idea of the speciality of this business – but does it have good reviews?
Catalyst offers secured lending which must be guaranteed against a personal or residential property, but the interest rates are competitive and the lending limits are quite high if your property portfolio meets the minimum loan-to-value ratio.
While Catalyst will be of greatest interest to SMEs looking to expand their commercial property interests, anybody seeking secured lending with a measure of flexibility on borrowing criteria may wish to investigate what this supplier has to offer.
Catalyst business loans and finance
Pros and cons of Catalyst for business finance
| Pros | Cons |
| --- | --- |
| ✓ High lending limit on secured borrowing | ✗ No online reviews |
| ✓ Quite flexible on lending terms – historical credit issues do not necessarily mean an automatic no | ✗ Secured loans are always risky as you could lose your home if you cannot keep up with repayments |
| ✓ Lower interest rates than many competitors | ✗ Repayment terms capped at 24 months |
Catalyst Finance pros and cons
Business loans
Catalyst has eight products, all of which are related to property finance as they need to be secured against an existing business or residential property.
Short-term bridging finance and commercial bridging finance
Borrow up to 75% of the value of your property for anywhere from three months to years, with the full balance repayable at the end of the term. This loan is designed to plug a short-term gap in funding when you know that money will eventually reach you.
Refurbishment finance
Borrow between £10,000 and £1,000,000 for up to 24 months to refurbish and improve a commercial property.
Super heavy refurb
As above, but for complex refurbishments that require greater levels of work. Applicants will need to show experience in conducting at least three similar projects in the last five years to qualify.
Development exit bridging
Designed for property investors and owners that need to release more finance in an unfinished property. Less than 10% of the market value must remain outstanding in payments to qualify for this lending
Land with bridging finance
Take out borrowing against land that is earmarked for property development but the construction is yet to begin.
Catalyst flex bridging
A bridging loan for businesses with poor credit scores, or those that have no experience in property investment. The lending criteria is a little more flexible, but you will likely need to pay more in interest.
Auction bridging finance
If you agree to purchase a commercial property at auction, Catalyst will offer a short-term loan to cover the initial purchase cost so you can complete the transaction.
Commercial mortgages
Many of the products we have discussed under the auspice of business loans can also be used as a commercial mortgage. We have profiled them under this previous banner as this borrowing can be used for any business purpose as long as you can justify the need for the loan.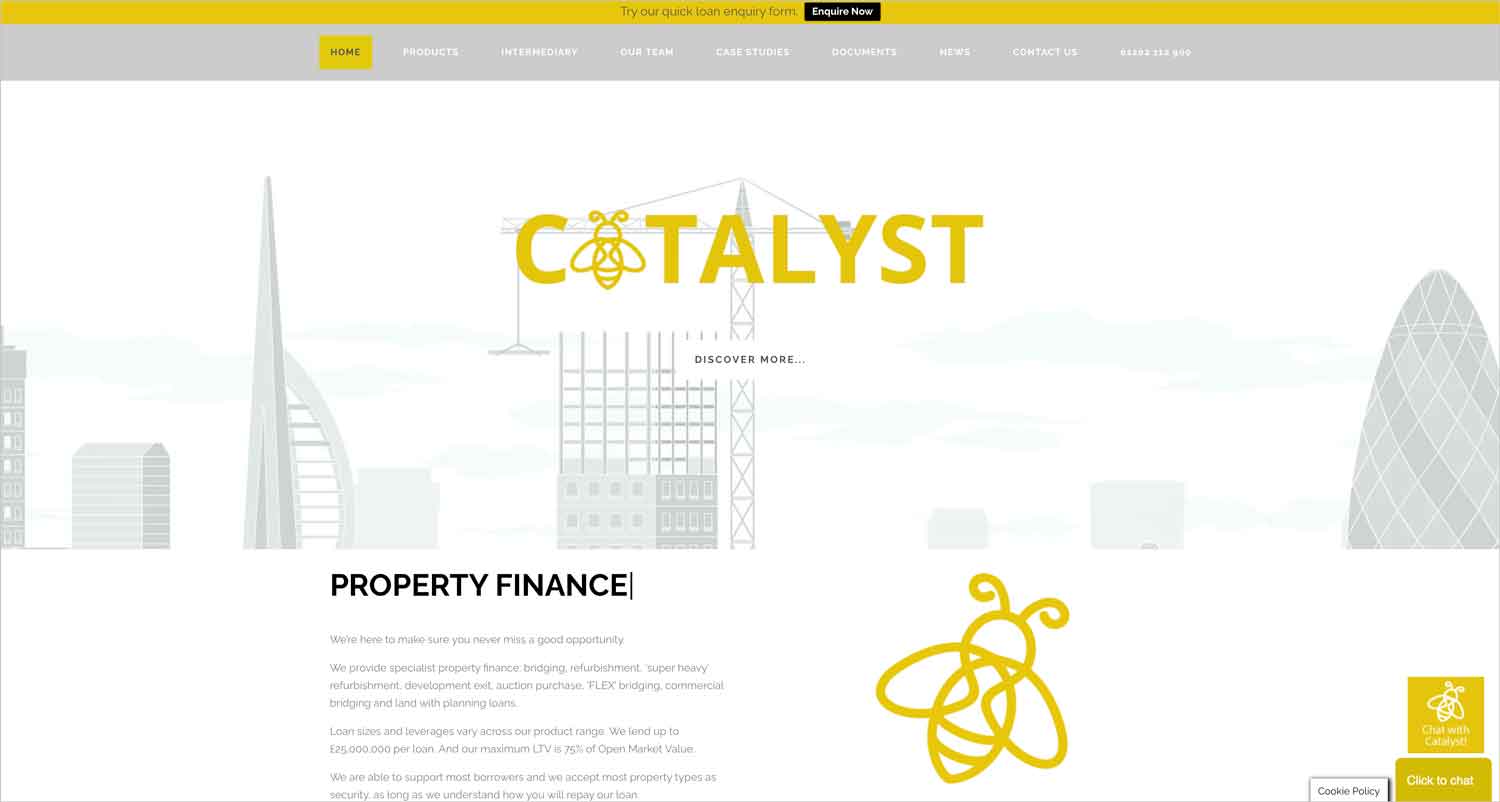 Asset finance
✗ Not available from Catalyst. See best asset finance. 
Business vehicle finance
✗ Not available from Catalyst. See business vehicle finance.
Invoice finance
✗ Not available from Catalyst. See invoice factoring. 
Merchant cash advance
✗ Not available from Catalyst. See merchant cash advance.
Business credit cards
✗ Not available from Catalyst. See business credit cards. 
Catalyst Finance key information
| | |
| --- | --- |
| Phone number | 01202 112900 |
| App downloads | N/A |
| Website | www.catalystpf.co.uk |
| Number of branches | N/A |
| FSCS protected? | No |
| Founded | 2017 |
Key information
Catalyst Finance reviews
| Review platform | Score | Number of votes |
| --- | --- | --- |
| TrustPilot | Not reviewed | N/A |
| Feefo | Not reviewed | N/A |
| Reviews.io | Not reviewed | N/A |
| Smart Money People | Not reviewed | N/A |
| Which? | Not reviewed | N/A |
| Average score | No online reviews | 0 total votes |
Catalyst Finance pros and cons
Business eligibility criteria
If you wish to take out a loan through Catalyst, you'll need to own a property with a minimum loan-to-value ratio of 75%. In addition, you will need to satisfy the following criteria at a minimum.
Any bankruptcy or IVA cleared for at least three years.
Three years of set address history.
No more than 4 missed mortgage payments in the last year and none in the last six months.
Maximum of £10,000 in settled CCJs over the last 24 months.
Catalyst will discuss the lending options open to you based on your unique circumstances.
Business finance alternatives
As Catalyst Property Finance only offers lending secured against a property, anybody not looking to risk placing their home or business premises up as collateral against their borrowing should seek an alternative supplier that offers unsecured loans.
Additional considerations
While the UK property market has been struggling in recent months, Catalyst has been going from strength to strength, increasing total lending by some 17% over the course of 2022.
FAQ
How do I apply for a Catalyst Finance loan?
The Catalyst website offers a quick enquiry form. Fill in your details and Catalyst will call you back within two hours to discuss further. Alternatively, call Catalyst directly on 01202 112900 to learn more about how Catalyst can potentially help.
Does Catalyst Finance offer loans for general business use?
Yes, although Catalyst's business model primarily revolves around property finance, you can borrow funds for any justifiable business purpose.  
How much will my business be able to borrow through Catalyst Finance?
The maximum loan that Catalyst will offer is £25,000,000, but this borrowing will be capped at 75% of the value of the property you are securing the loan against. So, if your portfolio is worth £400,000, you can borrow up to £300,000. 
How long is the lending term for a loan from Catalyst Finance?
Catalyst offers shorter loan terms than most lenders, with your borrowing due for full repayment over a maximum of 24 months. While this will keep your total interest due low, it will lead to higher monthly capital repayments.
How much will a business loan through Catalyst Finance cost?
Interest rates on a secured loan from Catalyst begin at 0.79% per month, so if you are offered this rate on a 24-month loan, you will pay a total interest rate of 18.96% on your borrowing. Your precise interest rate will be assigned based on your unique financial circumstances.
Will I need to secure my lending through Catalyst Finance against an asset?
All borrowing from Catalyst must be secured against personal or commercial property – this lender does not offer unsecured loans.