ClearFunder is a direct lender that offers fast, efficient loans and lending to businesses for any reason, under most circumstances.
This means that ClearFunder can be a fine option for a business with a poor credit score that is looking for a fast and easy cash injection – but the flipside is that ClearFunder is a comparatively expensive lender, with substantial interest being applied to your account every working day.
Think of ClearFunder as the business equivalent of a payday loan – best used in an emergency, and repaid as quickly as you can realistically do so.
ClearFunder business loans and finance
Pros and cons of ClearFunder for business loans and finance
| Pros | Cons |
| --- | --- |
| ✓ Fast underwriting and approval process | ✗ Repayments are daily, at high interest rates |
| ✓ No penalty fees if you settle your loan early | ✗ Minimum of six months of trading history required |
| ✓ Will consider loans for any business purpose | ✗ Absolutely no online reviews, so no peer feedback |
ClearFunder pros and cons
Business loans
ClearFunder offers business loans between £10,000 and £100,000, to be repaid on a daily basis. Interest is calculated and applied to your account every business day, so the sooner you repay your loan in full, the cheaper it will be.
This is important to know, as while ClearFunder will theoretically lend money to any company for any business reason, this is an expensive form of borrowing. The ClearFunder website offers a quote service that gives you an idea of what your loan will cost overall. If you borrow £10,000 over the course of 12 months, you will eventually repay £13,000, at a cost of £51.59 per working day.
There are certainly cheaper ways to borrow five-figure sums, but the appeal of ClearFunder is that this lender does not discriminate against borrowers with a poor credit history, and will not ask for detailed and complex business plans – just proof that you will have the ability to repay the loan. This means that ClearFunder could provide financial assistance that is not available elsewhere.
Business vehicle finance
ClearFunder claims to offer business vehicle finance as a specific product on their website, but in reality, the application process and repayment schedule are identical to taking out a business loan. There are no preferable deals or additional services offered to customers seeking vehicle finance – you'll need to source the car or fleet yourself and make an application for the appropriate funding. For more options, see business vehicle finance.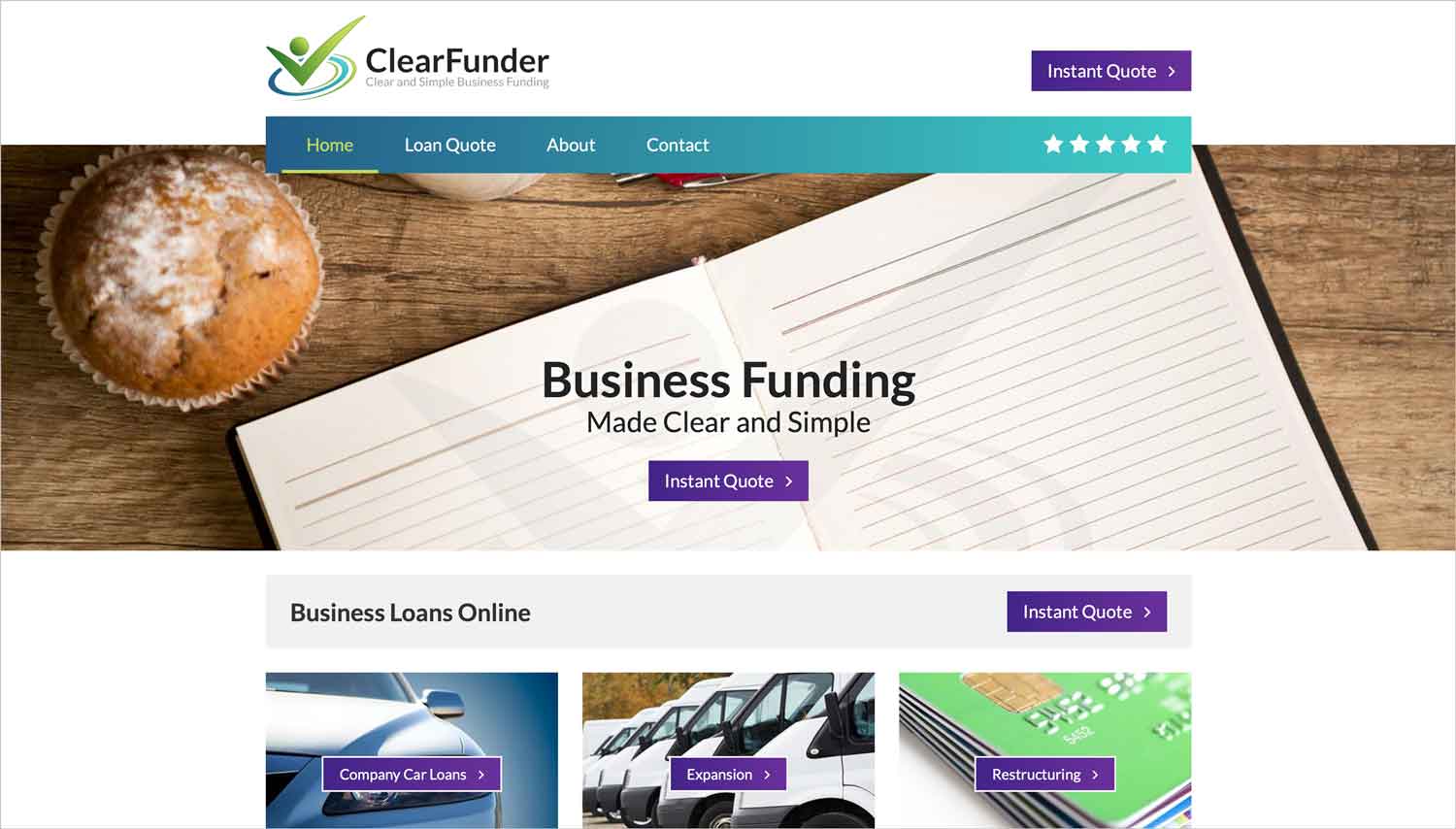 Merchant cash advance
✗ Not available from ClearFunder. See merchant cash advance.
Business credit cards
✗ Not available from ClearFunder. See best business credit cards. 
Asset finance
✗ Not available from ClearFunder. See best asset finance. 
Invoice finance
✗ Not available from ClearFunder. See invoice factoring. 
Commercial mortgages
✗ Not available from ClearFunder. See commercial mortgages.
ClearFunder key information
| | |
| --- | --- |
| Phone number | 020 3137 8095 |
| App downloads | N/A |
| Website | www.clearfunder.co.uk |
| Number of branches | N/A |
| FSCS protected? | No |
Key information
ClearFunder reviews
| Review platform | Score | Number of votes |
| --- | --- | --- |
| TrustPilot | Not reviewed | N/A |
| Feefo | Not reviewed | N/A |
| Reviews.io | Not reviewed | N/A |
| Smart Money People | Not reviewed | N/A |
| Which? | Not reviewed | N/A |
| Average score | No online reviews | 0 total votes |
ClearFunder reviews and ratings
Business eligibility criteria
To qualify for borrowing from your ClearFunder, you must be a limited company or partnership and have been trading for at least six months. There is no assigned minimum turnover, but you will be asked for proof that your business can afford to make agreed repayments.
Business finance alternatives
Borrowing from ClearFunder is simple and fast, but potentially very expensive. Check out other business loan providers if you would rather make monthly repayments or enjoy a longer loan term at a lower interest rate.
Additional considerations
ClearFunder markets itself as a provider of bad credit loans, so as long as your business is not actively bankrupt and you can afford to make repayments you may find that this lender works with you when others will not.
FAQ
How do I apply for finance from ClearFunder?
You're welcome to call Clear Funder on 020 3137 8095 to discuss your options, but it's faster to handle your application online. Head to the ClearFunder website and use the quote tool to confirm how much you are looking to borrow and for how long. If you are happy with the offer provided by ClearFunder, complete the application form and click apply. ClearFunder will come back with a final offer based on your credit score, which you can approve or decline. 
How much can I borrow from ClearFunder?
The minimum you can borrow from ClearFunder is £10,000, and the maximum is £100,000. 
Are there any hidden fees when borrowing from ClearFunder?
No, when you are provided with a quote you will know exactly how much you will be asked to repay with no nasty surprises down the line. Interest will be applied every working day, so the sooner your clear your loan, the less you will need to pay overall.
Will ClearFunder automatically deduct loan repayments from my revenue?
No, you will retain responsibility for making repayments on your loan by direct debit.
Will I need to secure borrowing from ClearFunder against an asset?
No, all lending provided by ClearFunder is an unsecured loan.
Is ClearFunder regulated by the FCA?
Yes, although the business model of ClearFunder is exempt from legally mandated regulated, ClearFunder has voluntarily enrolled for FCA regulation.