CubeFunder offers a fast and efficient route to business funding for SMEs in the UK. This lender specialises in lump sum loans between £5,000 and £100,000, with a rapid application process – if you're successful in your request for funding, the money can be in your business bank account in as little as 48 hours. But does CubeFunder have good reviews?
New customers should start small, as your first loan will need to be repaid in full within 12 months, but forming a relationship with CubeFunder can ensure that you will enjoy regular access to additional funds as and when you need them. Just be aware that CubeFunder is not particularly transparent about interest repayments, and this can be a costly lending model.
CubeFunder business loans and finance
Pros and cons of CubeFunder for business finance
| Pros | Cons |
| --- | --- |
| ✓ Fast underwriting and approval process | ✗ Repayments are daily or weekly, not monthly |
| ✓ Only need three months of trading history | ✗ Minimum turnover of £4,000 per month required |
| ✓ No penalty fees if you settle your loan early | ✗ First-time customers must repay within 12 months and offer a personal guarantee |
| ✓ Excellent online reviews  | ✗ No transparency on interest ahead of application |
CubeFunder pros and cons
Business loans
Business loans are the only product offered by CubeFunder, though this funding is available in a number of ways. A CubeFunder loan of up to £100,000 can be repaid for anywhere from three months, with repayment terms for new customers capped at 12 months.
You will need to make repayments on a CubeFunder loan every day or once a week, whichever works best for your business, with interest applied to your loan every business day. 
There are four types of business loan available from CubeFunder:
Small business loan
Borrow between £5,000 and £100,000 as an alternative to a merchant cash advance, repaying daily. This lending stream is designed for a business that will not qualify for a traditional loan.
eCommerce business loan
A flexible loan exclusively for eCommerce businesses, repaid daily and capped at £30,000. This is a costlier form of borrowing – a six month loan of £5,000 will cost your business £47 per day, so a total of £900.
Short term business loan
Borrow between £5,000 and £100,000 for anywhere from three months to a year, setting your balance with daily or weekly repayments.
12 month business loan
A business loan set to be repaid over 12 months. You can adjust your daily or weekly repayments according to cash flow – all that matters to CubeFunder is that your loan is settled after a year.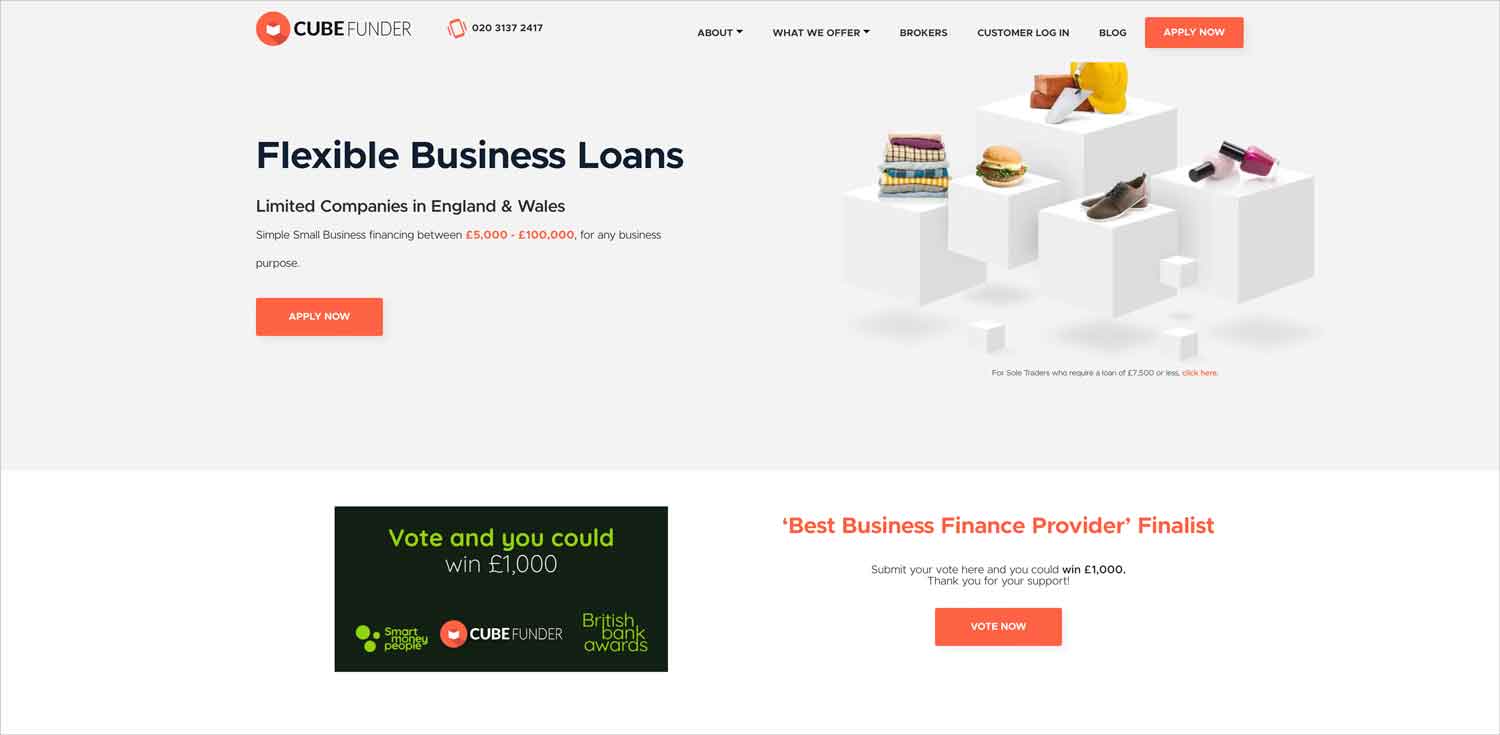 Merchant cash advance
✗ Not available from CubeFinder. See merchant cash advance.
Business credit cards
✗ Not available from CubeFunder. See best business credit cards. 
Asset finance
✗ Not available from CubeFunder. See best asset finance. 
Invoice finance
✗ Not available from CubeFunder. See invoice factoring. 
Commercial mortgages
✗ Not available from CubeFunder. See commercial mortgages.
Business vehicle finance
✗ Not available from CubeFunder. See business vehicle finance.
CubeFunder key information
| | |
| --- | --- |
| Phone number | 020 3137 2417 |
| App downloads | N/A |
| Website | www.cubefunder.com |
| Number of branches | N/A |
| FSCS protected? | No |
| Founded | 2017 |
Key information
CubeFunder reviews
What kind of reviews has CubeFunder received on other review platforms?
| Review platform | Score | Number of votes |
| --- | --- | --- |
| TrustPilot | 4.0/5 | 81 |
| Feefo | Not reviewed | N/A |
| Reviews.io | Not reviewed | N/A |
| Smart Money People | 4.85 | 40 |
| Which? | Not reviewed | N/A |
| Average score | 4.425/5 | 121 total votes |
CubeFunder reviews and ratings
Business eligibility criteria
To qualify for borrowing from your CubeFunder, you must meet the following criteria.
Be a business registered in England or Wales and listed on Companies House
Take a minimum monthly turnover of £4,000
Have at least three months of trading history
Business finance alternatives
Few lenders make borrowing as fast and easy as CubeFunder, but the idea of making daily or weekly repayments for a short period may not suit every business model. Check out other business loan providers if you would rather make monthly repayments or enjoy a longer loan term.
Additional considerations
If CubeFunder is unable to finance your business for any reason they will pass your details to Puzzle Finance, a credit broker that may be able to find you an alternative lender will to work with you.
FAQ
How do I apply for finance from CubeFunder?
Make an application online by filling in a form – this takes less than a minute – and within half an hour CubeFunder will call you to discuss your business model. If you satisfy the regulations laid out by CubeFunder, a credit check will be run and, if passed, the funds will reach you within 48 hours.
How much can I borrow from CubeFunder?
The minimum you can borrow from CubeFunder is £5,000, and the maximum is £100,000. If you are an eCommerce business this cap drops to £30,000.
Are there any hidden fees when borrowing from CubeFunder?
No, when you are provided with a quote you will know exactly how much you will be asked to repay with no nasty surprises down the line. Interest will be applied every day though, so the sooner your clear your loan, the less you will need to pay overall.
Will CubeFunder automatically deduct loan repayments from my revenue?
No, you will retain responsibility for making repayments on your loan by direct debit.
Will I need to secure borrowing from CubeFunder against an asset?
No, all lending provided by CubeFunder is an unsecured loan.
Is CubeFunder regulated by the FCA?
Yes, although the business model of CubeFunder is exempt from legally mandated regulated, CubeFunder has voluntarily enrolled for FCA regulation.