Business owners in Northern Ireland will know Danske Bank better by its former name Nothern Bank, one of the most prominent financial institutions in Ireland. Northern Banke rebranded as Danske Bank in 2012 after the Danish superbank of the same name took ownership.
Compare business bank accounts
What are you looking for?
In partnership with
Tide

Co-Op Business Banking
✓ Business Current Account
✓ Online, App & High Street Banking
✓ Quick & Easy Application Process


HSBC Business Banking
✓ Business Current Account
✓ In-Branch, Online & App Banking
✓ FSCS Protected


Metro Business Banking
✓ Business Current Account
✓ High Street Presence
✓ FSCS Protected


Mettle Business Banking
✓ Business Bank Account
✓ Online & App
✓ Quick & Easy Application Process


Monzo Business Banking
✓ Business Current Account
✓ Dedicated mobile app experience
✓ FSCS Protected


Tide Business Bank Accounts
✓ Free, Plus, or Pro Account
✓ iOS & Android Mobile App
✓ Upload & Auto-Match Receipts


Virgin Money
✓ Business M Account
✓ In-Store, Online & App Banking
✓ Insights & Forecasting Platform

Today, Danske Bank is only accepting new account applications from residents of Northern Ireland, and the accounts available through this provider attract comparatively high monthly charges and microtransaction fees. On the flip side, Danske Bank customers have access to a wide array of lending streams.
Danske Bank business banking services
Pros and cons of Danske Bank for business services
| Pros of Danske Bank | Cons of Danske Bank |
| --- | --- |
| ✓ Numerous lending streams | ✗ Only available to residents of Northern Ireland |
| ✓ FSCS protected | ✗ Accounts are quite expensive |
| ✓ Good interest rates on fixed term savings | ✗ Long waits to open an account |
Danske Bank business banking pros and cons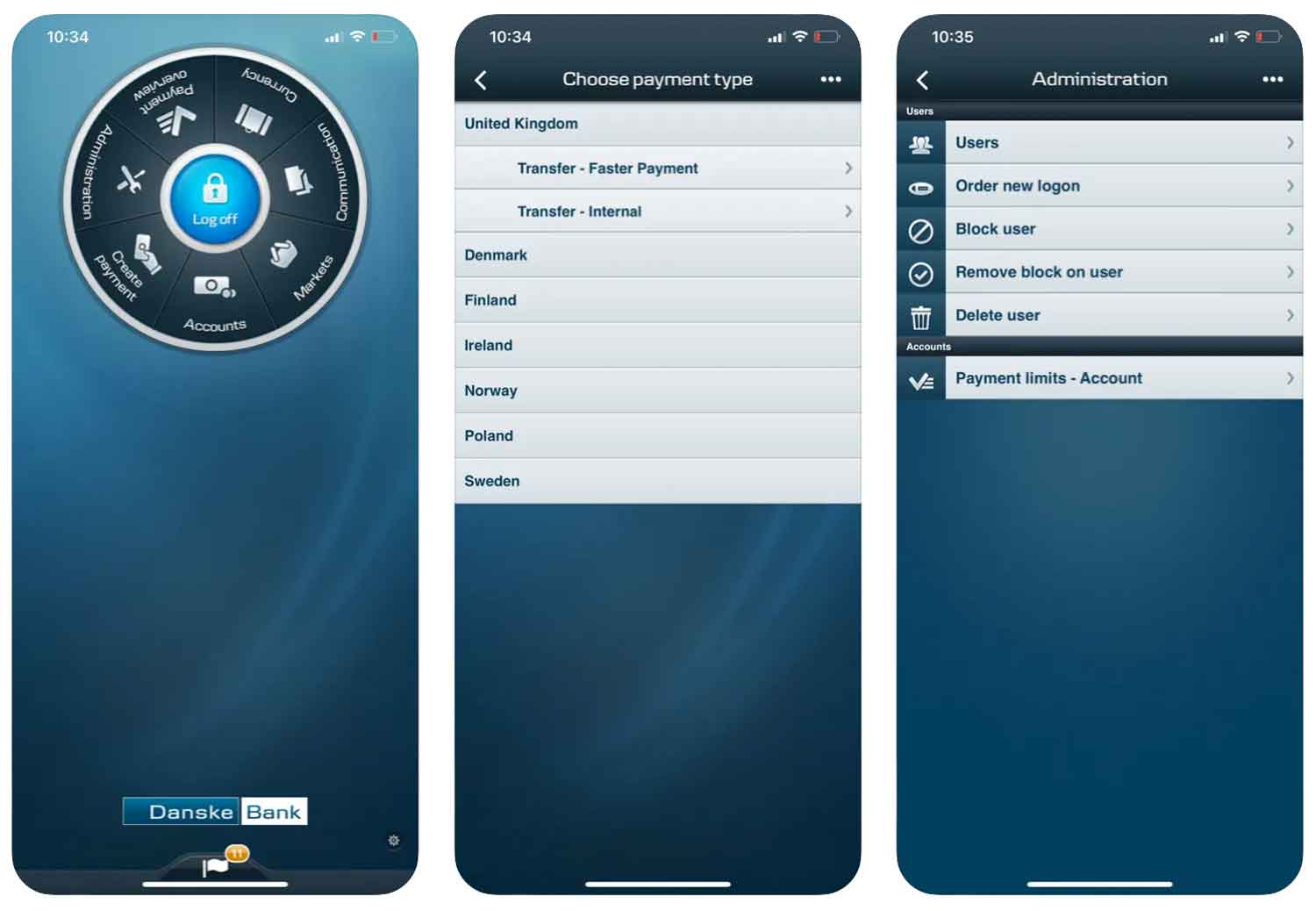 Business current accounts
Danske Bank offers two types of business current account, tailored to the annual turnover of your trade:
Danske Small Business account
Designed for account holders with an annual turnover below £1,000,000. A digital account is priced at £9 per month, and is operated exclusively through online and app-based banking. This account offers free digital banking – you will not be charged for electronic debits or credits The standard small business account is £14 per month, but does include branch support. However, microtransaction fees apply to every action on this account, including receiving payments online.
Danske Large Business account
Available to businesses with a turnover above £1,000,000 per year, this account offers online or branch support and a dedicated relationship manager. The account costs £10 per month to maintain, and you will be charged for every transaction in or out.
Business overdrafts
A business overdraft can be applied for, and details will be confirmed upon acceptance.
Business savings accounts
Danske Bank offers two savings accounts to business customers:
Business Investment account
An instant access savings account with no minimum or maximum balance. Interest is offered at an AER of 0.85% and paid quarterly.
Fixed Term Deposit account
Deposit a minimum of £5,000 for one year (AER of 3.15%) or two years (AER of 3.20%,) receiving your interest and accessing your funds upon maturation of the bond.
Danske Bank at a glance
| | |
| --- | --- |
| Phone number | 0345 8509 515 |
| App downloads | iOS; Android |
| Website | www.danskebank.co.uk/business |
| Number of branches | 20, all in Northern Ireland |
| FSCS protected? | Yes |
| Founded | 1809 as Northern Bank, 2012 as Danske Bank UK |
Key information
Danske Bank business loans and finance
Danske Bank offers a handful of additional lending streams to business customers:
MasterCard Corporate Classic credit card
A traditional Danske Bank credit card. A £20 annual fee applies to this card, and the representative APR is 26.40%.
MasterCard Corporate Platinum credit card
For an annual fee of £70, upgrade to a Platinum MasterCard and enjoy access to airport lounges and the MasterCard Concierge Service.
Fixed Rate Business Loan
Borrow between £25,000 and £250,000 from Danske Bank, and enjoy a fixed interest rate for 3 – 5 years before switching to a variable rate. Fixed interest rate will be assigned based on the amount you borrow, your business credit score, and the length of the repayment terms.
Variable Rate Business Loan
Borrow anything form £1,000 at a variable interest rate with flexible repayment terms – pay as much as you like each month, as long as the amount exceeds the minimum repayment.
Bridging Loan
A short-term loan with no minimum or maximum lending – perfect for filling a financial gap while you wait for an anticipated but significant cash injection. See bridging loans.
Invoice Finance
Release funds on outstanding invoices, either as a loan of up to 90% of an invoice value or by selling the invoice wholesale to Danske Bank at a discounted rate and relinquishing the responsibility of credit control. See invoice factoring.
Asset Finance
Turn to Danske Bank to finance a major asset purchase by arranging for the bank to purchase the asset and leasing it on a monthly basis. The option to purchase at the end of term will be available. See asset finance.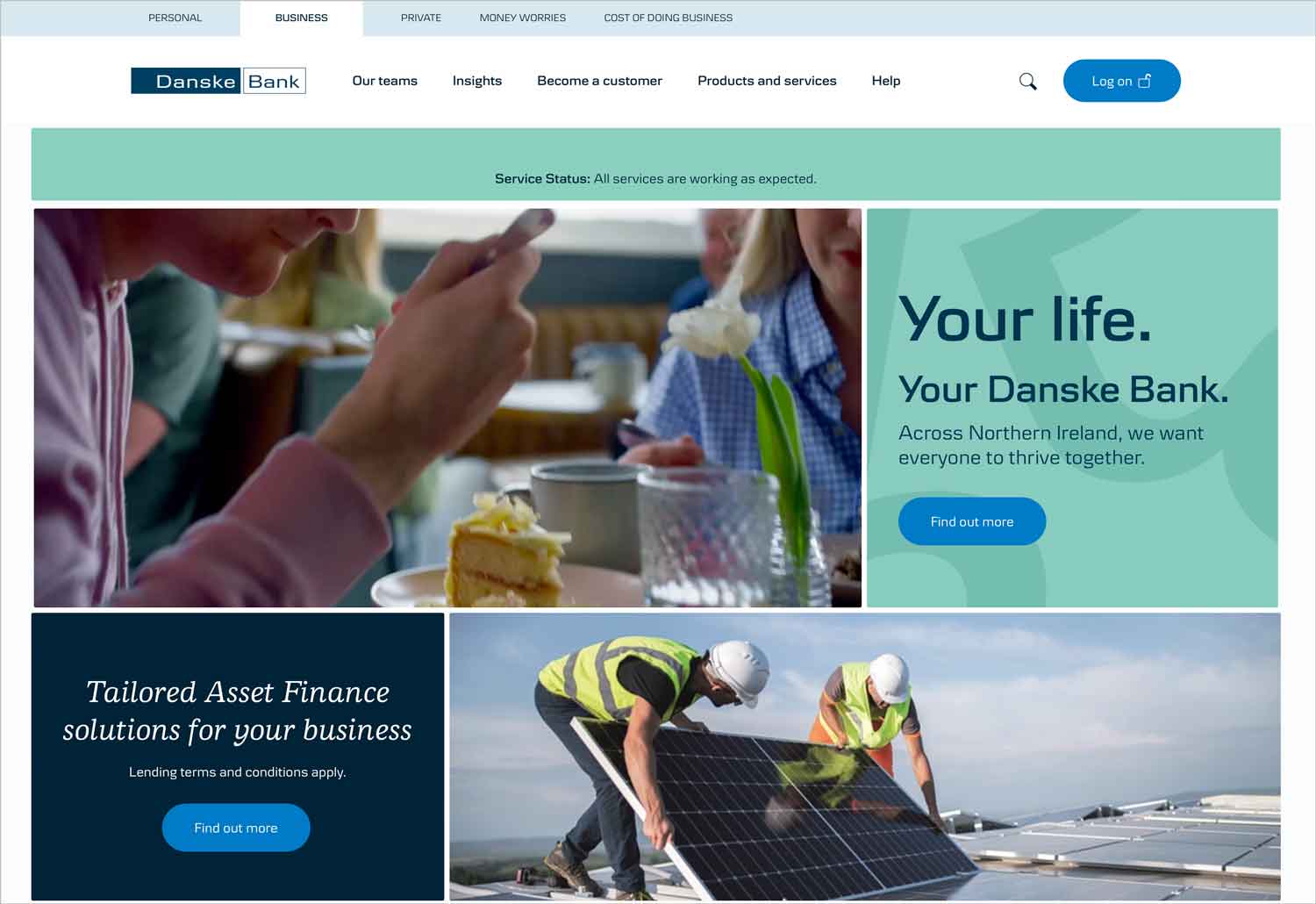 Danske Bank reviews
What are other business banking customers saying about Danske Bank?
| Review platform | Score | Number of votes |
| --- | --- | --- |
| TrustPilot | 4.0/5 | 10,282 |
| Feefo | Not reviewed | N/A |
| Reviews.co.uk | Not reviewed | N/A |
| Smart Money People | 4.2/5 | 39 |
| Which? | Not reviewed | N/A |
| Average score | 4.1/5 | 10,321 |
Danske Bank UK reviews and ratings
Danske Bank business eligibility criteria
You will need to be based in Northern Ireland, and provide evidence of this, to open a new account with Danske Bank. If you can supply proof of ID and address, and have a clean credit history, your account will likely be approved, but you could face a long wait – Danske Bank is currently taking its time to process and approve new business customer applications.
Danske Bank business finance alternatives
If you are not based in Northern Ireland, you will not be able to utilise Danske Bank for your business needs. The lending streams and account costs are comparable to most high street banks, most of which can be found all over the UK.
Danske Bank additional considerations
Danske Bank is a highly celebrated service in Northern Ireland, with great customer reviews coupled with this bank being declared the best place to work in the country.
FAQ
Is Danske Bank UK a proper bank?
Yes, Danske Bank UK is a fully regulated and authorised bank in the United Kingdom. It is part of the Danske Bank Group which is headquartered in Copenhagen and has been operating in the UK since 2012. All products and services offered by Danske Bank UK are compliant with relevant rules from the Financial Conduct Authority (FCA).
How to open a Danske Bank UK business account?
Opening a business account with Danske Bank UK is easy and convenient. First, you will need to complete an application form which can be found on the bank's website. You will also need to provide proof of identity and address, as well as other necessary documents. Once your application has been approved, you will be able to access the full range of banking services offered by Danske Bank UK.
Does Danske Bank UK offer online banking?
Yes, Danske Bank UK offers a secure online banking service that can be accessed through its website or the mobile app.
What fees does Danske Bank UK charge?
Danske Bank UK charges a range of fees, including transaction fees, account maintenance fees and overdraft fees. Full details of the bank's fee structure can be found on its website.
What services does Danske Bank UK offer to businesses?
Danske Bank UK offers a range of services designed to help businesses manage their finances, including online banking, card payments, international payments and business loans.
What types of payments does Danske Bank UK accept?
Danske Bank UK accepts a range of payment methods, including direct debit, credit card, bank transfer and cheque. The bank also offers contactless payments via its mobile app.