Folk2Folk is the UK's biggest peer-based lending provider, offering secured loans starting from £10,000 with the funds provided by investors – but does it have good reviews?
Based in Cornwall, Folk2Folk is primarily designed for businesses in the farming and agricultural sectors, though any SME can apply for funding for just about any business purpose.
Folk2Folk offers better interest rates than you mind find from a more traditional lender, and some people may prefer to help finance an investor than line the pockets of a bank with interest payments, but always keep the risks of securing business borrowing against your residential property in mind before approaching this lender.
Folk2Folk business loans and finance
Pros and cons of Folk2Folk for business finance
| Pros | Cons |
| --- | --- |
| ✓ Business loans available for almost any purpose | ✗ Only secured loans are available |
| ✓ Competitive interest rates | ✗ Very few – distinctly average – online reviews |
| ✓ Short- and long-term borrowing available | |
Folk2Folk pros and cons
Business loans
Folk2Folk offers a range of secured business loans, all of which start at £10,000 and are repayable for between six months and five years. Interest rates on all Folk2Folk loans start at 7.5% and will be confirmed upon application.
Business and SME loans
Funding for any business purpose, including covering payroll, expanding your team, and purchasing or improving company assets.
Property finance
Borrow money in the short-term as a bridging loan to cover the wait between selling one property and purchasing another, or use this finance to pay for a fit-out or refurbishment.
Farming and agricultural loans
Funding for the West Country's thriving agricultural industry, intended for the purchase of livestock, converting barns, opening a farm shop, or any other need.
Leisure and tourism loans
Funding for any kind of tourist attraction.
Hospitality loans
Funding sources especially for the needs of restaurants, B&Bs, and hotels.
Renewable energy loans
Designed for investment in solar panels, wind turbines, or any other sustainable energy source.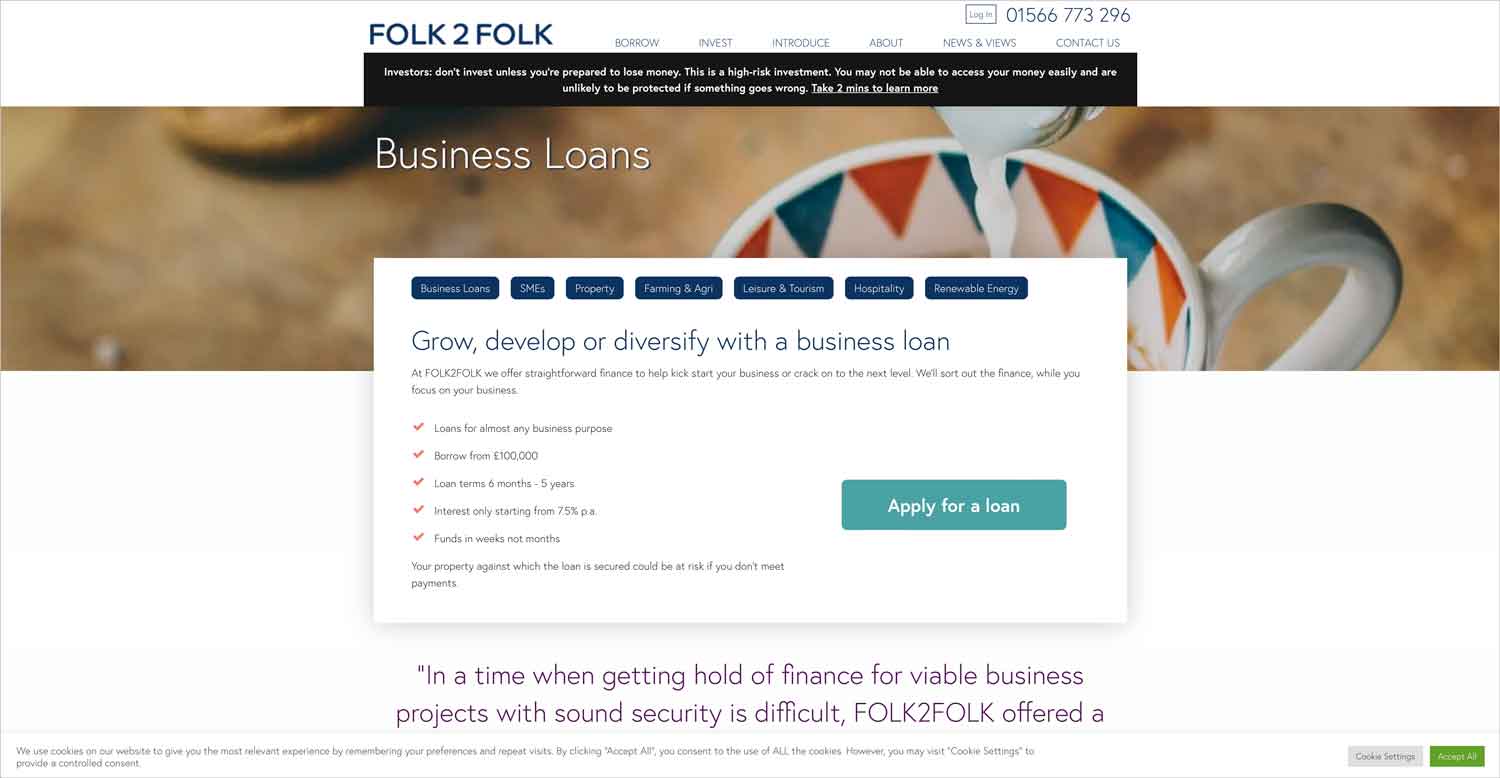 Commercial mortgages
While not a commercial mortgage in any conventional sense, Folk2Folk does offer property loans – see this section in our summary of business loans.
Merchant cash advance
✗ Not available from Folk2Folk. See merchant cash advance.
Business credit cards
✗ Not available from Folk2Folk. See best business credit cards. 
Asset finance
✗ Not available from Folk2Folk. See best asset finance. 
Invoice finance
✗ Not available from Folk2Folk. See invoice factoring. 
Business vehicle finance
✗ Not available from Folk2Folk. See business vehicle finance.
Folk2Folk key information
| | |
| --- | --- |
| Phone number | 01566 773296 |
| App downloads | N/A |
| Website | www.folk2folk.com/borrow/get-a-business-loan |
| Number of branches | N/A |
| FSCS protected? | No |
| Founded | 2013 |
Key information
Folk2Folk reviews
| Review platform | Score | Number of votes |
| --- | --- | --- |
| TrustPilot | 3.2/5 | 1 |
| Feefo | Not reviewed | N/A |
| Reviews.io | Not reviewed | N/A |
| Smart Money People | 3.3/5 | 3 |
| Which? | Not reviewed | N/A |
| Average score | 3.25/5 | 4 total votes |
Folk2Folk reviews and ratings
Business eligibility criteria
To qualify for borrowing from your Folk2Folk, you must meet the following criteria:
Be a limited company based in the UK
Own a property and be prepared to secure your loan against this asset
Accept a loan of at least £10,000
Business finance alternatives
Few lenders make borrowing as fast and easy as Folk2Folk, but the idea of making daily or weekly repayments for a short period may not suit every business model. Check out other business loan providers if you would rather make monthly repayments or enjoy a longer loan term.
Additional considerations
Cementing its reputation as a reliable financial provider, Folk2Folk has recently joined the Financial Intermediary and Broker Association (FIBA.)
FAQ
How do I apply for finance from Folk2Folk?
Call Folk2Folk on 01566 773296 to discuss your options, or fill in the online application form and wait for a callback.
If I borrow from Folk2Folk, who supplies the money?
Folk2Folk does not lend to borrowers directly. Instead, the funds provided come from investors, who will be repaid – plus interest – as per your loan terms.
How much can I borrow from Folk2Folk?
Folk2Folk loans start at £10,000, and do not have an upper limit (within reason.) However, your borrowing will need to be secured against a property. You can borrow up to 60% of the equity in your asset.
How long does it take to receive funds from Folk2Folk?
As Folk2Folk only offers secured loans it may take several weeks to receive your money once all relevant checks and paperwork has been completed.
What happens if I default on a Folk2Folk loan repayment?
If you default on a payment, any discounted interest rate will be replaced by the standard interest rate, which is usually 2% higher. If you do not manage to get back on track, Folk2Folk have the legal right to take you to court and force you to sell your property, settling your outstanding loan balance – including this higher interest rate – from the proceeds. 
Is Folk2Folk regulated?
Yes, all loans from Folk2Folk are regulated by the FCA.