Formerly a market leader in the realm of peer-to-peer business lending, Funding Circle exited that business model a few years ago and now offer SMEs and sole trader loans directly to applicants.
The good news is that Funding Circle is a flexible lender that will consider supplying funds to most applicants, but the downside is that such flexibility comes at a cost – borrowing from Funding Circle can attract higher interest rates and monthly repayments than some rivals.
All the same, with an excellent online reputation, Funding Circle is certainly worth considering if you need finance in a hurry and can afford to absorb the expenses associated with the borrowing.
Funding Circle business loans and finance
Pros and cons of Funding Circle for business finance
| Pros | Cons |
| --- | --- |
| ✓ Fast application, approval, and payout | ✗ Interest rates and repayments can be pretty high |
| ✓ Excellent TrustPilot reviews and general reputation | ✗ Minimum loan amount of £10,000 |
| ✓ Selection of lending products to meet most needs | ✗ Must have been trading for at least one year |
Funding Circle pros and cons
Business loans
Funding Circle offers two primary forms of business lending. You can check your eligibility without impacting your credit score on the Funding Circle website, and learn how much you will need to repay into total. The products offered by Funding Circle are as follows.
Small business and self-employed loans
Borrow between £10,000 and £500,000. Just enter the Funding Circle website and confirm how much you wish to borrow over how long (from six months to six years) to confirm if you are eligible and receive a quote. If you are happy to proceed, you can make the application online. Funding Circle reviews most applications within 24 hours and aims to pay within 48 hours.
FlexiPay
Intended as a 'one and done' credit application for a particular payment. If you have a bill or invoice to pay between £2,000 and £250,000, apply for FlexiPay and enter the creditor's details. If accepted, Funding Circle will pay this bill for you and you can repay them in three interest-free payments, plus a flat fee of 4.5%.
Business credit cards
Not currently available from Funding Circle – see best business credit cards – but Funding Circle will soon launch a FlexiPay charge card, which will enable a business to make payments on a card and spread the cost over three months.
Asset finance
Funding Circle has introduced an asset finance service, with loans repayable over up to seven years. You must have an annual turnover of at least £500,000 to qualify for asset finance through Funding Circle. If you are eligible, Funding Circle will purchase the apparatus you require on your behalf, and the loan will be secured against the asset.
You can opt for a hire purchase, in which you will pay interest as well as capital and own the asset once the loan term is complete, or lease the asset for a fixed period, returning it to Funding Circle at the end of the term. Funding Circle will also consider asset-secured lending, in which you can borrow a lump sum guaranteed against assets that your business owns.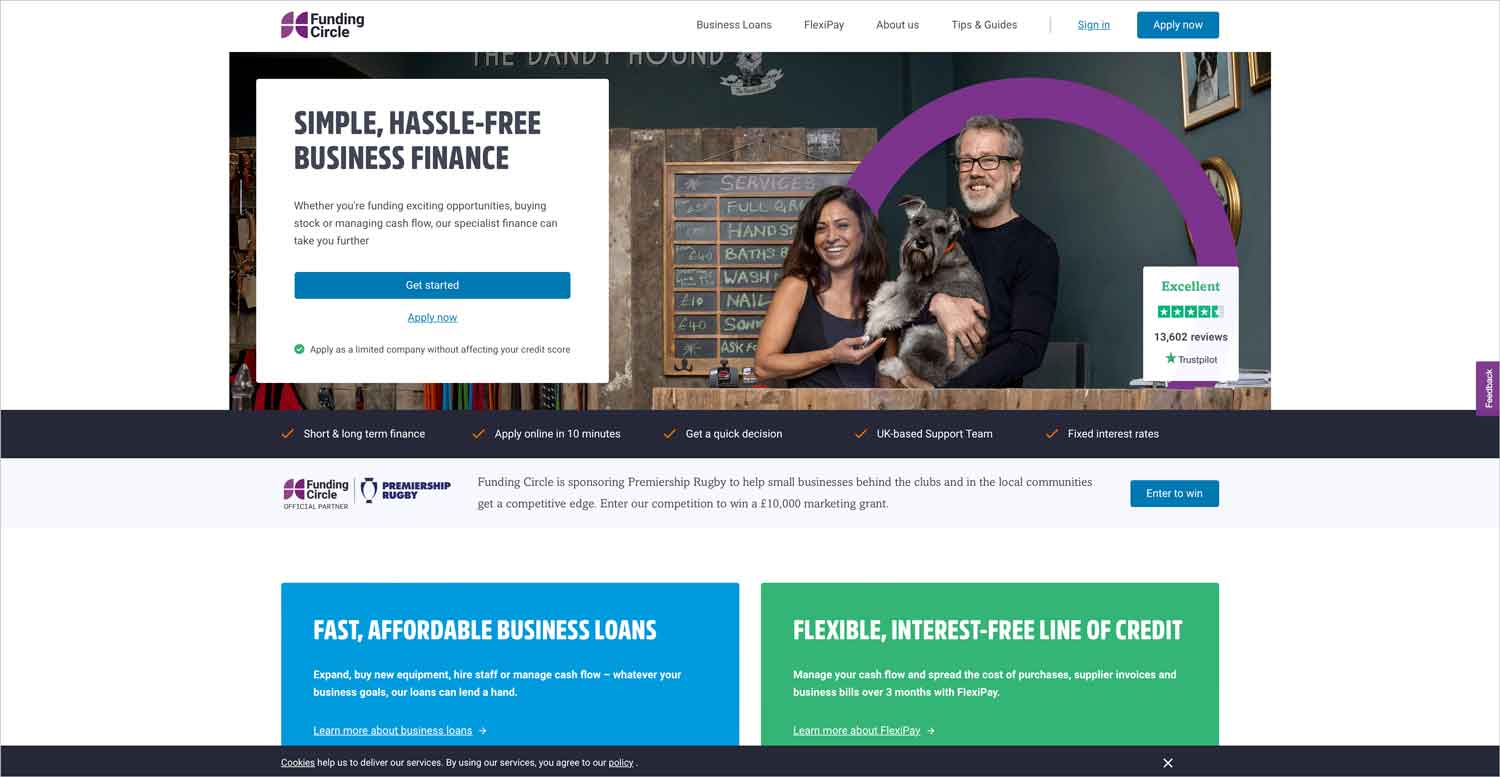 Merchant cash advance
✗ Not available from Funding Circle. See merchant cash advance.
Invoice finance
✗ Not available from Funding Circle. See invoice factoring.
Commercial mortgages
✗ Not available from Funding Circle. See commercial mortgages. 
Business vehicle finance
✗ Not available from Funding Circle. See business vehicle finance.
Funding Circle key information
| | |
| --- | --- |
| Phone number | 0800 048 2467 |
| App downloads | N/A |
| Website | www.fundingcircle.com |
| Number of branches | N/A |
| FSCS protected? | No |
| Founded | 2010 |
Key information
Funding Circle reviews
| Review platform | Score | Number of votes |
| --- | --- | --- |
| TrustPilot | 4.6/5 | 13,601 |
| Feefo | Not reviewed | N/A |
| Reviews.io | Not reviewed | N/A |
| Smart Money People | 2.88/5 | 17 |
| Which? | Not reviewed | N/A |
| Average score | 3.74/5 | 13,618 total votes |
Funding Circle reviews and ratings
Business eligibility criteria
To qualify for borrowing from your Funding Circle, you must meet have been trading for at least one year. There is no minimum turnover assigned for business loans or FlexiPay, but you will obviously need to prove that you can afford to make repayments. Asset lending requires a minimum turnover of £50,000 PA.
Business finance alternatives
Few lenders make borrowing as fast and easy as Funding Circle, but as the interest rates can be high from this lender, it's always advisable to seek out quotes from other business lenders to ensure you are getting the best value from your borrowing.
Additional considerations
Like most financial services, Funding Circle experienced a tough 2022 thanks to global economic challenges. This meant that Funding Circle also became a little stricter on lending criteria.
FAQ
How do I apply for finance from Funding Circle?
The loan application process through Funding Circle can be completed on the lender's website in as little as 10 minutes. If your application is successful, you should have your funds inside 48 hours.
Is Funding Circle a peer-to-peer lender?
Funding Circle was a peer-to-peer lender, but not any longer – this company now underwrites and finances all loan applications themselves.
How much can I borrow from Funding Circle?
Funding Circle loans start at £10,000, and are capped at £500,000. Asset lending can be as high as £5,000,000 for qualifying applicants. If you need a smaller sum for a particular expense, consider applying for FlexiPay rather than a loan.
Can I repay a loan from Funding Circle early?
Yes, you can close your Funding Circle account ahead of the agreed term with no penalty fees.
Will Funding Circle accept my application for a loan?
There is no way of knowing this until you apply, but you can check your eligibility for lending on the Funding Circle website with no impact on your credit score.
How much will a Funding Circle loan cost my business?
Interest rates on lending from Funding Circle start at 7.9% and may be higher if your business is considered to pose any kind of credit or lending risk.