Funding Xchange is a basic broker portal that pairs SMEs and sole traders with up to 70 different investors.
The basis of the portal is simple – enter some company details, how much you are looking to borrow, and for what purpose, into an online form, and Funding Xchange will draw from its pool of lenders that will theoretically provide your funds.
There is no impact on your credit score for this, but be aware that Funding Xchange has no involvement or power over whether your application is accepted. You will need to complete the full application process with the lender in question.
Always check the small print here to see what interest rate you will likely be charged, how long it will take to receive your funds, and any early repayment fees you may be liable for.
Funding Xchange business loans and finance
Pros and cons of Funding Xchange for business finance
| Pros | Cons |
| --- | --- |
| ✓ Wide range of lending products | ✗ Funding Xchange is a broker portal, not a lender – you will need to wait for your funds |
| ✓ Over 70 different partner lenders, meaning you are likely to find somebody willing to work with you | ✗ Being recommended a lender does not guarantee that your application will be accepted |
| ✓ Fully regulated by the FCA | ✗ Very few online reviews |
Funding Xchange pros and cons
Business loans
Business loans, whether secured or unsecured, are perhaps the primary purpose of any SME utilising the services of Funding Xchange. Enter your company details and requirements and the portal will provide a list of investors that are potentially willing to lend to you.
Asset finance
Funding Xchange will pair you with a business that is willing to finance an expensive asset purchase on a hire or lease basis, or a lender that is willing to secure lending against existing apparatus that your business owns.
Business vehicle finance
If you are looking for a single company car or a fleet of vehicles to bolster your business performance, Funding Xchange will pair you with specialist lenders.
Invoice finance
Invoice factoring can help you access immediate funding from outstanding invoices, maintaining a cash flow while you wait for these bills to be settled. It may be faster to apply directly, though – see our guide to invoice factoring service providers to check if this is the case.
Merchant cash advance
Funding Xchange can connect you with a lender that may provide a merchant cash advance against future debit or credit card sales. See merchant cash advance if you prefer to apply directly.
Commercial mortgages
Funding Xchange can compare lenders that offer commercial mortgages, or buy-to-let options for an SPV. For more specialis lenders, see commercial mortgages.
Business credit cards
✗ Funding Xchange does not compare business credit card providers. See best business credit cards.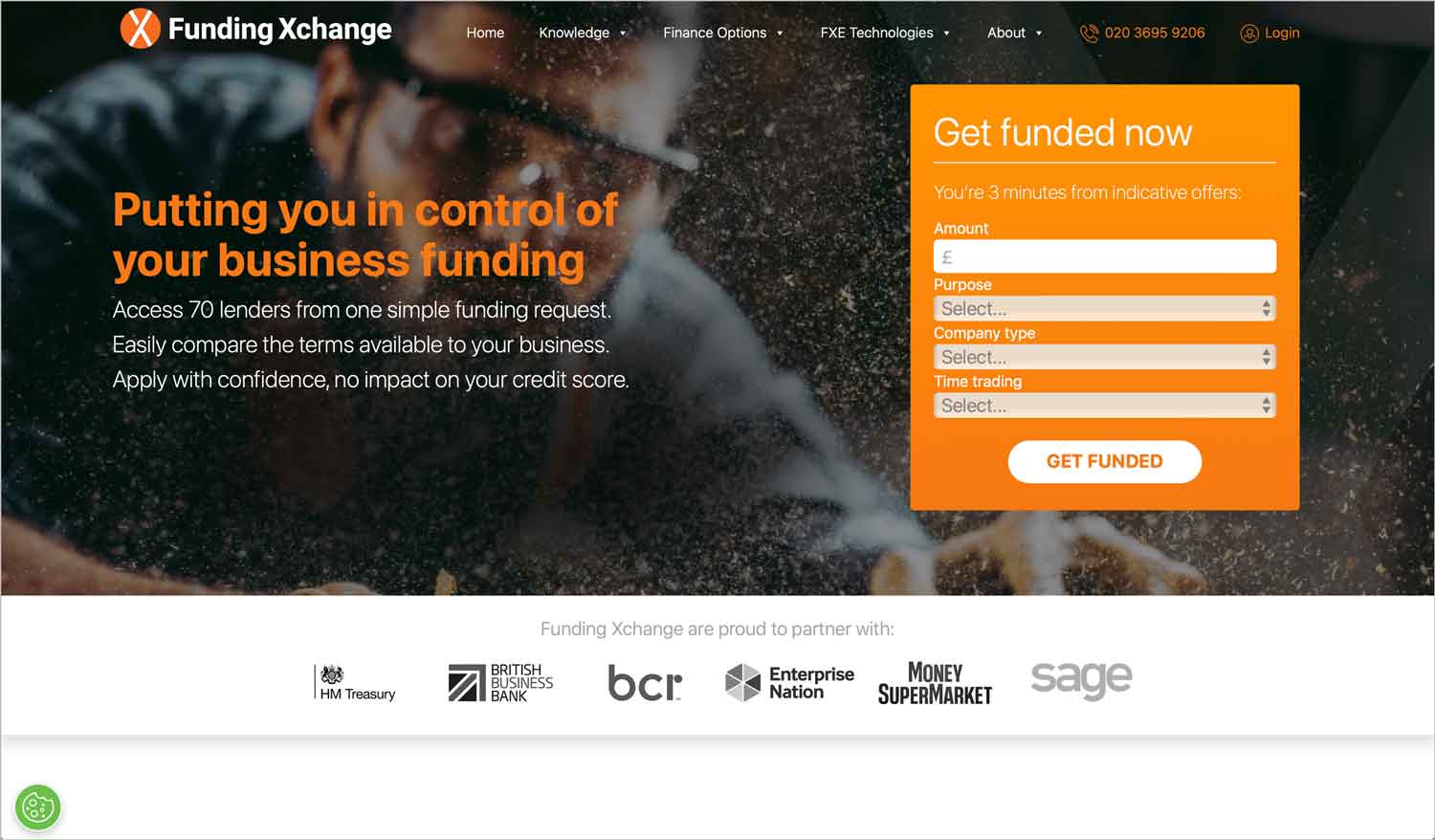 Funding Xchange key information
| | |
| --- | --- |
| Phone number | 020 3695 9206 |
| App downloads | N/A |
| Website | www.fundingxchange.co.uk |
| Number of branches | N/A |
| FSCS protected? | No |
| Founded | 2014 |
Key information
Funding Xchange reviews
| Review platform | Score | Number of votes |
| --- | --- | --- |
| TrustPilot | 3.2/5 | 1 |
| Feefo | Not reviewed | N/A |
| Reviews.io | Not reviewed | N/A |
| Smart Money People | Not reviewed | N/A |
| Which? | Not reviewed | N/A |
| Average score | 3.2/5 | 1 |
Funding Xchange reviews and ratings
Business eligibility criteria
Funding Xchange is a broker, not a lender, so borrowing criteria will be assigned by the business that provides the funding. The only way that you can learn if you are capable of receiving funds by putting in an application.
Business finance alternatives
While Funding Xchange has a wide array of lenders available, it may be faster to apply for finance directly through one of the preferred partners. Consider what lending stream you are looking for and check out our guides to each product.
FAQ
How do I apply for finance from Funding Xchange?
You can call Funding Xchange on 020 3695 9206 to discuss your needs, or fill in an online application for the lending stream that your business requires. You'll get a provisional response within minutes.
If I borrow from Funding Xchange, who provides the money?
Funding Xchange works with 70 different lenders, aiming to pair you with the best possible financier for your needs.
How much can I borrow from Funding Xchange?
This depends on the lender that Funding Xchange puts you in contact with. 
Will getting a quote for lending from Funding Xchange impact my credit score?
No, Funding Xchange will not run a credit report when you make an enquiry about possible lending. Bear in mind that this means you may not be accepted for funding by a supplier if you have poor credit.
Will Funding Xchange charge me for their services?
Funding Xchange does not charge a fee to recommend you a lender, but the financier in question may set additional fees.
Will I need to secure a Funding Xchange loan against an asset?
Funding Xchange works with lenders that offer both secured and unsecured loans. Depending on your credit score and how much you are looking to borrow, the latter may be the only option open to you.