The Industrial Credit and Investment Corporation of India (now known as ICICI for the sake of brevity) started life as a government-sponsored national bank in India back in 1955. Since the turn of the century, ICICI Bank has expanded to a range of countries, including the UK – seven branches are now active across London, Middlesex, Birmingham and Manchester.
Compare business bank accounts
What are you looking for?
In partnership with
Tide

Co-Op Business Banking
✓ Business Current Account
✓ Online, App & High Street Banking
✓ Quick & Easy Application Process


HSBC Business Banking
✓ Business Current Account
✓ In-Branch, Online & App Banking
✓ FSCS Protected


Metro Business Banking
✓ Business Current Account
✓ High Street Presence
✓ FSCS Protected


Mettle Business Banking
✓ Business Bank Account
✓ Online & App
✓ Quick & Easy Application Process


Monzo Business Banking
✓ Business Current Account
✓ Dedicated mobile app experience
✓ FSCS Protected


Tide Business Bank Accounts
✓ Free, Plus, or Pro Account
✓ iOS & Android Mobile App
✓ Upload & Auto-Match Receipts


Virgin Money
✓ Business M Account
✓ In-Store, Online & App Banking
✓ Insights & Forecasting Platform

ICICI Bank offers a current account and savings bond to business customers, as well as mortgages for commercial property investment, but this bank has a history littered with controversy – be sure to conduct a full investigation into whether ICICI Bank is the right home for your business income, especially as this is also an expensive account to run.
ICICI Bank business banking services
Pros and cons of ICICI Bank for business services
| Pros of ICICI Bank | Cons of ICICI Bank |
| --- | --- |
| ✓ FSCS protected | ✗ Only 7 branches in the UK |
| ✓ 2.10% is a good AER for an instant-access savings account | ✗ Minimum balance of £10,000 to open and maintain an account |
| | ✗ Limited current account and lending options |
| | ✗ Potentially expensive microtransaction fees |
| | ✗ Limited and less-than-glowing online reviews |
| | ✗ What could generously be described as a "chequered history" with the law |
ICICI Bank business banking pros and cons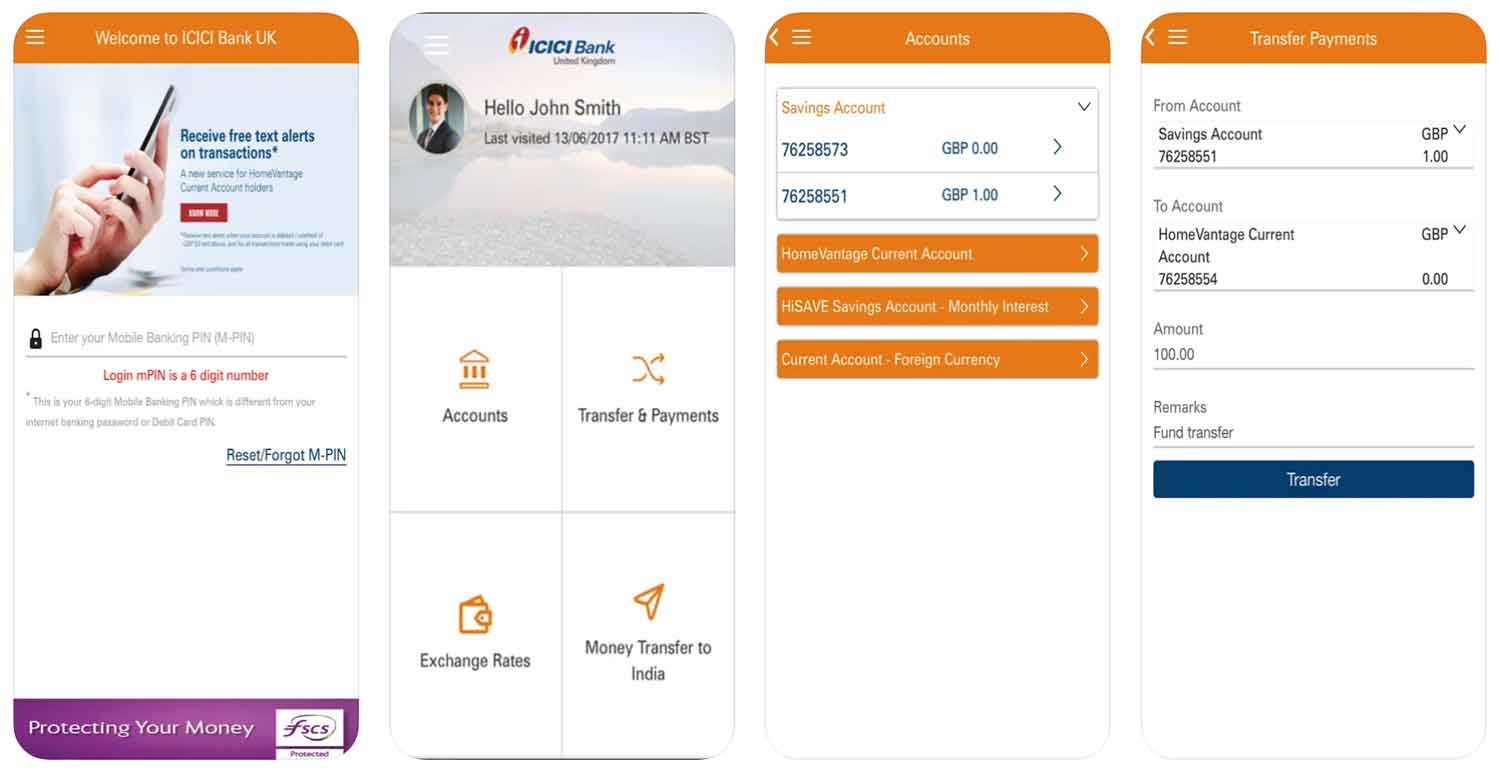 Business current accounts
Business owners in the UK can apply for an ICICI Bank current account in £, $, or €. This account will cost £250 upfront to open, and needs to be done at a branch of ICICI Bank. You'll need a minimum opening balance of £10,000, and to keep your account above this minimum sum, though there will be no monthly fees after this.
ICICI Bank UK also charges microtransaction fees. You'll pay 35p for every direct debit payment that leaves your account, 45p for every cheque payment, and 25p for every payment you receive or debit card purchase. You'll also pay £1 for every funds transfer for a non-ICICI bank account. Be aware that cash cannot be withdrawn over the counter of an ICICI Bank branch.
Business overdrafts
✗ Not available to business customers through ICICI Bank in the UK. See best business overdrafts.
Business savings accounts
Holders of an ICICI Bank business current account will also be offered a savings account. This savings pot can hold as little as £1 or as much as £5,000,000, and the funds can be accessed and transferred to your ICICI current account at any time. Interest is offered at a generous AER of 2.10%.
ICICI Bank at a glance
| | |
| --- | --- |
| Phone number | 0344 412 4444 |
| App downloads | iOS; Android |
| Website | www.icicibank.co.uk/en/business/business-banking |
| Number of branches | 7 |
| FSCS protected? | Yes |
| Founded | 1994, Vadodara, India – ICICI Bank UK was formed in 2016 |
Key information
ICICI Bank business loans and finance
ICICI Bank also offers the following finance products to business customers in the UK:
FOREX Solutions
ICICI Bank offers the opportunity to trade in overseas currencies, checking real-time exchange rates.
Commercial Real Estate Investment
ICICI Bank provides businesses with property loans between £1,000,000 and £7,000,000 for real estate investment, repayable for up to seven years. Loan to value is capped at 65%.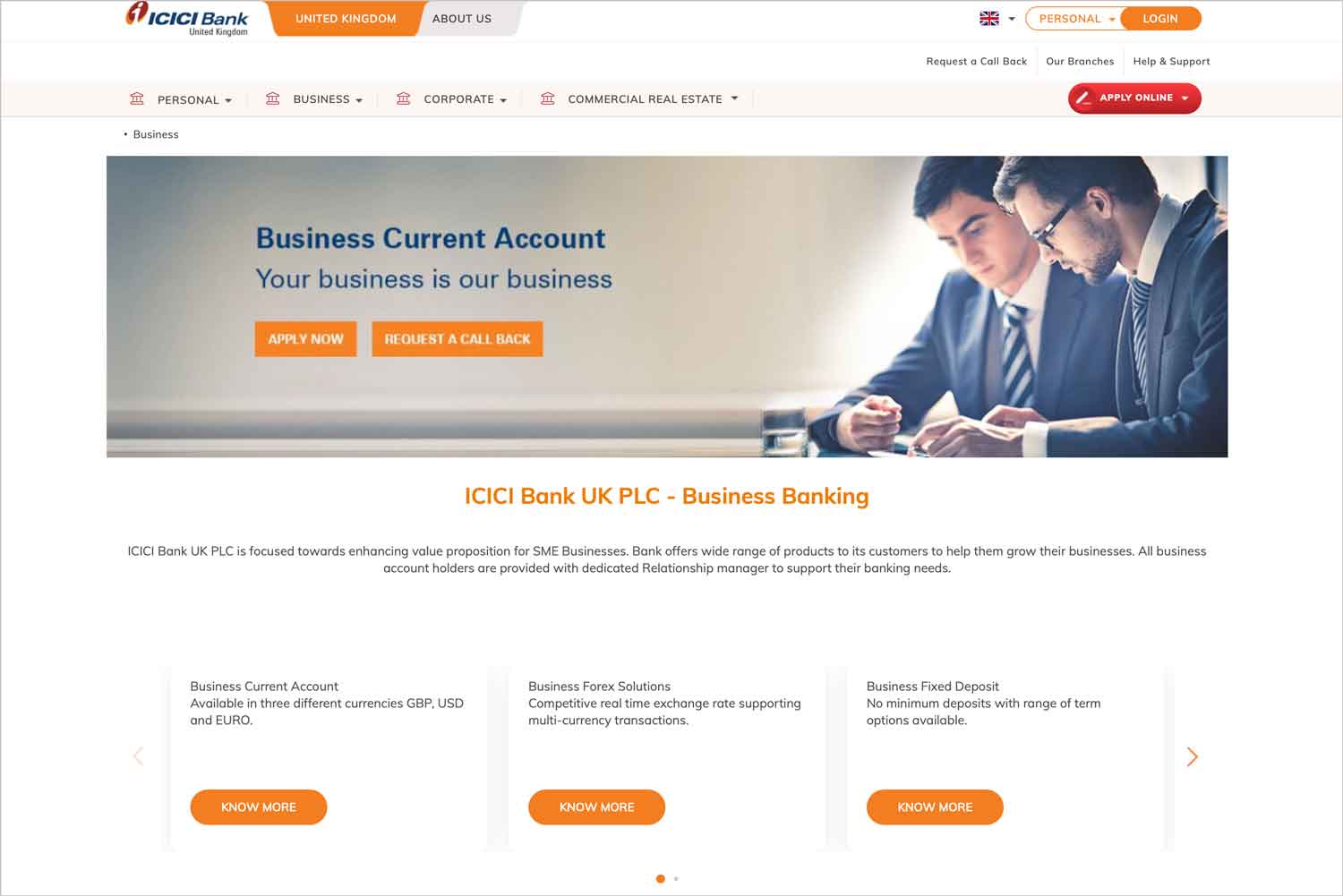 ICICI Bank reviews
What are other business banking customers saying about ICICI Bank?
| Review platform | Score | Number of votes |
| --- | --- | --- |
| TrustPilot | 1.8/5 | 18 |
| Feefo | Not reviewed | N/A |
| Reviews.co.uk | Not reviewed | N/A |
| Smart Money People | 5/5 | 3 |
| Which? | Not reviewed | N/A |
| Average score | 3.4/5 | 21 |
ICICI Bank reviews and ratings
Business eligibility criteria
Anybody aged over 18 or over that is a registered sole trader or SME owner can apply for a business current account with ICICI Bank, but you'll need to visit one of the seven branches in person to finalise the process. These branches are in and around London and Middlesex (Tower Hamlets, Wembley, East Ham, and Southall), the Midlands (Birmingham and Solihull) and central Manchester.
Business finance alternatives
There is little to recommend ICICI Bank over any more conventional high street institution, all of whom will offer comparable current accounts and savings packages, in addition to lending streams and a great number of branches. Unless you have direct business links to India, there is little to reason consider ICICI Bank over an established domestic alternative. Even if you do trade with India regularly, the State Bank of India may be a safer option.
Additional considerations
ICICI Bank has a history littered with controversy, including inappropriate measures of debt recovery and accusations of money laundering. These incidents took place outside the UK, but some sole traders and SME owners may remain uncomfortable doing business with a bank capable of such practices.
FAQ
Is ICICI Bank UK a proper bank?
Yes, ICICI Bank UK is a proper and legitimate bank. It is authorised by the Prudential Regulation Authority (PRA) and regulated by the Financial Conduct Authority (FCA). It offers a wide range of banking services to its customers in the UK including current accounts, savings accounts, investment products and loans.
How to open a ICICI Bank UK business account?
Opening a business account with ICICI Bank UK is an easy and hassle-free process. All you need to do is fill out the online application form, provide some documentation about your business and make the initial deposit. Once you have completed this process, you will be able to access the various products and services offered by the bank such as loans, investments and current accounts.
What fees does ICICI Bank UK charge for business accounts?
ICICI Bank UK charges a variety of fees for its business accounts, depending on the type of account you open. These include monthly maintenance fees, transaction fees and other miscellaneous fees. It is important to read through the terms and conditions carefully before signing up for an account so that you know what fees may be associated with your account.
What services does ICICI Bank UK offer for businesses?
ICICI Bank UK offers a range of services for businesses, including current accounts, savings accounts, investment products and loans. They also offer a wide range of online banking services such as online payments and transfers, bill payments, e-commerce solutions and more.
What types of payments does ICICI Bank UK accept?
ICICI Bank UK accepts a variety of payment methods, including direct debits, standing orders and credit/debit cards. They also accept payments from some international customers as they offer multi-currency accounts. The bank can also process payments made through the Faster Payments Service (FPS).