Landbay is an online-only provider of buy-to-let mortgages, funded on a peer-to-peer basis.
This provider offers loans to SPVs seeking investment properties to let to paying tenants, though that's it – you will qualify for a commercial mortgage on a building to trade from through this lender, and you will not have access to any other financial products.
This makes Landbay an extremely unique service for business borrowers – this is a really an institution that has personal borrowing and property management in mind.
Landbay commercial mortgages and buy-to-let mortgages
Pros and cons of Landbay for business finance
| Pros | Cons |
| --- | --- |
| ✓ Selection of buy-to-let mortgages for SPVs | ✗ Not really suited for business mortgages |
| ✓ Excellent online review | ✗ No other products available for business finance |
Landbay pros and cons
Commercial mortgages
The only product offered by Landby is buy-to-let mortgages. While this business offers over 70 different products of this type, just 12 of them relate to a business. If you qualify for lending of this type, the property can be rented to private tenants or a commercial enterprise.
A business interested in investing in buy-to-property can borrow between £100,000 and £1,000,000, provided the criteria are met and you have a deposit of at least 25%. Interest rates will vary depending on whether the mortgage is for a traditional residential property, an HMO, or a multi-unit freehold.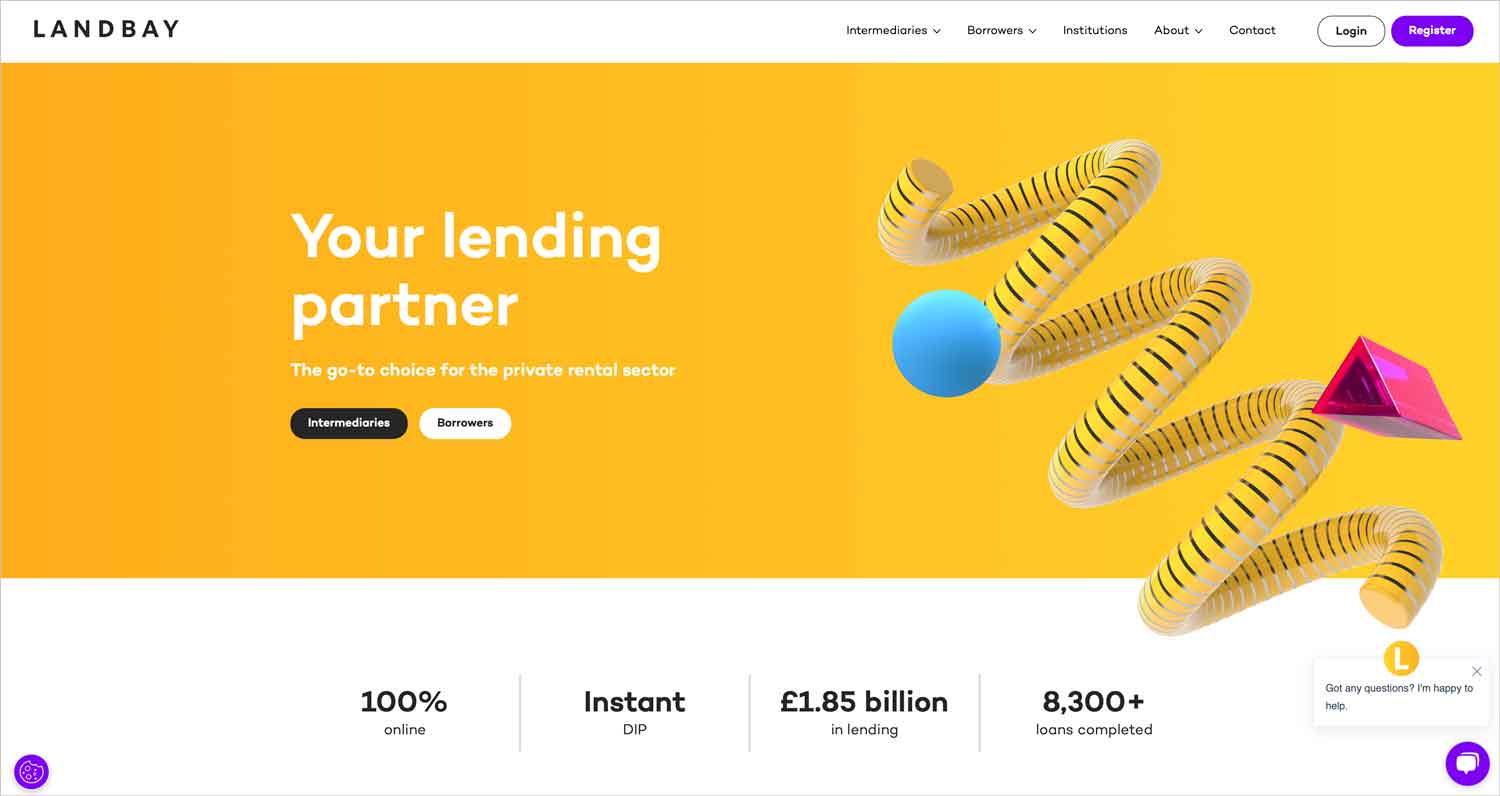 Asset finance
✗ Not available through Landbay. See asset finance.
Business loans
✗ Not available through Landbay. See business loans. 
Merchant cash advance
✗ Not available through Landbay. See merchant cash advance.
Invoice finance
✗ Not available through Landbay. See invoice factoring.
Business vehicle finance
✗ Not available through Landbay. See business vehicle finance. 
Business credit cards
✗ Not available through Landbay. See best business credit cards. 
Landbay key information
| | |
| --- | --- |
| Phone number | 020 7096 2700 |
| App downloads | N/A |
| Website | www.landbay.co.uk |
| Number of branches | N/A |
| FSCS protected? | No |
| Founded | 2014 |
Key information
Landbay reviews
| Review platform | Score | Number of votes |
| --- | --- | --- |
| TrustPilot | 4.5/5 | 285 |
| Feefo | Not reviewed | N/A |
| Reviews.io | Not reviewed | N/A |
| Smart Money People | 4.67/5 | 12 |
| Which? | Not reviewed | N/A |
| Average score | 4.585/5 | 297 |
Landbay reviews and ratings
Business eligibility criteria
Landbay's commercial mortgages are only available to SPV businesses under these criteria.
All applicants must be based in the UK
No holiday lets permitted
At least one applicant needs previous landlord experience
Identified property must be ready to rent and attract immediate rental yield
Business finance alternatives
InterBay is an example of the polar opposite of Landbay, exclusively offering commercial mortgages rather than private or personal lending. If you are seeking a commercial mortgage, though, it's generally advisable to team up with a trusted broker that will locate the best deals for your needs.
Additional considerations
Landbay is regularly honoured at property-specific awards ceremonies, but the same caveat as always applies here – these awards are for the personal lending service provided by Landbay, not business or commercial mortgages.
FAQ
How do I apply for finance from Landbay?
You can call Landbay on 020 7096 2700 to discuss what mortgage products you may qualify for, use Landbay's online calculator. The latter may be advisable, as this lender tries to do as much as possible online.
How much can I borrow from Landbay?
A business can borrow up to £1,000,000 on a Landbay buy-to-let mortgage, though obviously the upper limit of your precise borrowing will depend on your finances and potential rental yield.
What interest rate will Landbay assign to my lending?
The average interest rate on a Landbay buy-to-let mortgage for an SPV is between 1.69% and 5.69% plus the Bank of England base rate. If you can afford a bigger deposit and are prepared to enter a mortgage with a shorter fixed term you'll get a better initial interest rate.
Does Landbay charge a product fee for a mortgage?
Yes, a Landbay buy-to-let mortgage taken out by a business will have a product fee of 2% or 3% of the mortgage's final value. If you are teaming up with a broker, you will also likely need to pay them an additional fee,
Can I get a general business loan from Landbay?
No, Landbay does not offer generic loans to SMEs. This business specialises in buy-to-let mortgages only.
If I get a mortgage form Landbay, can I work from the property? 
No, all mortgages offered by Landbay are on a buy-to-let basis. If you take out a mortgage and use it for your own business needs, you will be in violation of your mortgage agreement and may be liable to immediately repay the loan in full or risk foreclosure.