LendingCrowd operates under the tag line of "think outside the bank" as this is an online peer-to-peer lender with substantial capacity for funding small businesses – but does it have good reviews?
LendingCrowd is among the most transparent options out there, making them very appealing for any SME seeking funding, with competitive interest rates, repayment terms of up to five years, and loans between £25,0001 and £500,000 available.
You'll need to be an established business with a healthy turnover to qualify for finance from LendingCrowd, but if you meet the criteria of this lender, you may be glad that you approached them.
LendingCrowd business loans and finance
Pros and cons of LendingCrowd for business finance
| Pros | Cons |
| --- | --- |
| ✓ Applications are assessed by a human, not AI | ✗ Not open to sole traders |
| ✓ Lending of up to £500,000 available | ✗ Minimum loan is £25,001 |
| ✓ Flexibility on repayment terms | ✗ Must have been trading for two years and have a minimum turnover of £100,000 |
| ✓ Competitive interest rates and full transparency on what you will be expected to pay | ✗ Middling online reviews, though many complaints are from investors who claim they are not receiving as much in interest as rivals offer – that's good news for borrowers! |
LendingCrowd pros and cons
Business loans
LendingCrowd specialises in peer-to-peer business loans between £25,0001 and £500,000. These loans can be repaid for any period between six months and five years.
Interest rates are fixed for the duration of the loan and start at 5.65% and will be assigned based on your business performance and credit history. You will be assigned a score of A+, A, B+, B, or C+.
A perfectly clean credit score will earn you an A+ rating, so your interest rate will be lower – investors will consider you a low-risk, low-reward borrower. Historical credit issues will see your rating slide anywhere from A to C+, with the latter being considered a greater credit risk to an investor but offering higher interest – which you will obviously need to pay.
On paper, a LendingCrowd business loan can be used for any business expense. You will be asked why you are applying for funding, so be as honest and detailed as possible.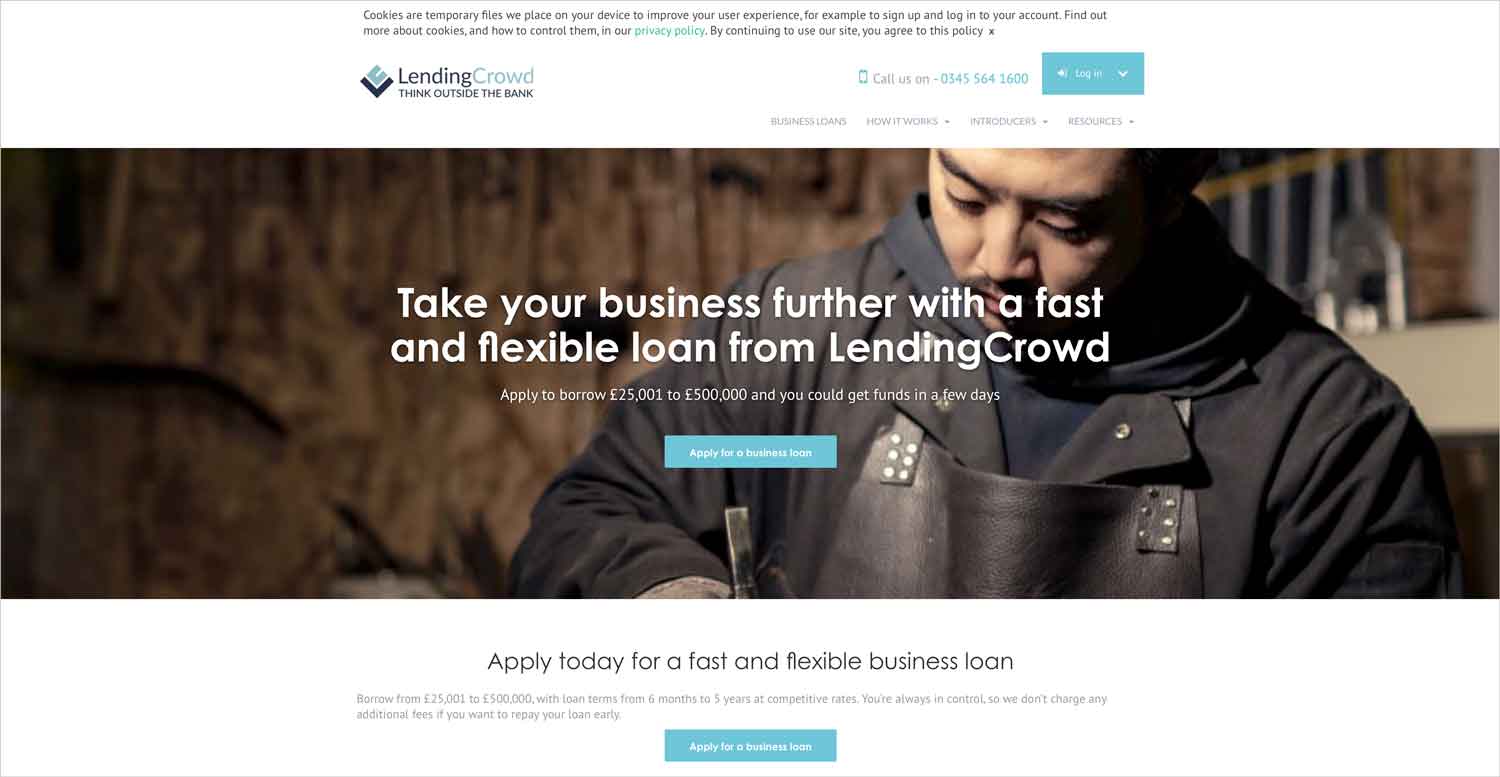 Merchant cash advance
✗ Not available from LendingCrowd. See merchant cash advance.
Business credit cards
✗ Not available from LendingCrowd. See best business credit cards. 
Asset finance
✗ Not available from LendingCrowd. See best asset finance. 
Invoice finance
✗ Not available from LendingCrowd. See invoice factoring. 
Commercial mortgages
✗ Not available from LendingCrowd. See commercial mortgages.
Business vehicle finance
✗ Not available from LendingCrowd. See business vehicle finance.
LendingCrowd key information
| | |
| --- | --- |
| Phone number | 0345 564 1600 |
| App downloads | N/A |
| Website | www.lendingcrowd.com/business-loans |
| Number of branches | N/A |
| FSCS protected? | No |
| Founded | 2014 |
Key information
LendingCrowd reviews
| Review platform | Score | Number of votes |
| --- | --- | --- |
| TrustPilot | 1.9/5 | 29 |
| Feefo | Not reviewed | N/A |
| Reviews.io | Not reviewed | N/A |
| Smart Money People | 4.89/5 | 9 |
| Which? | Not reviewed | N/A |
| Average score | 3.395/5 | 38 total votes |
LendingCrowd reviews
Business eligibility criteria
The criteria to borrow from LendingCrowd may eliminate some interested businesses. You will need to meet the following:
Be a registered company or partnership – LendingCrowd does not work with sole traders
At least two years of trading history
Have an annual turnover of at least £100,000
Need to borrow a minimum of £25,001
No active defaults of CCJs
Business finance alternatives
As appealing as the terms of borrowing from LendingCrowd may be, not every business will meet the minimum criteria required to qualify for a loan, or may not be looking to borrow quite as much money. If this is the case, consider the many and varied other business lenders we have profiled – you're likely to find somebody more appropriate for your unique needs.
Additional considerations
LendingCrowd continues to go from strength to strength, recently acquiring an additional £100,000,000 in funding from Barclay's Bank that will enable this lender to fund even more SMEs.  
FAQ
How do I apply for finance from LendingCrowd?
Call LendingCrowd on 0345 564 1600 to discuss your options, or fill in an online application form. This takes just 15 minutes and usually results in an answer within 24 hours
If I borrow from LendingCrowd, who supplies the money?
LendingCrowd is a peer-to-peer lender, so your funding will actually be supplied by investors seeking a return with interest rather than coming from a central vault.
How much can I borrow from LendingCrowd?
The maximum business loan offered by LendingCrowd is £500,000, repayable over up to five years.
Will I need to secure a loan from LendingCrowd against an investment?
If you take out a loan up to £350,000, you will be asked for a personal guarantee. This means that you stand a much greater chance of being accepted if you are a homeowner. Loans above this will usually need to be secured.
How much will a loan from LendingCrowd cost?
You will be assigned an interest rate, at a minimum of 5.65%, based on your business credit history, which will be used to assess risk to the investor. LendingCrowd does not charge early settlement fees if you wish to settle your balance before the end of the term.
Can I top up my loan from LendingCrowd?
Once you have made six months of successful repayments to LendingCrowd you can apply to refinance an existing loan.