Not to be confused with the building society of the same name, Nationwide Finance is a direct lender that provides business funding to eligible applicants.
Lending is open to start-ups and established businesses alike, starting at £6,000 and capped at £10,000,000.
Nationwide Finance is not particularly transparent about interest rates, and all lending needs to be secured against a personal property or an asset of equitable value, but no broker fees will be assigned and Nationwide Finance is the UK's biggest business loan provider.
Nationwide Finance business loans and finance
Pros and cons of Nationwide Finance for business finance
| Pros | Cons |
| --- | --- |
| ✓ Biggest provider of direct business loans in the UK | ✗ All lending must be secured |
| ✓ Fast application process and release of funds | ✗ Limited scope of products |
| ✓ Excellent online reviews | ✗ Some historical bad press surrounding business practices |
Nationwide Finance pros and cons
Business loans
Nationwide Finance offers secured loans to businesses of all ages – including start-ups that have yet to commence trading. These loans are available from £6,000 to £10,000,000, depending on your eligibility and affordability.
You can complete a rapid application online and typically have an answer within four hours – with successful applications paying out within a day. All credit scores will be considered, but poor credit may be reflected in your interest rate.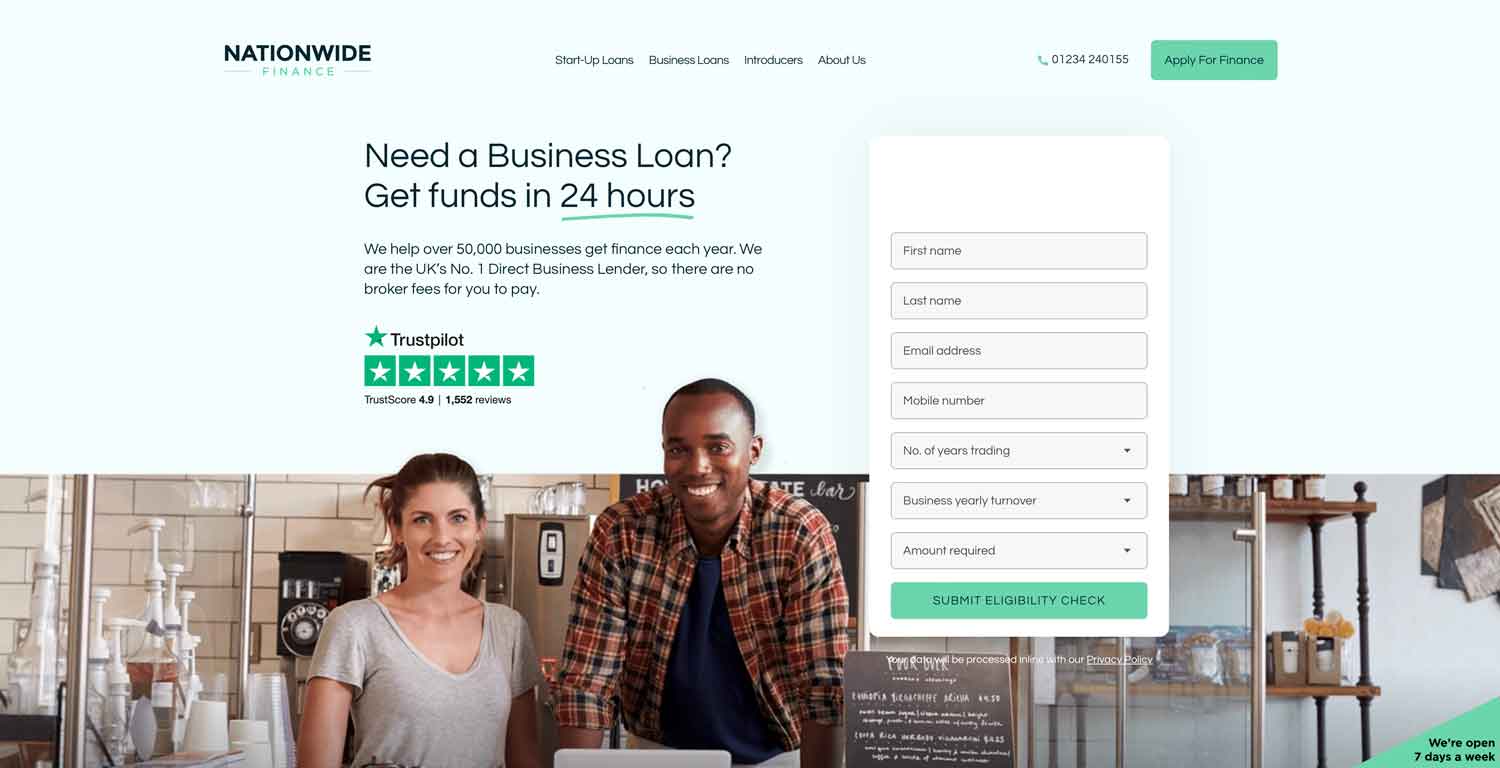 Asset finance
✗ Not available from Nationwide Finance. See asset finance.
Merchant cash advance
✗ Not available from Nationwide Finance. See merchant cash advance. 
Invoice finance
✗ Not available from Nationwide Finance. See invoice factoring. 
Commercial mortgages
✗ Not available from Nationwide Finance. See commercial mortgages.
Business vehicle finance
✗ Not available from Nationwide Finance. See business vehicle finance.
Business credit cards
✗ Not available from Nationwide Finance. See best business credit cards. 
Nationwide Finance key information
| | |
| --- | --- |
| Phone number | 01234 240155 |
| App downloads | N/A |
| Website | www.nationwidefinance.co.uk |
| Number of branches | N/A |
| FSCS protected? | No |
| Founded | 1989 |
Key information
Nationwide Finance reviews
| Review platform | Score | Number of votes |
| --- | --- | --- |
| TrustPilot | 4.9/5 | 1,553 |
| Feefo | Not reviewed | N/A |
| Reviews.io | 4.8/5 | 379 |
| Smart Money People | Not reviewed | N/A |
| Which? | Not reviewed | N/A |
| Average score | 4.85/5 | 1,932 |
Nationwide Finance reviews and ratings
Business eligibility criteria
Nationwide Finance assesses every application for funding on a case-by-case basis and does not reveal any strict eligibility criteria ahead of time, ahead of the fact that all borrowing must be secured against a personal property. Fill in the online application form to learn if you will be entitled to borrow from Nationwide Finance, and if so, how much this lender is willing to provide and at what interest rate.
Business finance alternatives
If you are looking for an unsecured loan that will not place your personal assets at risk, there are plenty of alternative direct lenders online and on the high street.
Additional considerations
Nationwide Finance made unwelcome headlines in The Times in 2019 and 2020, with stories claiming that this lender used aggressive and underhanded techniques to pressure borrowers into taking out loans. Nationwide Finance has disputed these stories and taken legal action against the newspaper.
FAQ
How do I apply for finance from Nationwide Finance?
You can call Nationwide Finance on 01234 240155 to discuss your needs, or just fill in a very short application form online that will see your furnished with an immediate quote.
How quickly will Nationwide Finance release funds if I take out a loan?
Nationwide Finance typically releases funds within 24 hours of an approved application for funding.
How much can I borrow from Nationwide Finance?
The maximum loan sum available from Nationwide Finance in a single application is 10,00,000.
What interest rate will Nationwide Finance assign to my loan?
Nationwide Finance will assign an interest rate based on your level of borrowing and credit history, which will be confirmed after making an application and providing information about your company.
Can I repay a Nationwide Finance loan early?
You will be offered a discount on any interest payments the lender will miss out on if you wish to close your Nationwide Finance balance early, but you will need to make at least some contribution.
Will I need to secure a Nationwide Finance loan against an asset?
Yes, all loans taken out through Nationwide Finance must be secured against personal property or an asset of equal value.