Nest Business Loans is a business finance broker that partners with over 200 potential lenders, making it one of the most wide-reaching businesses of this ilk.
Nest will assess your circumstances and pair you with the best providers of your funds, potentially allowing your business to borrow up to £5,000,000 – with some lenders paying out within 24 hours.
You can apply for a loan and check your eligibility with Nest Business Loans online with no impact on your company credit score, making this a helpful place to start in any question for corporate funding.
Nest Business Loans business loans and finance
Pros and cons of Nest Business Loans for business finance
| Pros | Cons |
| --- | --- |
| ✓ Work with over 200 external lenders | ✗ Borrowing through a broker can take longer than direct applications   |
| ✓ Rapid eligibility checker and quote production | ✗ 2% arrangement fee may apply to a successful loan application |
| ✓ Dedicated account manager will ensure you are teamed with the best lender for your needs | ✗ As a broker, Nest Business Loans has no control over whether an application is successful |
| ✓ Excellent TrustPilot reviews | |
Nest Business Loans pros and cons
Business loans
As the name of the business suggests, this is the core service of Nest Business Loans. Enter your company details and explain how much you are looking to borrow, and Nest will connect you with up to 200 lenders that are potentially willing to submit funding to your business.
Just be aware that Nest Business Loans is only a broker, meaning they act as a middleman, so the offers you receive may be subject to change once a lender runs a full credit check on your business. This means that the interest rate you are initially quoted may increase, or your application could be outright denied. Be honest about any historical credit issues attached to your business name when discussing your needs with a Nest Business Loans account manager.
Nest Business Loans will receive a commission from the lender that arranges your loan, and may also charge you an additional fee of 2% of the total sum borrowed as a set-up fee. The minimum loan that Nest will search for is £10,000, and the maximum sum is £5,000,000.
Asset finance
Nest Business Loans will pair your business with lenders that specialise in asset finance. This will potentially provide your business with the ability to seek financing for a major asset purchase that you pay for on a hire or lease basis, or you may wish to release equity in assets that your business owns and redirect these funds elsewhere,
Merchant cash advance
If you take payments from customers by debit or credit card, you may find that a partner of Nest Business Loans is willing to advance you up to 120% of your monthly turnover. This loan will be repaid automatically, with funds – plus a fee – debited from your future sales.
Invoice finance
If you issue invoices to clients and customers on a credit basis, you may need to wait 30, 60, 90, or even 120 days to receive payment. Partners of Nest Business Loans may be willing to offer you an invoice factoring service, in which you can receive up to 90% of the value of an outstanding invoice immediately. The remaining balance will be submitted to you when the invoice is settled, minus a fee taken by the invoice factoring provider.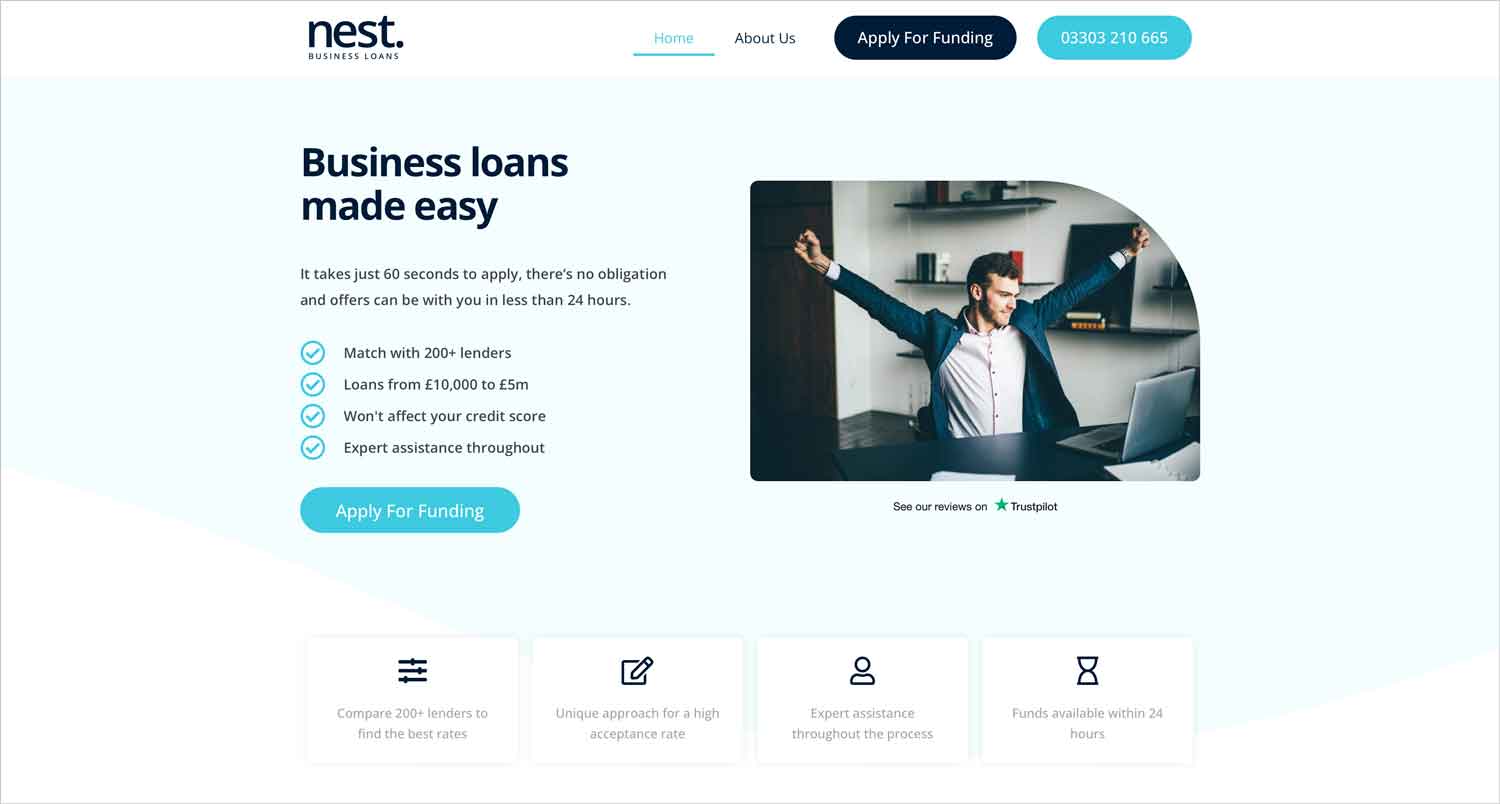 Commercial mortgages
✗ Not available from Nest Business Loans. See commercial mortgages.
Business vehicle finance
✗ Not available from Nest Business Loans. See business vehicle finance. 
Business credit cards
✗ Not available from Nest Business Loans. See best business credit cards. 
Nest Business Loans key information
| | |
| --- | --- |
| Phone number | 03303 210 665 |
| App downloads | N/A |
| Website | www.nestbusinessloans.co.uk |
| Number of branches | N/A |
| FSCS protected? | No |
| Founded | 2015 |
Key information
Nest Business Loans reviews
| Review platform | Score | Number of votes |
| --- | --- | --- |
| TrustPilot | 4.7/5 | 31 |
| Feefo | Not reviewed | N/A |
| Reviews.io | Not reviewed | N/A |
| Smart Money People | Not reviewed | N/A |
| Which? | Not reviewed | N/A |
| Average score | 4.7/5 | 31 |
Nest Business Loans reviews and ratings
Business eligibility criteria
Criteria for a loan is not decided by Nest Business Loans – that's between you and your assigned lender. As Nest Business Loans pairs you with up to 200 different financial providers, you're likely to find at least one that is willing to work with you.
Business finance alternatives
Nest Business Loans has more partners than most competing brokers, and the rapid response to applications means that this is arguably the best first option when seeking finance from a broker, but it may be faster and more cost-effective to find a direct lender.
Additional considerations
Nest Business Loans is fully regulated by the FCA and are members of the National Association of Commercial Finance Brokers (NACFB), so all lending partners should be considered reputable.
FAQ
How do I apply for finance from Nest Business Loans?
You can call Nest Business Loans on 03303 210 665 to discuss your needs, or fill in an online application for the lending stream that your business requires. 
If I apply for funding from Nest Business Loans, who provides the money?
Nest Business Loans works alongside over 200 different lenders, so you should have a selection of potential financial institutions to borrow from.
Will I get to speak to a human being when applying for finance through Nest Business Loans?
Yes, although the initial application will be automated, your details will be passed to a dedicated account manager at Nest Business Loans, who will get in touch and discuss your needs in greater detail.
How much can I borrow from Nest Business Loans?
Nest Business Loans pairs with third-party lenders that are willing to offer finance of up to £5,000,000 in a single application.
What interest rate will Nest Business Loans assign to my loan?
This is between you and the lender that Nest Business Loans pairs you with. You will likely be provided with a selection of quotes, so you can choose the most appealing interest rate.
Will I need to secure a Nest Business Loans loan against an asset?
Nest Business Loans primarily works with lenders that offer unsecured loans. This means that you will not need to place a personal asset on the line directly, but you may find your lending options restricted and will likely still need to make a personal guarantee for high levels of funding.