Novuna is the new branding for Hitachi Finance, one of the biggest names in lending in the UK.
While Hitachi built its reputation on consumer and personal lending products, Novuna retains a strong presence in the world of commercial borrowing – SMEs can turn to Novuna to release funds tied up in unpaid invoices or release money against a stock inventory, with the funding coming from business peers rather than a central vault.
Novuna business loans and finance
Pros and cons of Novuna for business finance 
| Pros | Cons |
| --- | --- |
| ✓ Selection of financial products available, including invoice financing and asset finance | ✗ Better known for personal lending than business finance |
| ✓ Same-day release of successful invoice finance applications if completed before 12pm | ✗ Invoice financing must be taken up on a contract basis, not individual invoices |
| ✓ Rolling contract for invoice financing can lead to discounted fees | ✗ Lump sum loans are not available to a business – only invoice finance or asset finance |
| ✓ Owned by Mitisbushi, a major and reliable company with plenty of backing | ✗ Very few online reviews left by business customers – most are from personal borrowers |
Novuna pros and cons
Invoice finance
Novuna Business Finance's invoice finance is known as 'business cash flow.' This is a contract service in which you will upload your invoices to Novuna once they have been sent to customers. Novuna will release up to 90% of the invoice value, frequently on the very same day if you upload the invoice before midday. 
You can choose to sign up for invoice factoring, in which Novuna will connect you with a third-party factoring company that takes over credit control in full, or invoice discounting, which is confidential as you retain credit control and the invoice is paid into an account opened in your name by Novuna, but attracts higher fees. Once the invoice is paid, you will receive the remaining balance, minus Novuna's fee.
Asset finance
Outside of business cash flow, Novuna also offers a service called 'stock finance.' This entitles you to release capital from your existing inventory. Novuna will not finance this themselves – the lending will be a private peer-to-peer arrangement with another business, with Novuna acting as the broker. Contact Novuna for more information.
Business loans
Novuna also offers lump sum business loans, tailored to the income and needs of the business making an application.
You will not necessarily be tied into a monthly repayment cycle of the same sum each time – you can choose to make repayments seasonally if this will suit your business model better, though the interest rate will remain fixed for the duration of the agreement.
Contact Novuna to discuss your options in greater detail and learn if your business is eligible for this borrowing.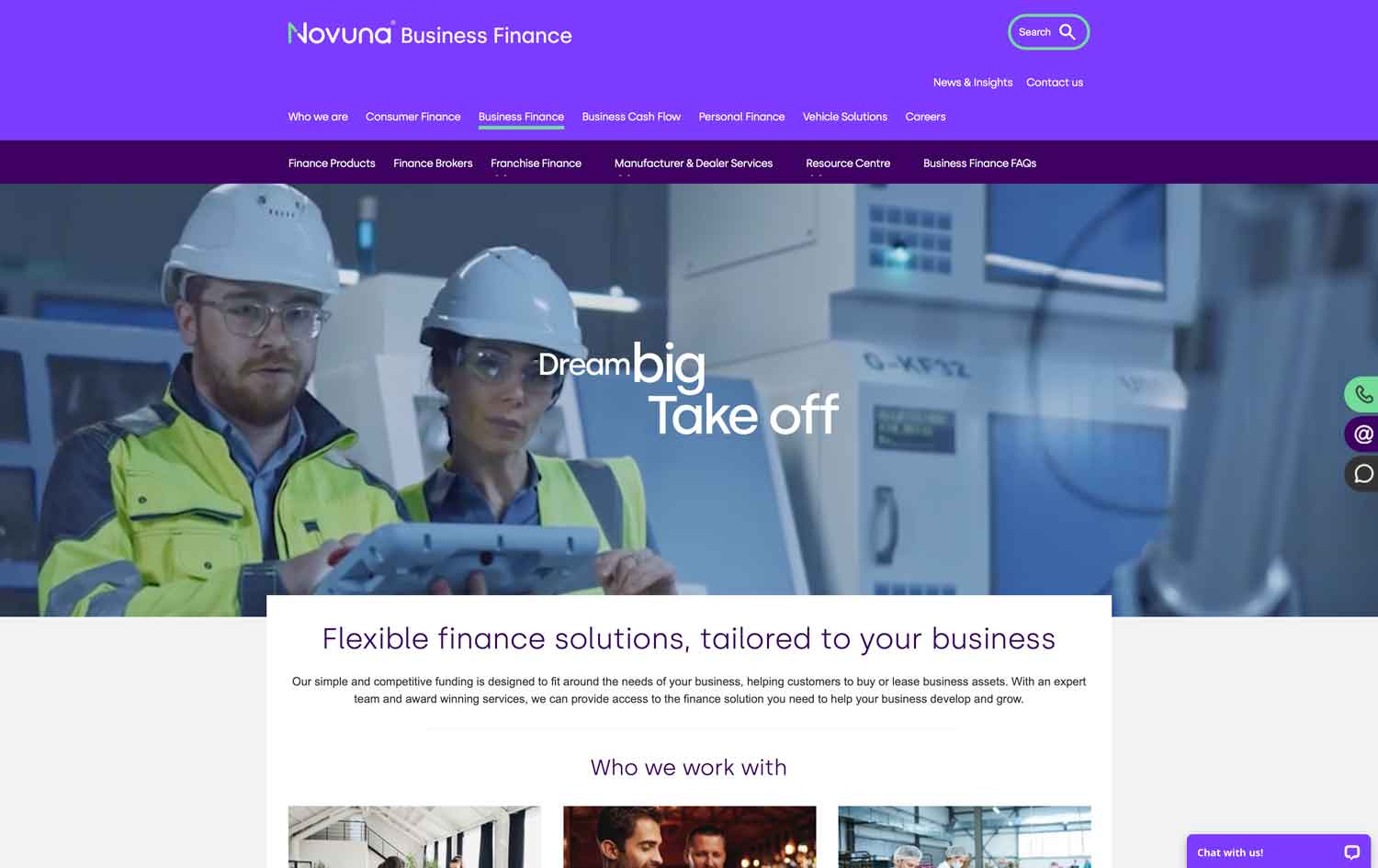 Commercial mortgages
✗ Not available from Novuna Business Finance. See commercial mortgages.
Business vehicle finance
✗ Not available from Novuna Business Finance. See business vehicle finance.
Merchant cash advance
✗ Not available from Novuna Business Finance. See best merchant cash advance. 
Business credit cards
✗ Not available from Novuna Business Finance. See best business credit cards. 
Novuna key information
| | |
| --- | --- |
| Phone number | 0808 258 2884 |
| App downloads | N/A |
| Website | www.novuna.co.uk |
| Number of branches | N/A – Novuna Business Finance is an online business |
| FSCS protected? | No |
| Founded | 1982 (as Mitsubishi HC Capital UK PLC) |
Key information
Novuna Business Finance reviews
| Review platform | Score | Number of votes |
| --- | --- | --- |
| TrustPilot | Not reviewed | N/A |
| Feefo | 4.9/5 | 21 |
| Reviews.io | Not reviewed | N/A |
| Smart Money People | Not reviewed | N/A |
| Which? | Not reviewed | N/A |
| Average score | 4.9/5 | 21 total votes |
Novuna reviews and ratings
Business eligibility criteria
To qualify for Novuna business cash flow advance, you must meet the following criteria.
Be a UK-based business or partnership – sole traders cannot apply for this lending
Trade in the B2B market, not B2C
Have a minimum annual turnover of £50,000
Stock finance eligibility will depend on who is providing the finance. Contact Novuna to discuss your options.
Business finance alternatives
Novuna Business Finance offers a selection of products for businesses looking to improve cashflow, but is not the only lender in town. If you do not qualify for borrowing from Novuna Business Finance or wish to compare the offer of this lender with a rival, consider the following competitors.
Bibby Business Finance
Close Brothers
eCapital Factoring
Creative Capital
IGF Commercial Finance
Kriya
Pulse Cashflow Finance
Skipton Business Finance
Team Factors
Time Finance Plc
Additional considerations
We have touched upon this, but it bears repeating – Novuna is more of a personal lender than a business specialist. This is why this arm of the company has such a limited number of online reviews. Do take this under advisement when considering borrowing from Novuna.
FAQ
How do I apply for a cash flow advance from Novuna Business Finance?
Call Novuna on 0808 258 2884 to discuss if your business will be eligible for a cash flow advance. If this is the case, you can fill in an online form and receive a quote.
How much can I borrow from Novuna Business Finance?
Lending on an invoice finance basis is capped at 90% of the invoice value. 
Will I need to secure borrowing from Novuna Business Finance against an asset?
Novuna assesses each cash flow advance application individually. If you are a new business, you may be asked to secure your borrowing against your residential home.
Will Novuna Business Finance tie me into a contract for cash flow advances?
Yes, but this will be a rolling contract. After an initial six-month trial, you can cancel at any time.
Will my customers know I am using Novuna Commercial Finance for a cash advance?
If you use the invoice factoring service, Novuna will take over credit control of your invoice so your customers will be contacted by Novuna. If you prefer to remain anonymous and retain credit control over your invoices, choose invoice discounting, though this can be costlier.
How long does it take to get my money from Novuna Commercial Finance?
After an initial onboarding, which should not take longer than 24 hours, you should be able to receive invoice advances on the same day you raise your bills.