Paragon Bank is a firmly established name in the world of finance, primarily celebrated for their personal  savings accounts but also willing to work with businesses – but does it have good reviews?
Compare business bank accounts
What are you looking for?
In partnership with
Tide

Co-Op Business Banking
✓ Business Current Account
✓ Online, App & High Street Banking
✓ Quick & Easy Application Process


HSBC Business Banking
✓ Business Current Account
✓ In-Branch, Online & App Banking
✓ FSCS Protected


Metro Business Banking
✓ Business Current Account
✓ High Street Presence
✓ FSCS Protected


Mettle Business Banking
✓ Business Bank Account
✓ Online & App
✓ Quick & Easy Application Process


Monzo Business Banking
✓ Business Current Account
✓ Dedicated mobile app experience
✓ FSCS Protected


Tide Business Bank Accounts
✓ Free, Plus, or Pro Account
✓ iOS & Android Mobile App
✓ Upload & Auto-Match Receipts


Virgin Money
✓ Business M Account
✓ In-Store, Online & App Banking
✓ Insights & Forecasting Platform

Paragon Bank is best approached if you have a significant interest in the property market and are looking to trade in substantial sums.
This lender does not offer generic SME loans or owner-occupied commercial mortgages – it's primarily used by property developers. However, smaller businesses find Paragon Bank's asset finance and invoice finance solutions useful.
Paragon Bank property loans and commercial mortgages
Pros and cons of Paragon Bank for business finance
| Pros | Cons |
| --- | --- |
| ✓ Selection of financial products available, some of which are open to start-ups and young businesses | ✗ Most lending applications must be handled by an independent financial adviser |
| ✓ Full transparency on costs and fees that will be charged on a successful application | ✗ Does not offer six-figure SME loans or commercial mortgages and will not offer asset lending to all industries |
| ✓ Paragon is a well-established name in the realm of business finance | ✗ Mixed online reviews, many of which complain about customer service |
Paragon Bank pros and cons
Commercial mortgages
Paragon Bank is willing to work with businesses that wish to operate in the property market, but be aware that this lender does not offer commercial mortgages.
You will not be able to invest in a property that can be used as a home base for your business with this lender. Instead, you can apply for the following products if you work alongside a broker (Paragon Bank does not offer direct lending)
Buy-to-let mortgages
If your business operates as an SPV, you can work with Paragon Bank to secure a single or multiple buy-to-let mortgages on property that will be rented to paying tenants, generating income through rental yield. If you already own a buy-to-let property, you can also use this as security for a second charge mortgage and redirect the funds elsewhere in your business.
Residential development finance
Paragon Bank will provide funding to help pay for a development plot of new-build residential homes.
Student accommodation development finance
Paragon Bank will provide funding to help pay for a student accommodation housing block, an increasingly popular form of property development in cities that host major universities.
Pre-planning development finance
If you have sourced land but are yet to secure planning permission to build new homes, Paragon Bank will provide funding to help you get to the next stage in building.
Marketing period finance
If you have built a development of homes, you will be keen to sell them as quickly as possible. Paragon Bank will provide funding while you launch a marketing campaign to recoup your investment.
Bridging finance
Paragon Bank will provide a short-term loan to cover a gap in your income, such as allowing you to lay down a deposit on a new property while you wait for the process of selling another to complete.
Asset finance
Paragon Bank will consider asset finance for equipment required by a business that operates in particular industries. Typically, asset finance through Paragon Bank is restricted to the following sectors.
Agriculture
Aviation
Construction
Manufacturing
Transport
Technology
Naturally, 'technology' is a broad church so you may find that your business qualifies for lending under this remit, but you may wish to consider other options – see asset finance for a list of alternative providers.
Invoice finance
Paragon Bank offers an invoice factoring service, which will see up to 95% of the value of any outstanding invoices released immediately by this lender. You will receive the remainder of the balance, minus a fee, when the invoice is settled by your client. You can choose whether you would prefer to maintain credit control of this invoice or pass responsibility for managing the debt onto Paragon Bank.
Business loans
Other than a second charge mortgage on an existing buy-to-let agreement, the closest thing to a standard loan Paragon Bank offers business customers is Structured Lending, in which Paragon Bank may consider a secured credit line between £5,000,000 and £25,000,000, to be repaid within three years. For smaller and more manageable loans, see business loans.
Business vehicle finance
While Paragon Bank discusses the option of taking out vehicle finance through a broker, this is designed for personal borrowers. If you need vehicle finance for work purposes, investigate if you can use Paragon Bank's asset lending streams or see business vehicle finance.
Merchant cash advance
✗ Not available through Paragon Bank. See merchant cash advance.
Business credit cards
✗ Not available through Paragon Bank. See best business credit cards.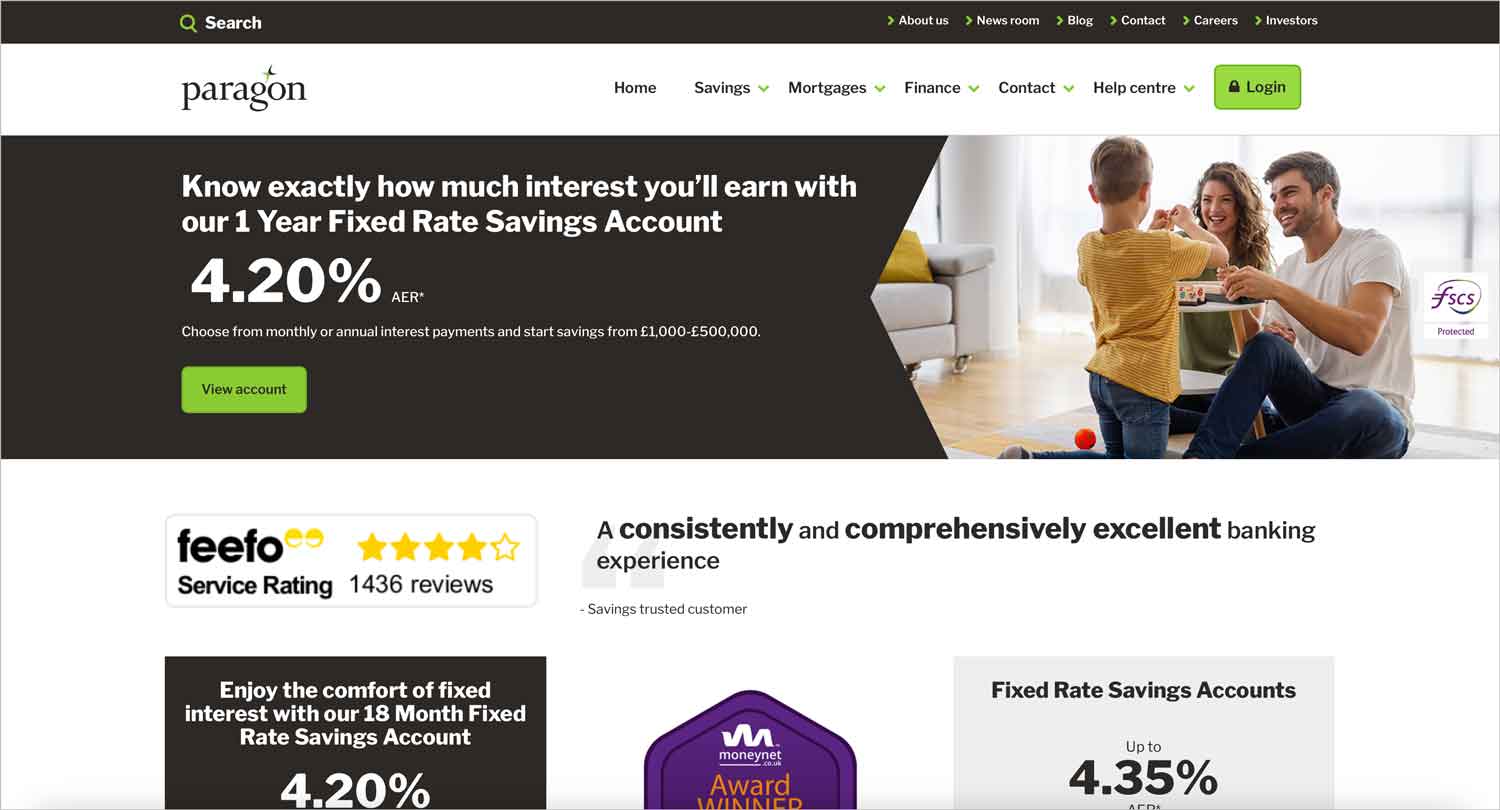 Paragon Bank key information
| | |
| --- | --- |
| Phone number | 0345 849 4000 |
| App downloads | N/A |
| Website | www.paragonbank.co.uk |
| Number of branches | N/A |
| FSCS protected? | Yes |
| Founded | 1985 |
Key information
Paragon Bank reviews
| Review platform | Score | Number of votes |
| --- | --- | --- |
| TrustPilot | 3.3/5 | 580 |
| Feefo | 4.36/5 | 1,436 |
| Reviews.io | Not reviewed | N/A |
| Smart Money People | 2.94/5 | 68 |
| Which? | Not reviewed | N/A |
| Average score | 3.53/5 | 2,084 |
Paragon Bank reviews and ratings
Business eligibility criteria
Every lending stream through Paragon Bank is handled by a different team and department, so unique criteria apply each time. You can apply directly for invoice finance, and the remit here is quite loose, but most other lending streams will require a partnership with a broker or independent financial adviser.
Business finance alternatives
As you are likely going to need external support to apply for finance through Paragon Bank, contact a reputable broker or financial advisor in the first instance. Such a professional will compare the offering of Paragon Bank with competitors and ensure you're getting the best deal.
Additional considerations
As we have discussed throughout this guide, Paragon's primary interest is in funding property development. This explains why the lender recently supplied £2,500.000 to a 10-home plot in Northampton.
FAQ
How do I apply for finance from Paragon Bank?
You can call Paragon Bank on 0345 849 4000 to discuss your options, or team up with an independent financial advisor and have them make the running for you.
Can I take out a commercial mortgage through Paragon Bank?
No, all mortgages provided by Paragon Bank are for residential properties purchased on a buy-to-let basis.
Does Paragon Bank offer any unsecured lending?
Not really. All lending from Paragon Bank will be secured in some way, either against apparatus provided through asset finance, outstanding payments in the form of invoice finance, or by issuing a mortgage under the usual terms that threaten repossession if you do not keep up with repayments.
How much can I borrow from Paragon Bank?
On paper, you can borrow as much as eight figures from Paragon Bank, but it really depends on the purpose of your borrowing and how much equity you may have on the asset that you use to secure your loan. 
What interest rate will Paragon Bank assign to my lending?
This depends on the lending stream that you apply for and your financial situation. Paragon Bank will be upfront about any expenses you will incur before you agree to any kind of financial arrangement.
Are there any hidden fees when borrowing from Paragon Bank?
While Paragon Bank will inform you of any charges and fees, you will likely need to pay an external body such as a broker or financial adviser for their time and expertise. Ensure you understand how much this will cost.