Rangewell is a business finance broker with access to over 300 separate lenders in the financial realm, helping to supply business loans to UK companies.
Working with Rangewell to secure a business loan or lending stream will enhance your chances of finding a lender willing to work with you, with over 20,000 different products theoretically available from high street banks to smaller, niche companies, with no fees payable to Rangewell for their services.
Working with a broker may not be for everybody as it can slow down the process of receiving funds, but Rangewell may be able to locate funding that otherwise seems beyond the reach of your business.
Rangewell business loans and finance
Pros and cons of Rangewell for business finance
| Pros | Cons |
| --- | --- |
| ✓ Applications are assessed by a dedicated account manager | ✗ Very limited online reviews and a dubious reputation for customer service |
| ✓ No bias or vested interest – Rangewell works to pair you with the best lender for your needs | ✗ Rangewell is a broker, not a direct lender, so have no control over acceptance of funding applications |
| ✓ Specific expertise in a range of industries | |
| ✓ Vast array of products available from hundreds of lenders | |
| ✓ You will not liable for a broker fee if Rangewell finds funding for your business | |
Rangewell business loans pros and cons
Business loans
Rangewell will work to pair your business with a lender that meets your needs for a cash injection. Types of business loan that Rangewell can investigate include the following:
Fast business loans
Rangewell will limit its search to lenders that will release up to £10,000 within 24 hours. See fastest business loans.
Small business loans
Rangewell has a vast array of lenders that will be willing to finance an SME seeking short- or longer-term financial aid.
Start-up funding
Rangewell will pair you with lenders that do not require extensive trading and financial records.
Working capital finance
Rangewell will source lenders that are willing to loan funds to your busines on a pay-as-you-earn basis, or by sourcing consolidation loans that ensure you can reduce your outgoings repayable on pre-existing business debt.
Bad credit finance
Rangewell has a list of lenders that are willing to consider lending to SMEs that have a less-than-perfect credit history, though naturally these lenders may charge higher interest rates.
Growth finance
Work with Rangewell to source external funding and investment in your business.
Asset finance
Rangewell partners with countless lenders that will consider lending on an asset-based finance basis, whether your business is seeking an outright loan to purchase new assets, release and redirect equity based on assets that you already own, or lease/hire new apparatus on a monthly basis.
Merchant cash advance
Rangewell can pair your business with a lender that is willing to offer a merchant cash advance. It may be faster to apply directly – see our list of merchant cash advance providers – but if you feel that none of the listed companies are suitable, Rangewell may be able to find a solution.
Invoice finance
Rangewell can pair your business with a lender that is willing to offer invoice factoring or discounting services. We have already profiled a range of lenders that provide this service – see invoice factoring – but Rangewell will theoretically eliminate any lenders that will be unwilling to work with you based on length of trading or turnover.
Commercial mortgages
Rangewell will scour the market for the best commercial mortgage deals available to your business circumstances, or will find lenders willing to refinance your existing commercial mortgage to release funds already tied up in a business property.
Business vehicle finance
Rangewell will pair you up with lenders that specialise in vehicle purchase, lease, and hire.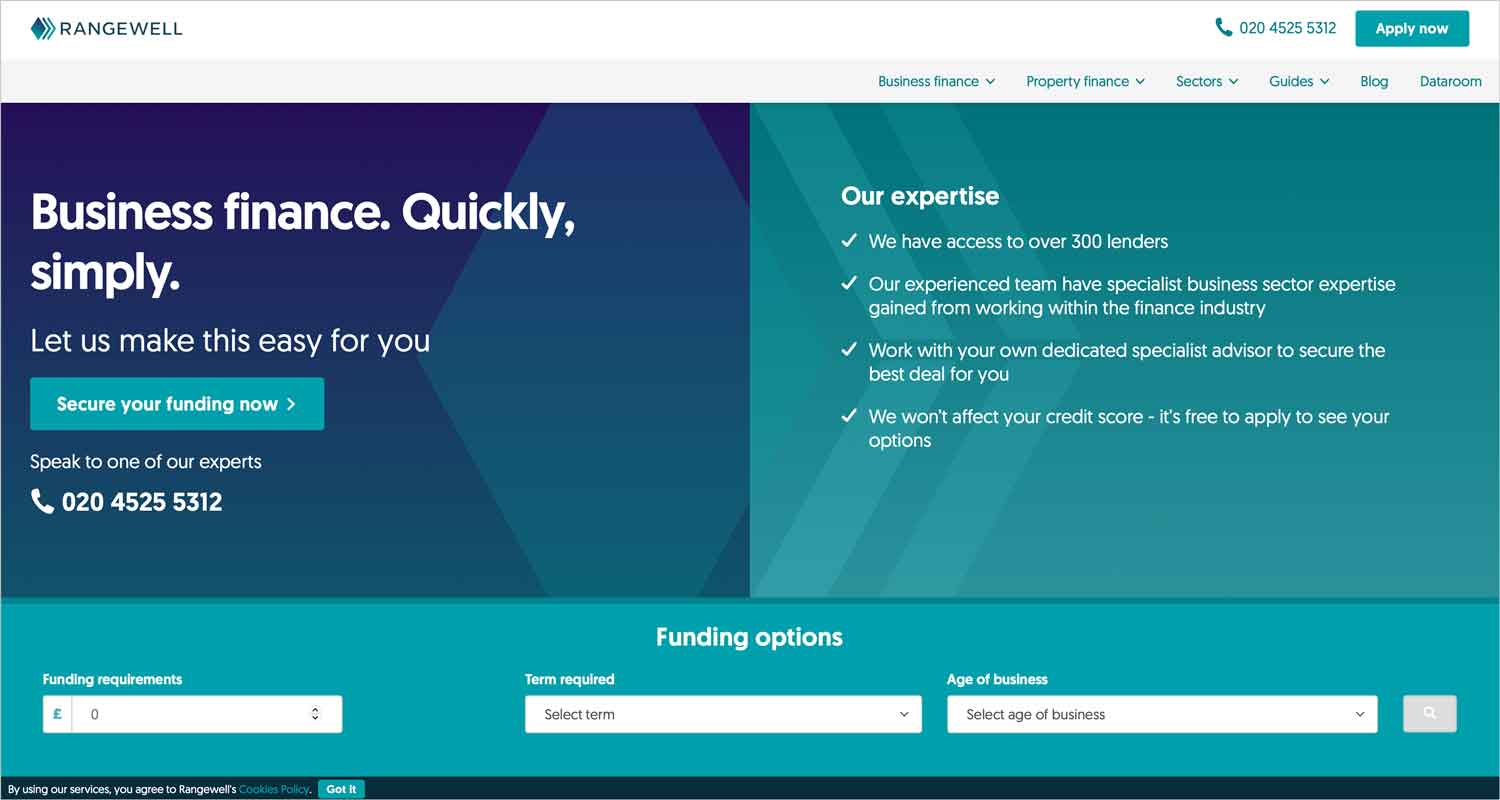 Business credit cards
✗ Not available from Rangewell. See best business credit cards. 
Rangewell key information
| | |
| --- | --- |
| Phone number | 020 4525 5312 |
| App downloads | N/A |
| Website | www.rangewell.com |
| Number of branches | N/A |
| FSCS protected? | No |
| Founded | 2014 |
Key information
Rangewell reviews
| Review platform | Score | Number of votes |
| --- | --- | --- |
| TrustPilot | 3.5/5 | 3 |
| Feefo | Not reviewed | N/A |
| Reviews.io | Not reviewed | N/A |
| Smart Money People | Not reviewed | N/A |
| Which? | Not reviewed | N/A |
| Average score | 3.5/5 | 3 total votes |
Rangewell reviews and ratings
Business eligibility criteria
Rangewell is a broker, not a lender, so does not assign specific criteria for applying for funding – that is in the hands of the lenders themselves. Rangewell will ask a selection of questions about your business, and look to connect you with the best lender for your needs.
Business finance alternatives
If you are not interested in working with a financial broker and would rather apply for funding directly, investigate the other business lenders we have profiled.
Additional considerations
In the interests of balance, while we have pointed out that Rangewell has a questionable reputation with specialist review sites like TrustPilot, the lender enjoys more positive feedback with its Google reviews.
FAQ
How do I apply for finance from Rangewell?
While Rangewell can furnish you with quotes for funding based on information you provide about your business online, it's probably best to call them on 020 4525 5312 and discuss your needs. This way, you will be paired with an expert in your industry.
If I borrow from Rangewell, who supplies the money?
You will not be borrowing from Rangewell – this company is just a broker that will recommend a direct lender that will potentially supply you with funding based on the information you provide about your business. Being recommended for a loan from Rangewell does not guarantee that your application will be approved.
How much can I borrow from Rangewell?
Rangewell will attempt to pair you will lenders that are willing to offer any sum, whether that's a small cash injection or a sizable loan. How much you are eligible to borrow depends on the criteria and policies of the lender in question.
Will I need to secure a loan from Rangewell against an investment?
Possibly – Rangewell works with lenders that offer both secured and unsecured loans. If your are looking for start-up funding you will likely need to offer a personal guarantee, and some lenders may only agree to offer a loan secured against a property or other asset.
Does Rangewell charge a fee for their services?
You will not need to pay Rangewell if you successfully apply for a loan. This company will just pair you with an external lender, who may then pay Rangewell a fee for recommending you.
Can I check my loan options with Rangewell without impacting my credit score?
Yes, if you use the Rangewell website to see what funding options are open to you, no credit search will be run. While this will not impact your credit score, it may also mean that you are recommended products that are not open to your business, especially if you have a poor credit history. It's best to call Rangewell to discuss complicated needs.