RebuildingSociety.com is a peer-to-peer business lender, taking investment from external sources and using this to provide loans to SMEs.
Investigating the online reputation of RebuildingSociety.com from the perspective of an investor is interesting – it appears that this lender has a reputation for accepting a range of loan applications that could be considered risky to investors, which suggests that Rebuilding Society is more flexible on matters of poor credit history, but many discussions also bring up substantial interest payments that promise eye-watering returns.
Take these considerations under advisement before approaching Rebuilding Society for business funding.
RebuildingSociety.com business loans and finance
Pros and cons of RebuildingSociety for business finance 
| Pros | Cons |
| --- | --- |
| ✓ Fast decisions and payouts on funding | ✗ Not open to SMEs |
| ✓ No early repayment fees | ✗ Reputation for high interest rates |
| ✓ Good reviews on TrustPilot | ✗ Must have been trading for at least two years |
| ✓ FCA regulated | ✗ Set-up fees will be added to your total repayable |
RebuildingSociety.com pros and cons
Business loans
Business loans for SMEs are the primary offering of RebuildingSociety. This lender secures funds from third-party investors, offering lending between £25,000 and £250,000, repayable for up to five years.
Rebuilding Society charges a flat fee of 5% + VAT for setting up this loan, and interest rates start at 5% – though it's possible, and even likely, that they will run higher than this. Securing your loan may secure a lower interest rate.
Director's loan ISA
This service allows a business owner to lend up to £5,000 on their £20,000 annual ISA allowance to their business on a tax-free basis. This could be an amortised loan, repayable over two to five years.
The set-up fee will be 3.25% of the loan value plus VAT, and no monthly fees. Interest-only loans are devoid of arrangement fees and come with no arrangement fee, but monthly fees are 13.33% of the interest accrued.
With either approach, you will be liable for monthly ISA fees of 0.1% for assets below £250,000, halving to 0.5% for greater asset value, if the account earns an interest rate above 2%.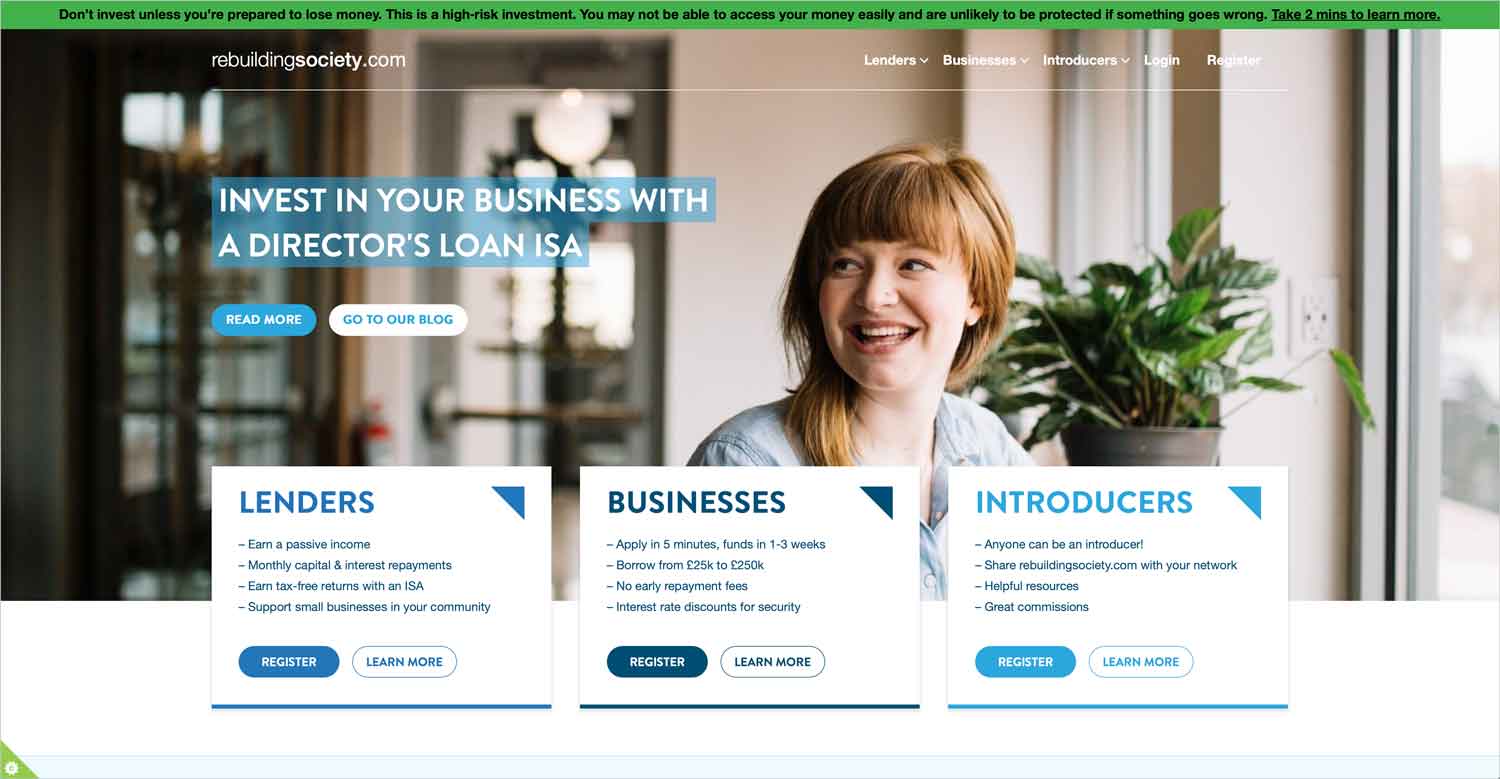 Asset finance
✗ Not available from RebuildingSociety.com. See best asset finance. 
Merchant cash advance
✗ Not available from RebuildingSociety.com. See merchant cash advance.
Invoice finance
✗ Not available from RebuildingSociety.com. See invoice factoring. 
Commercial mortgages
✗ Not available from RebuildingSociety.com. See commercial mortgages.
Business vehicle finance
✗ Not available from RebuildingSociety.com. See business vehicle finance.
Business credit cards
✗ Not available through RebuildingSociety.com. See best business credit cards. 
RebuildingSociety.com key information
| | |
| --- | --- |
| Phone number | 0113 511 4644 |
| App downloads | N/A |
| Website | www.rebuildingsociety.com |
| Number of branches | N/A |
| FSCS protected? | No |
| Founded | 2012, Leeds |
Key information
RebuildingSociety.com reviews
| Review platform | Score | Number of votes |
| --- | --- | --- |
| TrustPilot | 4.5/5 | 46 |
| Feefo | Not reviewed | N/A |
| Reviews.io | Not reviewed | N/A |
| Smart Money People | 3/5 | 1 |
| Which? | Not reviewed | N/A |
| Average score | 3.75/5 | 47 total votes |
RebuildingSociety.com reviews and ratings
RebuildingSociety business eligibility criteria
If you are interested in applying for a loan from Rebuilding Society, you must meet the following criteria.
Be the director of a UK-based limited company, public company, or partnership.
Have been trading for at least two years, and be willing to provide three months of business bank statements
Be looking to borrow a minimum of £25,000
Have no outstanding CCJs against your business
RebuildingSociety.com business finance alternatives
Peer-to-peer lending is not for everybody, especially with the terms and criteria laid out by RebuildingSociety. You may prefer to look into direct lenders that will provide the funds directly from their own vault rather than involving third parties in the application process.
Additional considerations
We touched on this previously, but it bears repeating – if you are considering borrowing from Rebuilding Society, take a look at the feedback left by investors. This viewpoint from the other side of the fence will give you an idea of who you will be receiving funds from.
FAQ
How do I apply for a loan through RebuildingSociety.com?
The easiest method is to fill in the online application form on the RebuildingSociety website. The lender aims to come back to you with a decision within 48 hours.
How much can I borrow from RebuildingSociety.com?
The minimum loan from RebuildingSociety.com is £25,000, and the maximum is £250,000. How much funding your business will qualify for depends on a range of factors, including your credit score and annual turnover.
Can I get a RebuildingSociety.com loan if I have bad credit?
While one of the fundamental criteria for borrowing from RebuildingSociety is that a business cannot have any outstanding CCJs, some investors online complain that this lender offers 'risky' loans, which suggests Rebuilding Society is fairly flexible with historical credit issues.
How much will a RebuildingSociety.com loan cost my business?
You will be charged a set-up fee of 5% + VAT of the total loan value (this will be added to the amount owed), and an interest rate will be assigned based on your business credit profile. These interest rates start at 5%, but do not be surprised if they are higher.
Will I need to secure a RebuildingSociety.com loan against a property?
RebuildingSociety.com offers both secured and unsecured loans. If you have a less-than-perfect credit history, or you wish to secured a preferential interest rate, you may need to consider securing your borrowing against an investment.
Is RebuildingSociety.com regulated?
Yes, RebuildingSociety is fully regulated by the FCA.