Satellite Finance is Wales-based financial broker with a small team that values the personal touch when connecting SMEs with potential lenders – but does it have good reviews?
Satellite Finance prefers to eschew working with major banks and other big names, instead working to pair up businesses seeking finance with smaller lenders that are more understanding and accommodating of the challenges your company may face.
With just 40 partner lenders on their books, Satellite Finance is a little more limited in this regard than some competitors, but you're likely to deal with a broker that is determined to help you find the financial help that you need.
Satellite Finance business loans and finance
Pros and cons of Satellite Finance for business finance
| Pros | Cons |
| --- | --- |
| ✓ Small team offering a dedicated, personal service | ✗ Smaller pool of lenders than some brokers |
| ✓ Access to a range of financial products  | ✗ Broker fees may apply |
| ✓ High acceptance rate | ✗ No online reviews |
Satellite Finance pros and cons
Business loans
Satellite Finance will seek to pair your business with a lender willing to offer a loan for most business purposes:
Commercial loans
Satellite Finance will work to pair with you a lender willing to fund as little as £3,000 or as much as £1,000,000 for any business purpose, potentially repayable for up to 10 years. If you're in a hurry. Satellite Finance will seek out lenders that release funds within 24 hours.
Corporate Tax and VAT loans
Satellite Finance will pair you with a lender that will pay your HMRC tax bills on time, allowing you to repay the amount owed on a monthly basis without accruing interest.
Professional loans
Satellite Finance enjoys professional expertise in a range of industries, and will tailor your application to a lender that enjoys renown in your sector.
Asset finance
Satellite Finance's pool of lenders offers asset financing products. Examples of lending that Satellite Finance may be able to procure include the following:
Hire purchase
A lender will purchase an asset for you, and your business will make monthly repayments on the balance. These repayments can be flexible, and will not be charged VAT. Once this balance is clear, your business owns the asset outright.
Equipment leasing
Satellite Finance will connect you to a lender that purchases an asset on your request, and this apparatus will be leased to your business at a monthly cost. While you will pay VAT on this lease fee, you will not be responsible for the upkeep or repair of the asset. Once the lease term expires you can hand the asset back to your lender, or start a new agreement.
Refinancing equipment
If you have existing assets with a cash value, Satellite Finance will connect you with a lender that is willing to release funds that are secured against this apparatus, allowing you to redirect these funds elsewhere within your business.
Invoice finance
If you issue invoices to customers with long payment terms, you may find your cash flow is a little unbalanced. Satellite Finance can connect your business with a lender that is willing to offer invoice factoring or invoice discounting.
It may be faster to apply for this line of funding directly, though – see invoice factoring for a list of potential lenders. 
Commercial mortgages
Satellite Finance partners with a pool of commercial mortgage lenders, some of whom are willing to offer loans of up to 75% of the value of a commercial property, with prices capped at £40.000,000. Interest rates for lenders that work with Satellite Finance start at 2.25% above the Bank of England base rate.
Business vehicle finance
An extension of the asset finance partnerships offered by Satellite Finance, this broker will connect you with lenders that are willing to provide funding for a single company car or a fleet of vehicles.
This lending will be available on a hire purchase basis, where you will pay more monthly but eventually own the vehicle, or a monthly contract hire, which keeps costs lower but means you will always be leasing the vehicle rather than owning it outright.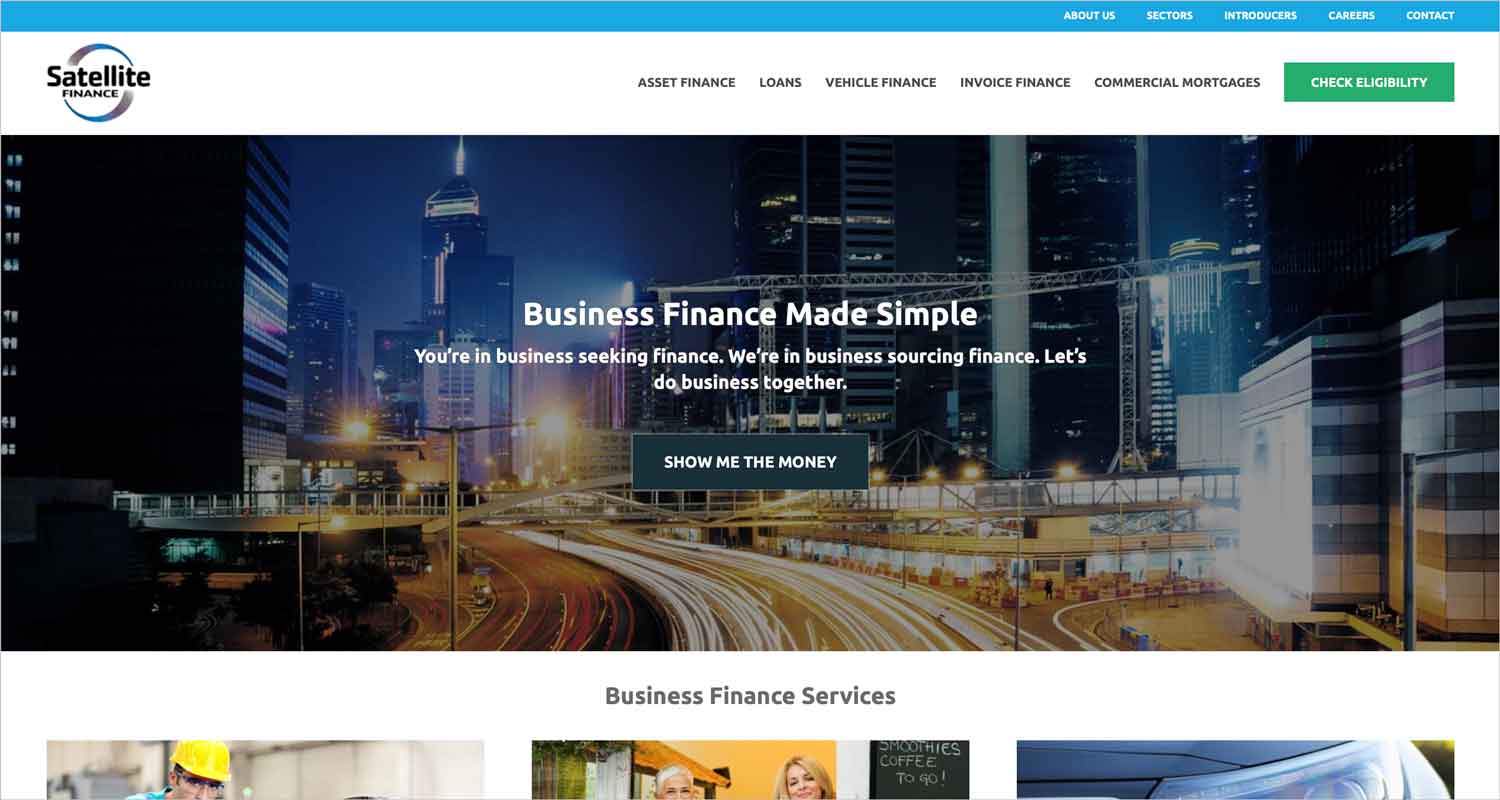 Merchant cash advance
✗ Not available from Satellite Finance. See merchant cash advance.
Business credit cards
✗ Not available through Satellite Finance. See best business credit cards. 
Satellite Finance key information
| | |
| --- | --- |
| Phone number | 01633 262722 |
| App downloads | N/A |
| Website | www.satellitefinancelimited.com |
| Number of branches | N/A |
| FSCS protected? | No |
| Founded | 2008 |
Key information
Satellite Finance reviews
| Review platform | Score | Number of votes |
| --- | --- | --- |
| TrustPilot | Not reviewed | N/A |
| Feefo | Not reviewed | N/A |
| Reviews.io | Not reviewed | N/A |
| Smart Money People | Not reviewed | N/A |
| Which? | Not reviewed | N/A |
| Average score | No online reviews | 0 total votes |
Satellite Finance reviews and ratings
Business eligibility criteria
As Satellite Finance is a broker rather than a direct lender, this business does not set its own criteria on who will be accepted for funding. Fill in an online application form to check your eligibility with any of the 40 lenders that Satellite Finance partners with.
Business finance alternatives
Using a financial broker for your borrowing needs is not for everybody, and even if you don't mind involving a third party, some brokers have a wider pool of partners than Sattelite Finance. Consider if your borrowing needs would be better served by seeking direct lending from a business with its own funds vault.
FAQ
How do I apply for a loan through Satellite Finance?
Satellite Finance has a very brief application form and eligibility checker on the company website, so use this to learn if you qualify for borrowing from any of Satellite's partner lenders. Alternatively, give Satellite Finance a call on 01633 262722.
How much can I borrow from Satellite Finance?
This depends on how much a lender is willing to forward your business, but in theory, Satellite Finance can arrange commercial loans for up to £1,000,000. Commercial mortgages and asset-based lending may have an even higher cap.
How quickly will Satellite Finance get my funding?
While this depends on the type of finance that you are looking for, Satellite Finance will complete all paperwork on your behalf and work with some lenders that are able to release loan funds within 24 hours.
Can I get a Satellite Finance loan if I have bad credit?
That is for a lender to decide. Satellite Finance will not run a credit check on your business, just pair with you with lenders that will be satisfied by your annual turnover and trading time. If you have a complex credit history, it's advisable to discuss your needs with Satellite Finance over the phone. This broker does claim to have a high acceptance rate, so it's likely that you be able to come to an agreement.
Will I need to secure a Satellite Finance loan against a property?
Satellite Finance works with lenders that offer both secured and unsecured loans. If you have a less-than-perfect credit history, or you wish to lock down a preferential interest rate, you may need to consider securing your borrowing against an asset.
Is Satellite Finance regulated?
Yes, Satellite Finance is fully regulated by the FCA.