Soldo is designed to take the administrative headaches out of travel and expense management. Rather than a credit card, Soldo offers a prepaid MasterCard.
This means that you can set a balance on the card, and when it's used, no more can be spent – perfect for avoiding unwanted or excessive fees run up on a corporate credit card, and there will be no need for employees to make claims for out-of-pocket expenses accrued during business travel.
Soldo also captures data of all spending, making it simple to deduct expenses from business tax returns and to help a company owner determine where funds are being directed at any given time.
Soldo business prepaid expense cards
Pros and cons of Soldo for business finance
| Pros | Cons |
| --- | --- |
| ✓ Preset budget limits to prevent overspending | ✗ Not available to sole traders |
| ✓ Full capture of all spending for data analysis | ✗ No credit facility |
| ✓ Can be used to withdraw cash from ATMs (for a fee) | ✗ Monthly subscription fee |
| ✓ Very good online reviews on TrustPilot | ✗ Not a bank, so not FSCS protected |
Soldo card pros and cons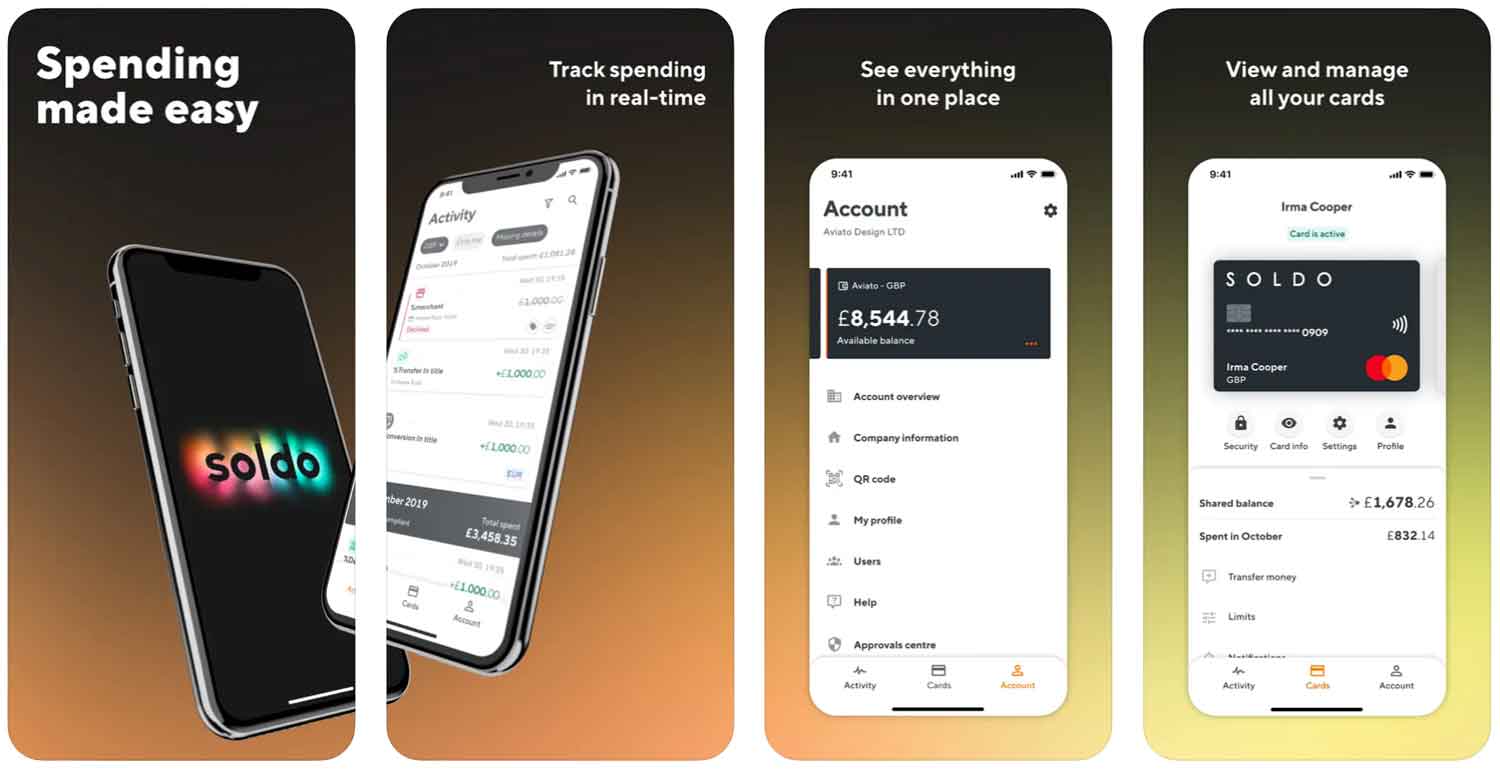 Business credit cards
Soldo is not a credit card, but a prepaid expense card. A Soldo MasterCard (available as a physical plastic card or used through Google Pay or Apple Pay) can be loaded with an appropriate balance and used anywhere that accepts MasterCard. When the spending cap is reached, the Soldo card will not be able to be used again until topped up.
Soldo offers a choice of five different prepaid cards:
Single user card
One card for one user, which can be regularly topped up with funds as and when required.
Multi user card
Provide a single budget pot to multiple users, such as a team travelling together.
Fuel card
Approve spending to a capped level at petrol stations or electric car charging ports.
Subscription card
Place a balance on a Soldo card and use it to pay for – and monitor – ongoing subscription packages to software.
Temporary virtual card
Used through Apple or Google Pay, this card will expire after 7 days. Ideal for short, ad hoc business trips for irregular travellers.
Merchant cash advance
✗ Not available from Soldo. See merchant cash advance.
Business loans
✗ Not available from Soldo. See best business loans. 
Asset finance
✗ Not available from Soldo. See best asset finance. 
Invoice finance
✗ Not available from Soldo. See invoice factoring. 
Commercial mortgages
✗ Not available from Soldo. See commercial mortgages.
Business vehicle finance
✗ Not available from Soldo. See business vehicle finance.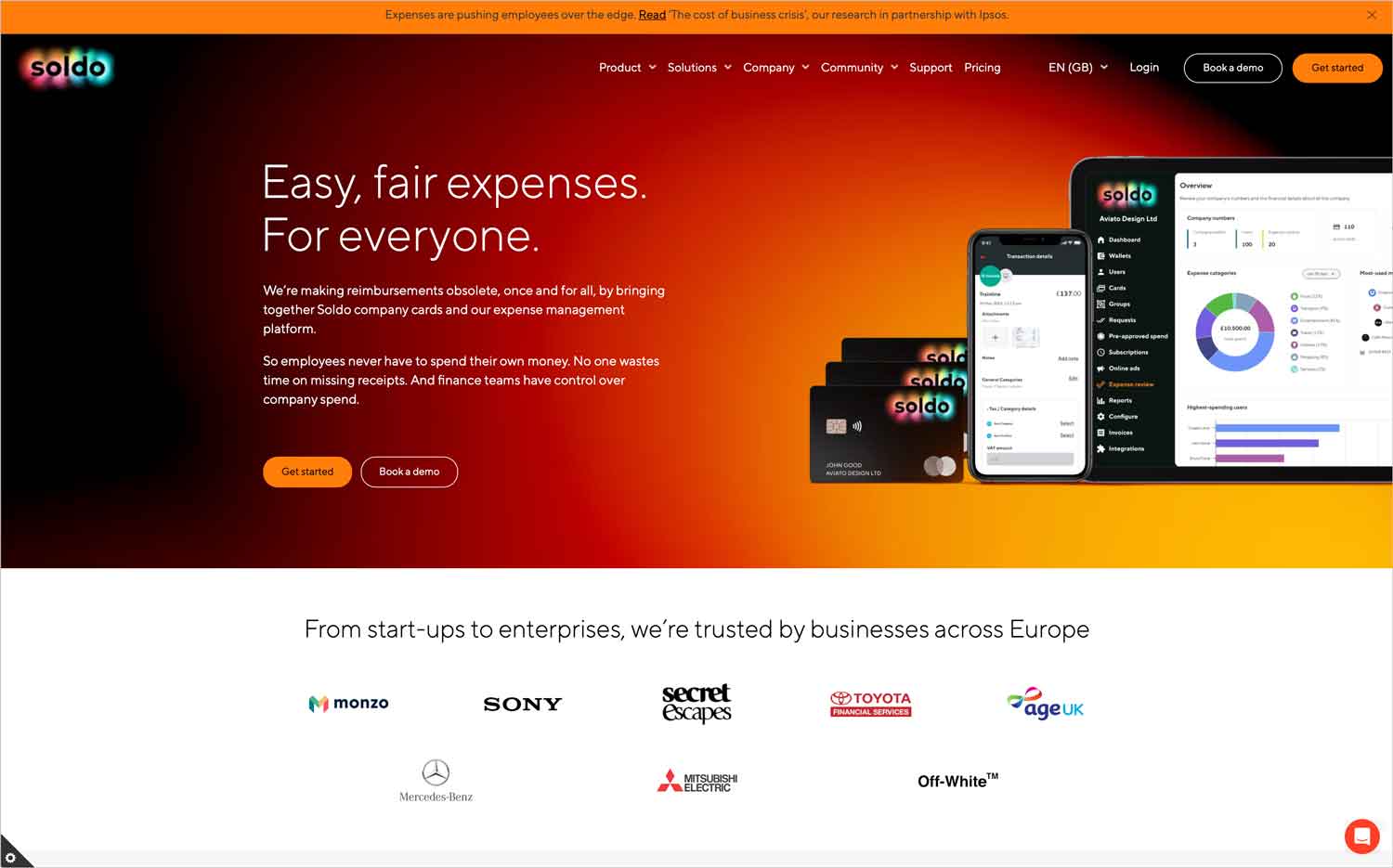 Soldo key information
| | |
| --- | --- |
| Phone number | N/A – live chat only |
| App downloads | iOS; Android |
| Website | www.soldo.com |
| Number of branches | N/A – Soldo is an online business |
| FSCS protected? | No |
| Founded | 2015 |
Key information
Soldo reviews
| Review platform | Score | Number of votes |
| --- | --- | --- |
| TrustPilot | 4.5/5 | 1,486 |
| Feefo | Not reviewed | N/A |
| Reviews.io | Not reviewed | N/A |
| Smart Money People | 4.79/5 | 24 |
| Which? | Not reviewed | N/A |
| Average score | 4.645/5 | 1,510 total votes |
Soldo card reviews and ratings
Business eligibility criteria
Soldo is available to any registered business listed with Companies House.
Business finance alternatives
As Soldo is something of a niche product, it will not be suitable for every business. If you are looking for a credit card rather than a pre-loaded expense card, try these alternatives.
American Express
Barclaycard
Capital on Tap
Juni
Additional considerations
The reach and reputation of Soldo is growing, with the UK government now accepting this payment method for local authorities.
FAQ
Is Soldo a business credit card?
No, Soldo cards do not allow users to spend on a credit basis. Soldo is a prepaid card, loaded with a balance that is charged from your business in advance, designed to control expenditure and prevent employees from accruing personal expenses.
How do I apply for a Soldo card?
Head to the Soldo website, choose the product and pricing plan that meets your needs, and start your free trial.
How much does a Soldo card cost?
Soldo has three pricing tiers. Soldo Pro costs £6 per month, while Soldo Premium is £10 per month and offers more features, including the ability to hold a balance in multiple currencies. A bespoke, customised pricing tier is also available for larger businesses with complex needs. 
Can I use a Soldo card online and overseas?
A Soldo card can be used online, though you may need to activate this setting in the app. If you plan to use a Soldo card overseas, it is best to sign up for the Premium price tier and assign a balance in $US or €. If using a traditional Soldo account or spending in other currencies, a flat 1% FX fee applies.
What happens if a Soldo spending cap is reached and I need to spend more?
Personal and additional expenditures can also be captured using the Soldo app, so even if spending caps are reached, receipts can be recorded and the user can be reimbursed if further spending becomes essential.
I am a sole trader – can I use a Soldo card?
At present, Soldo is only available to limited companies and partnerships.