Swoop Funding is a business lending broker that seeks to pair SMEs with providers of business loans, merchant cash advances, asset and vehicle finance, commercial mortgages, and more.
Swoop will even advise a business of any potential government grants that may save money, and investment opportunities available through external third parties in exchange for business equity.
Registering with Swoop is quick and simple, and listing your business on this portal could open doors to a range of funding options that would otherwise feel out of reach.
Swoop business loans and finance
Pros and cons of Swoop for business finance
| Pros | Cons |
| --- | --- |
| ✓ Access to a vast array of lending streams, grants, and investment opportunities  | ✗ Borrowing through a broker will typically take longer than applying for funding directly |
| ✓ No broker fees applied by Swoop to successful applications | ✗ You will not have any direct contact with your lender – everything is handled through Swoop |
| ✓ Combination of AI and human guidance will pair businesses with the best possible lenders | |
| ✓ Excellent TrustPilot reviews | |
Swoop pros and cons
Business loans
Registering with Swoop will open the door to a range of lenders who may be willing to lend money to your business. Swoop can connect businesses of all types, from start-ups to firmly established ventures. If you prefer to apply directly, see our guide to business loans.
Business grants
Enter your details into the Swoop website and you will be advised of any government grants your business may be entitled to.
Business investment
Swoop partners with over 200 external investors, so if you register your details you can be paired with potential funders willing to pump capital into your business in exchange for equity and shares.
Asset finance
Swoop can pair your business with lenders that offer asset finance solutions, who will offer to purchase an asset on behalf of your business and allow you to use it on a hire or lease basis, or release capital based on existing assets that your business owns. For direct applications and providers, see asset finance.
Merchant cash advance
Swoop can pair your business with lenders that offer a merchant cash advance – a loan based on your monthly turnover that is automatically repaid through future earnings. You will need to accept payments through debit or credit card to qualify for this kind of lending. For direct applications and providers, see merchant cash advance.
Business vehicle finance
Swoop can pair your business with lenders that offer funding and sourcing of business vehicles, whether this is for a single company car or van or a fleet of vehicles. For direct applications and providers, see business vehicle finance.
Commercial mortgages
Swoop can pair your business with lenders that offer commercial mortgages or property development funding for SPVs. For direct applications and providers, see commercial mortgages.
Business credit cards
Swoop compares credit card offers in the market, but does not necessarily pair a business with credit card providers. See best business credit cards for greater insights into your options here.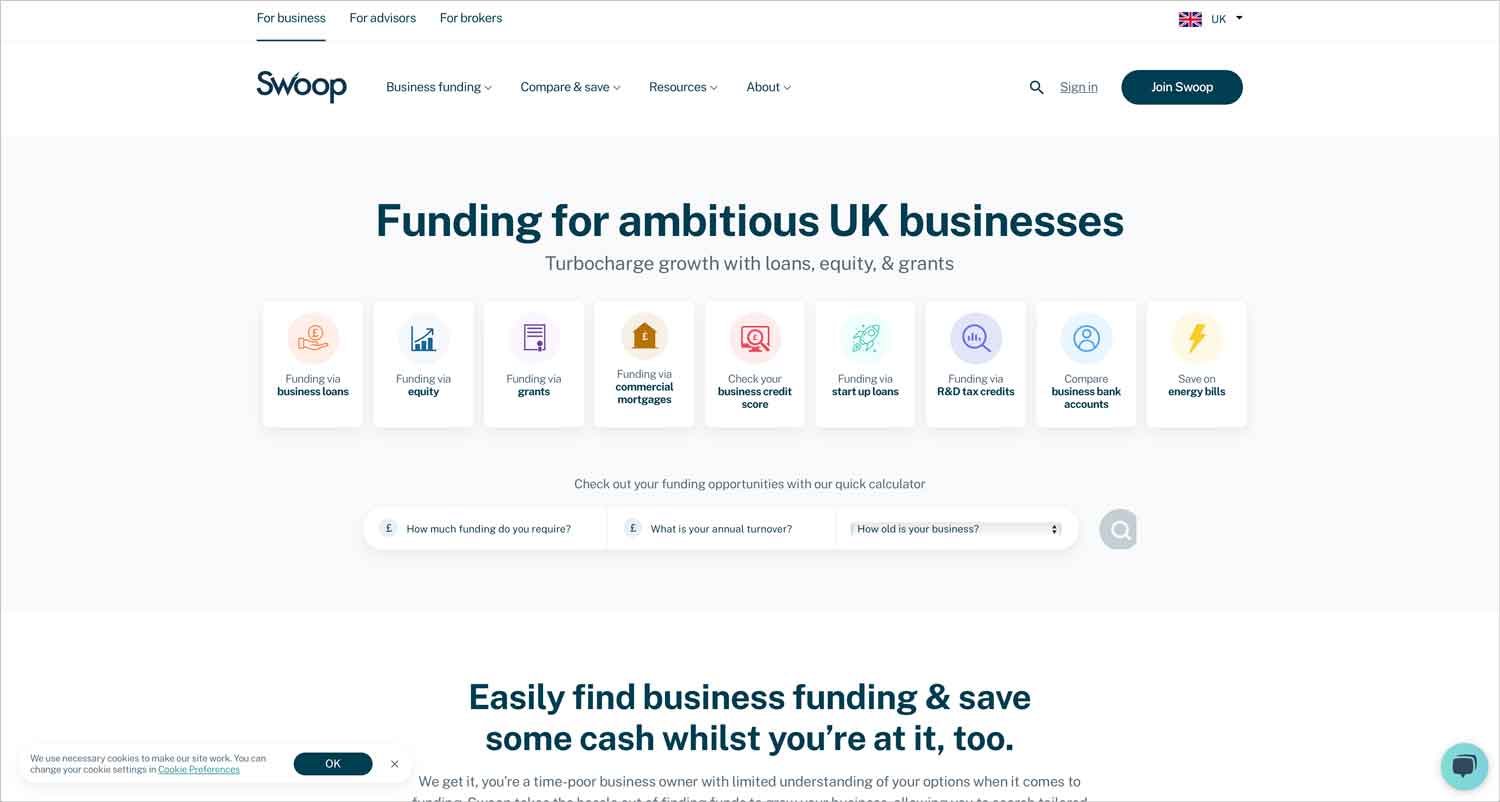 Invoice finance
✗ Not available through Swoop. See invoice factoring.
Swoop key information
| | |
| --- | --- |
| Phone number | 020 3514 3044 |
| App downloads | N/A |
| Website | www.swoopfunding.com |
| Number of branches | 4 offices in the UK, 3 more overseas |
| FSCS protected? | No |
| Founded | 2018 |
Key information
Swoop reviews
| Review platform | Score | Number of votes |
| --- | --- | --- |
| TrustPilot | 4.9/5 | 250 |
| Feefo | Not reviewed | N/A |
| Reviews.io | Not reviewed | N/A |
| Smart Money People | Not reviewed | N/A |
| Which? | Not reviewed | N/A |
| Average score | 4/9/5 | 250 |
Swoop reviews and ratings
Business eligibility criteria
As Swoop is a credit broker, not a lender, there are no criteria for borrowing assigned by this business. Register with Swoop and you will be paired with appropriate lenders based on the information that you provide.
Business finance alternatives
Swoop is far from the only broker on the market, but it's one of the most expansive – and arguably requires the least amount of work, as registering with Swoop can potentially mean that a lender or investor will approach you. See our guides to individual products to seek out direct lenders that may offer faster lending solutions.
Additional considerations
As of late 2022, Swoop has begun utilising AI to improve the underwriting process when assessing business details and ensuring that aspiring borrowers are paired with the most suitable lenders that are likelier to approve applications.
FAQ
How do I apply for finance from Swoop?
Register with Swoop online to discover for your funding options. This is a fast and efficient process.
How much can I borrow from Swoop?
As Swoop is a broker rather than a lender, how much you can borrow will be between you and the provider of your funds. Swoop will take some information about your monthly and annual turnover and connect you with appropriate lending options.
What interest rate will Swoop assign to my lending?
This depends on the lender that you decide to work with. As a broker, Swoop has no control over what offers you receive.
Are there any hidden fees when borrowing from Swoop?
No, Swoop does not charge you a fee to use its services. All commission payments to Swoop come from the lenders your business borrows from.
Will I need to offer a personal guarantee to borrow from Swoop?
Swoop works with lenders that offer secured and unsecured loans. Which of these you will qualify for depends on unique lender criteria, as well as your business financial history and the sum that you are looking to borrow.
Will registering with Swoop impact my credit rating?
No, Swoop does not run a credit check on your business, so registering with the website will not show up on your credit report. Naturally, if you find a lender that is theoretically willing to work with you, credit checks will follow.