ThinCats is a specialist business broker that targets established, slightly larger SMEs, offering loans between £1,000,000 and £15,000,000. These funds are provided by third-party investors, with this broker acting as an intermediary.
As you can imagine with such a substantial minimum loan sum, smaller businesses will have little use for the services provided by ThinCats, but if you have been trading for at least two years and can meet the repayments required for such a large loan, you may find the terms provided by this broker superior to a more traditional high street lender.
ThinCats business loans and finance
Pros and cons of ThinCats for business finance
| Pros | Cons |
| --- | --- |
| ✓ Borrow up to £15,000,000 | ✗ Minimum loan of £1,000,000 – not a lender for a small businesses look for a cash flow injection |
| ✓ Flexible repayment terms for businesses that qualify | ✗ Must have been trading for at least two years |
| ✓ Pretty good online reviews | ✗ All borrowing must be secured |
| | ✗ Broker fees and set up fees will apply |
ThinCats pros and cons
Business loans
ThinCats offers substantial lending to qualifying, medium-sized businesses looking for a seven- or eight-figure cash injection. These loans will need to be secured against an asset (maximum loan to value ratio 75%) and can be repaid from anywhere between one and five years.
This broker describes itself as "sector agnostic," so this lender will work with any business with the sufficient turnover to keep up with repayments. Common reasons for an SME to approach ThinCats for funding include acquisitions and expansion, the formation of an Employee Ownership Trust (EOT,) or simply seeking four times your businesses gross annual turnover.
An outside investor will provide the funding if you take out a loan. You will be liable to pay a broker fee, as well as other expenses related to setting up this borrowing.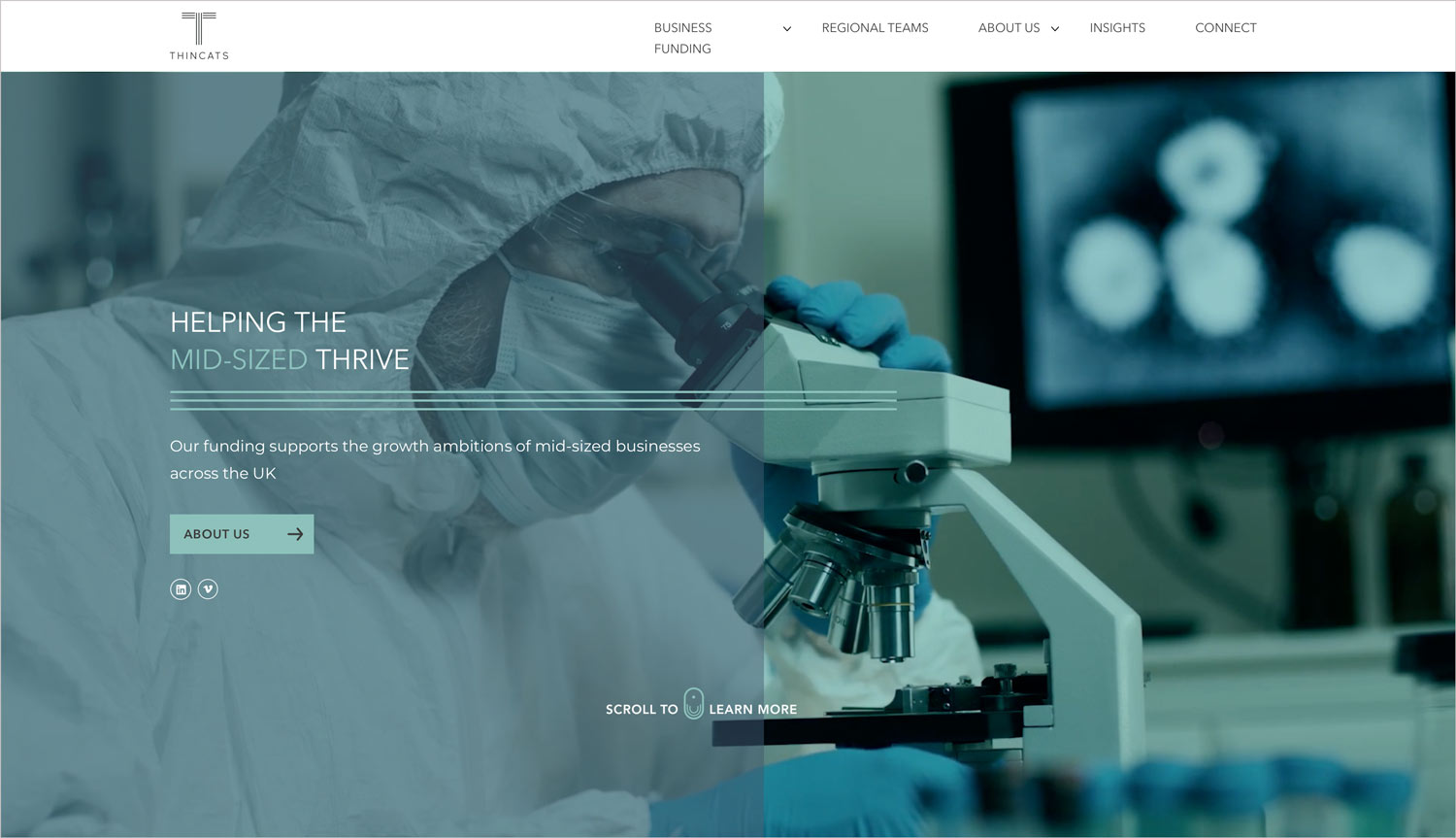 Merchant cash advance
✗ Not available. See merchant cash advance.
Asset finance
✗ Not available. See best asset finance. 
Invoice finance
✗ Not available. See invoice factoring. 
Commercial mortgages
✗ Not available. See best business credit cards.
Business credit cards
✗ Not available. See best business credit cards. 
Business vehicle finance
✗ Not available. See commercial mortgages.
ThinCats key information
| | |
| --- | --- |
| Phone number | 01530 444040 |
| App downloads | N/A |
| Website | www.thincats.com |
| Number of branches | 4 offices in the UK |
| FSCS protected? | No |
| Founded | 2010 |
Key information
ThinCats reviews
| Review platform | Score | Number of votes |
| --- | --- | --- |
| TrustPilot | 4.4/5 | 35 |
| Feefo | Not reviewed | N/A |
| Reviews.io | Not reviewed | N/A |
| Smart Money People | 4/5 | 1 |
| Which? | Not reviewed | N/A |
| Average score | 4.2/5 | 36 total votes |
ThinCats reviews and ratings
Business eligibility criteria
To qualify for borrowing from this broker, your business must have been trading for at least two years and be willing to borrow no less than £1,000,000. Minimum annual turnover is not specified, but it's safe to assume it is pretty high given the funding numbers involved!
Business finance alternatives
This broker is only for larger businesses that need substantial sums, so consider another broker if you need a lower loan – or simply apply directly through a lender. If you are dealing with these kinds of numbers, this broker is worthy of your consideration as you may get a better interest rate than you'd be offered by a bank.
Additional considerations
ThinCats issued a total of £300,000,000 in lending in 2022, a record for this business.
FAQ
How do I apply for finance from ThinCats?
ThinCats has four regional offices in the UK, so identify the closest to your business location and make contact over the phone or email. With the numbers involved in borrowing from this broker, this is not an arrangement that can be quickly arranged through an online application form.
Where in the UK is ThinCats located?
They have offices in London, Birmingham, Ashby-De-La-Zouch, and Manchester.
If I borrow from ThinCats, who supplies the money?
ThinCats does not lend to borrowers directly. Instead, the funds provided come from partner investors, who will be repaid – plus interest – as per your loan terms.
How much can I borrow from ThinCats?
The maximum loan sum available in a single application is £15,000,000.
Will ThinCats work with a business in my industry?
They will theoretically work with a business in any sector, though this lender has a particular interest in the fields of healthcare, leisure, and technology.
What interest rate will ThinCats assign to my loan?
This will be decided if and when you complete a successful lending application.
What happens if I default on a ThinCats loan repayment?
While a loan from this provider is unsecured so your property or assets will not be at risk, defaulting on repayments will damage your personal credit score as you will be liable for this borrowing as an individual, not a business. They may also initiate proceedings to recover lost revenue, such as enlisting the services of a debt repayment service.