Formerly known as Intelligent Loans, Time Finance is a lending portal that allows businesses to borrow money under a range of auspices and reasons – but does it have good reviews?
Invoice finance, lump sum secured loans, vehicle finance, and asset-based lending and finance are all available through Time Finance, ensuring that any business that may need a little assistance with running costs should investigate this lender. Few businesses that offer invoice finance have so many other strings to their bow.
Time Finance business loans and finance
Pros and cons of Time Finance for business finance
| Pros | Cons |
| --- | --- |
| ✓ Wide array of lending streams and financial products | ✗ Very few online reviews – a little odd for such an established business with a big client base |
| ✓ Willing to work with a number of industries | ✗ A little cagey about lending criteria and fees – you'll need to register interest to learn if you are eligible and how much you'll be expected to pay |
| ✓ Most Time Finance products are regulated by the FCA, offering you protection | ✗ Lump sum business loans must be secured against a personal residence |
Time Finance pros and cons
Invoice finance
Time Finance offers two types of invoice finance – disclosed and confidential. In either case, you will upload open invoices to Time Finance, who will then release up to 90% of the value of the invoice within 24 hours. The remainder will be released, minus a fee, once the invoice is settled.
If you select disclosed invoice finance, Time Finance will take over full credit control of your invoices, receiving payment from your customers. If you choose confidential invoice financing, you will retain credit control and payments will be made to an account in your business name, but this will cost more in fees.
Asset finance
Time Finance offers three types of asset finance:
Hire purchase
Time Finance will purchase an asset that you request, which you will pay for on a monthly basis as a hire fee. At the end of this term, you can pay a fee to own the asset outright or relinquish it back to Time Finance.
Finance lease
Time Finance will purchase an asset and you will lease it from them for a minimal fee, usually much lower than that associated with a hire purchase. At the end of an agreed term, you can agree to sell the asset and split the proceeds with Time Finance, start a new lease agreement, pay a fee to own it (as the monthly costs are cheaper than a hire purchase this lump sum will be higher,) or return the asset to Time Finance.
Asset based lending (ASL)
Use existing assets that your business owns as collateral to release money from Time Finance as a loan, with the funds able to be used elsewhere as required.
Business loans
Time Finance offers lump sum loans to business customers. These loans can be taken out for between £50,000 and £500,000, and repayment terms will be discussed upon application. Be aware that a loan from Time Business Finance will be secured against a personal residence, so you risk losing your home if you cannot keep up with repayments.
Business vehicle finance
Time Finance offers a wide array of cars and vans, from a Ford Focus to a Tesla Model 3 and countless options between these budget stools, that can be financed over 24 to 60 months on a business lease basis.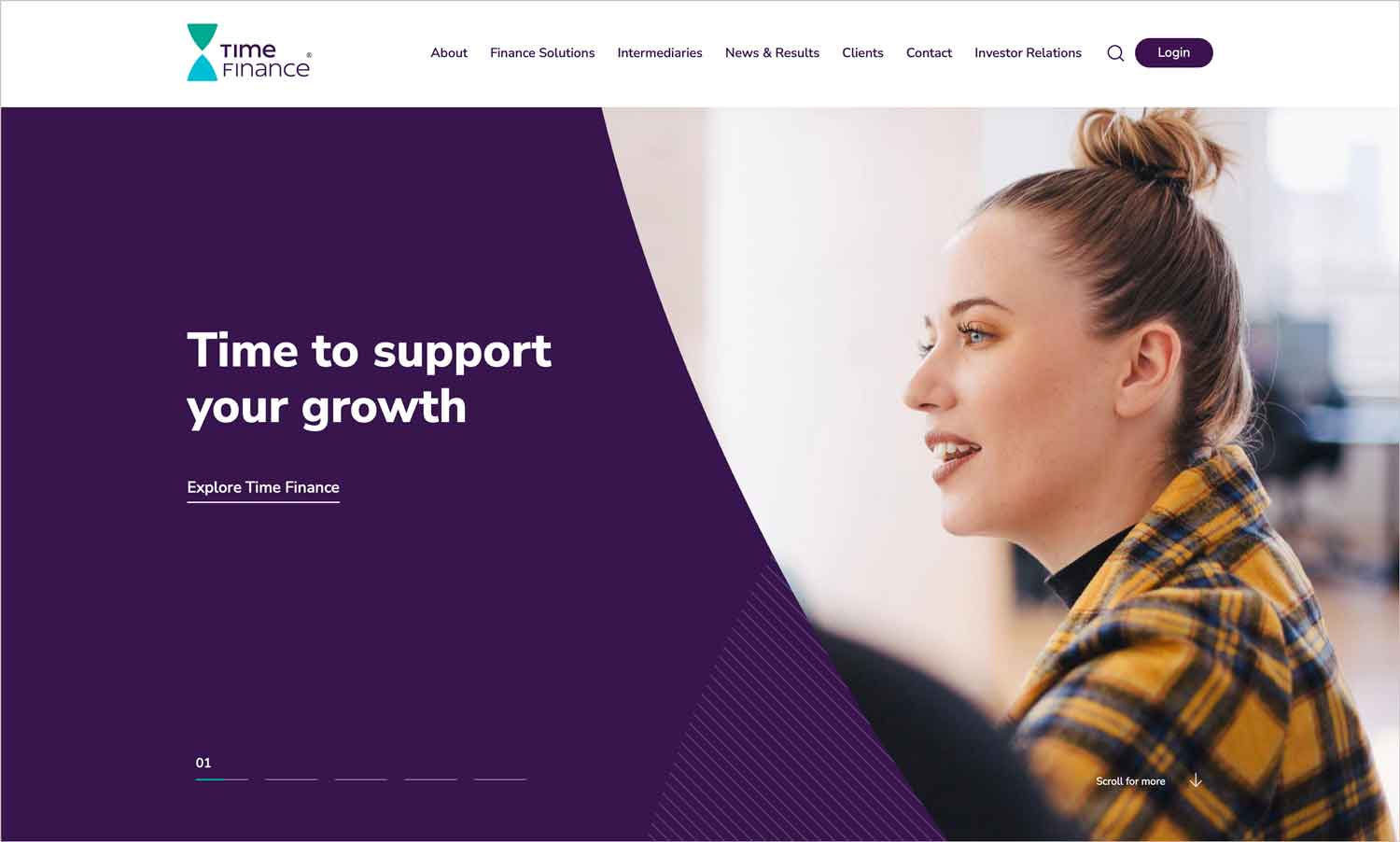 Commercial mortgages
✗ Not available from Time Finance. See best commercial mortgages. 
Merchant cash advance
✗ Not available from Time Finance. See best merchant cash advance. 
Business credit cards
✗ Not available from Time Finance. See best business credit cards. 
Time Finance key information
| | |
| --- | --- |
| Phone number | 0161 828 8100 |
| App downloads | N/A |
| Website | www.timefinance.com |
| Number of branches | 5 offices in the UK |
| FSCS protected? | No |
| Founded | 1998 |
Key information
Time Finance reviews
| Review platform | Score | Number of votes |
| --- | --- | --- |
| TrustPilot | 4.5/5 | 13 |
| Feefo | Not reviewed | N/A |
| Reviews.io | Not reviewed | N/A |
| Smart Money People | Not reviewed | N/A |
| Which? | Not reviewed | N/A |
| Average score | 4.5/5 | 13 total votes |
Time Finance reviews and ratings
Business eligibility criteria
As Time Finance offers so many different financial products, they do not disclose their exact criteria for lending on the website, instead encouraging interested parties to get in touch to discuss options.
This is advisable, as even if what you had in mind is not available to you, Time Finance may still be able to help with an alternative lending stream.
However, if you are looking for a loan, you will likely need to have been trading for at least two years and must be a homeowner – the loan will be secured against your personal residence.
Business finance alternatives
Few lenders offer quite as many lending products as Time Finance, but if you would like to compare their offer, the following will all provide invoice finance at the very least.
Bibby Financial Services
Close Brothers
Creative Capital
eCapital Factoring
IGF Commercial Finance
Kriya
Novuna Commercial Finance
Pulse Cashflow Finance
Skipton Business Finance
Team Factors
Additional considerations
Time Finance is dedicated to making its application process as simple as possible, and has agreed to invest in automated technology to enhance its offering even further.
FAQ
How long does it take to get finance approved by Time Finance?
Once you have completed Time Finance's checks and been approved for funding, which may take a few days, you can start receiving invoice funding within 24 hours. Loans and other forms of finance will typically be paid out within a couple of days.
How much can I borrow from Time Finance?
Lending on an invoice finance basis is capped at 90% of the value of an outstanding invoice. Secured loans can be taken out for up to £50,000 if you have sufficient equity in your property.
How do I apply for finance from Time Finance?
You can call Time Finance on 0161 828 8100 to start your application, or fill in forms related to the lending stream that interests you on the website.
Are there any hidden fees when borrowing from Time Finance?
No, when you are provided with a quote you will know exactly how much you will be asked to repay with no nasty surprises down the line.
Will I need to secure borrowing from Time Finance against an asset?
Lending on an invoice financing through Time Finance is an unsecured loan. Lump sum loans will need to be secured against a personal residence.
Will Time Finance agree to work with my industry?
Time Finance is flexible about which industries it works alongside, so unless your business model is considered high risk, your application will likely be accepted if you meet other criteria for lending.