White Oak is one of the largest non-bank financial lenders in the business realm, acting as both a direct financier and a credit broker.
White Oak may be willing to consider lending to your business directly, but if this is not possible, White Oak will attempt to pair you with an external financier to get you the money you need.
Typically, White Oak targets larger businesses looking for fairly substantial sums – the minimum borrowing means that start-ups and young businesses are unlikely to get much joy from White Oak – but this is a long-established and reputable lender for those that satisfy the core criteria for borrowing.
White Oak business loans and finance
Pros and cons of White Oak for business finance
| Pros | Cons |
| --- | --- |
| ✓ Wide range of lending products | ✗ Interest rates can exceed 100% in some cases |
| ✓ Two choices for lending – borrowing directly from White Oak, or from a third-party | ✗ Must have been trading for at least three years to qualify for lending |
| ✓ Excellent Feefo reviews to counter poor TrustPilot feedback | ✗ Minimum loan of £25,000 may be too high for smaller businesses |
White Oak pros and cons
Business loans
White Oak offers two types of straightforward business loans, with a minimum borrowing of £25,000. You must have been trading for at least three years to qualify for any of these funding solutions.
Working capital loans
This borrowing is designed to bolster your cash flow in the short term. This funding is capped at £1,000,000 and can be used for any business purpose – from making hires to spreading the cost of your tax or VAT bills. This is a short-term loan, repayable within 12 months, and can be issued on an interest-only basis. Ensure you have an exit strategy for the borrowing – a working capital loan from White Oak is perhaps best considered akin to a bridging loan.
Business development loans
Borrow up to £2,000,000 for between 12 to 48 months to finance growth and expansion in your business. You'll need to provide evidence that your business is profitable to qualify for this loan, and will be asked for a business plan to demonstrate how the funds will be used for growth.
Asset finance
White Oak is perhaps best known for asset finance funding. This lender offers a range of solutions within this field.
White Oak offers asset finance, where the lender will purchase a significant asset for your business at your request. This asset can be used on a hire basis, in which you will pay a monthly fee and own the asset at the end of the term when the debt is cleared following a small, final payment, or leased, meaning you will never own the asset but neither are you responsible for its upkeep or repair.
White Oak also offers three additional types of asset finance for businesses that have been trading for at least three years and have an annual turnover between £10,000,000 and £250,000,000.
Asset based lending
Apply for financing of up to 90% of the value of your existing business assets (capped at £100,000,000), secured against the apparatus in question.
Supply chain finance
Apply for financing of up to 85% of your existing assets (capped at £100,000,000) on long or complex supply chains of up to 180 days.
Trade finance
Apply for financing of up to 90% of key imports and exports (capped at £100,000,000) for up to 180 days, ensuring that you are able to continue meeting customer demands and maintain a business cash flow.
Business vehicle finance
While White Oak does not offer vehicle finance as a specialist product, you can apply for funding for electric vehicles under the auspices of asset finance. This option does not apply to traditional, petrol- or diesel-fuelled vehicles.
Invoice finance
White Oak offers an invoice factoring service, whereby up to 95% of the value of outstanding invoices can be released immediately. When your clients settle their invoices, you will receive the remainder minus a fee.
The snag is that you must have been trading for three years and have a minimum turnover of £200,000 to qualify for this service through White Oak. See our guide to invoice factoring service providers for a more flexible alternative.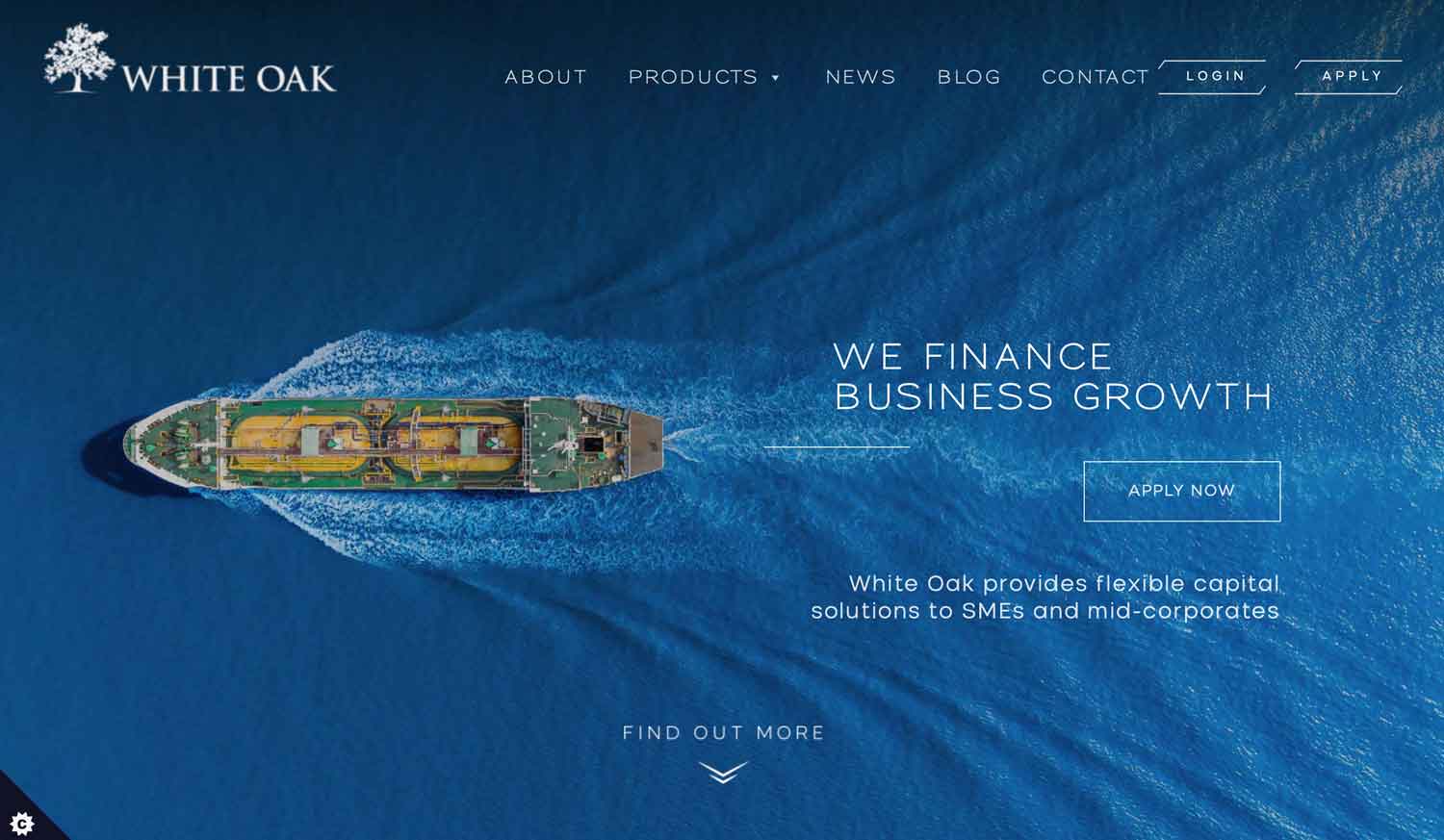 Merchant cash advance
✗ Not available from White Oak. See merchant cash advance.
Commercial mortgages
✗ Not available from White Oak. See commercial mortgages.
Business credit cards
✗ Not available from White Oak. See best business credit cards. 
White Oak key information
| | |
| --- | --- |
| Phone number | 01244 527300 |
| App downloads | N/A |
| Website | www.whiteoakeurope.com |
| Number of branches | 2 offices in the UK – Chester and Glasgow |
| FSCS protected? | No |
| Founded | 1986 |
Key information
White Oak reviews
| Review platform | Score | Number of votes |
| --- | --- | --- |
| TrustPilot | 2.6/5 | 9 |
| Feefo | 4.9/5 | 2,047 |
| Reviews.io | Not reviewed | N/A |
| Smart Money People | Not reviewed | N/A |
| Which? | Not reviewed | N/A |
| Average score | 3.75/5 | 2,056 |
White Oak reviews and ratings
Business eligibility criteria
White Oak assigns unique criteria to different lending streams, so refer back to our descriptions of each finance product, though in every case you will need to have been trading for at least three years.
White Oak will first assess whether it is willing to provide money directly, and if this is not the case, it will connect you with third-party lenders that may be willing to help. It may be advisable to call White Oak to discuss your business needs and assess whether you will be eligible for borrowing.
Business finance alternatives
While White Oak is somewhat unique in that this provider acts as both a lender and a broker, smaller SMEs may be better off seeking financial aid from a business that specialises in just one of these practices for a faster response.
Additional considerations
White Oak is clearly dedicated to building the economy in the UK, pledging to lend at least £500,000,000 to British SMEs throughout 2023.
FAQ
Is White Oak a broker or a lender?
White Oak fulfils both of these roles. White Oak will consider if an application for finance is fiscally prudent for direct borrowing, and if this is not the case, your request will be directed to a third party lender.
How do I apply for finance from White Oak?
You can call White Oak on 01244 527300 to discuss your needs, or fill in an online application for the lending stream that your business requires.
How much can I borrow from White Oak?
The maximum loan sum available from White Oak in a single application is well into seven figures, depending on the lending scream that you apply for, with a minimum borrowing of £25,000. 
Will White Oak work with a business in my industry?
White Oak works with a vast array of industries, so unless your business model is considered exceptionally high risk there is no reason why you would be excluded from borrowing on these grounds.
What interest rate will White Oak assign to my loan?
This will be decided if and when you complete a successful lending application. The average APR on a White Oak loan could be anywhere between 5.4% and 107.7%.
Will I need to secure a White Oak loan against an asset?
White Oak will consider secured and unsecured loans, depending on your business finances and circumstances. Most lending above £250,000 will need a personal guarantee at the very least.