Braemar Finance is part of the Close Brothers bank, offering financial support to a handful of industries.
It should be made clear that lending options from Braemar finance are only open to businesses in the medical (including dental, optical and pharmacy,) veterinary, legal, accountancy, funeral, and care home industries.
If your business falls under these remits, you will be able to apply for business loans for a variety of reasons, or asset-based financing.
Braemar Finance business loans and finance
Pros and cons of Braemar Finance for business finance
| Pros | Cons |
| --- | --- |
| ✓ Flexible loan arrangements based on your unique circumstances | ✗ Only work with a select handful of industries |
| ✓ Part of the reputable Close Brothers bank | ✗ Very few online reviews |
Braemar Finance pros and cons
Business loans
Braemar Finance offers a range of business loans for companies that fall within the appropriate industry. Options here include the following:
General business loans
Tell Braemar Finance how much you are looking to borrow, and for how long, and this lender will confirm if they can help you. If they are unable to do so, Braemar Finance will signpost you to alternative lending streams.
Tax loans
Take out a loan to help with large corporate tax bills, repayable for up to 18 months. This can be a great way to ensure your pay your taxes on time and avoid accruing interest. This loan can be paid straight to HMRC if you prefer.
VAT loans
Take out a loan against your VAT liability, repayable over up to a year. This may enable you to redirect funds that were set aside for a quarterly VAT bill.
Consolidation and refinancing loans
Consolidate existing business debts into one monthly payment, potentially saving substantial sums in interest each month. See debt refinancing.
Asset finance
Braemar Finance also offers two kinds of asset-based finance:
Leasing
Braemar Finance will purchase an asset at your request and lease it to you for a set period, based on fixed monthly repayments. You will not own the asset at any point, but neither will you be responsible for its maintenance or repair, or saddled with an outdated piece of equipment.
Hire purchase
Braemar Finance will purchase an asset between the value of £200,000 and £1,000,000, with your business making payments on a monthly basis. At the end of your repayments, you will own the asset outright.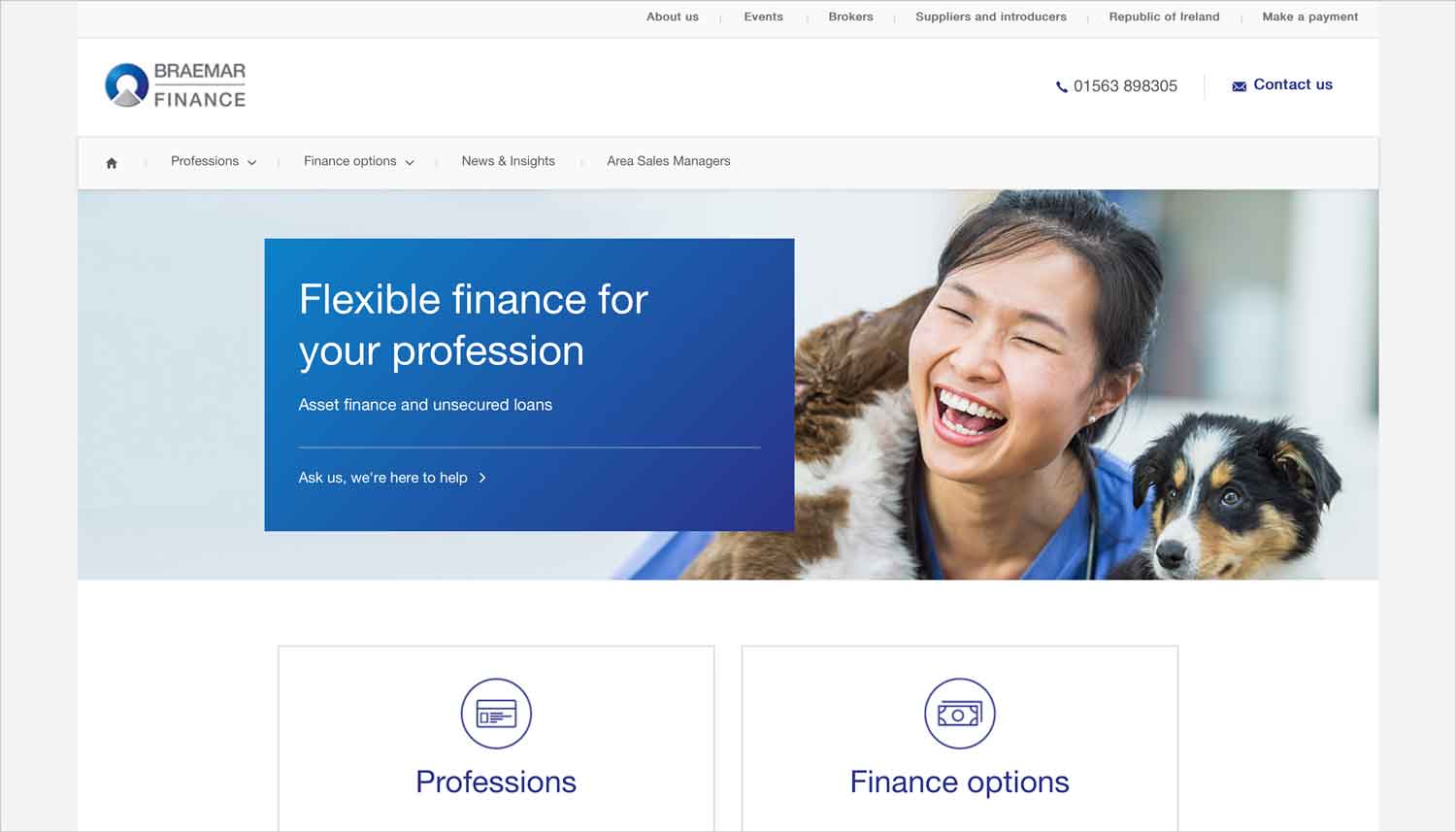 Invoice finance
✗ Not available from Braemar Finance. See invoice factoring. 
Merchant cash advance
✗ Not available from Braemar Finance. See merchant cash advance.
Business credit cards
✗ Not available from Braemar Finance. See business credit cards. 
Commercial mortgages
✗ Not available from Braemar Finance. See commercial mortgages.
Business vehicle finance
✗ Not available from Braemar Finance. See business vehicle finance. 
Braemar Finance key information
| | |
| --- | --- |
| Phone number | 01563 897252 |
| App downloads | N/A |
| Website | www.braemarfinance.co.uk |
| Number of branches | N/A |
| FSCS protected? | No |
| Founded | 1992 |
Key information
Braemar Finance reviews
| Review platform | Score | Number of votes |
| --- | --- | --- |
| TrustPilot | Not reviewed | N/A |
| Feefo | Not reviewed | N/A |
| Reviews.io | Not reviewed | N/A |
| Smart Money People | 3.5/5 | 4 |
| Which? | Not reviewed | N/A |
| Average score | 3.5/5 | 4 total votes |
Braemar Finance reviews and ratings
Business eligibility criteria
Braemar Finance prides itself on its dedication to supporting SMEs and meeting the needs of clients, so this lender does not pre-set criteria as to whether an application will be accepted.
However, remember that you must work within a set industry to qualify for borrowing from this lender. To confirm, Braemar Finance will only consider lending to a company in the following industries:
Dental
Veterinary
Optical
Legal
Accountancy
Medical
Care home
Pharmacy
Funeral
Business finance alternatives
If you do not qualify for borrowing from Braemar Finance, consider heading straight to parent company Close Brothers. Alternatively, plenty of unrelated direct business loan providers are out there.
Additional considerations
This interview with Steve Forsyth of Braemar Finance explains why an eligible business may want to consider taking out a tax loan, one of the more unique products offered by this lender.
FAQ
How do I apply for a Braemar Finance business loan or asset finance?
You can call Braemar Finance on 01563 897252 to discuss your options, or fill in some details on the lender's website to request a callback.
Will Braemar Finance work with me if I have bad credit?
Braemar Finance is not a specialist in bad credit borrowing, but this lender looks at more than just your credit score when assessing a loan application. If you are honest about your history, and do not ask for an unrealistic sum, you may still qualify for borrowing.
How much will my business be able to borrow through Braemar Finance?
Braemar Finance does not assign a default cap on loans and asset-based borrowing. Get in touch with Braemar to ask and let them know what you are looking for, and you will learn if your request is viable.
How long does it take to get funding through Braemar Finance?
All applications for funding through Braemer Finance need to be assessed by the lender's underwriters. How long this takes depends on the complexity of your business affairs and credit history. Once your application is approved, you will rapidly receive the funds in your chosen account.
How much will a business loan through Braemar Finance cost?
Braemar Finance will assign an interest rate to your loan based on the circumstances surrounding your borrowing.
Will I need to secure my lending through Braemar Finance against an asset?
All loans from Braemar Finance are issued on an unsecured basis. Naturally, you will lose access to an asset financed on a leased or hire purchase basis.