Close Brothers is a bank with a wide reach across the business lending sphere, including invoice finance, asset-based lending, commercial mortgages, and vehicle finance – but does it have good features and reviews?
Close Brothers will permit an SME to release up to 90% of the value of an outstanding invoice immediately, calming any concerns over cash flow if your customers are notoriously slow to settle their bills or are placed on long payment terms.
You can utilise this service on a pick-and-choose basis or have Close Brothers handle all of your invoicing needs, but be warned that this lender is primarily designed with larger businesses in mind. Start-ups and smaller enterprises may struggle to meet the minimum fees and criteria set by Close Brothers.
Close Brothers business loans and finance
Pros and cons of Close Brothers for business finance
| Pros | Cons |
| --- | --- |
| ✓ Sometimes pay invoice financing same-day | ✗ Small businesses may not meet lending criteria |
| ✓ Wide array of lending streams and financial products | ✗ Minimum turnover of £500,000 for invoice financing, and £5,000,000 for asset finance |
| ✓ Willing to work with a number of industries | ✗ Average online reviews |
| ✓ Firmly established for over 100 years | ✗ Property finance only really open to developers |
Close Brothers pros and cons
Invoice finance
The invoice financing offering of Close Brothers comes in three forms:
Invoice finance
Close Brothers will loan you up to 90% of the value of an unpaid invoice, sometimes even releasing the funds same-day. You will retain credit control over the invoice, and Close Brothers will arrange a bank account in your name for the invoice to be settled.
Once the client pays their bill, Close Brothers take a fee and release any remaining money owed to you.
Invoice factoring
Similar to generic invoice financing, but Close Brothers will take over credit control of the invoice, leaving you to focus on running your business.
If you are interested in invoice factoring you will need to submit all of your invoices to Close Brothers, not pick and choose which you wish to borrow against. While Close Brothers promise to be discrete, you will also have no control over how they chase payment.
Invoice discounting
Upload all invoices into a portal managed by Close Brothers, IDeal, and immediately receive up to 90% of the value of the invoice. You will retain credit control over the invoices, receiving funds into the IDeal portal, at which point Close Brothers will claim any fees owed to them.
These fees may be slightly higher than invoice factoring if you use invoice discounting, but you will not need to worry about clients becoming upset by chasing for payment from a third party. 
Asset finance
Through Close Asset Finance, Close Brothers offers four types of asset finance:
Hire purchase
Close Brothers will purchase an asset that you request, which you will pay for on a monthly basis as a hire fee. At the end of this term, you can pay a one-off fee to own the asset or hand it back to Close Brothers.
Finance lease
Close Brothers will purchase an asset and you will lease it from them. At the end of an agreed term, you can agree to sell the asset and split the proceeds with Close Brothers, start a new lease agreement, or return the asset to Close Brothers. There is no option to own the asset with this agreement.
Operating lease
Similar to the above, but designed for assets that are likely to depreciate in value. When the asset is no longer fit for purpose you will have no responsibility for disposing of it, and lease prices will drop over time.
Capital release
Use existing assets that your business owns as a guarantee to release money from Close Brothers as a loan, with the funds able to be used elsewhere as required.
Commercial mortgages
Through Close Property Finance, Close Brothers offers three types of commercial property lending:
Commercial investment
Raise capital against property assets that you already own. Borrow between £1,000,000 and £20,000,000 (capped at 75% of the guaranteed asset's value) for up to five years.
Development finance
Take a loan between £750,000 and £20,000,000 for up to 18 months, designed for use to purchase, develop, or expand commercial property interests. Lending is usually capped at 65% of the gross development value.
Bridging finance
If you need to plug a financial gap, such as laying down a deposit on a new commercial property while you wait for an existing building to complete a sale, borrow between £50,000 and £4,000,000 as a bridging loan, repayable in full at the end of the term. This loan will have a maximum term of 12 months.
Business vehicle finance
Through Close Motor Finance, Close Brothers offer two types of vehicle finance:
Personal contract purchase (PCP)
Lay down a 10% deposit on a vehicle and settle the remaining balance over a maximum of four years. This loan will be secured against the vehicle, so if you fail to maintain payments, the car may be repossessed.
Hire purchase
Lay down a 10% deposit on a vehicle and pay a monthly hire fee for up to six years. At the end of this term, you can pay a purchase fee or hand the vehicle back to Close Brothers and start a new arrangement.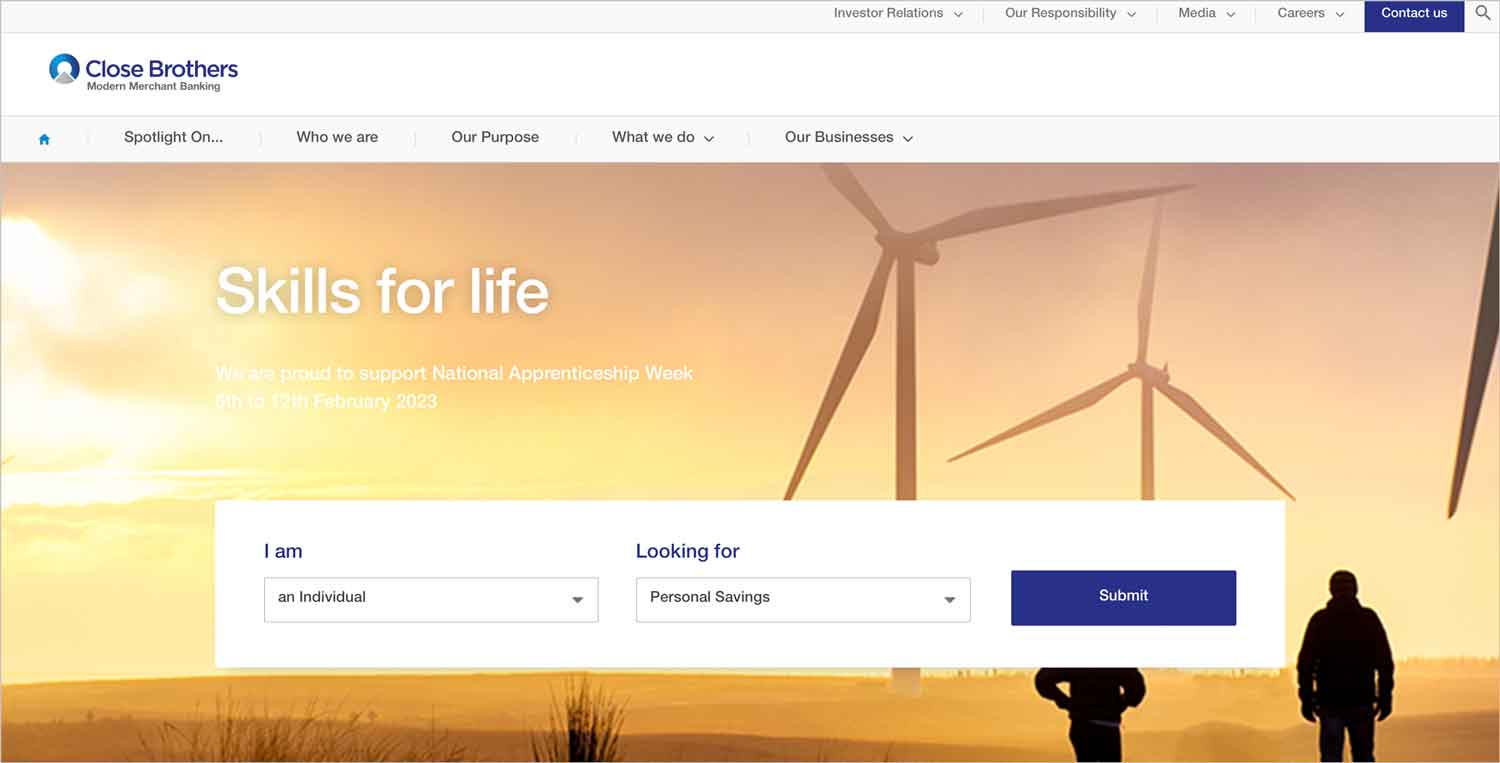 Merchant cash advance
✗ Not available from Close Brothers. See best merchant cash advance. 
Business loans
✗ Not available from Close Brothers. See best business loans. 
Business credit cards
✗ Not available from Close Brothers. See best business credit cards. 
Close Brothers key information
| | |
| --- | --- |
| Phone number | 0808 231 9228 |
| App downloads | N/A |
| Website | closebrothers.com |
| Number of branches | Over 50 offices in the UK |
| FSCS protected? | Yes |
| Founded | 1878, London |
Key information
Close Brothers reviews
Close Brothers reviews and ratings
Business eligibility criteria
To qualify for invoice financing, the most popular service provided by Close Brothers, you must meet the following criteria.
Work to a B2B model, not B2C
Accept payments by invoice with repayment terms of 30 to 90 days
Minimum annual turnover of £500,000 for invoice financing, and £5,000,000 for asset-based lending
Other lending streams have unique criteria that need to be discussed with Close Brothers.
Business finance alternatives
Close Brothers offers a wide array of products, but is not the only lender in town. If you do not qualify for borrowing from Close Brothers or wish to compare the offer of this lender with a rival, consider the following competitors.
Novuna Commercial Finance
Additional considerations
Despite somewhat middling online reviews, Close Brothers enjoys an excellent reputation in the financial industry, regularly sweeping the board at professional industry awards ceremonies.
FAQ
How long does it take to get finance approved by Close Brothers?
Close Brothers typically approves and releases funds related to invoice financing within 24 hours – sometimes you'll even receive your money on the same day as a successful application. Other lending will be subject to further checks and take longer.
How much can I borrow from Close Brothers?
Lending on an invoice finance basis is capped at 90% of the value of an outstanding invoice. Larger lending streams can run into the millions – if you qualify.
How do I apply for finance from Close Brothers?
You can call Close Brothers on 0808 231 9228 to start your application, or leave your contact details on an online form and request a callback.
Are there any hidden fees when borrowing from Close Brothers?
No, when you are provided with a quote you will know exactly how much you will be asked to repay with no nasty surprises down the line.
Does Close Brothers set a fixed term for repayments?
As Close Brothers receive its funds when a customer invoice is settled, this is the de facto deadline for repayment. Other lending streams can run from one to four years.
Will I need to secure borrowing from Close Brothers against an asset?
Lending on an invoice financing through Close Brothers is an unsecured loan. Asset-based lending can be guaranteed against existing assets, while vehicle finance will be secured against the asset related to your borrowing.