Cynergy Bank is a challenger bank that has replaced the Bank of Cyprus in the UK. We call this bank a challenger, but this is really only its status on paper – you can conduct over-the-counter transactions in branches of HSBC, and Cynergy does not have a mobile app.
Compare business bank accounts
What are you looking for?
In partnership with
Tide

Co-Op Business Banking
✓ Business Current Account
✓ Online, App & High Street Banking
✓ Quick & Easy Application Process


HSBC Business Banking
✓ Business Current Account
✓ In-Branch, Online & App Banking
✓ FSCS Protected


Metro Business Banking
✓ Business Current Account
✓ High Street Presence
✓ FSCS Protected


Mettle Business Banking
✓ Business Bank Account
✓ Online & App
✓ Quick & Easy Application Process


Monzo Business Banking
✓ Business Current Account
✓ Dedicated mobile app experience
✓ FSCS Protected


Tide Business Bank Accounts
✓ Free, Plus, or Pro Account
✓ iOS & Android Mobile App
✓ Upload & Auto-Match Receipts


Virgin Money
✓ Business M Account
✓ In-Store, Online & App Banking
✓ Insights & Forecasting Platform

These minor limitations define this bank overall. It offers a business current account, but no savings. The account charges are low, but the microtransactions quickly build.
On the plus side, Cynergy Bank offers a range of lending streams, but few businesses would consider this institution as an ideal solution for day-to-day financial management.
Cynergy Bank business banking services
Pros and cons of Cynergy Bank for business services
| Pros | Cons |
| --- | --- |
| ✓ Good reputation for customer service | ✗ No accounts for sole traders |
| ✓ Reasonable interest rates on lending | ✗ No apps for mobile banking |
| ✓ FSCS protected | ✗ Lengthy list of transaction charges |
| ✓ HSBC branch counter support | ✗ £100 cap on debit card purchases |
Pros and cons of Cynergy business banking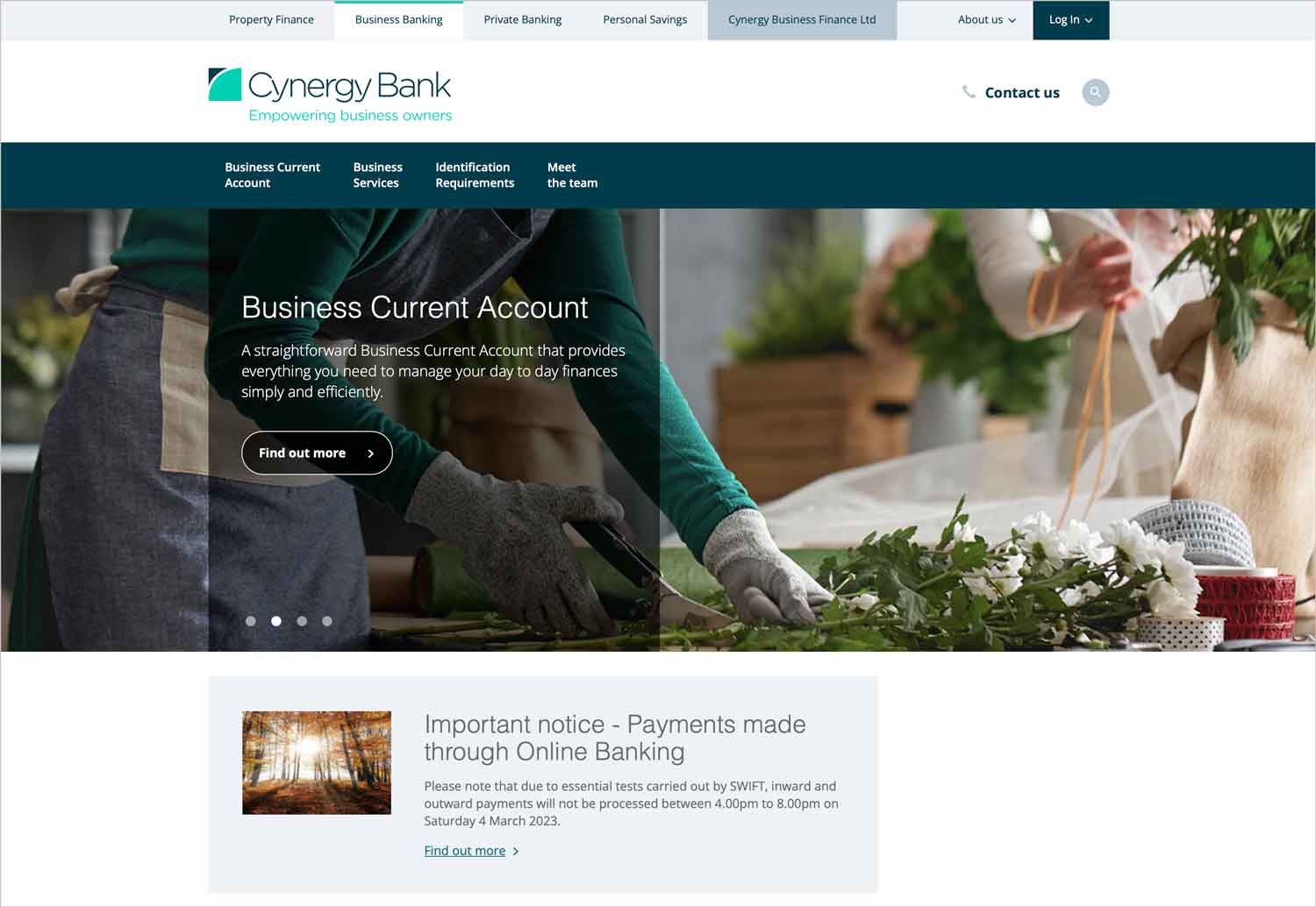 Business current accounts
Cynergy Bank offers a single business current account, which can be opened with a deposit of £10. This account charges a quarterly maintenance fee of £15, and a wide range of microtransaction fees as follows:
| Type of transaction | Fee or charge |
| --- | --- |
| Electronic credits to account | 35p |
| Cheques paid into account | 30p |
| Debit card purchases | 40p |
| Outgoing direct debit payments | 45p |
| Outgoing cheque payments | 78p |
| ATM withdrawals | 1.50% of sum withdrawn |
| Cash transactions over the HSBC counter | 65p per £100 |
Cynergy Bank business account fees
You will be provided with a debit card attached to your Cynergy Bank business current account, but be warned that purchases using this card are restricted to £100 or below. You can withdraw up to £300 from an ATM though. See best business bank accounts.
Business overdrafts
An overdraft can be applied for, and details will be confirmed upon acceptance. See best business overdrafts.
Business savings accounts
✗ Not offered by Cynergy Bank. See best business savings accounts.
Cynergy Bank at a glance
| | |
| --- | --- |
| Phone number | 0345 850 5555 |
| App downloads | N/A |
| Website | www.cynergybank.co.uk/business-banking |
| Number of branches | 327 branches of HSBC |
| FSCS protected? | Yes |
| Founded | 1955 |
Key information
Cynergy Bank business finance and loans
Cynergy Bank offers a handful of additional financial products for business customers:
Cynergy property finance
Cynergy Bank offers a range of mortgage products for businesses looking to invest in this area.
Cynergy receivables finance
Borrow up to 90% of the value of an unpaid invoice from Cynergy Bank, who will take over credit control and release the remaining funds when received. See invoice factoring.
Cynergy multi-asset finance
Loans for business-critical machinery and equipment. See asset finance.
Cynergy non-asset finance
Short- and mid-term unsecured loans to aid with general cashflow and business expansion. See best business loans.
Cynergy Bank reviews
What are other business banking customers saying about Cynergy Bank?
| Review platform | Score | Number of votes |
| --- | --- | --- |
| TrustPilot | 3.9/5 | 1,240 |
| Feefo | Not reviewed | N/A |
| Reviews.co.uk | Not reviewed | N/A |
| Smart Money People | 5/5 | 11 |
| Which? | Not reviewed | N/A |
| Average score | 4.45/5 | 1,251 |
Cynergy Bank reviews and ratings
Business eligibility criteria
Only SME owners can open a Cynergy Bank business current account – this service is not open to sole traders. You can open your account over the telephone by calling Cynergy Bank. You will not be able to set up your account online or at a branch of HSBC.
Business finance alternatives
It's hard to find a reason why Cynergy Bank should be considered over any rival in the marketplace. This is technically a challenger bank, but it has no mobile app and charges quite substantial transaction fees. It's comparable in this regard to a high street rival – but Cynergy Bank lacks extensive branch support or branch recognition. If a mainstream banking experience is what you are looking for, you'll be better off using a more established name.
Cynergy Bank additional considerations
You can pay cash or cheques into your Cynergy Bank account, or make cash withdrawals, over the counter at HSBC. However, this does not mean that you can discuss your account or address any concerns with HSBC staff.
FAQ
Is Cynergy Bank a proper bank?
Yes, Cynergy Bank is a legitimate and regulated bank. It is authorised by the Prudential Regulation Authority and regulated by the Financial Conduct Authority and the Prudential Regulation Authority. Cynergy Bank is also a member of the Financial Services Compensation Scheme. This means that deposits up to £85,000 (or currencies equivalent) are protected in case the bank fails.
How to open a Cynergy Bank business account?
To open a business account with Cynergy Bank, you will need to provide some personal information such as your name, address and contact details. You will also need to provide business-related documents such as registration numbers, ownership structure and financial statements. Once you have submitted all the necessary documentation, you can expect a quick decision from Cynergy Bank.
What fees does Cynergy Bank charge?
Cynergy Bank has a variety of fees depending on the services you use. For example, when you open an account there is a one-off fee for setting up the account. There are also transaction fees for different types of payments and transfers such as direct debits, standing orders and international transfers. Cynergy Bank also charges interest on overdrafts, loans and credit cards. You can find out more about the fees by contacting Cynergy Bank directly.
What services does Cynergy Bank offer?
Cynergy Bank offers a range of services including business accounts, savings accounts, loans, credit cards and international payments. They also offer online banking with 24/7 access to your account. They have a mobile app that you can use to manage your money wherever you are. Cynergy Bank also has a network of branches in the UK so you can get help with any queries you may have. Additionally, they provide business advice and support to small businesses including workshops and seminars. Finally, they offer a range of corporate banking services such as trade finance and cash management solutions.
What types of payments does Cynergy Bank accept?
Cynergy Bank accepts payments via bank transfer and debit/credit cards. They also accept PayPal, Apple Pay and Google Pay. In addition to that, they offer a range of international payment solutions including SWIFT transfers, SEPA transfers and global ACH payments.