If you feel more comfortable banking with an established high street name, banks do not get much bigger than HSBC. Arguably at the head of the table of the so-called "Big Four," HSBC offers a range of accounts and products for sole traders and businesses of all sizes.
Compare business bank accounts
What are you looking for?
In partnership with
Tide

Co-Op Business Banking
✓ Business Current Account
✓ Online, App & High Street Banking
✓ Quick & Easy Application Process


HSBC Business Banking
✓ Business Current Account
✓ In-Branch, Online & App Banking
✓ FSCS Protected


Metro Business Banking
✓ Business Current Account
✓ High Street Presence
✓ FSCS Protected


Mettle Business Banking
✓ Business Bank Account
✓ Online & App
✓ Quick & Easy Application Process


Monzo Business Banking
✓ Business Current Account
✓ Dedicated mobile app experience
✓ FSCS Protected


Tide Business Bank Accounts
✓ Free, Plus, or Pro Account
✓ iOS & Android Mobile App
✓ Upload & Auto-Match Receipts


Virgin Money
✓ Business M Account
✓ In-Store, Online & App Banking
✓ Insights & Forecasting Platform

If you choose HSBC for your business banking, you will have access to all kinds of lending streams at the touch of a button – but just remember that, when you bank with a conglomerate of this ilk, you will always be just another account amongst a sea of others, and may not receive the greatest customer service.
HSBC business banking services
Pros and cons of HSBC for business services
| Pros of HSBC | Cons of HSBC |
| --- | --- |
| ✓ The UK's biggest high street bank | ✗ Poor to middling online reviews |
| ✓ Plenty of lending streams available | ✗ Monthly account fees |
| ✓ Excellent app for managing finances | ✗ Giant banks often lack a personal service |
Pros and cons of HSBC business banking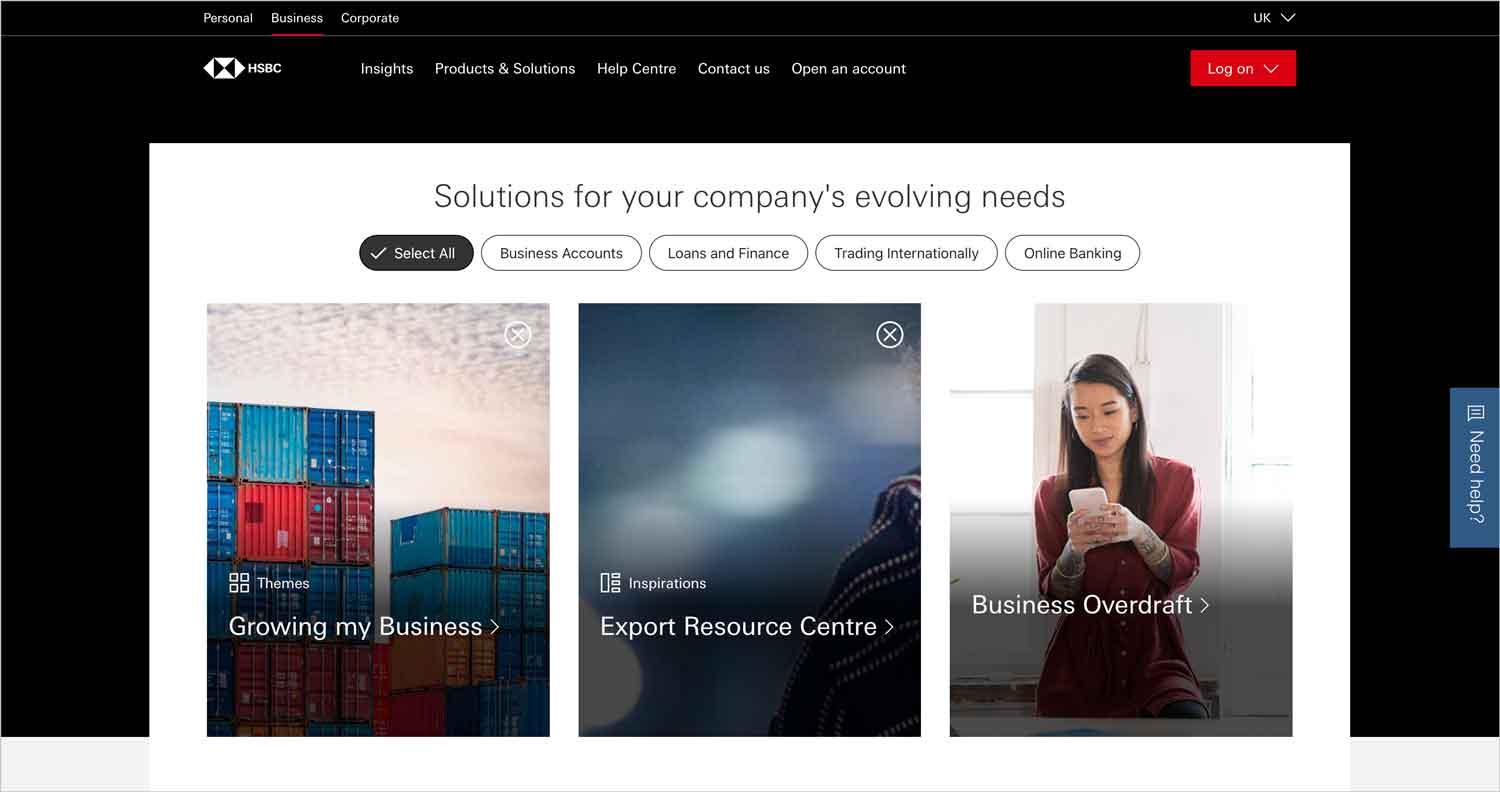 Business current accounts
HSBC offers the Kinetic account for online-only, app-based business banking. If you prefer a more traditional account, here are your choices:
HSBC Small Business bank account
Designed for sole traders of SMEs with a turnover below £2,000,000 per year. This account is free for 12 months, then attracts a monthly fee of £8.
This is essentially an elevated version of the Kinetic account, though unlike that alternative product, you can visit a branch of HSBC or a local Post Office and conduct your business over the counter. This account also offers greater flexibility when deaing with foreign currencies than Kinetic.
The HSBC business app is highly regarded, so you should not encounter any difficulty conducting your financial management using this tool, though you can also use desktop internet banking.
HSBC Business bank account
HSBC's standard account is for SMEs with a turnover higher than £2,000,000 in a year. Again, this account is free for 12 months, before attracting a fee of £10 per month. This business bank account is similar to the Small Business account, but has fewer restrictions as an account holder will likely be dealing with larger sums on a daily, weekly, and monthly basis.
Business overdrafts
HSBC business customers can apply for a business overdraft, subject to approval and passing a credit check. Representative EAR is 14.82%. See best business overdrafts.
Business savings accounts
Not available to business customers through HSBC, though Kinetic offers savings accounts. See best business savings accounts.
HSBC at a glance
| | |
| --- | --- |
| Phone number | 0345 740 4404 |
| App downloads | iOS; Android |
| Website | www.business.hsbc.uk |
| Number of branches | 327 |
| FSCS protected? | Yes |
| Founded | 1865 |
HSBC business banking key information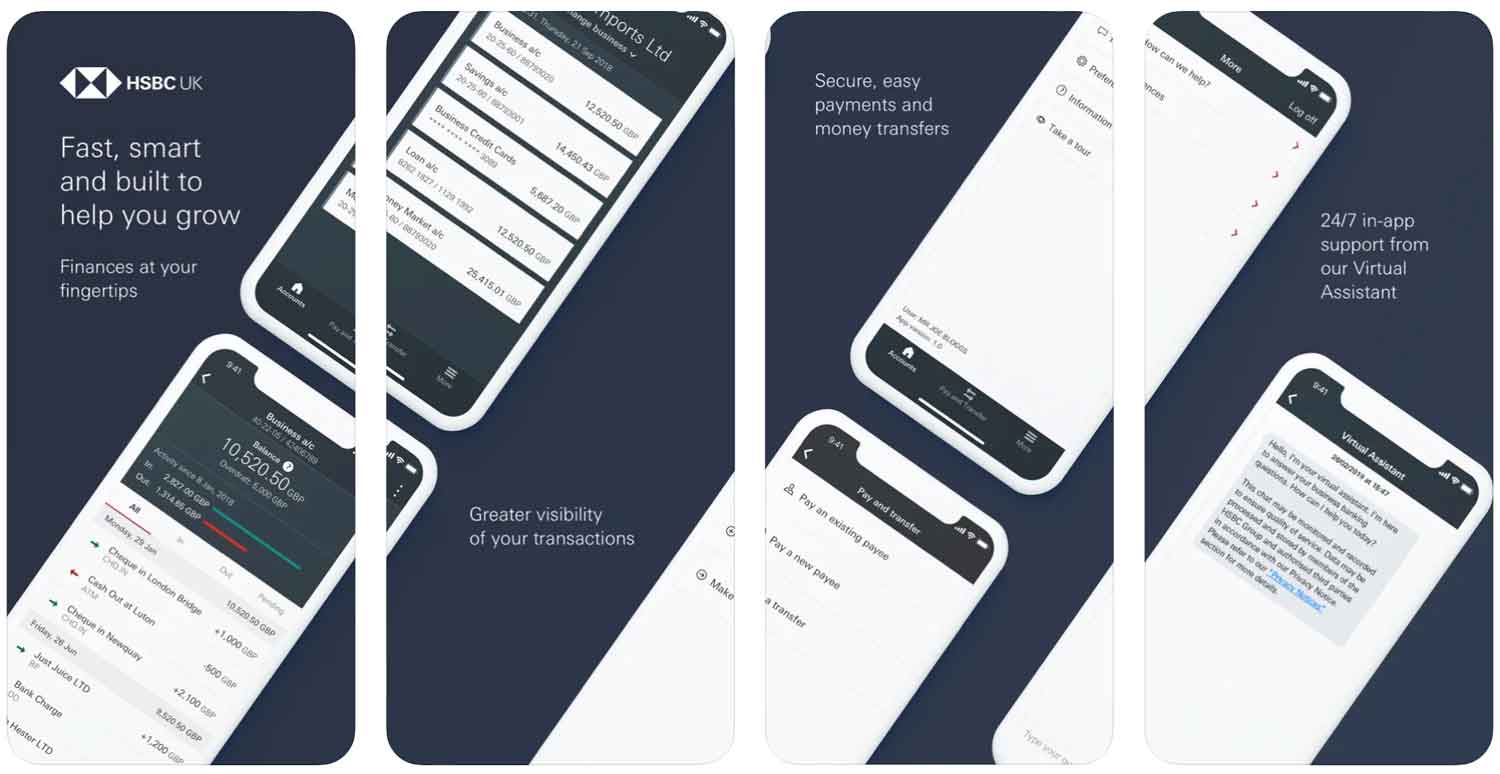 HSBC business loans and finance
HSBC business customers – or even SME owners and sole traders that do not bank with HSBC – can also apply for the following products:
HSBC Commercial Card
A business credit card with a representative APR of 22%. Cashback is available through some qualifying vendors.
HSBC Small Business Loan
HSBC offers unsecured small business loans of up to £25,000, with a representative APR of 7.1%. The actual interest rate you are offered depends on how much you borrow, over how long, and your business credit rating.
HSBC Flexible Business Loan
A larger business loan, with a minimum amount of £25,001 and no upper limit. This loan can initially be taken out on an interest-only basis, and can be repaid monthly or quarterly over as long as 20 years.
HSBC reviews
What are other business banking customers saying about HSBC?
| Review platform | Score | Number of votes |
| --- | --- | --- |
| TrustPilot | 1.4/5 | 7,420 |
| Feefo | Not reviewed | N/A |
| Reviews.co.uk | Not reviewed | N/A |
| Smart Money People | 2.37/5 | 190 |
| Which? | Not reviewed | N/A |
| Average score | 1.89/5 | 7,610 |
HSBC business banking reviews
HSBC business eligibility criteria
HSBC will consider applications from any SME or sole trader that is aged 18 or over, and based in the UK as a taxpayer. As always, you will need to provide proof of ID and answer some questions about your business model. HSBC reserves the right to refuse an account to any business customer the bank considers high risk.
HSBC business finance alternatives
If you like the idea of banking with an established high street name but HSBC is not meeting your needs, look at the other institutions of the British finance industry – Lloyds, NatWest, the Royal Bank of Scotland, Barclays, and more all offer business banking services.
HSBC additional considerations
Like all banks, HSBC is rapidly closing a number of its branches. This may be the biggest name in banking but it may not be the most prominent on the high street for long. Check you can access a branch if this is behind your choice to bank with HSBC.
FAQ
Is HSBC a proper bank?
Yes, HSBC is a proper bank. It has been around for over 150 years and operates in more than 65 countries across the world. As one of the largest banks in Europe, it offers a wide range of services including retail banking, investment banking and wealth management.
How to open a HSBC business account?
Opening a business account with HSBC is easy. You can start the process online and complete it in person at your local branch. You'll need to provide information about yourself and your business, including identification documents, proof of address and details of any other existing accounts you have. Once all the necessary paperwork has been completed, you can manage your account online or through the HSBC app. The process usually takes a few days but can take up to two weeks.
What fees does HSBC charge for business accounts?
HSBC charges a range of fees for its business accounts. These include monthly service fees, overdraft fees, ATM withdrawal fees and foreign exchange fees. Some accounts also come with ongoing services such as cheque books, in-credit interest or loyalty rewards.
What services does HSBC offer to businesses?
HSBC provides a wide range of services to businesses. These include current accounts, savings accounts, credit cards and loans. Businesses can also benefit from a range of specialist services such as international banking, cash management and trade finance.
What types of payments does HSBC accept?
HSBC accepts a wide range of payments including cash, cheques, debit cards and credit cards. It also supports online payments via ApplePay, GooglePay and PayPal. Customers can also make international payments in multiple currencies.