Kinetic is the online-only challenger arm of HSBC, the UK's most prominent high street bank. While Kinetic is treated as a separate entity from its parent bank, and thus will not offer the same features as a standard HSBC account – including branch support, which is not open to Kinetic customers – the HSBC Kinetic business account may save a tech-savvy SME owner or sole trader a great deal of money in fees.
Compare business bank accounts
What are you looking for?
In partnership with
Tide

Co-Op Business Banking
✓ Business Current Account
✓ Online, App & High Street Banking
✓ Quick & Easy Application Process


HSBC Business Banking
✓ Business Current Account
✓ In-Branch, Online & App Banking
✓ FSCS Protected


Metro Business Banking
✓ Business Current Account
✓ High Street Presence
✓ FSCS Protected


Mettle Business Banking
✓ Business Bank Account
✓ Online & App
✓ Quick & Easy Application Process


Monzo Business Banking
✓ Business Current Account
✓ Dedicated mobile app experience
✓ FSCS Protected


Tide Business Bank Accounts
✓ Free, Plus, or Pro Account
✓ iOS & Android Mobile App
✓ Upload & Auto-Match Receipts


Virgin Money
✓ Business M Account
✓ In-Store, Online & App Banking
✓ Insights & Forecasting Platform

HSBC Kinetic business banking services
Pros and cons of Kinetic for business services
| Pros of Kinetic | Cons of Kinetic |
| --- | --- |
| ✓ Free of charges for 12 months | ✗ No branch support at HSBC |
| ✓ Overdraft, credit card and loans available | ✗ £6.50 monthly fee after 12 months |
| ✓ Rapid response to applications | ✗ Limited international currency functionality |
Pros and cons of Kinetic business banking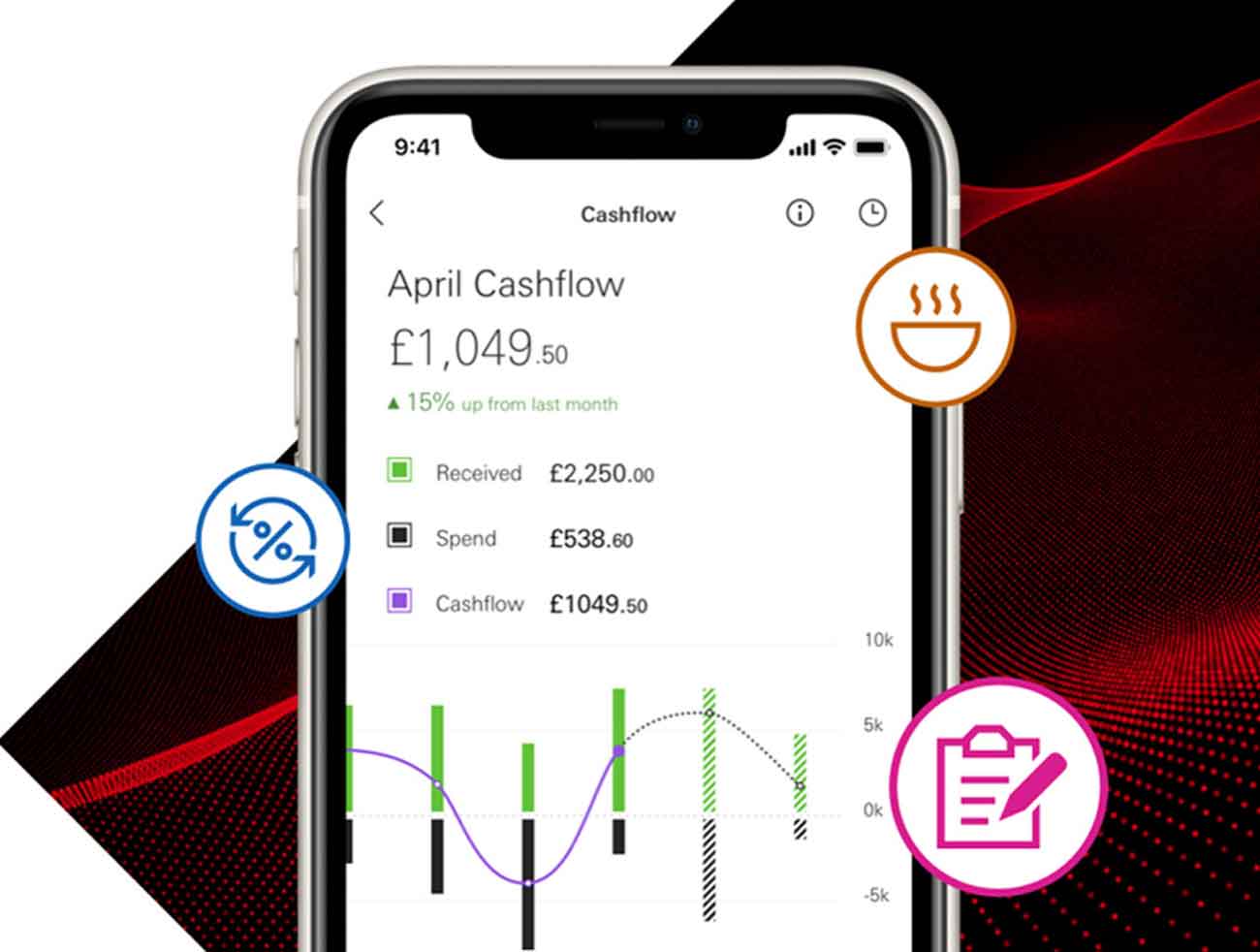 Business current accounts
The HSBC Kinetic business account is operated exclusively through an app. This account is free to open, and you will not be charged any fees for 12 months. After this, the Kinetic account requires a monthly subscription fee of £6.50.
The only other fees attached to a Kinetic account are a £2.50 penalty for financial recalls, such as failed direct debits or bounced cheques, and 50p for any mobile cheque paid into your account using the Kinetic app.
Upon opening a Kinetic account, you will gain access to in-built bookkeeping software. Most Kinetic account applications are reviewed and approved or declined within 48 hours.
Business overdrafts
The Kinetic app offers access to a business overdraft of up to £30,000, at a representative EAR of 14.82% plus an annual fee of 1.5% the overdraft limit. You can apply within the Kinetic app once your account is open. See best business overdrafts.
Business savings accounts
Kinetic customers can set up a savings account on the app, with interest rates varying drastically depending on how much you wish to access your money.
Kinetic at a glance
| | |
| --- | --- |
| Phone number | 0345 587 3529 |
| App downloads | iOS; Android |
| Website | www.business.hsbc.uk/en-gb/products/kinetic |
| Number of branches | N/A – online only |
| FSCS protected? | Yes |
| Founded | 2020 |
HSBC Kinetic business banking key information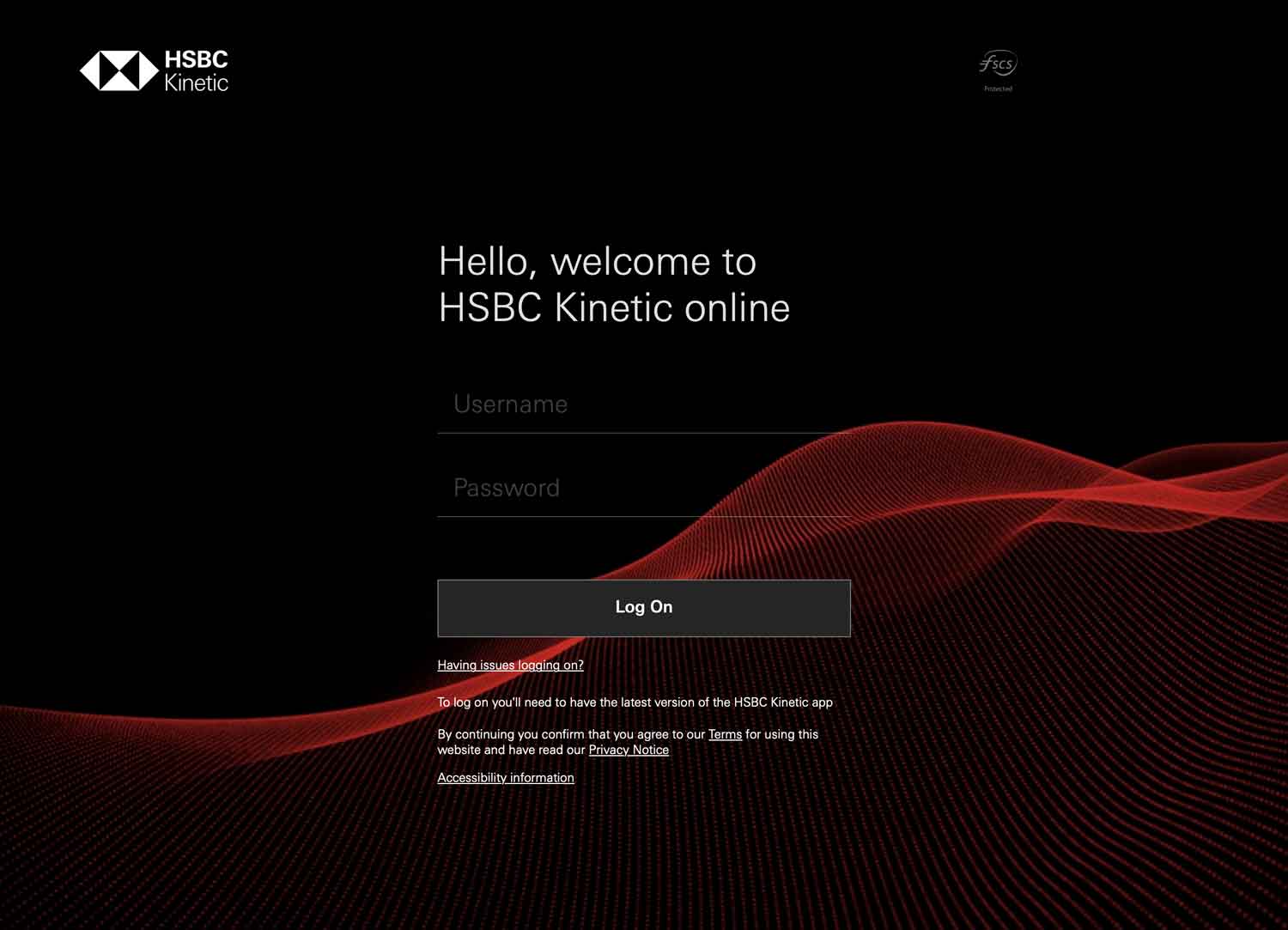 Kinetic business loans and finance
Kinetic customers can also apply for a business credit card and unsecured business loan within the app.
Business credit card
You can apply for a Kinetic business credit card within the app. The decision will be immediate, and if you pass the credit check the representative APR is 15.9%.
Business loans
Kinetic offers business customers access to unsecured loans from £1,000 to £10,000, repayable over one to 10 years. Representative APR is 7.1%. See business loans.
Kinetic reviews
What are other business banking customers saying about Kinetic?
| Review platform | Score | Number of votes |
| --- | --- | --- |
| TrustPilot (HSBC general profile) | 1.4/5 | 7,420 |
| Feefo | Not reviewed | N/A |
| Reviews.co.uk | Not reviewed | N/A |
| Smart Money People | 4.74/5 | 1,341 |
| Which? | Not reviewed | N/A |
| Average score | 3.07/5 | 8,761 |
Kinetic business banking reviews
Kinetic business eligibility criteria
You must be a UK-based (and HMRC-compliant) sole trader or SME owner aged over 18 to open a Kinetic account, and be prepared to conduct all your financial business through the Kinetic app.
Credit checks will be run when you apply, so your application may be declined based on the outcome, and further credit checks will be applied when you apply for any lending streams like an overdraft, loan, or credit card.
Kinetic business finance alternatives
As Kinetic is an app-only challenger service, there is no shortage of rivals like Mettle, Tide, Monzo, and more. Some of these do not charge a monthly fee, but will also not provide lending streams. Shop around and decide if Kinetic is the best challenger for your needs.
Kinetic additional considerations
Try not to be too downbeat about the poor TrustPilot score for Kinetic. These reviews are for HSBC in general, not the specific Kinetic account, and many are left by disgruntled personal customers, not business users.
FAQ
Is Kinetic a proper bank?
Kinetic is not a traditional bank, but it does offer many of the same services and features that banks provide. Kinetic offers secure banking services, including online and mobile banking, bill pay, debit cards, direct deposit, and more. Additionally, Kinetic also provides lending services with competitive rates for both personal loans and business loans.
How to open a Kinetic business account?
Setting up a Kinetic business account is simple. To start, you'll need to visit the Kinetic website and follow the online instructions to create an account. Once your account is set up, you'll be able to add funds from external sources such as bank accounts or credit cards. You can then use those funds to pay bills, transfer money, or make purchases. Kinetic also provides business banking services such as invoicing, payroll processing, and cash flow management. You can even access these features from your mobile device.
What fees does Kinetic charge?
Like most banks, Kinetic has associated fees with its services. These include transaction fees for debit and credit cards, ATM fees, and overdraft fees. There are also monthly account maintenance fees for certain accounts. Additionally, if you choose to use the lending services provided by Kinetic, there may be additional loan origination or other related charges.
What services does Kinetic offer for businesses?
Kinetic offers a range of services designed to help businesses manage their finances. These include online and mobile banking, invoicing tools, payroll processing, cash flow management, and more. Additionally, Kinetic provides lending services with competitive rates for both personal loans and business loans.
What types of payments does Kinetic accept?
Kinetic accepts payments from a variety of sources, including bank accounts, debit and credit cards, wire transfers, and PayPal. You can also set up automatic payments so that you don't have to manually enter payment information each time you make a purchase or pay a bill. Additionally, Kinetic offers electronic check processing for businesses that need to accept payments from customers.
What security measures does Kinetic have in place?
Kinetic takes security seriously and has multiple layers of protection in place to ensure your data is secure. All sensitive information is encrypted, and access to accounts requires two-factor authentication. Additionally, all transactions are monitored for suspicious activity, and Kinetic also offers fraud protection for debit and credit card purchases. Finally, Kinetic also provides customer support so that you can get help if you have any questions about your account or security features.