Mettle is an online app-only challenger business current account owned and operated by NatWest, though Mettle customers cannot use a branch of NatWest to manage their finances.
Compare business bank accounts
What are you looking for?
In partnership with
Tide

Co-Op Business Banking
✓ Business Current Account
✓ Online, App & High Street Banking
✓ Quick & Easy Application Process


HSBC Business Banking
✓ Business Current Account
✓ In-Branch, Online & App Banking
✓ FSCS Protected


Metro Business Banking
✓ Business Current Account
✓ High Street Presence
✓ FSCS Protected


Mettle Business Banking
✓ Business Bank Account
✓ Online & App
✓ Quick & Easy Application Process


Monzo Business Banking
✓ Business Current Account
✓ Dedicated mobile app experience
✓ FSCS Protected


Tide Business Bank Accounts
✓ Free, Plus, or Pro Account
✓ iOS & Android Mobile App
✓ Upload & Auto-Match Receipts


Virgin Money
✓ Business M Account
✓ In-Store, Online & App Banking
✓ Insights & Forecasting Platform

The big appeal of Mettle is that is completely free to use. There is no opening fee, no monthly charge, and no penalties attached to microtransactions. It even comes bundled with FreeAgent bookkeeping software, potentially saving up to £150 per year.
However, Mettle accounts cannot accept cash or cheque payments, and can only be used within the UK as no IBAN number is included, while account limits are also lower than some rivals.
Mettle business banking services
Pros and cons of Mettle for business services
| Pros of Mettle | Cons of Mettle |
| --- | --- |
| ✓ Free to open and no monthly fees | ✗ No NatWest branch support |
| ✓ Easy, user-friendly app interface | ✗ No overdraft, savings, or lending streams |
| ✓ Bundled with FreeAgent software | ✗ Lower account limits than some rivals |
| ✓ FSCS protected | ✗ Not compatible with overseas payments |
| ✓ Excellent customer feedback | ✗ Cannot accept cash or cheque payments |
Pros and cons of Mettle business banking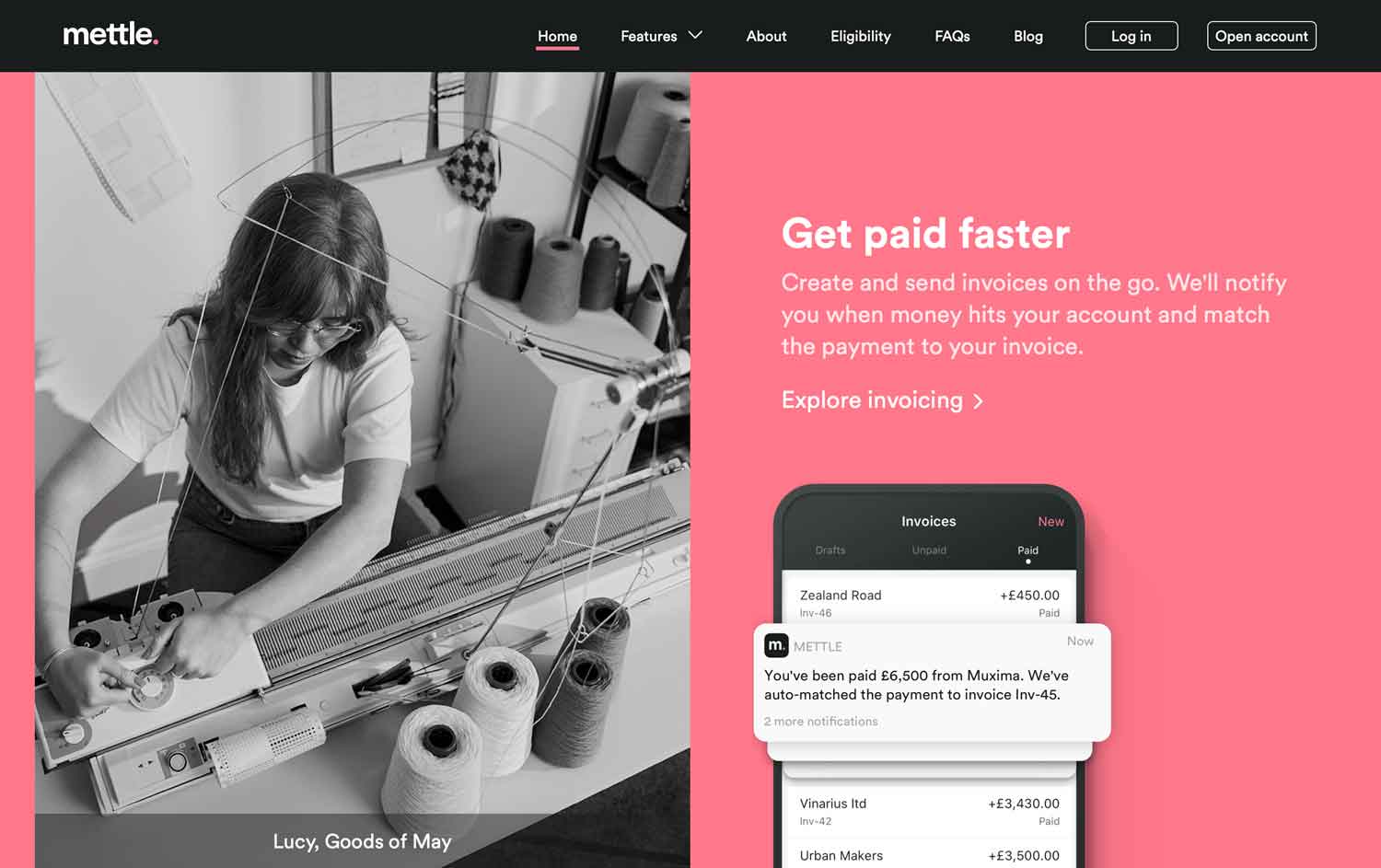 Business current accounts
Mettle offers a single current account for sole traders or SMEs. You will be provided with bank account details immediately, and a MasterCard debit card will follow in the post. Mettle does not offer any lines of credit, such as business overdrafts.
This account is free to open and run – you will not be charged for any transactions, ATM withdrawals, or other uses of the account. An account also comes with FreeAgent bookkeeping software free of charge, so you can manage your transactions and send invoices within the app.
If this all sounds too good to be true, there are a couple of warnings to sound about banking with Mettle. This account is not compatible with overseas transactions. Mettle accounts do not provide an IBAN number, so you cannot send or receive money in different currencies.
Mettle also has some quite strict limits on how much you can hold in your account. Sole traders can hold a maximum balance of £50,000, and companies £100,000. This may make Mettle unsuitable for a business that trades in large sums in and out. This app is best used by sole traders and SME owners at the very onset of their business journey.
Business overdrafts
✗ Not available through Mettle. See best business overdrafts.
Business savings accounts
✗ Not available through Mettle. See best business savings accounts.
Mettle at a glance
| | |
| --- | --- |
| Phone number | 0800 069 8380 |
| App downloads | iOS; Android |
| Website | www.mettle.co.uk |
| Number of branches | N/A – NatWest branch support not included |
| FSCS protected? | Yes |
| Founded | 2018 |
Key information
Other business finance products
Mettle does not provide any additional financial products beyond the basic business current account that we have profiled. See business loans or invoice factoring. Another option is merchant cash advance.
Mettle reviews
What are other business banking customers saying about Mettle?
| Review platform | Score | Number of votes |
| --- | --- | --- |
| TrustPilot | 4.6/5 | 2,374 |
| Feefo | Not reviewed | N/A |
| Reviews.co.uk | Not reviewed | N/A |
| Smart Money People | 4.32/5 | 63 |
| Which? | Not reviewed | N/A |
| Average score | 4.46/5 | 2,437 |
Mettle business banking reviews and ratings
Mettle business eligibility criteria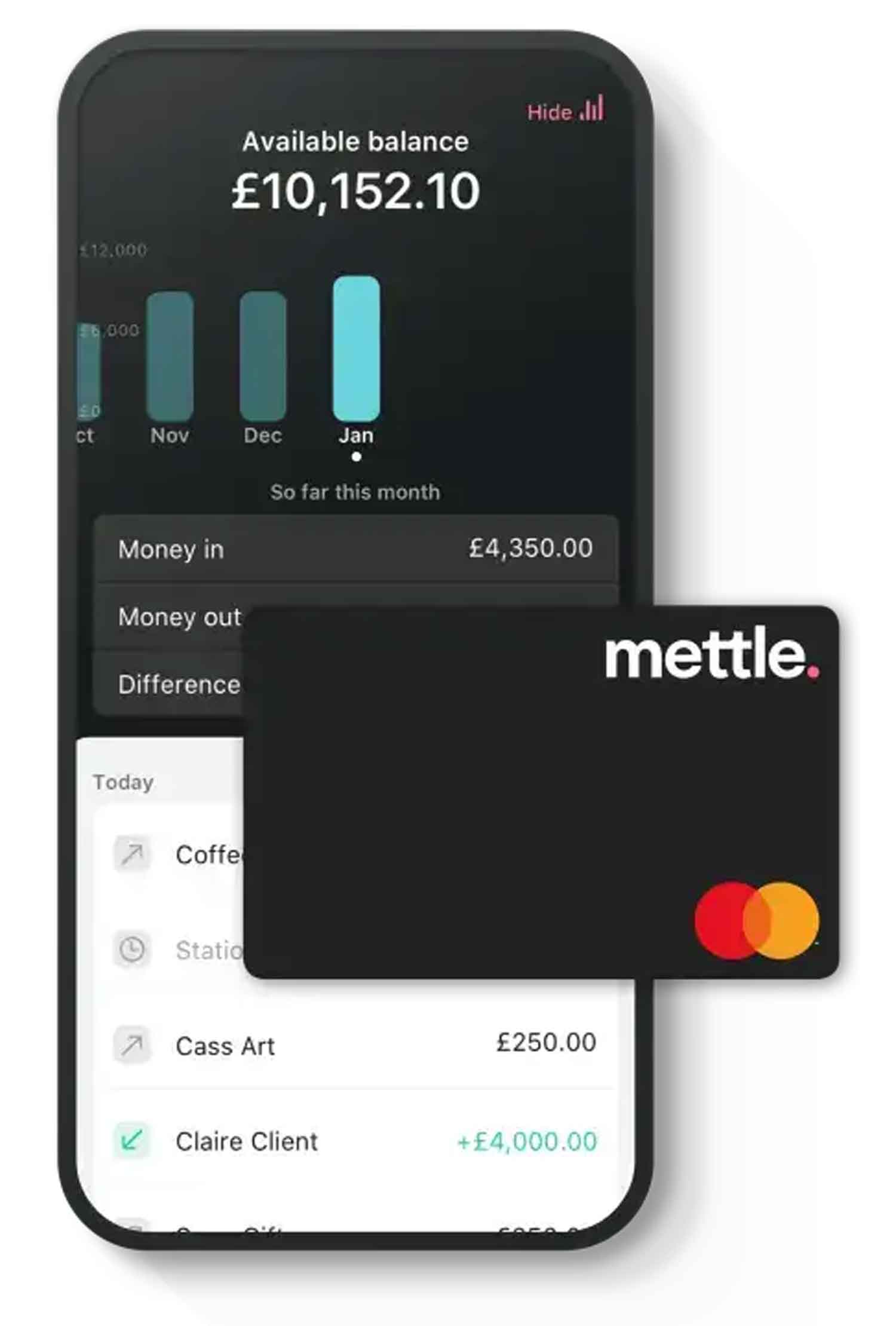 Any SME or sole trader based in the UK can apply for a Mettle account. If you are representing a business, your company cannot have more than two owners, and only one of these will be granted access to the Mettle account.
Mettle typically makes a decision about whether to approve an account within 48 hours, but you will need to answer some questions about your business model and operating practices. You may find that Mettle comes back to you and asks for more information on multiple occasions before a final decison is made.
Mettle business finance alternatives
If Mettle is not for you, you will find no shortage of app-based challenger bank rivals. Many of these will offer more features than Mettle, such as the ability to take out a business overdraft or apply for a business credit card or unsecured loan, but will not match the cost-effectiveness of Mettle. Finding a business bank that allows you to handle your finances without any kind of charges or fees is a rarity to cherish.
Mettle additional considerations
Mettle was the winner of the Business Banking category in the Finder Banking Customer Satisfaction Awards 2023, beating out competition from a range of big hitters and major high street names.
FAQ
Is Mettle a proper bank?
Yes, Mettle is a fully regulated and licensed bank. It is authorised by the Financial Conduct Authority (FCA) and Prudential Regulation Authority (PRA). This makes it one of the few neobanks in the UK to meet all regulatory requirements and deliver banking services in full compliance with existing financial regulations.
How to open a Mettle business account?
Opening a Mettle business account is easy and straightforward. All you need to do is sign up online on the Mettle website and fill in your details. Once signed up, you will receive an activation code via email to access the app. You can then start using the various banking services available, such as setting up bank transfers, making payments or requesting quotes. You also have access to real-time analytics and insights, so you can easily keep track of your finances.
What fees does Mettle charge for its business accounts?
Mettle charges no setup or monthly fees for business accounts. Instead, it makes money from the interchange fees charged on card payments and transfers, as well as other service fees that come with banking services such as foreign currency transfers and international payments. All of these fees are clearly detailed in its pricing page so you can make an informed decision before signing up.
What services does Mettle offer for businesses?
Mettle offers a number of services for businesses, including current accounts, card payments, invoicing and foreign exchange. It also provides analytics and insights to help you efficiently manage your finances and make data-driven decisions. Furthermore, Mettle provides access to business loans so you can easily finance the growth of your company.
What security measures does Mettle have in place?
Mettle takes security very seriously and has put in place various measures to protect its users. These include bank-grade encryption, two-factor authentication, fraud protection and 24/7 monitoring of financial activity. It also uses artificial intelligence (AI) and machine learning (ML) technology to detect suspicious activity.
What types of payments does Mettle accept?
Mettle accepts payments from all major debit and credit cards, as well as Apple Pay and Google Pay. It also supports direct bank transfers, ACH payments and international payments.