Monzo is one of the most celebrated challenger bank accounts on the market, created by former staffers at the rival Starling Bank. But is a Monzo business account a good choice?
Compare business bank accounts
What are you looking for?
In partnership with
Tide

Co-Op Business Banking
✓ Business Current Account
✓ Online, App & High Street Banking
✓ Quick & Easy Application Process


HSBC Business Banking
✓ Business Current Account
✓ In-Branch, Online & App Banking
✓ FSCS Protected


Metro Business Banking
✓ Business Current Account
✓ High Street Presence
✓ FSCS Protected


Mettle Business Banking
✓ Business Bank Account
✓ Online & App
✓ Quick & Easy Application Process


Monzo Business Banking
✓ Business Current Account
✓ Dedicated mobile app experience
✓ FSCS Protected


Tide Business Bank Accounts
✓ Free, Plus, or Pro Account
✓ iOS & Android Mobile App
✓ Upload & Auto-Match Receipts


Virgin Money
✓ Business M Account
✓ In-Store, Online & App Banking
✓ Insights & Forecasting Platform

While Monzo does not offer lending streams to business customers, this bank is widely revered for the extensive features provided by its affordable Monzo Pro pricing structure, as well as excellent customer service that has led to a stellar reputation online.
If you are looking for a challenger banking app that offers a little more than just the basics but would prefer to avoid eye-watering fees, this award-winning app is worthy of consideration.
Monzo business banking services
Pros and cons of Monzo for business services
| Pros of Monzo | Cons of Monzo |
| --- | --- |
| ✓ User-friendly app | ✗ No lending streams for business accounts |
| ✓ 6 months free access to Xero | ✗ Monzo Pro costs £5 per month |
| ✓ FSCS protected | ✗ Cannot accept payments in foreign currency |
| ✓ Excellent online reviews | |
Pros and cons of Monzo business banking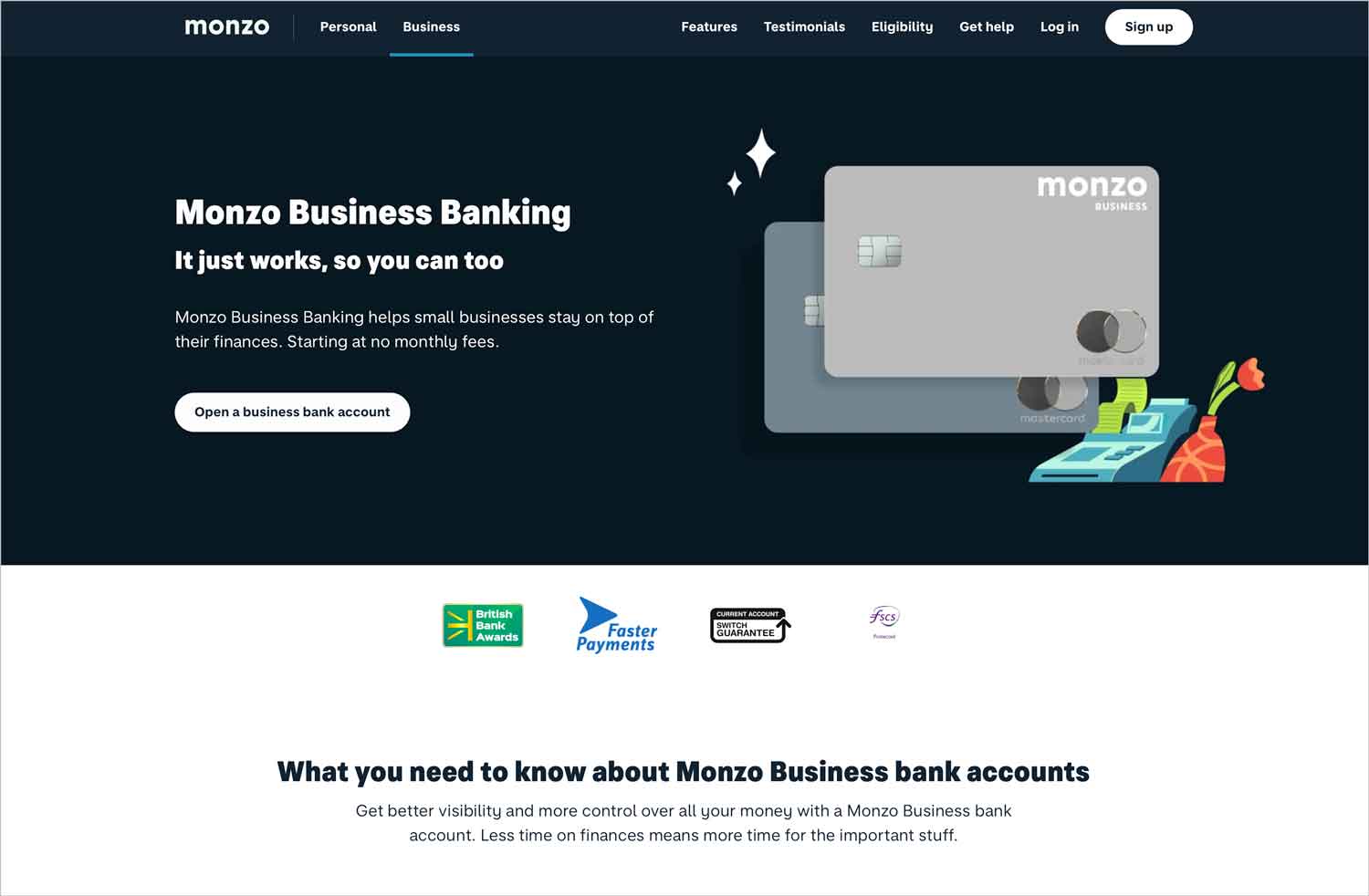 Monzo business current accounts
Monzo offers two pricing tiers for business current account holders. Both these accounts are only for GBP£ transactions – Monzo will not provide an IBAN and SWIFT code. You can, however, use a desktop computer as well as an app to access your Monzo account.
Monzo Lite
This is the free version of the app. You will enjoy access to a business current account that can send or receive payments at no cost (including card payments,) and a business debit card linked to your Monzo account balance.
Monzo Pro
Upgrade to Monzo Pro to unlock all the features this bank has to offer. You will be charged £5 per month, but this is a price worth paying. Monzo Pro customers enjoy six months free access to the bookkeeping software Xero, virtual debit cards so you will not need to carry plastic, the ability to automatically transfer a percentage of your business income to a tax pot to save for HMRC bills, and administrative features such as raising invoices within the app.
Business overdrafts
✗ Not available through Monzo. See best business overdrafts.
Business savings accounts
✗ Not available through Monzo. See best business savings accounts.
Monzo at a glance
| | |
| --- | --- |
| Phone number | 0800 802 1281 |
| App downloads | iOS; Android |
| Website | www.monzo.com/i/business |
| Number of branches | N/A – Monzo is an online-only challenger bank |
| FSCS protected? | Yes |
| Founded | 2015 |
Key information
Other business finance products
Monzo does not offer additional products to business customers. Loans and overdrafts are only available to personal account holders.
Monzo business banking reviews
What are other business banking customers saying about Monzo?
| Review platform | Score | Number of votes |
| --- | --- | --- |
| TrustPilot | 4.4/5 | 25,544 |
| Feefo | Not reviewed | N/A |
| Reviews.co.uk | Not reviewed | N/A |
| Smart Money People | 4.93/5 | 9,932 |
| Which? | Not reviewed | N/A |
| Average score | 4.8/5 | 35,476 |
Monzo business banking reviews and ratings
Monzo business eligibility criteria
Monzo is quite flexible about who can open a business account, within reason. As long as you are a sole trader or SME owner aged 18 or over, and based in the UK, your application will be approved unless you trade in a high-risk industry.
Monzo business finance alternatives
Monzo is one of the leading lights in the realm of challenger accounts, but in the modern era of business finance, it is just one of many. Tide, Mettle, Countingup and of course Starling Bank are all viable alternatives.
Other considerations
Monzo was awarded the titles of Best Banking App and Best British Bank at the prestigious British Banking Awards in 2022.
FAQ
Is Monzo a proper bank?
Yes, Monzo is a properly regulated bank in the UK. It is authorised by the Prudential Regulation Authority and regulated by the Financial Conduct Authority and the Prudential Regulation Authority. Monzo holds your money in secure accounts at major banks and it uses modern technology to make your banking experience as smooth, safe and convenient as possible.
How to open a Monzo business account?
Opening a Monzo business account is straightforward. All you need to do is create an account on the Monzo website and answer some simple questions about your business. You'll then be asked for proof of identity and addresses, as well as details about the people who will run the account. After that, you're ready to start using your new Monzo business account.
What fees does Monzo charge?
Monzo does not charge any fees for its standard products. However, there are some additional services which may incur a fee. For example, using your Monzo card abroad will incur a 3% foreign exchange fee and transferring money internationally will cost £3 per transfer. There may also be other fees applicable to certain services, such as the interchange fee for using a debit card.
What are the benefits of using Monzo?
Monzo offers lots of great features to make your banking experience easier and more secure. These include instant notifications, budgeting tools and insights into your spending habits. The app also makes it easy to send money to friends or family using just their phone number.
What services does Monzo offer to businesses?
Monzo offers a range of business banking services, including integrated accounting software, invoicing tools and payment processing. It also provides access to capital and treasury management tools, as well as business credit cards. Additionally, Monzo can help businesses manage their cashflow with real-time insights into spending habits and access to financial advice.
What types of payments does Monzo accept?
Monzo accepts payments from Visa, Mastercard and American Express debit and credit cards, as well as Apple Pay, Google Pay, PayPal and other popular payment methods. It also supports direct transfers between bank accounts for faster payments. Additionally, customers can use Monzo's Card Reader to process chip-and-pin card payments in store.