Considering a Tide business account? In an increasingly crowded marketplace for app-based challenger banks, Tide has carved out an excellent reputation among business customers. Tide offers a little more flexibility than some challenger banks in the form of loans available through a partner lending agency, and will typically respond to most applications for an account in short order.
Compare business bank accounts
What are you looking for?
In partnership with
Tide

Co-Op Business Banking
✓ Business Current Account
✓ Online, App & High Street Banking
✓ Quick & Easy Application Process


HSBC Business Banking
✓ Business Current Account
✓ In-Branch, Online & App Banking
✓ FSCS Protected


Metro Business Banking
✓ Business Current Account
✓ High Street Presence
✓ FSCS Protected


Mettle Business Banking
✓ Business Bank Account
✓ Online & App
✓ Quick & Easy Application Process


Monzo Business Banking
✓ Business Current Account
✓ Dedicated mobile app experience
✓ FSCS Protected


Tide Business Bank Accounts
✓ Free, Plus, or Pro Account
✓ iOS & Android Mobile App
✓ Upload & Auto-Match Receipts


Virgin Money
✓ Business M Account
✓ In-Store, Online & App Banking
✓ Insights & Forecasting Platform

Just be aware that a Tide account can become expensive to run as you'll need to pay a range of fees for transactions and additional services such as in-house bookkeeping software, and customer service is virtually non-existent if you gamble on a free account.
Tide business banking services
Pros and cons of Tide for business services
| Pros of Tide | Cons of Tide |
| --- | --- |
| ✓ Quick responses to applications | ✗ Fees can mount up |
| ✓ Business loans available | ✗ Free account has very limited customer service |
| ✓ Integrates with bookkeeping software | ✗ Cannot accept payments in foreign currency |
| ✓ Sliding scale of pricing | ✗ No debit card, just a prepaid expense card |
Pros and cons of Tide business banking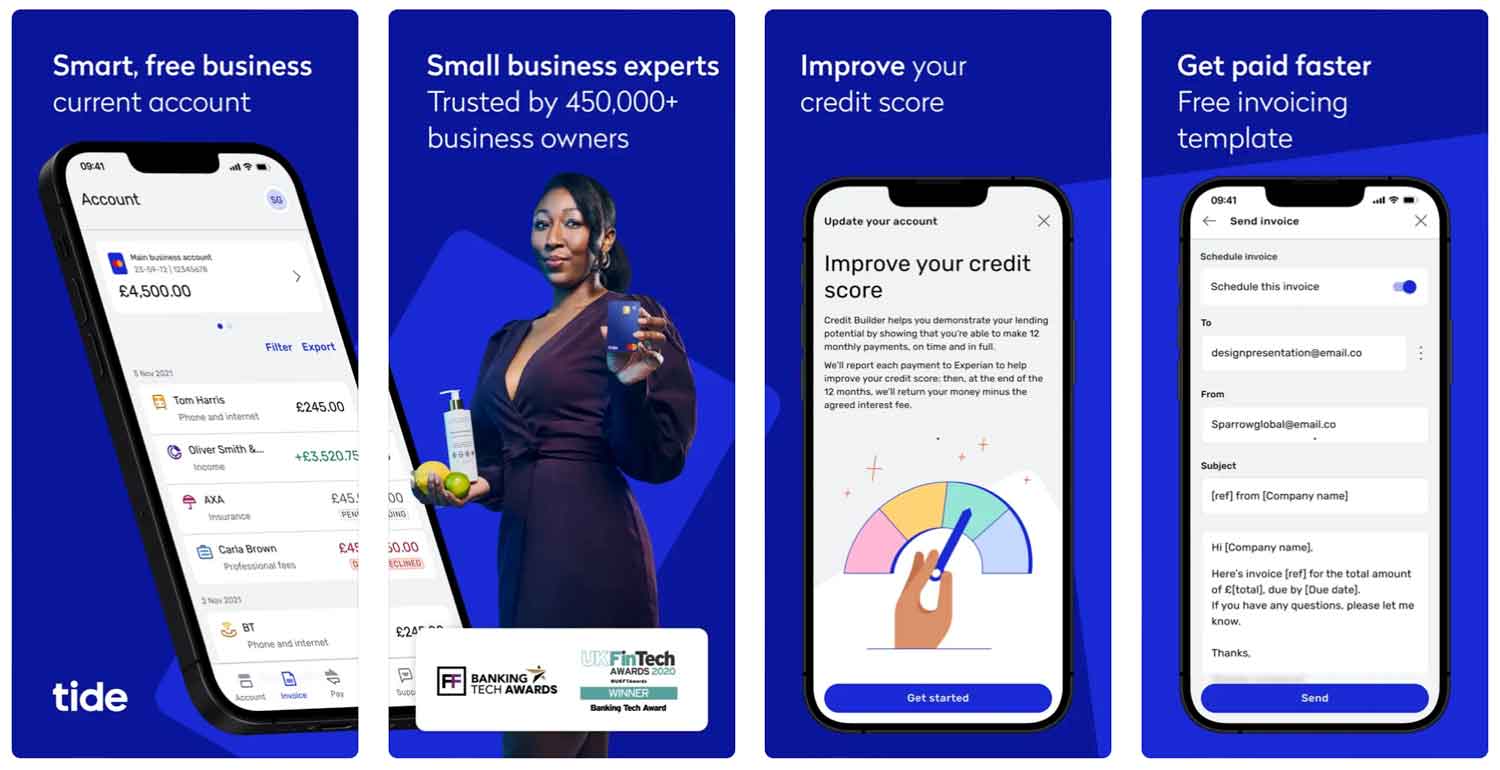 Business current accounts
Tide offers business current accounts on four different pricing structures:
Each of these accounts offers the ability to raise invoices within the app, but additional features are unlocked with the paid tiers.
You can add Tide's in-house accounting software for £6.99 + VAT per month or link to a third-party subscription. Note that a Tide account does not come with a debit card, but you can use a prepaid MasterCard expense card and transfer funds to this.
Tide Business Account
This basic Tide account does not attract a monthly fee, but it does come with limitations and microtransaction charges. If you open this free account, your only avenue of customer service will be email. This can be frustrating if you have an urgent problem. Every transaction you send or receive from your Tide account will attract a 20p charge, and you will need to pay £5 per month for your prepaid expense card.
Tide Plus Account
Charged at £9.99 + VAT per month (the first month is free), this account unlocks access to a dedicated customer service telephone helpline, a free prepaid expense card that can be set with spending caps, and 20 free electronic transfers before you start accruing fees.
Tide Pro Account
For £18.99 + VAT per month, you will enjoy two free prepaid expense cards and unlimited electronic transfers without charge.
Tide Cashback Account
If you're willing to pay £49.99 + VAT per month, you will enjoy three free prepaid expense cards that accrue 0.5% on any purchase and 150 electronic transfers without charge.
Business overdrafts
✗ Not available through Tide. See best business overdrafts.
Business savings accounts
✗ Not available through Tide. See best business savings accounts.
Tide at a glance
| | |
| --- | --- |
| Phone number | 03331 210266 |
| App downloads | iOS; Android |
| Website | www.tide.co |
| Number of branches | N/A – Tide is an online-only challenger bank |
| FSCS protected? | Yes |
| Founded | 2015 |
Key information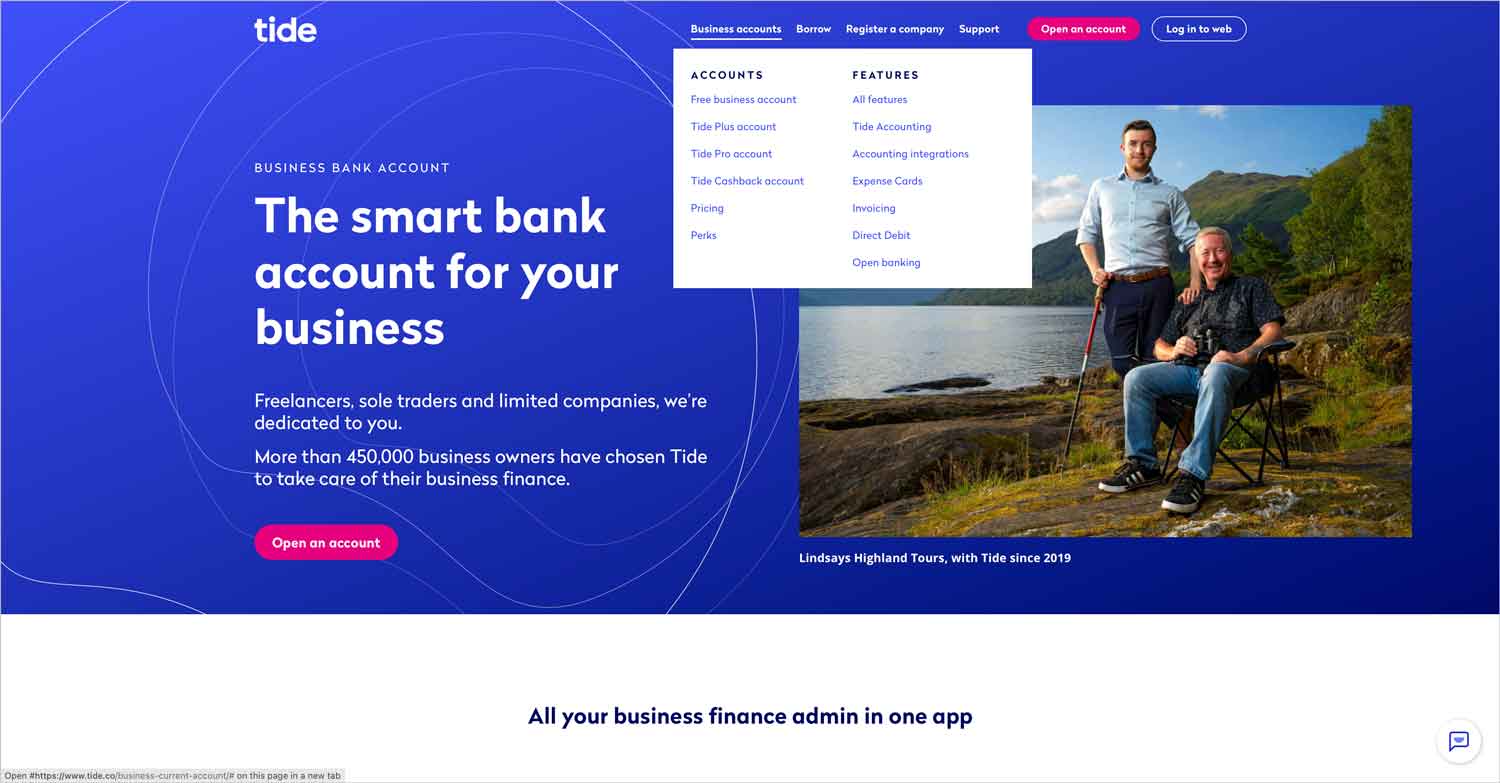 Tide business loans
In addition to business current accounts, Tide offers business loans to eligible customers. Tide will run a pre-credit check that will not impact your credit score to assess the likelihood of a successful application.
Tide reviews
What are other business banking customers saying about Tide?
| Review platform | Score | Number of votes |
| --- | --- | --- |
| TrustPilot | 4.3/5 | 14,871 |
| Feefo | Not reviewed | N/A |
| Reviews.co.uk | Not reviewed | N/A |
| Smart Money People | 4.77/5 | 2,473 |
| Which? | Not reviewed | N/A |
| Average score | 4.535/5 | 17,344 |
Tide business account reviews
Tide business eligibility criteria
Tide runs a credit check before allowing a business to open an account, so ensure that your company has a clean credit score before approaching this provider. You will need to prove that you are aged 18 or older and based in the UK, and answer some questions about your business model to ensure Tide is willing to work with you.
Tide business finance alternatives
Tide offers a handful more features than many challenger accounts, but it's also at the more expensive end of the spectrum. Compare Tide with likes of Mettle, Countingup, Starling Bank, and Monzo, or consider an alternative like Card One Money or Cashplus if you have a poor or limited credit history.
Tide other considerations
Tide has recently been approved for the purchase and takeover of credit finance business Funding Options, which will be rebranded as Tide Partner Credit Services.
FAQ
Is Tide a proper bank?
No, Tide is not a traditional bank. It is an online financial services company that offers business current accounts and other financial services to small businesses in the UK. Tide does not offer savings accounts or other traditional banking services like loans, mortgages, and credit cards. Instead, it provides access to a range of digital tools and products for businesses such as invoice finance, payments and payroll solutions. However, it is regulated by the Financial Conduct Authority (FCA) and works with several accredited banks to offer its services.
How to open a Tide business account?
To open a Tide business account, you'll need to enter a few details about your business and personal information. This includes contact information, a description of the business, how many people are in the company, and what services you plan to use from Tide. Once that's done, you'll be able to verify your identity using ID documents such as a passport or driver's license, and you'll be ready to start using Tide's services.
What fees does Tide charge for its business accounts?
Tide charges a flat monthly fee for its business current accounts, which varies depending on the services you require. Additional fees may be incurred for certain services such as online payments or international transfers.
What services does Tide offer to businesses?
Tide offers a variety of services to businesses, including business current accounts, invoice financing, payments and payroll solutions, as well as digital tools like financial forecasting and budgeting. Tide also provides access to business advice and support through its network of partners. Additionally, it has several partnerships with other companies such as Amazon Business for additional services.
What types of payments does Tide accept?
Tide accepts a variety of payment methods including debit and credit cards, bank transfers, and e-wallets such as PayPal. It also supports direct debits for recurring payments.