Considering Lloyds Bank business banking? As one of the oldest and most established names in the world of British banking, most people will be familiar with the Lloyds Bank branding.
Compare business bank accounts
What are you looking for?
In partnership with
Tide

Co-Op Business Banking
✓ Business Current Account
✓ Online, App & High Street Banking
✓ Quick & Easy Application Process


HSBC Business Banking
✓ Business Current Account
✓ In-Branch, Online & App Banking
✓ FSCS Protected


Metro Business Banking
✓ Business Current Account
✓ High Street Presence
✓ FSCS Protected


Mettle Business Banking
✓ Business Bank Account
✓ Online & App
✓ Quick & Easy Application Process


Monzo Business Banking
✓ Business Current Account
✓ Dedicated mobile app experience
✓ FSCS Protected


Tide Business Bank Accounts
✓ Free, Plus, or Pro Account
✓ iOS & Android Mobile App
✓ Upload & Auto-Match Receipts


Virgin Money
✓ Business M Account
✓ In-Store, Online & App Banking
✓ Insights & Forecasting Platform

Despite joining most rival high street names in closing branches at a rate of knots, Lloyds Bank remains prominent in towns and cities all over the UK, and this bank offers a wide array of different lending streams to make up for its comparatively limited selection of business current accounts.
Lloyds does not enjoy the greatest reputation for customer service or transparency, but there are some undeniable advantages to entrusting your business finance to such as established name.
Lloyds Bank business banking services
Pros and cons of Lloyds Bank for business services
| Pros of Lloyds Bank | Cons of Lloyds Bank |
| --- | --- |
| ✓ Comparatively affordable monthly fees | ✗ Such a big name lacks a personal touch |
| ✓ Wide range of products | ✗ Poor to middling online reviews |
| ✓ FSCS protected | ✗ Lack of transparency on savings interest rates |
Pros and cons of Lloyds business banking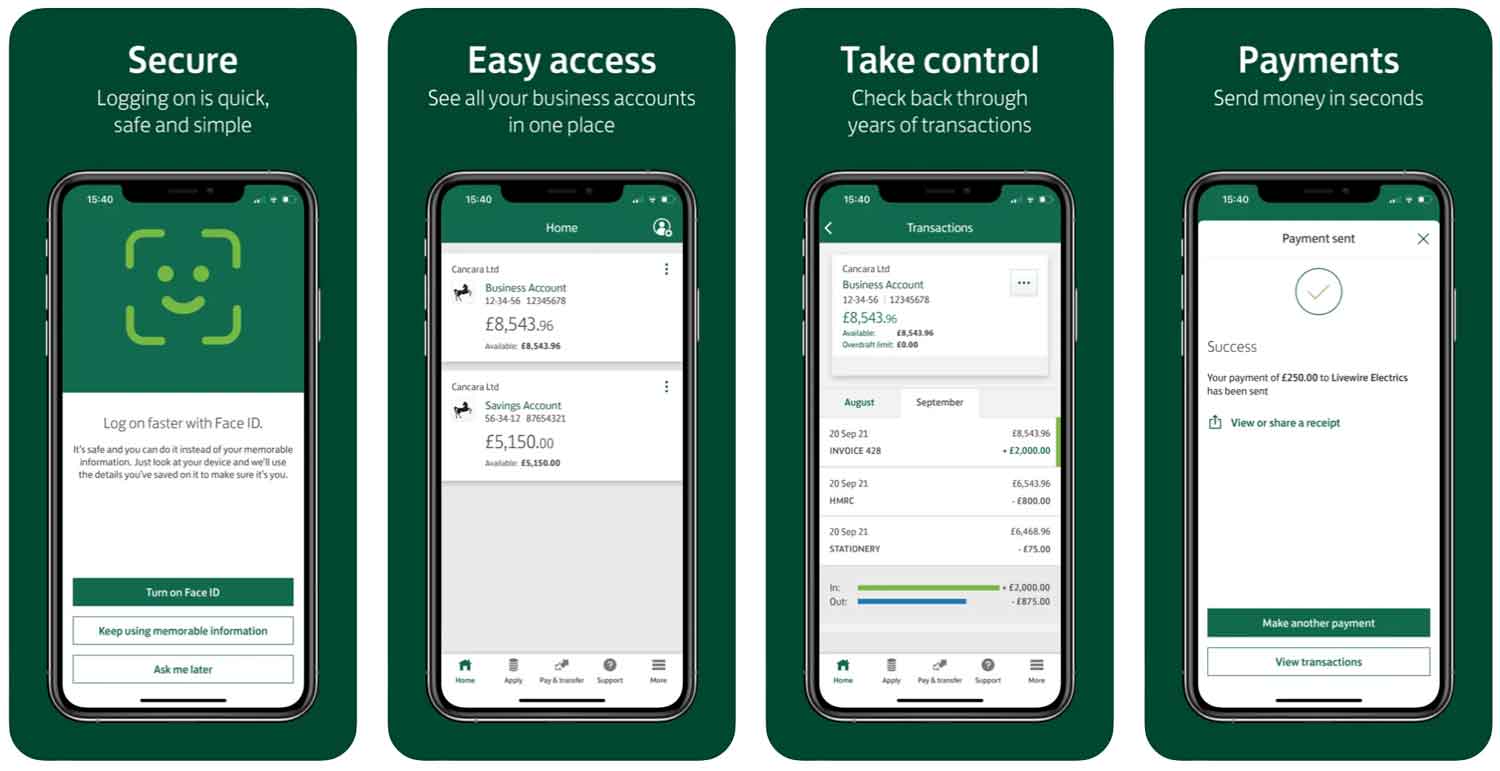 Business current accounts
Lloyds Bank offers two bank accounts for sole traders and SMEs:
Lloyds Bank business customers can also enjoy three months of the bank's in-house accounting software free of charge, charged at £5 per month after this trial expires.
Small Businesses and Start-Ups account
Designed for businesses with an annual turnover below £3,000,000, this account is free for 12 months and then costs £7 per month to run. Automated electronic transfers in and out are free of charge, but fees will apply to cash or cheque transactions.
Larger Business account
Businesses with an annual turnover above £3,000,000 need this account, which comes with a dedicated relationship manager. Opt for an Electronic Business Tariff for £20 per month and you will not accrue any transaction charges beyond your monthly fee unless you handle cash or cheques. Alternatively, opt for the Business Extra Tariff for £15 per month and pay 37p for every electronic transaction in or out of your account.
Business overdrafts
Lloyds Bank offers business overdraft facilities between £500 and £25,000. Interest rates will vary according to your personal circumstances.
Business savings accounts
Lloyds Bank offers three savings accounts to business customers:
Instant Access Account
Save between £1 and £5,000,000, earning interest daily at an AER of around 0.60% and accessing your money at any time.
Notice Accounts
Deposit a minimum of £10,000 and withdraw your funds with 32 days' notice or 95 days' notice (this option is only available to businesses with a turnover above £3,000,000.) Lloyds Bank will assign a fixed interest rate for your deposit upon application.
Fixed Term Deposit
Deposit a minimum of £10,000 and set a fixed term for the savings bond to run, from one day to two years. Lloyds Bank will assign a fixed interest rate and pay this upon the maturation of the savings bond.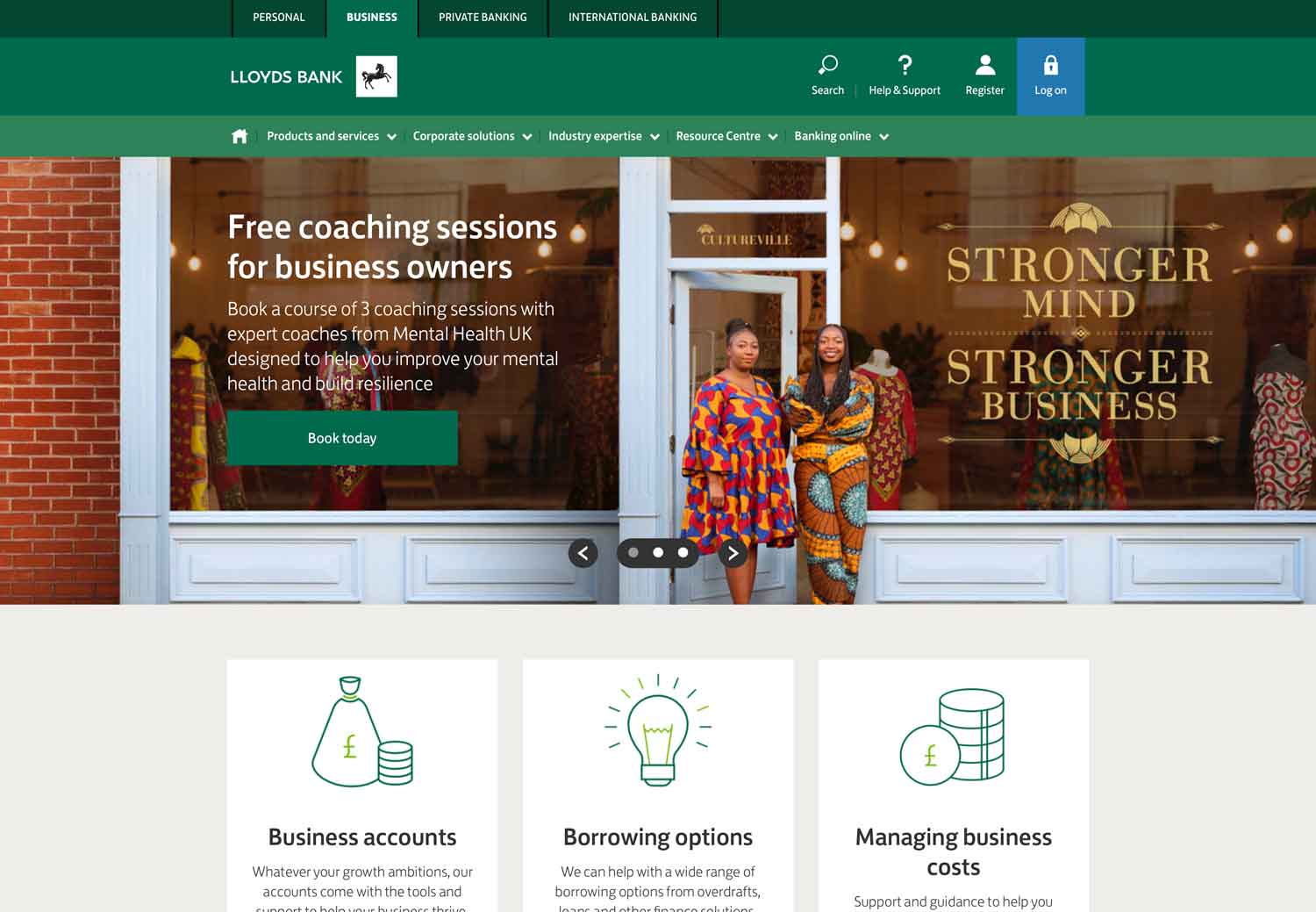 Lloyds Bank at a glance
| | |
| --- | --- |
| Phone number | 0345 300 0000 |
| App downloads | iOS; Android |
| Website | www.lloydsbank.com/business |
| Number of branches | 1,000+ |
| FSCS protected? | Yes |
| Founded | 1765, Birmingham |
Key information
Lloyds Bank business finance and loans
Lloyds Bank offers numerous additional financial products for business customers:
Lloyds business credit card
Lloyds Bank offers a business credit card, with a maximum credit limit of £10,000 and a representative APR of 22.4%. You can also apply for a charge card with a maximum limit of £1,000, the balance of which is to be repaid in full each month in exchange for zero interest.
Lloyds business loans
Apply for a business loan of up to £25,000 on a fixed or variable interest rate (representative APR 12.7%,) or discuss options for a larger loan. This borrowing can be repaid for up to 25 years.
Lloyds asset finance
Borrow from Lloyds Bank to finance the purchase of a major asset and take ownership once the debt is settled, or arrange for Lloyds to purchase the asset and lease it from them for as long as required. See asset finance.
Lloyds invoice finance
Release up to 90% of the value of an unpaid invoice to improve business cash flow and pass credit control to Lloyds Bank, who will claim the payment and submit the remaining balance after taking a handling fee. See invoice factoring.
Debtor protection
Insure up to 90% of the value of an outstanding invoice to protect your business in the event of a customer not settling their bill.
Public liability insurance
An insurance policy to protect sole traders from legal action in event of accident or injury to a client or customer.
Professional indemnity insurance
Protect your business from legal claims for compensation if a client or customer loses money after following your advice or using your service.
Lloyds Bank business banking reviews
What are other business banking customers saying about Lloyds Bank?
| Review platform | Score | Number of votes |
| --- | --- | --- |
| TrustPilot | 1.6/5 | 3,449 |
| Feefo | Not reviewed | N/A |
| Reviews.co.uk | Not reviewed | N/A |
| Smart Money People | 3.71/5 | 1,737 |
| Which? | Not reviewed | N/A |
| Average score | 2.4/5 | 5,186 |
Lloyds business banking reviews and ratings
Business eligibility criteria
If you have a clean credit history, do not trade in an illegal or high-risk business sector, are aged 18 or over, and provide the appropriate proof of your identity and business standing, there is no reason why you would be refused a Lloyds Bank account. Just do not expect much of a personal service unless you trade in seven-figure sums.
Business finance alternatives
Scottish business owners may prefer to bank with the Bank of Scotland, which is owned by Lloyds Bank and thus offers the same services with a greater local presence. Alternatively, see how Lloyds Bank compares to the rest of the "big four" of British banking, or take a chance on a challenger account that will not offer branch support but is likely to be cheaper.
Additional considerations
Lloyds bank's income is very heavily weighted toward domestic businesses, for good or ill. This means that the fortunes of Lloyds Bank are very heavily dependent on the state of the national economy at large. This institution has very few international interests or revenue streams.
FAQ
Is Lloyds Bank a proper bank?
Yes, Lloyds Bank is a proper bank. It is one of the oldest banks in the UK and has been providing banking services for more than 300 years. It offers a wide range of financial services including current accounts, savings accounts, mortgages, loans and more. The bank is also regulated by the Financial Conduct Authority (FCA).
How to open a Lloyds business account?
Opening a Lloyds business account is easy and hassle-free. You will need to provide some basic information about your company, such as its registered address, contact details, company name and the type of services you offer. Once this information has been provided, Lloyds will start the process of setting up your business bank account which may take up to 10 working days. You can then start using your account for all types of payments, transfers and investments.
What fees does Lloyds Bank charge?
The fees for Lloyds Bank vary depending on the type of service you require. The bank offers different types of accounts and each one has a different set of fees associated with it. For example, current accounts may have monthly or annual charges while savings accounts may be subject to interest rates.
What services does Lloyds Bank offer to businesses?
Lloyds Bank offers a wide range of services to businesses, including business banking, merchant services, international payments and more. The bank also provides customers with online banking facilities as well as telephone and mobile banking options. Customers can also access a variety of products such as corporate cards, commercial loans and overdrafts. In addition, the bank offers competitive foreign exchange rates and advice on managing risk.
Is Lloyds Bank safe?
Yes, Lloyds Bank is a very safe bank. It is regulated by the Financial Services Authority (FSA) and is protected under the Financial Services Compensation Scheme (FSCS). This means that customers' deposits are held in secure accounts and are protected up to £85,000 in the event of any failure. The bank also has secure online banking systems in place to protect customer data and transactions.