Founded in 2011, Epos Now is a cloud-based software provider offering point-of-sale (POS) solutions designed to help businesses in various industries manage their operations more effectively. Known for its robust hardware and comprehensive software services, the company provides solutions that cater to both small and large businesses.
Compare options for taking card payments
Here's an in-depth review of Epos Now, highlighting its services, pricing, reviews, and comparisons with alternative providers.
Headline numbers
Over 30,000 customers worldwide.
Featured in Sunday Times Tech Track 100.
Operating in more than 103 countries.
Awarded 'Vendor of the Year' at the 2018 Retail Systems Awards.
Key information
| Founded | 2011, Norwich, UK |
| --- | --- |
| Website URL | www.eposnow.com |
| Phone number | 0800 2 945 945 |
| FSCS protected? | Not Applicable |
| FCA regulated? | No |
Key information
Pros and cons of Epos Now
Pros
Epos Now offers a robust, scalable solution that's suitable for businesses of various sizes, ranging from small retail stores to large hospitality chains.
The cloud-based nature of their services allows for remote access, ensuring business continuity in various situations.
Epos Now's system also integrates seamlessly with popular eCommerce and payment platforms, which adds to its versatility.
Moreover, they offer a highly customisable system with the flexibility to add or remove features according to the specific needs of the business.
Cons
Although Epos Now offers a robust set of features, their system might require a steep learning curve, especially for non-tech savvy individuals.
Additionally, some users have reported difficulties with their customer service and have pointed out occasional software glitches.
While Epos Now does offer 24/7 customer support, the quality and responsiveness of this support seem to vary.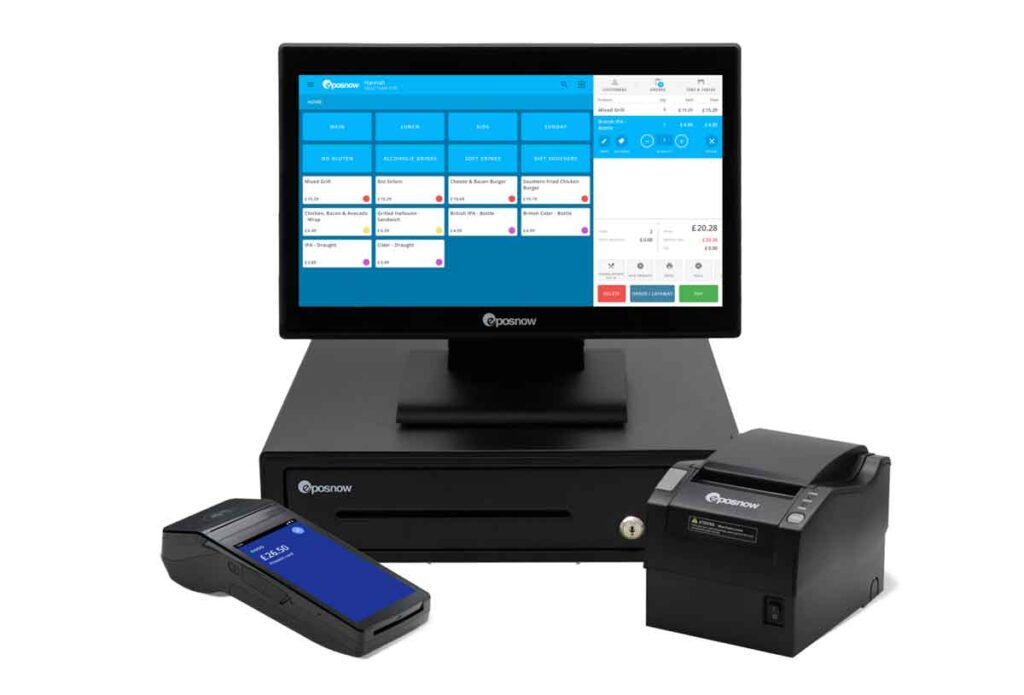 Epos Now products and services
Retail EPOS System
This system includes an intuitive, easy-to-use till system, back-office reporting, and inventory management. Pricing starts at £25 per month, with various optional add-ons for additional costs.
Hospitality EPOS System
Specifically designed for the hospitality industry, it provides table management, order tracking, and kitchen display features. Pricing also starts at £25 per month, with additional fees for optional features.
Epos Now AppStore
The Epos Now AppStore contains over 100 integrations and add-ons. Businesses can customise their Epos Now system with various integrations including accounting software, eCommerce platforms, and booking systems. Pricing for these add-ons varies depending on the specific application.
Epos Pocket
This is Epos Now's mobile POS system that allows businesses to make sales from anywhere. The app can run on any iOS device, making it a great option for businesses that need flexibility in processing transactions. Pricing details are provided upon enquiry.
Epos Now Hardware
In addition to their software solutions, Epos Now offers a range of hardware including touch screen till systems, barcode scanners, cash drawers, and receipt printers. They provide a complete POS bundle, and pricing depends on the specific bundle and components selected by the business.
Back Office Software
This software helps businesses manage stock, analyse sales data, and oversee employee performance. It provides business owners with comprehensive reports to help them make informed decisions. This service is included in the monthly subscription for the retail and hospitality EPOS systems.
Customer Loyalty Software
This add-on service helps businesses set up and manage a loyalty programme to encourage repeat business and reward loyal customers. The cost of this add-on is not specified on their website and is likely provided upon enquiry.
Epos Now reviews
| Review source | Rating |
| --- | --- |
| TrustPilot | 4.4/5 |
| Google Reviews | 4.2/5 |
| Reviews.io | 4.3/5 |
| Average Rating | 4.3/5 |
Epos Now reviews
Alternatives to Epos Now
While Epos Now offers a comprehensive solution, alternatives like Vend, Lightspeed, and Square are also worthy of consideration.
Vend is particularly good for retail businesses, offering a similar range of features and pricing structure.
Lightspeed is great for restaurant businesses, with a particular focus on the foodservice industry.
Square, on the other hand, stands out with its free point-of-sale software and low-cost, transparent payment processing.
Additional considerations
When choosing a POS system, consider the specific needs of your business, the size of your operations, and your budget.
While Epos Now offers a robust system, it might not be the right fit for every business.
Consider whether you need a sector-specific system (like those for retail or hospitality), or whether a more general system would suffice.
Epos Now company history
Founded in 2011, Epos Now has been dedicated to providing cloud-based POS solutions for various businesses.
The firm has experienced remarkable growth, scaling to serve over 30,000 customers in 103 countries in just over a decade.
In 2015, it was listed in the Sunday Times Tech Track 100 and has since scooped various other awards, reflecting its commitment to innovative and effective solutions.
FAQ
Does Epos Now offer training?
Yes, Epos Now provides comprehensive onboarding and training for its customers.
Can Epos Now integrate with other software?
Yes, Epos Now can seamlessly integrate with popular eCommerce and payment platforms.
What support does Epos Now offer?
Epos Now offers 24/7 customer support via phone, email, and live chat.
Is Epos Now suitable for small businesses?
Yes, Epos Now offers scalable solutions suitable for businesses of all sizes.
What are the hardware requirements for Epos Now?
Epos Now is compatible with both Android and iOS devices. You can also purchase hardware directly from Epos Now.
Does Epos Now offer a free trial?
Yes, Epos Now offers a 30-day free trial.
What industries does Epos Now cater to?
Epos Now caters to a wide range of industries, including retail, hospitality, and leisure.
Is Epos Now cloud-based?
Yes, Epos Now offers a cloud-based system, which allows for remote access and operation.