Huddle Capital is a peer-to-peer lender, providing loans to SMEs based on investment from external sources – but does it have good reviews?
We have to be blunt; Huddle Capital seems more interested in aiding investors to maximise their money than providing the most competitive lending experience for businesses searching for funding, with the official website geared very much toward encouraging investment over borrowing.
This theory bears fruit when we investigate the limited online discussion surrounding Huddle Capital, with no reviews online from SMEs but positive feedback from investors that claim Huddle Capital provided them with a greater yield on interest than many rivals.
Overall, Huddle Capital does not appear to be an ideal first port of call for any business seeking financial assistance.
Huddle Capital business loans and finance
Pros and cons of Huddle Capital for business finance
| Pros | Cons |
| --- | --- |
| ✓ Investors choose who they loan to, suggesting a lender will be interested in your success | ✗ All borrowing must be secured against a property |
| ✓ Huddle co-invests in loans, encouraging more funding from outside the business | ✗ No online reviews from borrowers |
| | ✗ Talk of high interest rates from investors online |
| | ✗ Can take weeks to receive your funding |
| | ✗ Repayments are due weekly, not monthly |
Huddle Capital pros and cons
Business loans
SME loans are the nature of Huddle Capital's business model, financed by outside investors. If you wish to apply for a loan through Huddle, you will need to get in touch and undertake a full assessment of your company finances, and agree to secure the loan against the equity in a property your own.
If your application is approved, you will be uploaded to the Huddle Capital loans portal, and Huddle will attempt to pair you with an investor who is willing to loan you funds. Huddle loans are repaid on a weekly basis, not monthly.
Huddle Capital is not transparent at all about what this assessment requires, but know that investors online discuss Huddle as offering them high returns in interest – Huddle Capital promises investors a return of up to 16%, which could lead to very high weekly repayments – and Huddle loans are usually capped at 24 months in length.
Commercial mortgages
Huddle does not offer commercial mortgages, but does frequently work with companies that wish to trade in property. You may wish to apply for a secured bridging loan from Huddle, for example.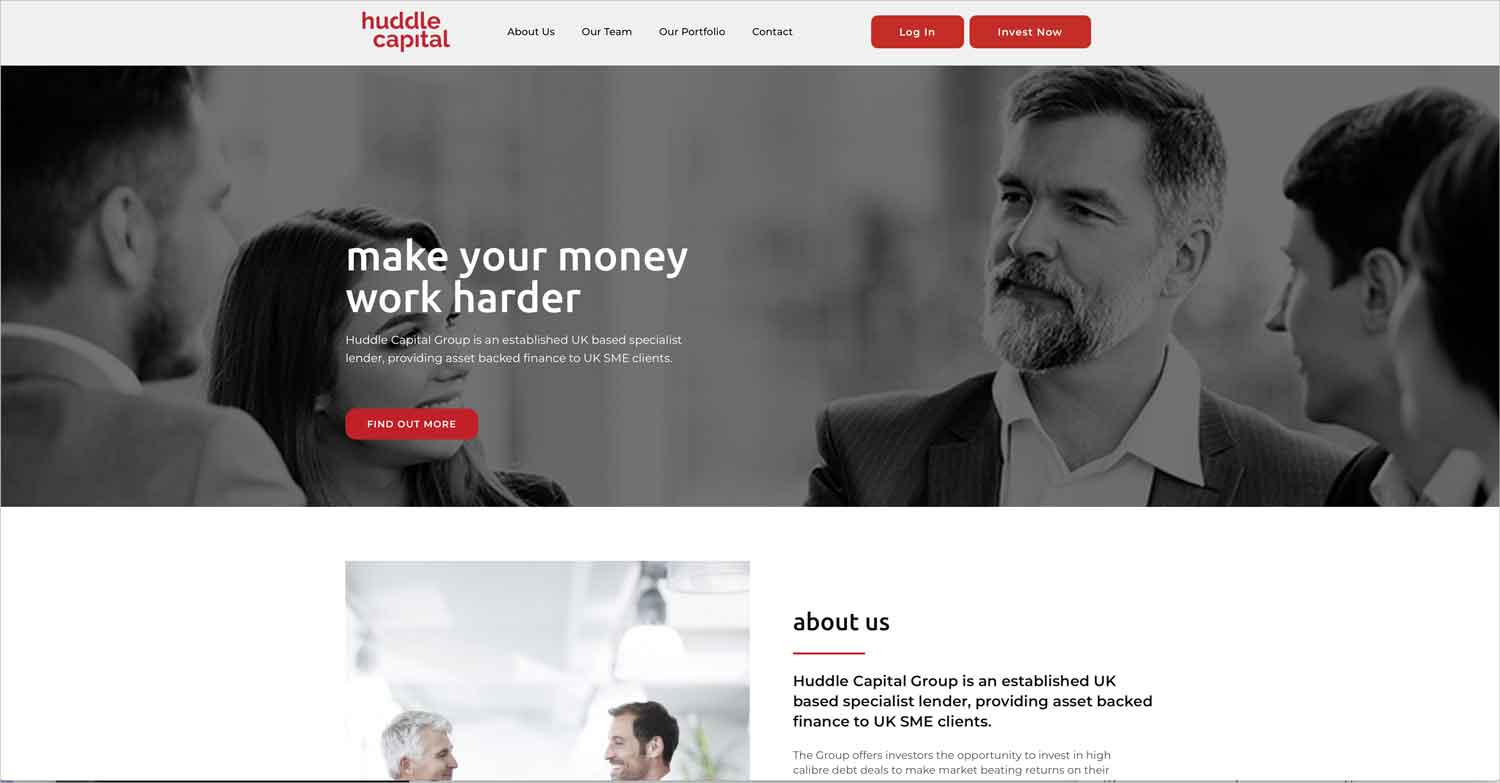 Merchant cash advance
✗ Not available from Huddle Capital. See merchant cash advance.
Business credit cards
✗ Not available from Huddle Capital. See best business credit cards. 
Asset finance
✗ Not available from Huddle Capital. See best asset finance. 
Invoice finance
✗ Not available from Huddle Capital. See invoice factoring. 
Business vehicle finance
✗ Not available from Huddle Capital. See business vehicle finance.
Huddle Capital key information
| | |
| --- | --- |
| Phone number | 0113 468 1408 |
| App downloads | N/A |
| Website | www.huddlecapital.com |
| Number of branches | N/A |
| FSCS protected? | No |
| Founded | 2016, Leeds |
Key information
Huddle Capital reviews
| Review platform | Score | Number of votes |
| --- | --- | --- |
| TrustPilot | Not reviewed | N/A |
| Feefo | Not reviewed | N/A |
| Reviews.io | Not reviewed | N/A |
| Smart Money People | Not reviewed | N/A |
| Which? | Not reviewed | N/A |
| Average score | No online reviews | 0 total votes |
Huddle Capital reviews and ratings
Business eligibility criteria
Huddle Capital does not discuss its lending criteria so you will need to call to learn if you are eligible for borrowing. All we understand is that you must be a homeowner and be prepared to secure your loan against the equity in this property, with a maximum loan-to-value ratio of 75%.
However, Huddle Capital also mentions that it prefers to lend to SMEs that can display a clear exit strategy from their loan. It is seemingly unwise to approach this lender if you need an ongoing, general cash injection.
Business finance alternatives
To be perfectly honest, it seems worthwhile investigating most other business lenders for an SME before turning to Huddle Capital. Whether it's a high street bank, a more transparent peer-to-peer lender like Folk2Folk, or just a straightforward online financier, you will likely get a faster response at a cheaper rate.
FAQ
How do I apply for finance from Huddle Capital?
Call Huddle Capital on 0113 468 1408 to discuss your options, or leave your details on a contact form online and wait for Huddle to get in touch with you.
If I borrow from Huddle Capital, who supplies the money?
Your funding will come from a third-party investor, who will need to actively choose to lend to your business, but Huddle Capital underwrites the loan and co-invests for the safety of the investor.
How much can I borrow from Huddle Capital?
Huddle Capital bases lending on equity in the property that you secure the loan against, at a loan-to-value ratio of 75%. So if you have £50,000 in equity, you can potentially borrow up to £37,500.
How long does it take to receive funds from Huddle Capital?
As Huddle Capital only offers secured loans it may take several weeks to receive your money once all relevant checks and paperwork has been completed.
What happens if I default on a Huddle Capital loan repayment?
If you default on a payment, Huddle Capital has the legal right to take you to court and force you to sell your property, settling your outstanding loan balance from the proceeds. 
Is Huddle Capital regulated?
Yes, all loans from Huddle Capital are regulated by the FCA.