Part of the NatWest banking group, Lombard Business Finance are specialists in asset-based finance. This lender will provide funding for general equipment and apparatus, particularly vehicles for a business.
Funding is available quickly with minimal fees, making Lombard an ideal alternative to taking out a costly bank loan to cover any expenses required to bolster your business assets.
Just be aware that this line of borrowing is comparatively limited and will only appeal to particular business models and industries.
Lombard Business Finance business loans and finance
Pros and cons of Lombard Business Finance for business finance
| Pros | Cons |
| --- | --- |
| ✓ Wide selection of asset finance options | ✗ Only offers asset finance – no general lending |
| ✓ Backed by NatWest, a major name in finance | ✗ Limited online reviews |
| ✓ Flexible repayment terms and options | |
Lombard Business Finance pros and cons
Business vehicle finance
Vehicle finance is a speciality of Lombard Business Finance, available on cars, vans, and electric vehicles. The fundamental options surrounding vehicle finance through Lombard are as follows.
Hire purchase
Find a vehicle that appeals to your business needs and arrange for funding from Lombard over 12 to 84 months, who will allow you to hire the car during this period. No mileage limits are imposed, and at the end of the hire term, you will own the vehicle outright.
Contract hire
Lombard will finance the accrual of a vehicle, and limits will be set on mileage and use. You will never own the vehicle, which means you will not be impacted by depreciating value. When the contract term ends, you can switch to a newer vehicle or pay less.
Asset finance
Lombard offers a range of asset finance solutions. Lombard offers financing on machinery and apparatus required for manufacturing and industrial use. This asset finance is available in six forms:
Hire purchase
Arrange for Lombard to purchase an asset on your behalf, and hire it on a monthly basis. Your payment terms will eventually see you own the asset once the debt is cleared, leaving you free to sell or continue to use the machinery.
Finance lease
Lombard will purchase an asset and retain ownership, leasing it to your business on a monthly basis. At the end of this term, you can start a new lease or allow Lombard to sell the asset. You will be entitled to a small portion of this sale value.
Residual value lease
Lombard purchases an asset – typically machinery – at your request, and retains ownership while leasing you the asset for a monthly fee. Lombard will always own the asset, and you will need to meet insurance and maintenance costs, but the repayment terms will be shorter, At the end of a pre-agreed term, you can start a new lease at a lower cost as the asset is now older, or return it to Lombard.
Capital import finance
Acquire assets from overseas with minimal risk by entering into an agreement with Lombard.
Intellectual property finance
Unlock value from intangible assets through secured borrowing that encourages growth in your company.
Chattel loan mortgage
Receive the deed to a major asset investment and start using it immediately, securing your repayments against this asset. This kind of lending is designed for major investments such as business aircraft, and is thus comparatively limited.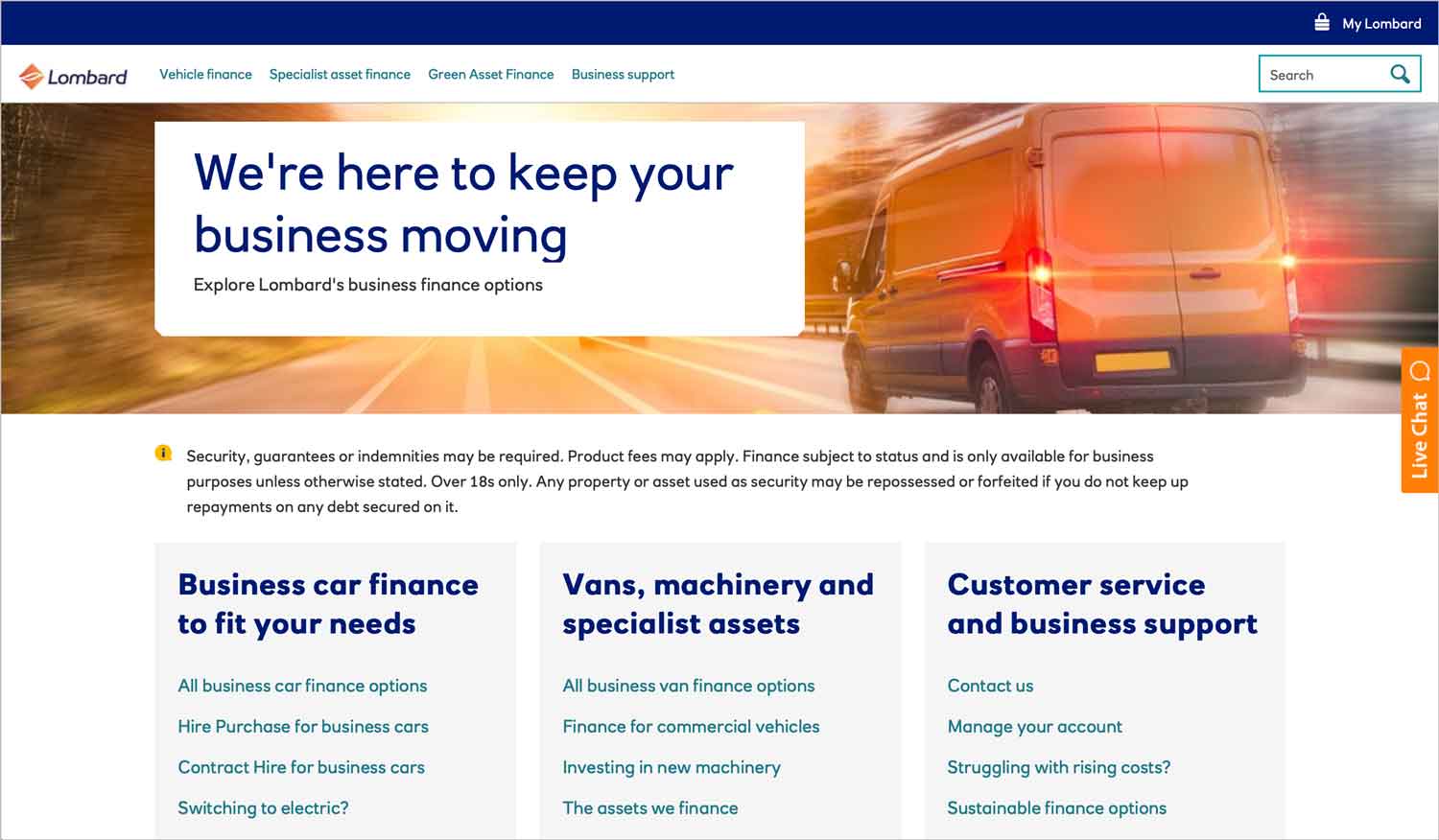 Business loans
✗ Lombard Business Finance does not offer generic, lump sum business loans. See business loans.
Merchant cash advance
✗ Not available from Lombard Business Finance. See merchant cash advance.
Invoice finance
✗ Not available from Lombard Business Finance. See invoice factoring. 
Commercial mortgages
✗ Not available from Lombard Business Finance. See commercial mortgages.
Business credit cards
✗ Not available from Lombard Business Finance. See business credit cards. 
Lombard Business Finance key information
| | |
| --- | --- |
| Phone number | 0800 502 402 |
| App downloads | N/A |
| Website | www.lombard.co.uk |
| Number of branches | N/A |
| FSCS protected? | No |
| Founded | 1861 |
Key information
Lombard Business Finance reviews
| Review platform | Score | Number of votes |
| --- | --- | --- |
| TrustPilot | 4.4/5 | 32 |
| Feefo | Not reviewed | N/A |
| Reviews.io | Not reviewed | N/A |
| Smart Money People | Not reviewed | N/A |
| Which? | Not reviewed | N/A |
| Average score | 4.4/5 | 32 total votes |
Lombard Business Finance reviews and ratings
Business eligibility criteria
Lombard is not very forthcoming about the criteria required to gain asset-based finance – you'll need to get in touch over the phone or use the online eligibility checker. Lombard will make their decision based on the answers you provide.
Business finance alternatives
If you are looking for a general cash injection for your business, you should investigate a lender that will offer a straightforward business loan – Lombard only deals with asset-based finance, with Nest Asset Finance arguably the closest direct alternative.
Additional considerations
While Lombard is still part of the NatWest group in most of the UK, the Ulster Bank division in Northern Ireland has been sold to Permanent TSB.
FAQ
How do I apply for funding from Lombard Business Finance?
Call Lombard Business Finance on 0800 502 402 to discuss your options, use the live chat function on the website, or fill in the online application form.
How can I check if Lombard Business Finance will accept my application?
The Lombard website offers an eligibility checker that will confirm if your finding request is likely to be approved, based on the information you provide surrounding your business trading history and turnover.
How much can I borrow from Lombard Business Finance?
Lombard does not set an outright upper limit on borrowing – the cap on lending will depend upon the asset financing you need, and your business turnover.
How long does it take to receive funds from Lombard Business Finance?
Lombard Business Finance aims to issue payments as quickly as possible.
Are there any hidden fees when borrowing from Lombard Business Finance?
No, your repayments should begin and end with your asset value and interest. Lombard does not assign set-up costs to funding.
Will Lombard Business Finance work with my business?
While Lombard Business Finance will consider vehicle finance for most eligible industries, asset finance is particularly tailored to the agricultural, marine, healthcare, and aviation sectors. All the same, it remains worth checking if Lombard can help you.