Traditionally one of the biggest names in Irish banking, Ulster Bank is now part of the NatWest Group. This bank is ceasing operation in the Republic of Ireland, but retains a presence in Northern Ireland under the traditional branding. Ulster Bank customers do not need to be based in Northern Ireland, but this is where you will find all branch support. While the current account and savings pot options are a little limited, this is one of the cheaper business accounts out there with a quarterly fee of £8 (plus microtransaction charges,) and plenty of lending streams open to businesses that meet Ulster Bank's loan criteria.
Compare business bank accounts
What are you looking for?
In partnership with
Tide

Co-Op Business Banking
✓ Business Current Account
✓ Online, App & High Street Banking
✓ Quick & Easy Application Process


HSBC Business Banking
✓ Business Current Account
✓ In-Branch, Online & App Banking
✓ FSCS Protected


Metro Business Banking
✓ Business Current Account
✓ High Street Presence
✓ FSCS Protected


Mettle Business Banking
✓ Business Bank Account
✓ Online & App
✓ Quick & Easy Application Process


Monzo Business Banking
✓ Business Current Account
✓ Dedicated mobile app experience
✓ FSCS Protected


Tide Business Bank Accounts
✓ Free, Plus, or Pro Account
✓ iOS & Android Mobile App
✓ Upload & Auto-Match Receipts


Virgin Money
✓ Business M Account
✓ In-Store, Online & App Banking
✓ Insights & Forecasting Platform

Ulster Bank business banking services
Pros and cons of Ulster Bank for business services
| Pros of Ulster Bank | Cons of Ulster Bank |
| --- | --- |
| ✓ Start-ups bank free for 18 months | ✗ Branches only in Northern Ireland |
| ✓ Account fee is only £8 per quarter | ✗ Limited current account and savings plans |
| ✓ Lots of lending streams are available | ✗ Microtransaction fees apply |
| ✓ FSCS protected | |
Ulster Bank business banking pros and cons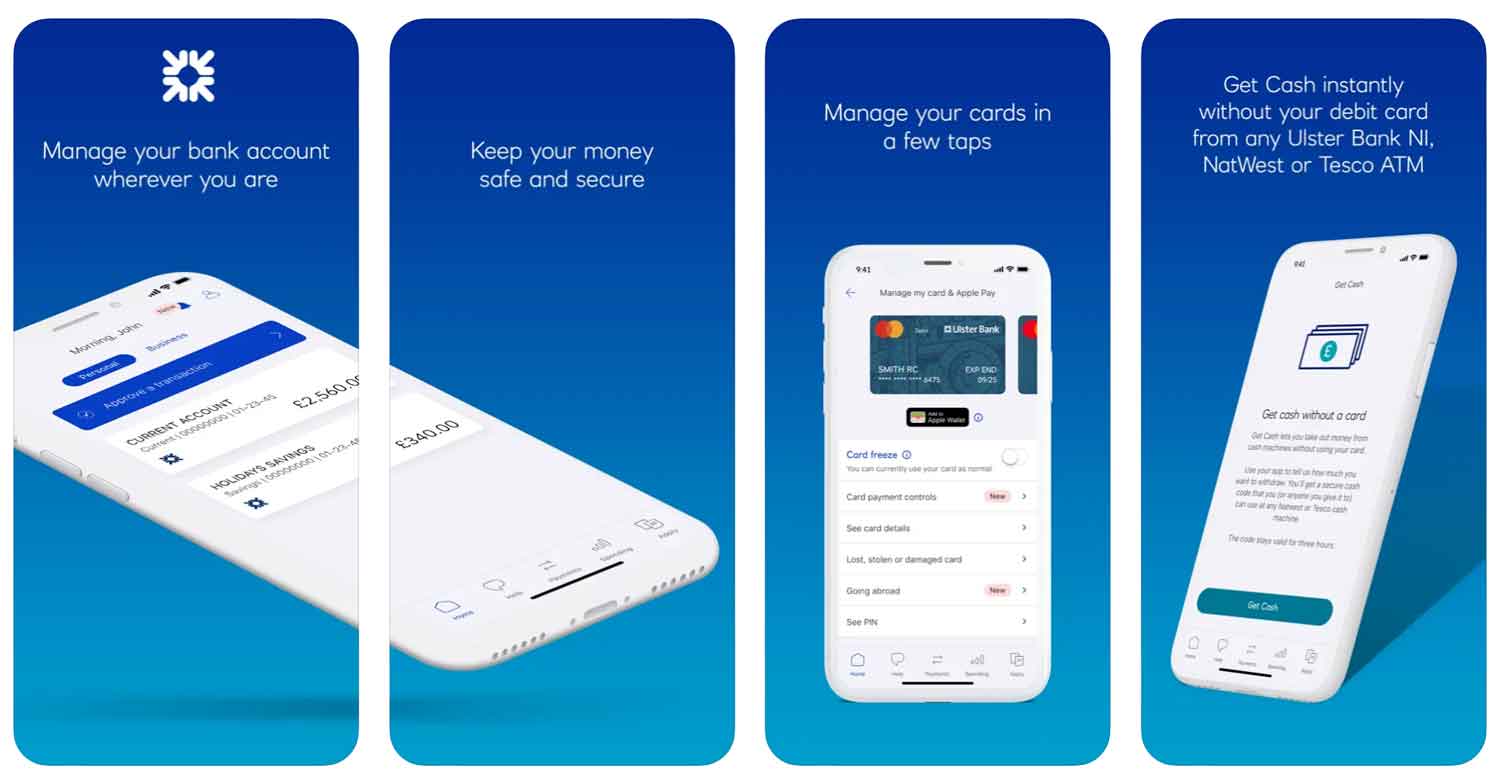 Business current accounts
Ulster Bank offers two business bank accounts, both of which attract a quarterly fee of £8 and free access to the HMRC-approved bookkeeping software FreeAgent.
A business that has been trading for under a year and has an annual turnover below £1,000,000 can apply for a Start-up Account, which offers 18 months of free banking. Anybody else will need to apply directly for a generic Business Account with no free period.
Ulster Bank business accounts also accrue microtransaction charges once you are outside a free billing period. These break down as follows.
| Type of transaction | Fee or charge |
| --- | --- |
| Automated credits and debits | 43p per transaction |
| Cheque credits | 40p |
| Cheque debits | 58p |
| Cash paid in or out | 70p per £100 |
Ulster Bank business account fees and charges
Business overdrafts
Ulster Bank offers business overdrafts up to £50,000. Interest rates and set-up fees will be discussed upon a successful application, though expect an interest rate of around 11.7%.
Business savings accounts
Ulster Bank offers two savings accounts to business customers:
Instant Access Account
No minimum or maximum balance, and you can access your funds at any time. Interest is calculated daily and paid every October. Balances below £10,000 accrue interest at an AER of 1%, while balances over £10,000 gain interest at an AER of 1.26%.
Money Desk Deposit
Money desk deposits are fixed-term savings bonds that will be discussed with a dedicated Relationship Manager at Ulster Bank. The minimum deposit is £2,500, and you can save these funds into a bond for six months to one year. If you deposit £10,000 or more, you can set the bond to mature in less than six months.
Ulster Bank at a glance
| | |
| --- | --- |
| Phone number | 0345 948 2222 |
| App downloads | iOS; Android |
| Website | www.ulsterbank.co.uk/business |
| Number of branches | 35, all in Northern Ireland |
| FSCS protected? | Yes |
| Founded | 1836, Belfast |
Key information
Ulster Bank business loans and finance
In addition to business current accounts and savings accounts, Ulster Bank offers the following products to business customers:
Business OneCard
A credit card issued by Ulster Bank for an annual fee of £32. Credit limit and interest rate will be decided and set according to your unique circumstances. See business credit cards.
Business Cash Card
(coming October 2023)
An extension to your business debit card. Spending limits can be set, and cardholders can withdraw cash or add balance to an Ulster Bank business account at any ATM or branch.
Small Business Loan
Borrow between £1,000 and £50,000 on a fixed interest rate for up to seven years. Representative APR is 12.35%. See best business loans.
Fixed Interest Rate Loan
If you need larger sums, apply for a loan between £25,001 and £10,000,000, to be repaid over 3, 5, 7, 10, 15, 20, or 25 years. These loans may need to be secured against an asset. There will be no early exit fees if you wish to repay your loan early.
Variable Rate Loan
Borrow any sum above £1,000 with no upper limit, with repayments based on the Ulster Bank base rate of interest. Repayment holidays are available, and there will be no early exit fees if you need to settle your balance early.
Green Loans
Borrow from £25,001 at a fixed or variable interest rate to invest in ecologically friendly, sustainable business practices.
Asset Finance
Turn to Ulster Bank via Lombard to finance a major asset investment for your business, leasing the asset with the option to purchase at the end of a hire term, or to gain a share of any resale value if the asset is no longer required. See asset finance.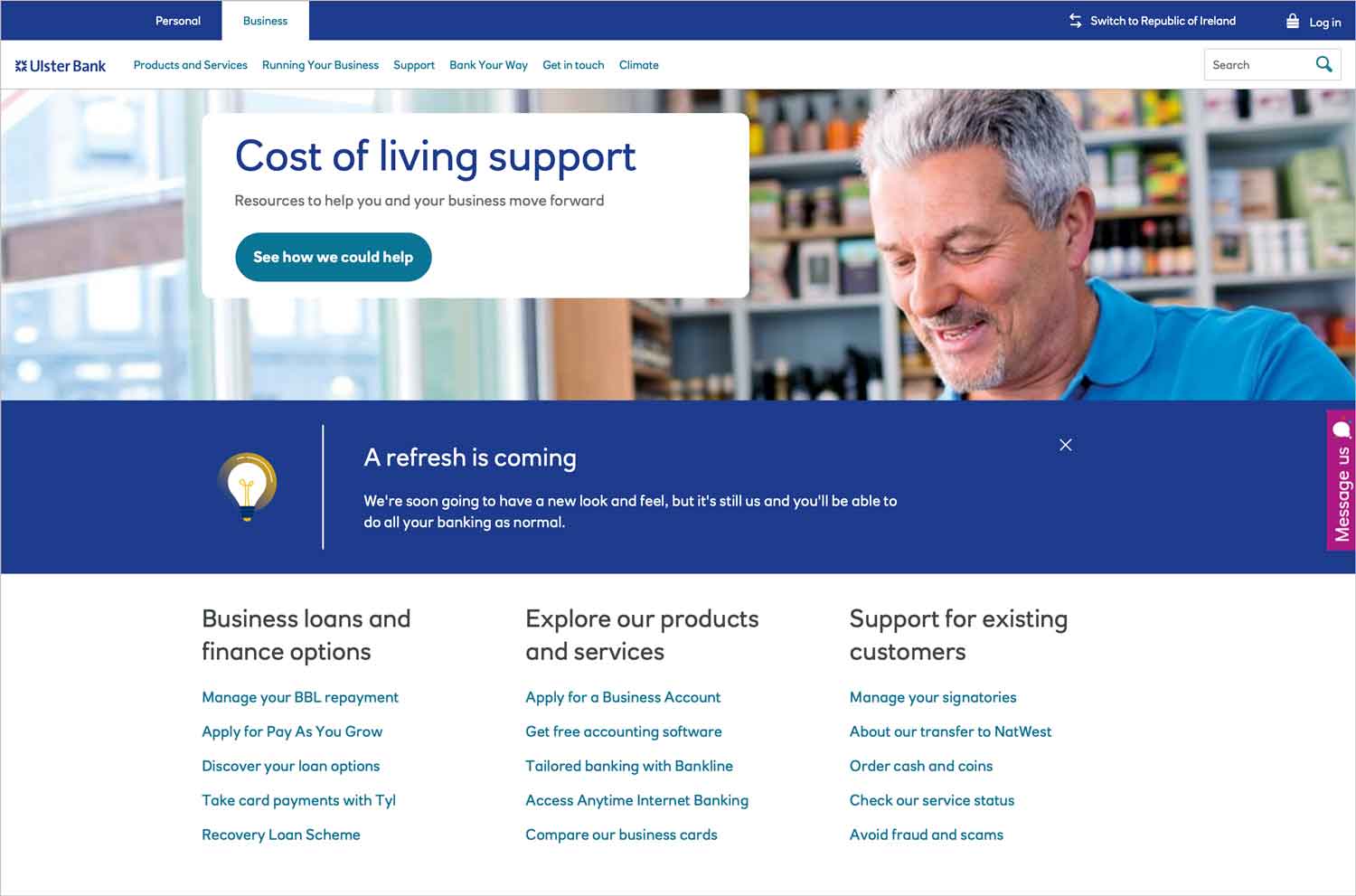 Ulster Bank reviews
What are other business banking customers saying about Ulster Bank?
Ulster Bank business banking reviews and ratings
Business eligibility criteria
Any UK resident can open a business account with Ulster Bank, but seeing as all branch support is based in Northern Ireland, it seems a little counter-intuitive for a business based in England, Wales, or Scotland to do so. You'll just need to provide proof of your identity and address, and answer some questions about your business model.
Business finance alternatives
If you like the look of Ulster Bank's products but are based outside Northern Ireland, you should probably just open an account with NatWest or the Royal Bank of Scotland – these high street behemoths offer very similar offers to Ulster Bank as they fall under the same parent company banner.
Additional considerations
A branch of Ulster Bank may administer cash sums in unique banknotes that celebrate key figures and landmarks in Northern Irish history. These banknotes are equivalent in value to GBP and are legal tender throughout the UK.
FAQ
Is Ulster Bank a proper bank?
Yes, Ulster Bank is a legitimate bank that has been in operation for over 160 years. The bank offers a wide range of financial services and products to customers, including current accounts, mortgages, savings accounts, credit cards, loans and other banking services. Ulster Bank is part of the Royal Bank of Scotland Group (RBS) and is authorised by the Prudential Regulation Authority and regulated by the Financial Conduct Authority. As such, Ulster Bank is a safe, secure and reliable place to do your banking.
How to open an Ulster Bank business account?
Opening an Ulster Bank business account is easy and straightforward. First, you will need to provide some details about your business and its activities in order to apply for a business account. Once the application is completed, the bank will perform a credit check and assess your eligibility for a business account. If approved, you can set up your corporate profile and start using the bank's services, such as making payments, deposits and transfers. The whole process can take up to five working days.
What fees does Ulster Bank charge for its business accounts?
Ulster Bank is transparent about its fees and charges, which vary depending on the type of account you open. For instance, current accounts usually carry a monthly fee that covers transactions such as cash withdrawals and payments. Some business accounts may also offer additional services like cheque processing or foreign currency transfers for an extra fee.
What services does Ulster Bank offer for businesses?
Ulster Bank offers a range of helpful services and products to business customers, including online banking, business loans and overdrafts, merchant payment processing, credit card services and more. The bank also offers additional support through its Business Advisory Services team, which provides advice on cash management, risk management and other important financial matters.
What types of payments does Ulster Bank accept?
Ulster Bank accepts a wide range of payments, including direct debits, standing orders, bill payments and international payments. The bank also supports Apple Pay and Google Pay for contactless payments.