Love Finance is a direct lender specialising in business loans. Arguably the biggest selling point of Love Finance is the flexibility offered by this lender, with bad credit not necessarily standing in the way of a successful application – though your interest rate may reflect any historical issues.
It only takes a matter of minutes to launch an initial query about funding with this lender, though, and money is equally rapidly released upon approval, so Love Finance is definitely worth considering for any SME or sole trader seeking a quick cash injection with minimal fuss involved in the application process.
Love Finance business loans and finance
Pros and cons of Love Finance for business finance
| Pros | Cons |
| --- | --- |
| ✓ Wide range of lending products | ✗ Personal guarantee may be required |
| ✓ Fast application process and release of funds | ✗ Interest rates can be higher than some lenders |
| ✓ 98% approval rate on loan applications | ✗ Minimum of three months trading history required |
| ✓ Excellent online reviews | |
Love Finance pros and cons
Business loans
Love Finance offers three types of unsecured business loan for SMEs and sole traders that have been trading for at least three months:
New staff loans
Borrow between £5,000 and £50,000 to cover the expenditure associated with bringing in new hires. Interest rates start at 6.9%.
Equipment loans
Borrow between £5,000 and £500,000 to cover the purchase of new equipment that will enhance business performance. Interest rates start at 3.9%.
VAT loans
Borrow up to £250,000 on a short-term loan, typically repayable within a year, to spread the cost of an HMRC VAT bill. Interest rates start at 2.9%.
Asset finance
Love Finance offers a range of asset finance products of up to £500,000 for businesses that need to invest in an expensive piece of machinery or equipment, repayable for up to five years, with interest rates starting at 2.9%. Your options surrounding asset finance with this lender are as follows:
Hire purchase
Identify an asset your business requires and Love Finance will purchase it on your behalf. You will pay a deposit up-front, then a monthly hire fee that covers the cost of the asset plus interest. Once the debt is cleared, you can purchase the asset outright for a nominal fee.
Lease financing
This form of asset finance leads to lower upfront costs than a hire purchase agreement, then cover the rest of the cost with monthly payments until the lease period concludes. At this point, you can return the asset to Love Finance or start a new lease period.
Refinancing
Love Finance will release funds secured against assets your business already owns, which can be redirected to cover any expenses you may need cash flow for. As long as you keep up with your repayments, you will enjoy continued use of these assets alongside the enhanced cash flow provided by your funding.
Business vehicle finance
Love Finance has a specialist lending arm dedicated to van finance. If you choose this lending stream, Love Finance will confirm how much you will be permitted to borrow, and source a van for your business used based on this. Repayment terms are flexible, and interest rates start at 3.9%.
Merchant cash advance
If you take payments from customers by debit or credit card, Love Finance may be willing to advance you a sum of money – up to £250,000 – against future sales. Repayments will automatically be taken from your future transactions, plus an interest rate that starts at 1%.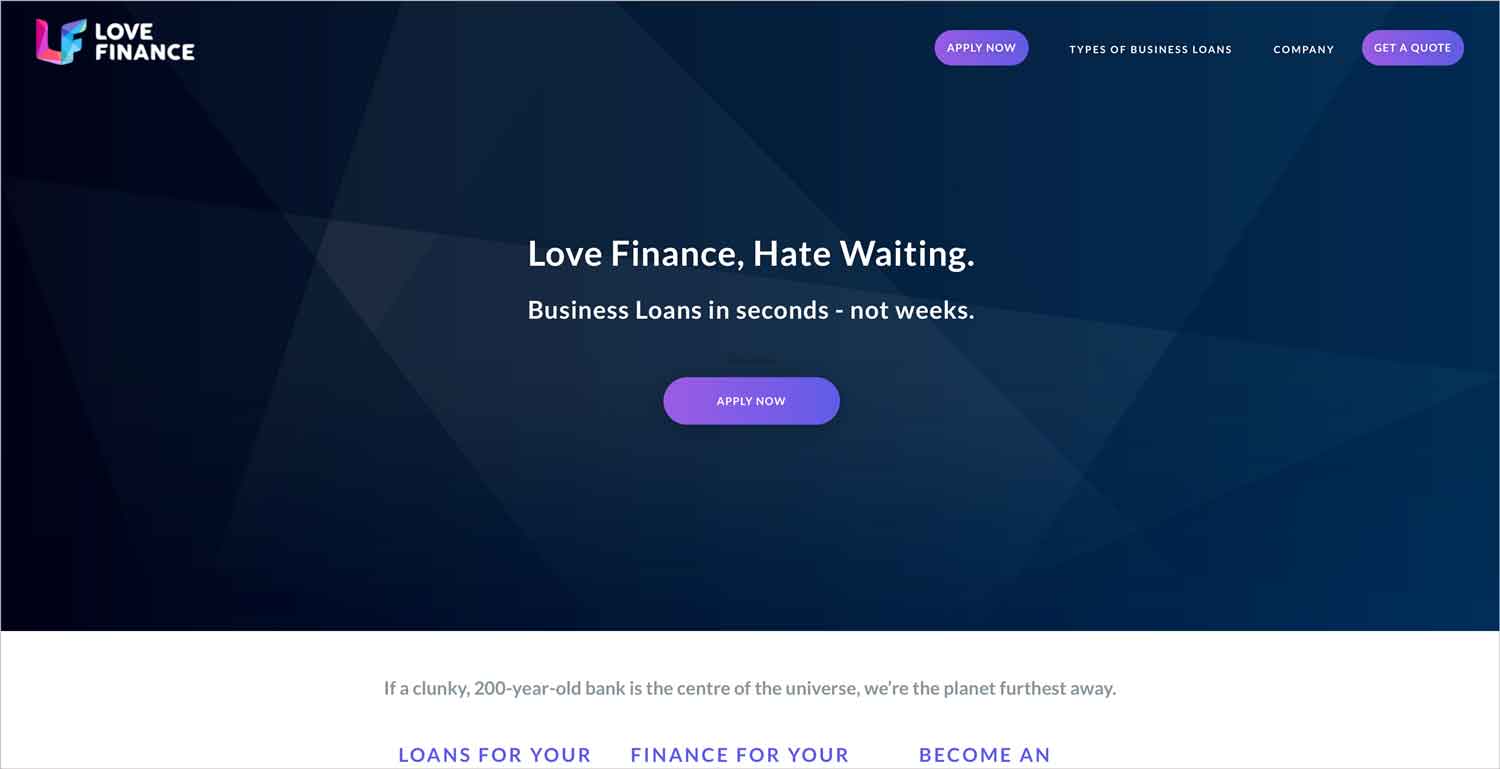 Invoice finance
✗ Not available from Love Finance. See invoice factoring. 
Commercial mortgages
✗ Not available from Love Finance. See commercial mortgages.
Business credit cards
✗ Not available from Love Finance. See best business credit cards. 
Love Finance key information
| | |
| --- | --- |
| Phone number | 0800 086 9404 |
| App downloads | N/A |
| Website | www.lovefinance.co.uk |
| Number of branches | N/A |
| FSCS protected? | No |
| Founded | 2012, Birmingham |
Key information
Love Finance reviews
| Review platform | Score | Number of votes |
| --- | --- | --- |
| TrustPilot | 4.9/5 | 323 |
| Feefo | Not reviewed | N/A |
| Reviews.io | 5/5 | 1 |
| Smart Money People | Not reviewed | N/A |
| Which? | Not reviewed | N/A |
| Average score | 4.95/5 | 324 |
Love Finance reviews and ratings
Business eligibility criteria
Love Finance assesses every application for funding on a case-by-case basis. While a low credit score is less of a stumbling block with this lender, you may still struggle to be accepted if you have open CCJs or bankruptcy orders against your business. You will also need to have been trading for at least three months.
Business finance alternatives
Love Finance has a lot to offer any business customer seeking a cash injection, and it will be hard to find a competitor that will match the flexibility provided by this lender.
All the same, it never hurts to investigate alternative options through a broker portal like Funding Xchange to ensure that you are getting the best deal for your circumstances. 
Additional considerations
Love Finance is fully regulated by the FCA, so you will enjoy some measure of protection from this lender if you choose to borrow from Love Finance.
FAQ
How do I apply for finance from Love Finance?
You can call Love Finance on 0800 086 9404 to discuss your needs, or fill in an online application for the lending stream that your business requires. The latter will only take a few minutes and you'll usually receive a quote instantly.
How quickly will Love Finance release funds if I take out a loan?
Love Finance typically releases funds within 24 hours of an approved application for funding.
How much can I borrow from Love Finance?
The maximum loan sum available from Love Finance in a single application is £250,000.
What interest rate will Love Finance assign to my loan?
This will be decided if and when you complete a successful lending application. As Love Finance are a little more flexible about lower credit scores than some lenders, this may be reflected in your interest rate.
Will I be liable for hidden fees with a Love Finance loan?
No, Love Finance will be completely transparent about how much you need to repay. You will not be charged an arrangement fee or an early repayment fee if you find yourself able to settle your balance before the conclusion of the term. 
Will I need to secure a Love Finance loan against an asset?
Love Finance will consider secured and unsecured loans, depending on your business finances and circumstances. If you have a less-than-stellar credit score, or are looking for a larger sum, you will likely be asked for a personal guarantee when agreeing a loan.