OakNorth is a savings and loans specialist that believes in helping the best and brightest entrepreneurs turn their dreams into reality. This is not a provider for sole traders, or anybody at the onset of a business journey. Savings accounts need a minimum deposit of £10,000, and business lending starts at £250,000, so this is not a financial service to approach to ease short-term cash flow concerns.
Compare business bank accounts
What are you looking for?
In partnership with
Tide

Co-Op Business Banking
✓ Business Current Account
✓ Online, App & High Street Banking
✓ Quick & Easy Application Process


HSBC Business Banking
✓ Business Current Account
✓ In-Branch, Online & App Banking
✓ FSCS Protected


Metro Business Banking
✓ Business Current Account
✓ High Street Presence
✓ FSCS Protected


Mettle Business Banking
✓ Business Bank Account
✓ Online & App
✓ Quick & Easy Application Process


Monzo Business Banking
✓ Business Current Account
✓ Dedicated mobile app experience
✓ FSCS Protected


Tide Business Bank Accounts
✓ Free, Plus, or Pro Account
✓ iOS & Android Mobile App
✓ Upload & Auto-Match Receipts


Virgin Money
✓ Business M Account
✓ In-Store, Online & App Banking
✓ Insights & Forecasting Platform

If you meet the lofty financial standards of OakNorth, however, you can join the list of customers that have provided this body with an impressive online reputation.
OakNorth business banking services
Pros and cons of OakNorth for business services
| Pros of OakNorth | Cons of OakNorth |
| --- | --- |
| ✓ Higher lending streams than some rivals | ✗ No current accounts |
| ✓ Fast release of funds when loans are agreed | ✗ Minimum savings deposit of £10,000 |
| ✓ Excellent online reviews | ✗ Better savings interest available elsewhere |
| ✓ FSCS protected | ✗ Lending starts at £250,000 |
| | ✗ Lack of transparency about interest on lending |
OakNorth business banking pros and cons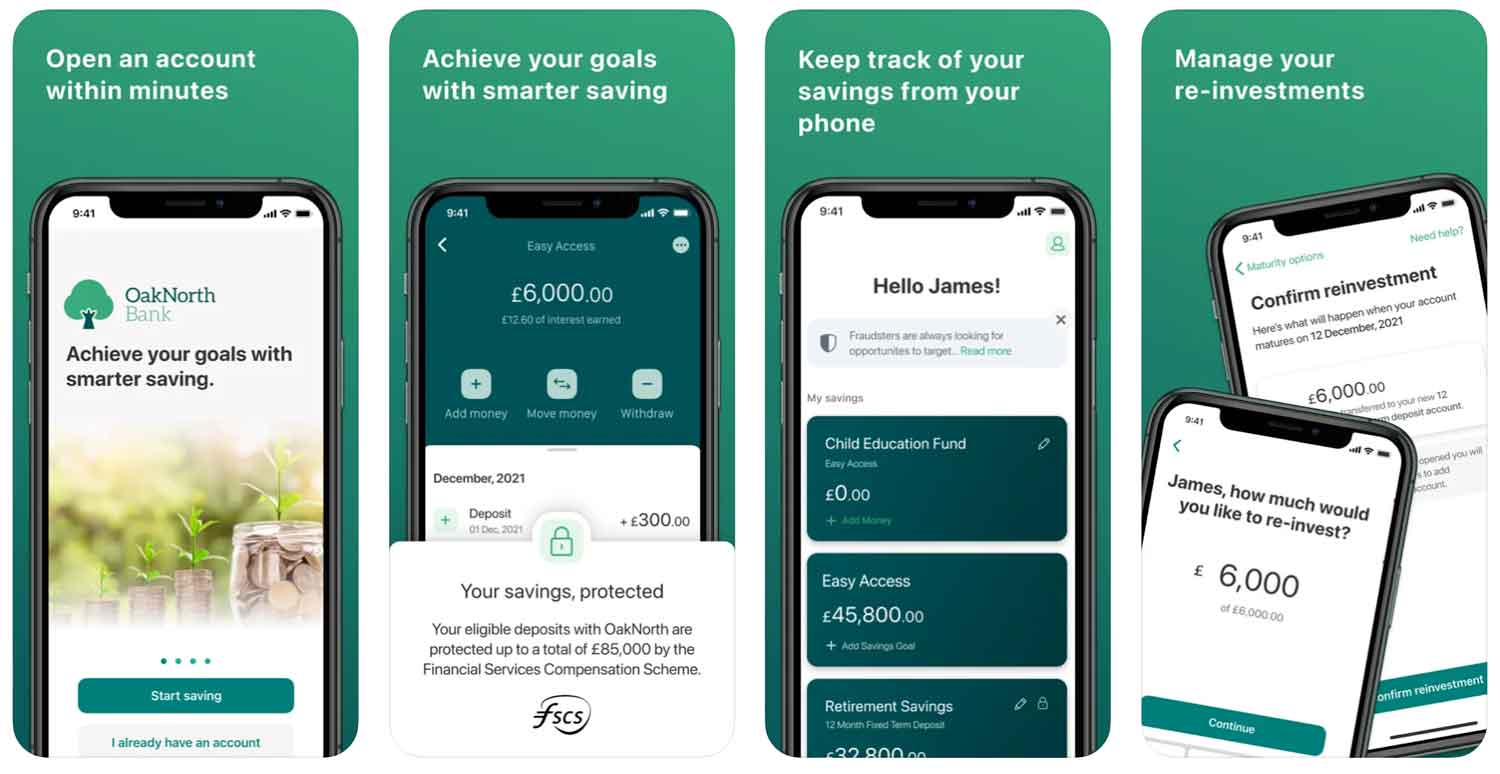 Business current accounts
✗ OakNorth does not offer business bank accounts to business customers. This bank specialises in savings accounts and business loans.
Business overdrafts
✗ Not offered by OakNorth. See best business overdrafts.
Business savings accounts
OakNorth offers three business savings accounts. The minimum deposit on any of these accounts is £10,000.
Business Easy Access Savings Accounts
Earn interest of 1.50% AER and access your funds with 24 hours' notice.
Business Notice Savings Accounts
A sliding scale of interest AER, starting at 1.60% and capping at 1.90%, with funds available with 35, 60, 95, or 120 days' notice. The more notice you assign to the savings account, the higher the AER will be.
Business Fixed Term Savings Accounts
Earn a fixed rate of interest of 1.50% AER upon maturity of a six month bond, or 2% AER over one year.
OakNorth at a glance
| | |
| --- | --- |
| Phone number | 0330 380 1181 |
| App downloads | iOS; Android |
| Website | www.oaknorth.co.uk |
| Number of branches | N/A |
| FSCS protected? | Yes |
| Founded | 2015 |
Key information
OakNorth business loans and finance
OakNorth offers business loans to eligible customers, but the lowest sum OakNorth will lend is £250,000. Unless you are seeking major investment, and are very confident you can keep up with repayments, investigate alternative lenders – especially as OakNorth is not transparent about interest rates. You will, however, receive your funds quite quickly.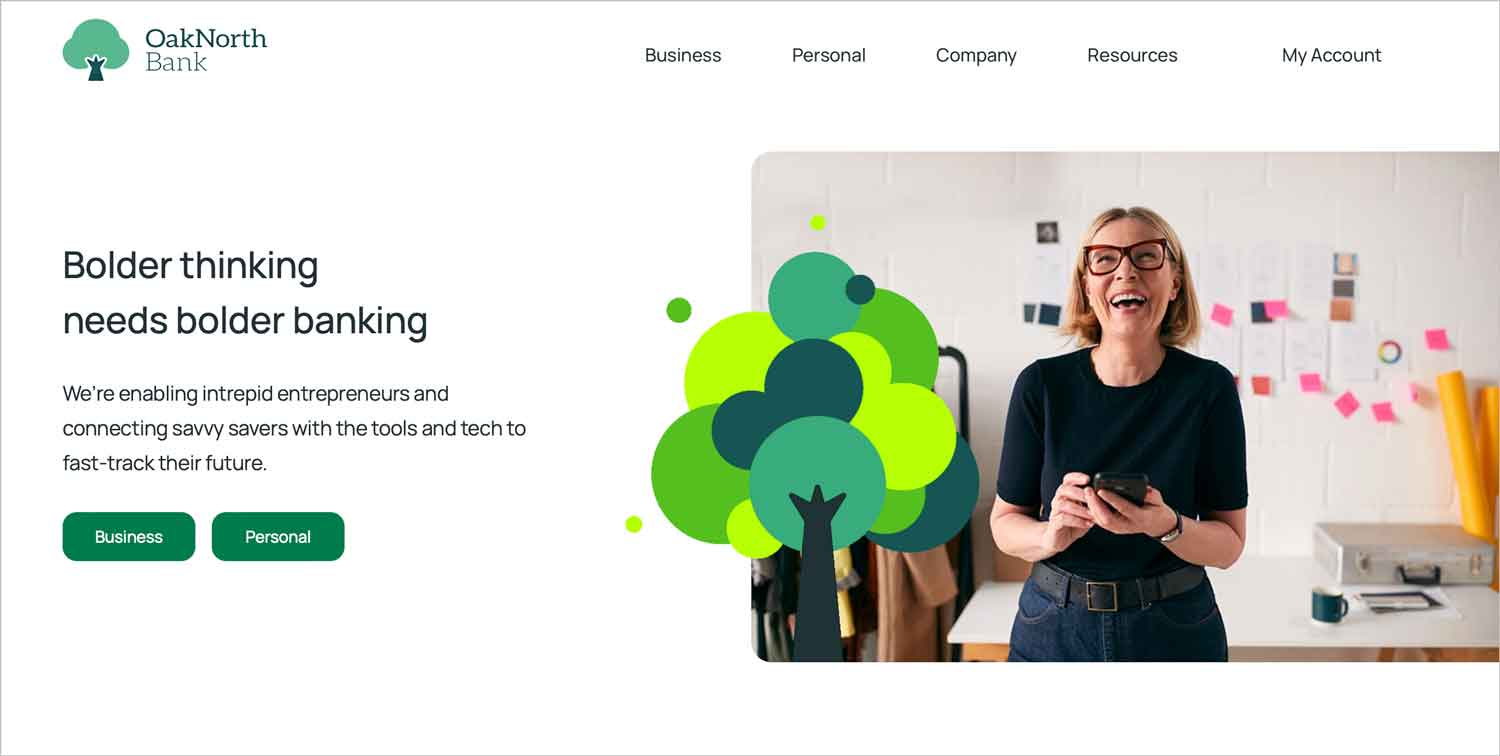 OakNorth reviews
What are other business banking customers saying about OakNorth?
| Review platform | Score | Number of votes |
| --- | --- | --- |
| TrustPilot | 4.6/5 | 3,559 |
| Feefo | Not reviewed | N/A |
| Reviews.co.uk | Not reviewed | N/A |
| Smart Money People | 4.2/5 | 5 |
| Which? | Not reviewed | N/A |
| Average score | 4.4/5 | 3,564 |
OakNorth business banking reviews and ratings
OakNorth business eligibility criteria
If you can pay your £10,000 minimum deposit within 14 days and prove your identity, OakNorth will typically welcome any business saver that can prove their identity and assure the bank they will not be using the account for illegal activity. Lending criteria are much stricter and you will likely need to answer questions about why you are looking for these funds. As loans start at £250,000, you will also need a high business turnover to qualify.
OakNorth business finance alternatives
The interest rates offered by OakNorth are largely comparable to any high street bank or building society, and inferior to a specialist online rival like Aldermore or Allica Bank. You may also wish to approach a high street bank for your lending needs, as OakNorth will not reveal its interest rates until an application is underway.
OakNorth additional considerations
The bulk of OakNorth's income and profit is generated through the real estate sector, which as you can imagine has led to a downturn in financial performance due to challenges this market is currently facing.
FAQ
Is OakNorth a proper bank?
Yes, OakNorth is a proper bank. It is regulated by the Financial Conduct Authority (FCA) and Prudential Regulation Authority (PRA), as well as being authorised as an Electronic Money Institution under the Payment Service Regulations 2009. The bank offers a range of banking services including deposits, lending, payments, cash management and foreign exchange.
How to open an OakNorth business account?
To open an OakNorth business account, you will need to provide a range of information such as your company's details, the names and addresses of directors and shareholders, proof of ID for each individual involved, financial information and documents proving the source of funds. You will also be required to provide a copy of your Articles of Association or Memorandum and Articles of Association. Once all the necessary information has been provided, OakNorth will conduct a creditworthiness assessment before deciding whether to open an account for your business.
What fees does OakNorth charge for its business accounts?
OakNorth does not charge any set-up fee for its business accounts. However, there are various fees and charges associated with the services available, such as deposit account fees, loan origination fees, overdraft facility fees and foreign exchange transaction fees. These will vary depending on the type of account you have chosen and other factors such as your creditworthiness.
What services does OakNorth offer to businesses?
OakNorth offers a range of services to businesses, including deposit accounts, loans, cash management, payments and foreign exchange. The bank also provides SME customers with access to its proprietary credit scoring platform which helps them make informed decisions on lending applications. In addition, OakNorth has a dedicated team of Relationship Managers who are available to provide personalised advice and guidance.
What types of payments does OakNorth accept?
OakNorth accepts payments by telephone, online, BACS and CHAPS. In addition, the bank can also accept credit and debit card payments as well as Stripe. Other payment options are available on request.