Proplend is a peer-to-peer business lender that specialises in commercial mortgages – but does it have good reviews?
Customers that register with Proplend can apply for a loan to purchase a building they will base their business within, repaying an external investor for the loan plus interest.
This is a model you could turn to it seeking a commercial mortgage without involving a bank or building society, but be warned that Proplend is not the easiest lender to obtain funding from – you'll need a pretty substantial deposit and face a thorough examination of your finances.
Proplend property loans and commercial mortgages
Pros and cons of Proplend for business finance
| Pros | Cons |
| --- | --- |
| ✓ Reasonable interest rates on commercial mortgages | ✗ Strict lending criteria – most mortgage borrowing is capped at 50% of the property's value |
| ✓ Comparatively fast payouts in successful applications | ✗ Most online reviews are from investors, not borrowers |
| ✓ Interest rates are in line with the rest of the industry | ✗ Peer-to-peer lending is not for everybody – you may prefer a loan from a central vault |
Proplend pros and cons
Commercial mortgages
Mortgages and property finance are the core offering of Proplend. These products come in three forms:
Commercial property mortgages
Borrow up to £5,000,000 as a mortgage to purchase a commercial property. This could be a building that you plan to run your business from, or one that you will lease out to another paying business.
On paper loans are available for up to 75% of the property value, but many applications will be restricted to 50% to protect investors.
Interest rates on these mortgages start at 5.95%, and you'll need a minimum rental yield of 1.25 times the monthly repayment if taking out the mortgages on a buy-to-let basis.
Commercial bridging loans
A short-term loan, issued on an interest-only basis, that will need to be repaid in full within 18 months. This loan is designed for a business that requires rapid funding but has a clear exit strategy, such as a situation where you need to lay down a deposit on a new property but will not complete the sale of another – and receive the proceeds – for several months.
Commercial property VAT loans
Borrow the funds required to settle the VAT bill attached to the purchase of a commercial property, plus a fee, which Proplend will recover from HMRC.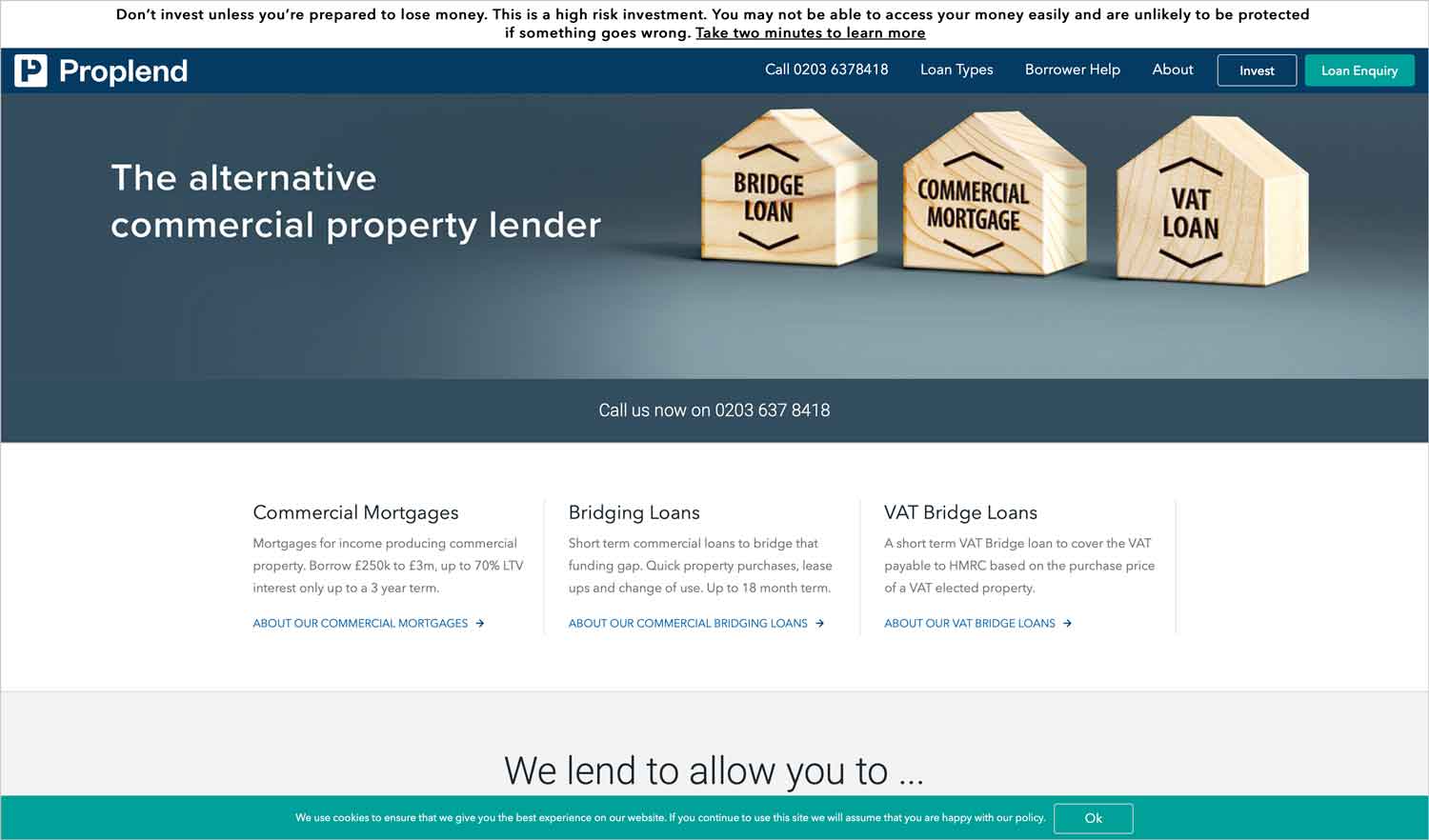 Business loans
✗ Not available through Proplend. See business loans.
Asset finance
✗ Not available through Proplend. See asset finance.
Invoice finance
✗ Not available through Proplend. See invoice factoring.
Merchant cash advance
✗ Not available through Proplend. See merchant cash advance.
Business vehicle finance
✗ Not available through Proplend. See business vehicle finance. 
Business credit cards
✗ Not available through Proplend. See best business credit cards. 
Proplend key information
| | |
| --- | --- |
| Phone number | 020 3637 8418 |
| App downloads | N/A |
| Website | www.proplend.com |
| Number of branches | N/A |
| FSCS protected? | No |
| Founded | 2003 |
Key information
Proplend reviews
| Review platform | Score | Number of votes |
| --- | --- | --- |
| TrustPilot | 3.6/5 | 86 |
| Feefo | Not reviewed | N/A |
| Reviews.io | Not reviewed | N/A |
| Smart Money People | 3/5 | 3 |
| Which? | Not reviewed | N/A |
| Average score | 3.3/5 | 89 |
Proplend reviews and ratings
Business eligibility criteria
Proplend is quite restrictive on who it lends to in order to protect investors, which most mortgages only available at a 50% loan-to-value ratio. This means that you'll need to pay at least half of the property's value as a deposit before taking out a commercial mortgage.
Also be aware that all borrowers from Proplend will need to secure their commercial mortgage against a residential property as collateral.
Business finance alternatives
Not everybody will be comfortable with the idea of peer-to-peer borrowing for their commercial mortgage. If you prefer a more straightforward application, consider InterBay, Cambridge & Counties Bank, Assetz Capital, Mansfield Building Society, or Together Finance
Additional considerations
As Proplend is a comparatively young business, and peer-to-peer lending on mortgages is still a relatively new model, this business is yet to reach profitability. However, Proplend has confirmed that its first six VAT loans have now been repaid in full. This should ensure that investors feel safe with this business model, and will continue to pump money into Proplend – and, by extension, allow more SMEs to obtain a commercial mortgage this way.
FAQ
How do I apply for finance from Proplend?
You can call Proplend on 020 3637 8418 to discuss your options, or make a written inquiry through the website and wait for a callback.
What is the difference between borrowing from Proplend and taking out a commercial mortgage with a bank?
If you invest in commercial property through Proplend, your interest rate will be fixed for the duration of the loan – you will not be switched to a variable rate after a set time. However, you will likely need to pay a higher deposit and the repayment term may be shorter.
If I borrow from Proplend, who supplies the funds?
All mortgage funds from Proplend are provided by third-party investors. Proplend does not hold a central vault of money that is assigned to borrowers.
Does Proplend offer any unsecured lending?
No, all commercial mortgages provided by Proplend will need to be secured to protect investors.
How much can I borrow from Proplend?
The maximum mortgage loan Proplend offers is £5,000,000, but how much you are eligible for will depend on your financial circumstances, the value of the commercial property, and how large a deposit you are able to pay upfront.
Will Proplend charge a product fee for a commercial mortgage?
Yes, you will be charged an additional 2% of the total amount borrowed as an arrangement fee by Proplend.