Revel Systems is a leading cloud-based point of sale (POS) solution provider, widely known for its robust feature set and scalability. In this article, we will delve into the company's offerings, assess its pros and cons, and present alternatives.
Compare options for taking card payments
Headline numbers
Over 20,000 customers across 75+ countries
More than $25 billion processed annually
Approximate growth rate of 20% YoY
300+ integrations available
24/7 live customer support
Revel Systems fees and charges
| Product name | Revel POS System |
| --- | --- |
| Contract Length | 3 years |
| Terminal Cost | Approx. £500 – £900 per terminal |
| Consumer Card Fees | Typically 1.2% – 2.2% + 20p per transaction |
| Business Card Fees | Typically 1.8% – 2.5% + 20p per transaction |
| Card Not Present (CNP) Fees | Typically 1.9% – 2.4% + 20p per transaction |
| Minimum Monthly Charge | Starting at £75 |
| Refund Fees | Approx. £0.20 – £0.50 per transaction |
| Chargebacks | Approx. £15 per instance |
| Replacement Reader | Approx. £90 – £260 |
| Receipt Rolls | Approx. £15 per box of 50 rolls |
| Paper Billing (optional) | Approx. £4 per month |
| PCI Compliance | Included in the service |
| Early Termination | Varies, potential for substantial fees up to £600 |
Revel Systems fees and charges
While this table provides an approximation, it's crucial for businesses to get a custom quote from Revel Systems directly to get the most accurate information for their unique situation.
Company information
| Detail | Information |
| --- | --- |
| Founded | 2010, San Francisco, CA, USA |
| Website URL | www.revelsystems.com |
| Phone Number | +44 20 3808 1036 |
| FSCS Protected | No |
| FCA Regulated | No |
Company information
Pros and cons of Revel Systems
Pros
Feature-rich and customisable POS solution.
24/7 live customer support.
Scalable and capable of handling large volumes of transactions.
Cons
Higher price point compared to other POS solutions.
Initial setup can be complex and time-consuming.
Some users find the system not as intuitive.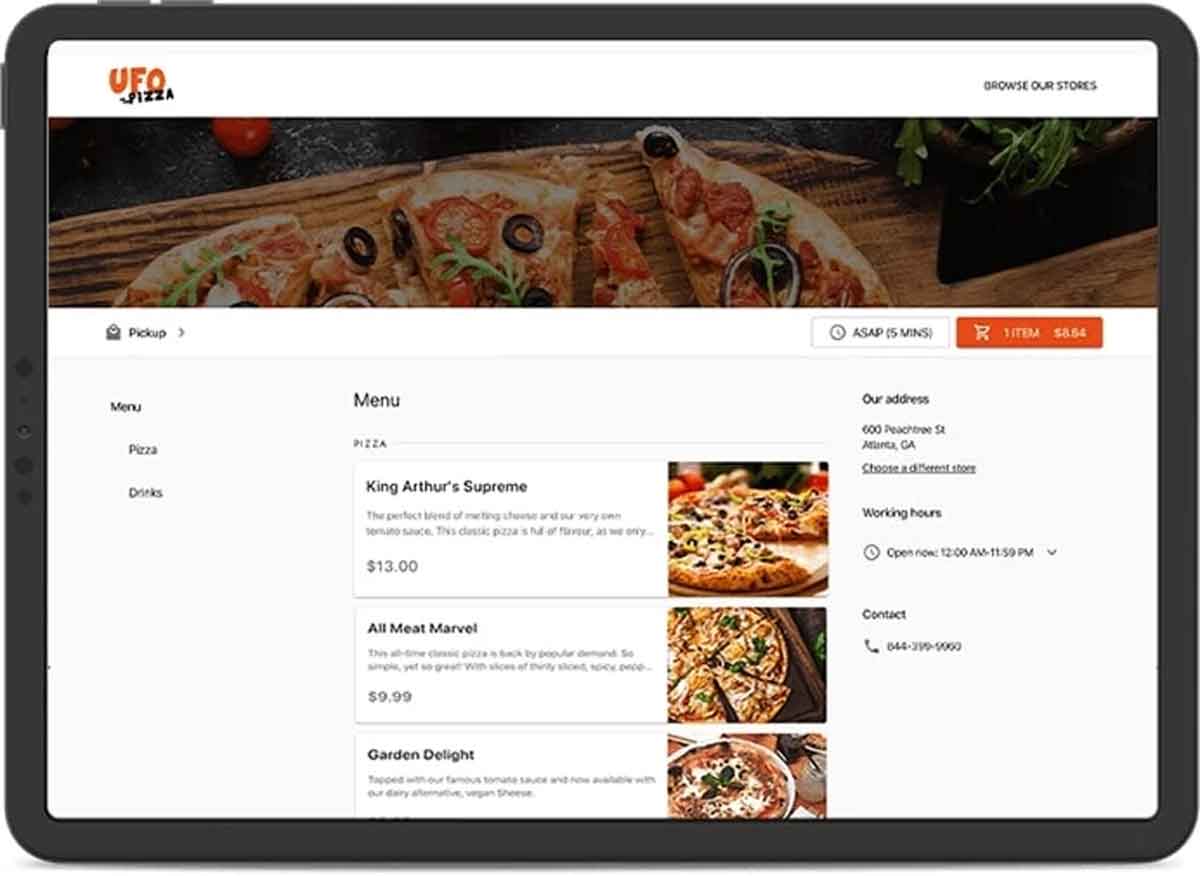 Revel Systems products and services
Revel POS System
A comprehensive solution enabling businesses to manage payments, inventory, CRM, and much more. It is designed for industries like food service, retail, and speciality shops. The pricing begins at £99 per month.
Revel Enterprise
This service is for businesses requiring advanced reporting, centralised management, and enhanced security. Revel Enterprise pricing is custom, based on business requirements.
Revel Insights
A business intelligence tool, it allows for detailed tracking and analysis of sales, inventory, and labour data. Pricing details are available on request.
Revel Delivery Management
This is an add-on feature that allows businesses to manage delivery logistics seamlessly. It offers real-time driver tracking, automated dispatching, and delivery time estimation. Pricing is custom based on the business's specific requirements.
Revel Customer Display System (CDS)
The CDS is a dedicated screen that provides customers with a clear view of their order, price, and loyalty programme information during checkout. Pricing details are available upon request.
Revel Self-Service Kiosk
This product provides customers with the option to place orders via a touch screen kiosk. It can help reduce queues and increase order accuracy. The pricing is custom-based depending on the requirements.
Revel Online Ordering
This add-on enables businesses to set up online ordering through their own website or mobile app, fully integrated with the POS system for a seamless experience. Pricing details are available upon request.
Revel Kitchen Display System (KDS)
This system streamlines kitchen operations by displaying food orders clearly and in real-time, helping reduce preparation time and errors. Pricing is provided on a case-by-case basis.
Revel Systems reviews
| Review source | Score |
| --- | --- |
| TrustPilot | 4.0/5 |
| Google Reviews | 4.2/5 |
| Reviews.io | 3.9/5 |
| Average | 4.03/5 |
Revel Systems reviews
Alternatives to Revel Systems
Square: Known for its simplicity and lower pricing.
Toast: Specialised POS for the food service industry.
Vend: Great for retail businesses, offering strong inventory management features.
Additional considerations
While Revel Systems offers a comprehensive POS solution, it's essential for businesses to thoroughly assess its features against their unique requirements. With a higher price point and more complex setup, it's well-suited for businesses with high transaction volumes and diverse operations.
Revel Systems company history
Founded in 2010 in San Francisco, Revel Systems set out to revolutionise the POS industry by offering a cloud-based solution that integrates operations, payments, and customer management. Over the past decade, it has grown substantially, servicing businesses across 75+ countries and processing billions of dollars annually.
FAQ
Is Revel Systems suitable for small businesses?
While Revel Systems can cater to small businesses, its high price point and comprehensive feature set may be more than what a small business requires.
Does Revel Systems offer training and support?
Yes, Revel Systems offers 24/7 live customer support and provides comprehensive training during the setup process.
Can I integrate Revel Systems with other software I use in my business?
Yes, Revel Systems offers over 300 integrations including with software like QuickBooks, Shopify, and Mailchimp.
How secure is Revel Systems?
Revel Systems provides high-grade security measures, including end-to-end encryption and compliance with PCI DSS standards, to ensure all transactions are secure.
Is it possible to use Revel Systems for multi-location businesses?
Yes, Revel Systems is scalable and allows you to manage multiple business locations from a single platform.
Does Revel Systems support contactless payments?
Yes, Revel Systems supports various payment methods, including contactless, chip and pin, mobile payments, and traditional magnetic stripe cards.
Can Revel Systems handle online orders and delivery?
Yes, Revel Systems can integrate with online ordering platforms and delivery services, providing a seamless omnichannel experience.
Is there a contract or is it a month-to-month service?
Revel Systems typically requires a three-year contract for their POS system, but it's best to discuss terms directly with the company as they may offer different options based on specific business needs.
Can Revel Systems be customised according to my business needs?
Absolutely, Revel Systems is known for its high degree of customisability, allowing businesses to adapt the system to their unique operational needs.
What industries is Revel Systems best suited for?
Revel Systems provides services to a broad range of industries, including food service (restaurants, cafes, etc.), retail, and speciality shops. However, the feature-rich and scalable nature of Revel Systems makes it adaptable to numerous other industries as well.