Santander came to the world of business banking comparatively late, only starting to accept business customers in 2014.
Compare business bank accounts
What are you looking for?
In partnership with
Tide

Co-Op Business Banking
✓ Business Current Account
✓ Online, App & High Street Banking
✓ Quick & Easy Application Process


HSBC Business Banking
✓ Business Current Account
✓ In-Branch, Online & App Banking
✓ FSCS Protected


Metro Business Banking
✓ Business Current Account
✓ High Street Presence
✓ FSCS Protected


Mettle Business Banking
✓ Business Bank Account
✓ Online & App
✓ Quick & Easy Application Process


Monzo Business Banking
✓ Business Current Account
✓ Dedicated mobile app experience
✓ FSCS Protected


Tide Business Bank Accounts
✓ Free, Plus, or Pro Account
✓ iOS & Android Mobile App
✓ Upload & Auto-Match Receipts


Virgin Money
✓ Business M Account
✓ In-Store, Online & App Banking
✓ Insights & Forecasting Platform

Evidently, this has been a roaring success – Santander is not currently accepting applications for new business accounts – you'll need to have an existing business account to entrust this high street giant with your business finance with more of your money.
If you do qualify, you will have a choice of two accounts and a range of savings options, but if you do not have an existing relationship with Santander you'll need to look elsewhere.
Santander business banking services
Pros and cons of Santander for business services
| Pros of Santander | Cons of Santander |
| --- | --- |
| ✓ Discounts available on monthly fees | ✗ Not accepting new applications at present |
| ✓ Lower interest on an overdraft than most | ✗ Non-discounted monthly fees quite high |
| ✓ Cashback available on 1|2|3 accounts | ✗ Less-than-stellar savings interest rates |
| ✓ FSCS protected | |
Santander business banking pros and cons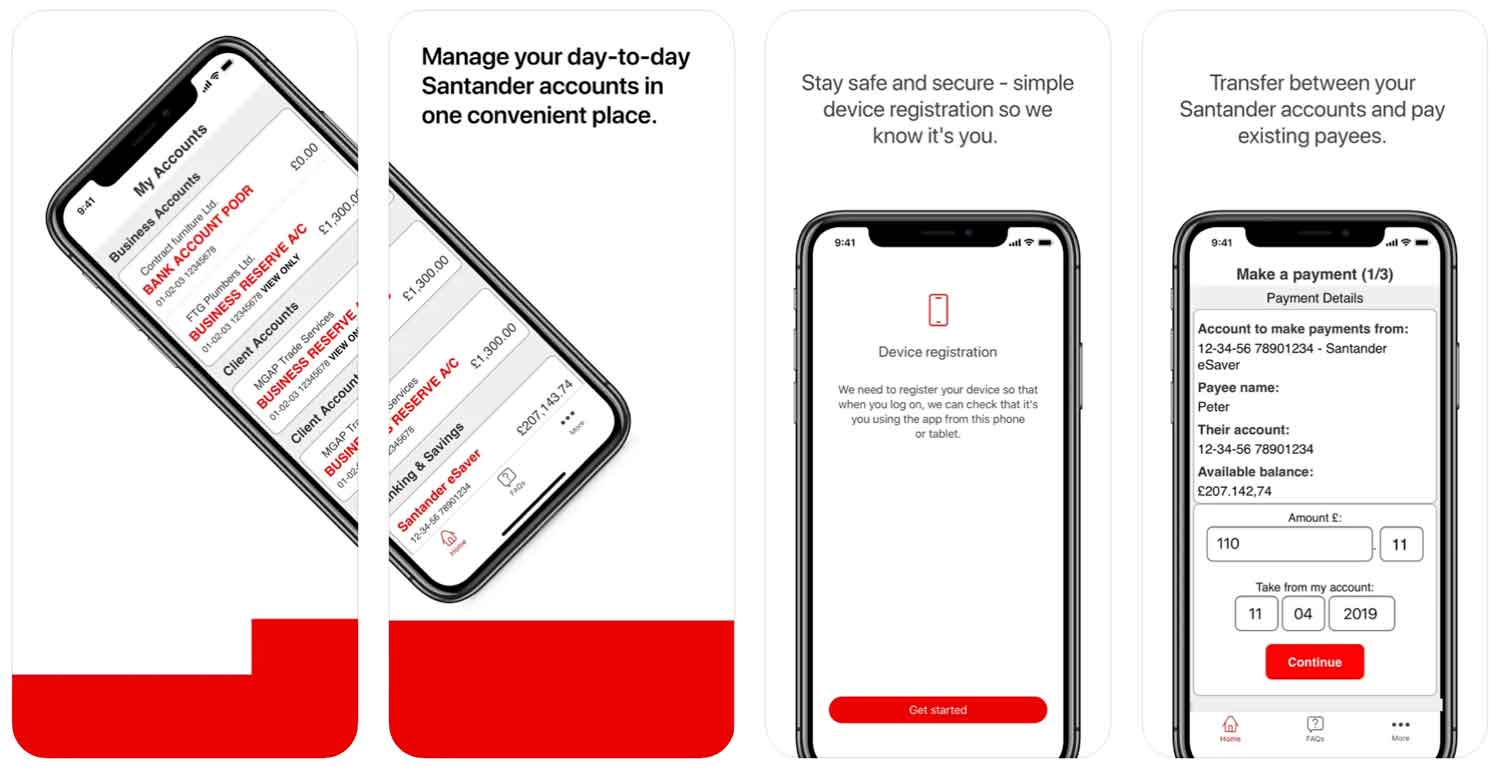 Business current accounts
If you already have a Santander business account, you can apply for another. If you are new to Santander, you will need to approach a different provider. This bank is not taking on new business account customers right now.
If you are eligible for a Santander account, you have two choices. Both can be managed using the Santander app, through online banking, or at a branch of Santander.
Business Current Account
For a monthly fee of £7.50 (free for 18 months,) you can enjoy a basic bank account devoid of microtransaction fees related to electronic banking.
1|2|3 Business Account
This account is priced at £12.50 per month (discounted to £5 for the first 18 months,) but offers cashback on your annual turnover. If your turnover is below £20,000 you will earn 1% of cashback, a turnover between £20,000 and £29,999,999 earns 2%, and £300,000 or more pays 3%. You will not be charged for electronic transactions or ATM withdrawals.
Business overdrafts
Santander offers business overdrafts of up to £25,000 at a competitive interest rate of 10%. That is lower than most competitors.
Business savings accounts
Santander business customers will also enjoy access to a choice of three savings accounts.
Business Everyday Saver
Access your funds at any time, transferring to your business current account through the app if you desire, and earn interest at an AER of 0.60%.
Business Reward Saver
Similar to the Business Everyday Saver in that you can access your funds immediately, but you will be rewarded for not making withdrawals. Interest is paid at a rate of 0.80% in a month the account is untouched, dropping to 0.40% if you do remove funds.
Fixed Rate Business Bond
Save between £5,000 and £5,000,000 for one year at a fixed interest rate of 1%. Upon maturity, the interest rate will drop to 0.60% but you can access the funds at any time.
Santander at a glance
| | |
| --- | --- |
| Phone number | 0800 9 123 123 |
| App downloads | iOS; Android |
| Website | www.santander.co.uk/business |
| Number of branches | 444 |
| FSCS protected? | Yes |
| Founded | 1857, Santander, Spain |
Key information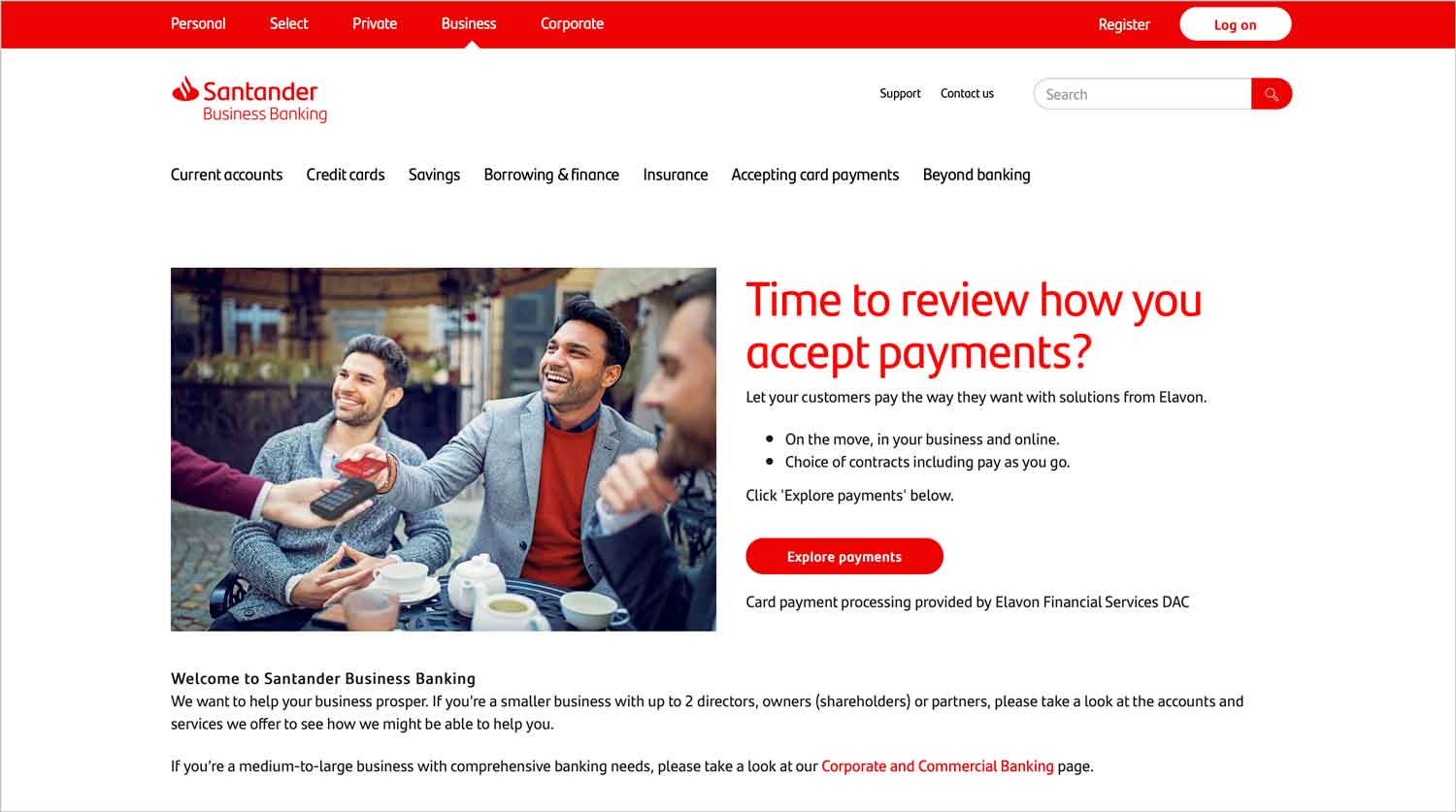 Santander business loans and finance
If you have a Santander business current account, you can apply for a business credit card. Representative APR is 23.7%, and you will earn 1% cashback on any spending.
Santander reviews
What are other business banking customers saying about Santander Business?
| Review platform | Score | Number of votes |
| --- | --- | --- |
| TrustPilot | 1.3/5 | 5,760 |
| Feefo | Not reviewed | N/A |
| Reviews.co.uk | Not reviewed | N/A |
| Smart Money People | 3.9/5 | 1,957 |
| Which? | Not reviewed | N/A |
| Average score | 2.6/5 | 7,717 |
Santander business banking reviews and ratings
Santander business eligibility criteria
As we have pointed out previously, Santander is not accepting applications for business accounts from new customers. If you already have a Santander account and are looking for a second, you have already passed this bank's criteria checks.
Santander business finance alternatives
As you will not be able to open a Santander account as a new customer, TSB is perhaps the closest competitor in terms of products available, though this provider will not offer business customers a credit card.
Alternatively, explore rival high street banks, most of whom offer more variety in current account and savings options for comparable monthly fees.
Santander additional considerations
Santander has been locked in a legal battle with a major Italian businessman for several years over an aborted offer of a Chief Executive role. The bank has been ordered to pay Andrea Orcel £43,500,000 in damages – reduced from £51,500,000 on appeal.
FAQ
Is Santander a proper bank?
Yes, Santander is a proper bank. It is one of the largest banks in Europe with offices across the continent and more than 140 million customers worldwide. Santander offers a range of financial products and services, including deposit accounts, mortgages, loans, credit cards, investments, insurance and more. The bank is regulated by the authorities in each country where it operates, and its customers' money is protected by the financial services deposit guarantee schemes in those countries.
How to open a Santander business account?
Opening a Santander business account is easy. You can open an account online, by phone, or in person at one of the bank's many branches. To open an account, you will need to provide documents like your tax identification number, evidence of your company's address and details about its activity. Additionally, you may also need to provide a letter from your accountant or lawyer. Once the documents are approved, you can start using the account and take advantage of Santander's services.
What fees does Santander charge for its business accounts?
Santander offers business accounts with low monthly fees and competitive interest rates. However, you may be charged for certain services like deposits, withdrawals and transfers. Santander also charges commission on some transactions like foreign exchange and payment processing. Additionally, there may be additional costs associated with using other products such as credit cards, loans or investments.
What services does Santander offer to businesses?
Santander offers a wide range of services to businesses, ranging from simple banking products like current accounts and deposit accounts to more complex financial solutions such as loans, mortgages and investments. The bank's online platform gives businesses access to their account information at any time and enables them to carry out transactions easily. Additionally, Santander also provides business advice and support.
What types of payments does Santander accept?
Santander accepts payments from a range of methods, including credit and debit cards, direct debits, bank transfers and e-wallets. The bank also provides its own payment gateway to facilitate fast and secure online transactions. Additionally, Santander supports Apple Pay and Google Pay for contactless payments.