Are you considering TSB business banking? Few financial bodies have been through as many changes and adjustments as TSB over the years. Initially formed as Trustee Savings Bank in 1810, this bank has been dissolved and merged with other groups – most notably Lloyds – before returning to the high street as a standalone bank in 2013.
Compare business bank accounts
What are you looking for?
In partnership with
Tide

Co-Op Business Banking
✓ Business Current Account
✓ Online, App & High Street Banking
✓ Quick & Easy Application Process


HSBC Business Banking
✓ Business Current Account
✓ In-Branch, Online & App Banking
✓ FSCS Protected


Metro Business Banking
✓ Business Current Account
✓ High Street Presence
✓ FSCS Protected


Mettle Business Banking
✓ Business Bank Account
✓ Online & App
✓ Quick & Easy Application Process


Monzo Business Banking
✓ Business Current Account
✓ Dedicated mobile app experience
✓ FSCS Protected


Tide Business Bank Accounts
✓ Free, Plus, or Pro Account
✓ iOS & Android Mobile App
✓ Upload & Auto-Match Receipts


Virgin Money
✓ Business M Account
✓ In-Store, Online & App Banking
✓ Insights & Forecasting Platform

Considerably smaller than many high street rivals, TSB does not offer as many products as some of the bigger names in the financial sector, but the fees are affordable and this bank offers a fine, basic bank account for small businesses and sole traders.
TSB business banking services
Pros and cons of TSB for business services
| Pros of TSB | Cons of TSB |
| --- | --- |
| ✓ Free banking for 30 months | ✗ Fewer branches than high street rivals |
| ✓ Flexible policies on depositing funds | ✗ App can be a little unreliable |
| ✓ In-house accounting software | ✗ £5 monthly fee after 30 months |
| ✓ FSCS protected | ✗ Limited savings options |
Pros and cons of TSB business banking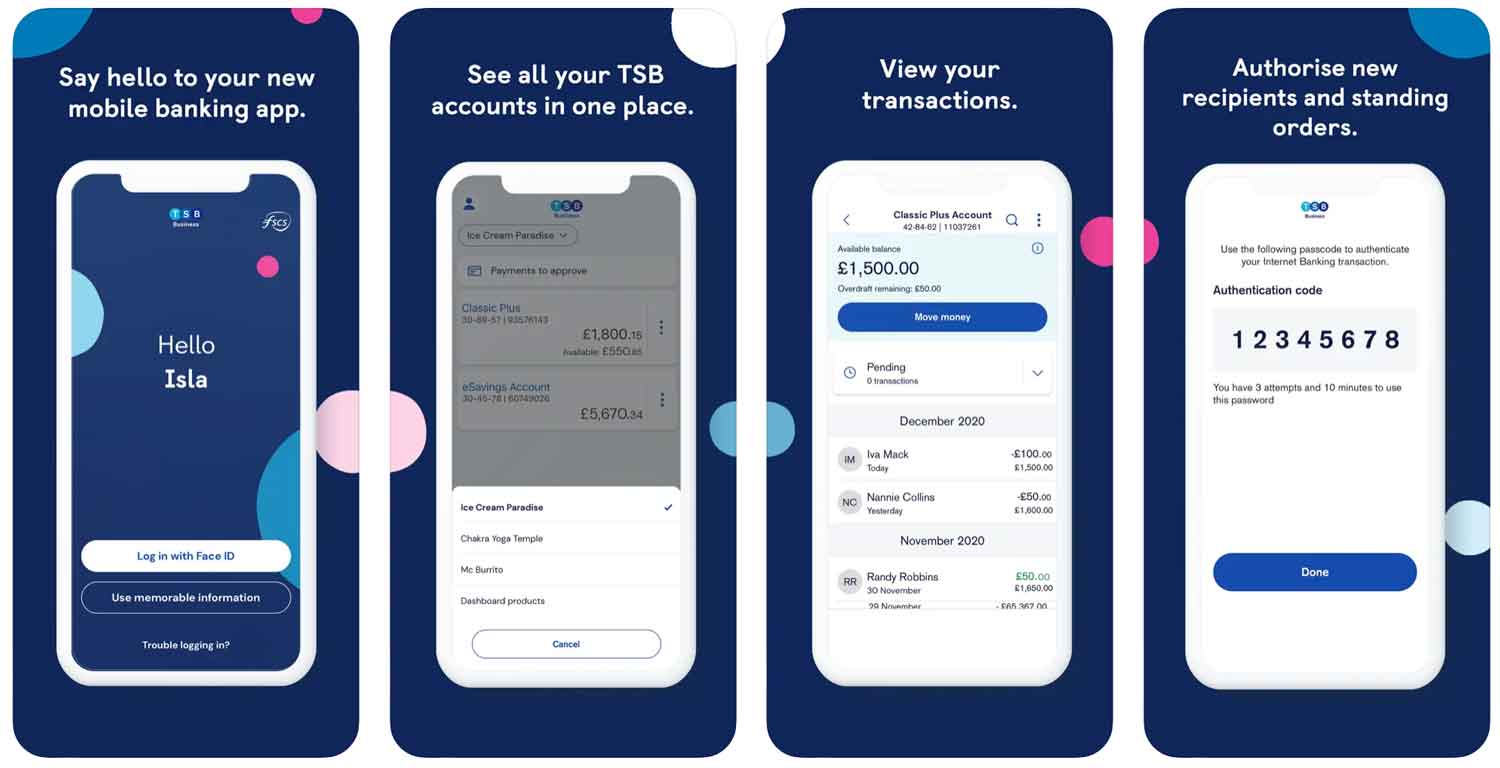 Business current accounts
TSB offers one basic business bank account for business customers of all sizes. This account is completely devoid of charges for 30 months (assuming you do not exceed any agreed overdraft limits) before issuing a £5 monthly fee. This will be waived if you keep your balance above £10,000 for a full calendar month.
Electronic transfers in or out of the account will be free of charge, but a 70p charge applies to cash or cheque transactions.
This account will provide a business debit card (but no business credit cards), three months of free access to TSB's in-house accountancy software Revenu, one year of free business advice and support from Enterprise Nation, and a variety of offers related to Square if your business accepts card payments.
Business overdrafts
TSB offers business overdrafts. Your overdraft limit and interest rate will be discussed and set upon application.
Business savings accounts
Holders of a TSB business account will also be provided with a Business Savings Account. This can hold funds of £1 or more and attracts daily interest at an AER of 0.65% (balances below £5,000) or 0.90% (balances above £5,000.) You can access the funds at any time, transferring the money to your business current account within the app.
TSB at a glance
| | |
| --- | --- |
| Phone number | 020 3284 1575 |
| App downloads | iOS; Android |
| Website | www.tsb.co.uk/business |
| Number of branches | 220 (England, Scotland, and Wales only) |
| FSCS protected? | Yes |
| Founded | 1810 originally, 2013 in its current incarnation |
Key information
TSB business loans and finance
TSB also provides the following products to business customers:
Base Rate Loan
A variable rate business loan, with interest charged according to the Bank of England base rate, for sums of £25,001 or above.
Fixed Rate Loan
Borrow between £1,000 and £1,000,000 between one and ten years, at a fixed interest rate to be assigned upon application.
Commercial Mortgages
Mortgages for businesses are available at a loan-to-value ratio of 75%, repayable for up to 25 years. See best commercial mortgages.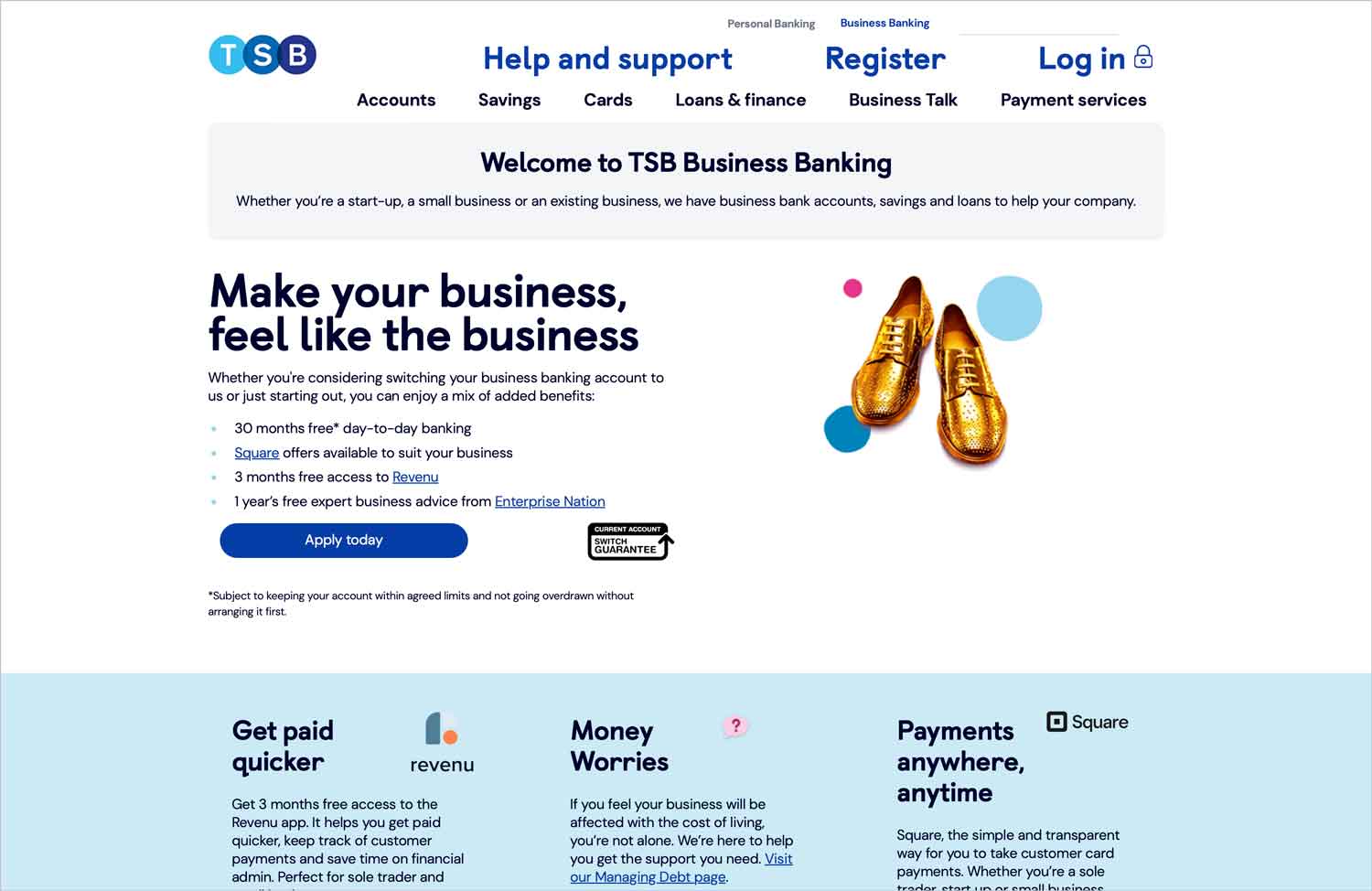 TSB reviews
What are other business banking customers saying about TSB Business?
| Review platform | Score | Number of votes |
| --- | --- | --- |
| TrustPilot | 4.0/5 | 17,827 |
| Feefo | Not reviewed | N/A |
| Reviews.co.uk | Not reviewed | N/A |
| Smart Money People | 2.19/5 | 42 |
| Which? | Not reviewed | N/A |
| Average score | 3.1/5 | 17,869 |
TSB business banking reviews
TSB business eligibility criteria
TSB is not particularly fussy about who opens a business account. As long as you can prove your identity and address, and are not currently declared bankrupt or excluded from running a business, your application should be accepted.
TSB business finance alternatives
Some business customers may consider TSB something of a halfway house between a high street bank and a challenger. It's cheaper than any of the "Big Four" but offers fewer products and branches, while it arguably offers a little more than a challenger but can be more expensive. Decide if you feel that TSB will meet your needs as a business.
TSB additional considerations
TSB is taking steps to combat the closure of high street branches by trialling "banking pods" that allow customers to complete transactions without the aid of counter support.
FAQ
Is TSB a proper bank?
Yes, TSB is a proper bank. It is a retail and commercial banking business that serves nearly five million customers in the UK. It offers a range of personal and business banking services, including current accounts, savings accounts, loans and mortgages. As it is authorised by the Prudential Regulation Authority (PRA), it is subject to the same rules and regulations as other UK regulated banks. This means that customers are always protected by the Financial Services Compensation Scheme (FSCS), which provides financial protection in the case of a bank becoming insolvent or failing to meet its obligations.
How to open a TSB business account?
Opening a TSB business account is straightforward and can be done online. To open an account, you'll need to provide basic information about your company, including your company name, address, registration number and activity type. You'll also need to provide details of who will be authorised to operate the account. After completing the application form, TSB will review your application and contact you with a decision. Once approved, they'll provide you with an account number and other details so that you can start using the account straight away.
What fees does TSB charge for its business accounts?
TSB charges a low monthly fee for its current business accounts. Also, there may be fees for specific services that you use, such as international payments and cash withdrawals. It's a good idea to check with TSB before signing up for any of these services to make sure you know exactly what fees you'll be charged.
What services does TSB offer to businesses?
TSB offers a range of services to businesses, including current accounts, savings accounts, loans and mortgages. It also offers specific business banking services such as foreign exchange payments, Merchant Services for accepting card payments, Business Mobile Banking and Cash Collection services.
What types of payments does TSB accept?
TSB accepts a range of payment methods, including bank transfers, debit cards and credit cards. Certain services may also accept other forms of payments such as PayPal or Apple Pay. It's worth checking with TSB first to make sure that the payment method you want to use is accepted.