Handepay is a UK-based independent merchant services provider that assists businesses of all sizes in reducing their costs for card payment processing. With its comprehensive range of solutions, which includes card machines, online payment gateways, and virtual terminals, Handepay stands as a go-to choice for businesses looking for flexibility and cost-effectiveness.
Compare options for taking card payments
This article delves into the details of the services provided by Handepay, its pricing, and how it compares to its competitors.
Headline numbers
Over 30,000 businesses served across the UK
Established presence with more than 15 years in the business
Up to 40% savings on card processing fees claimed
24/7 customer service available
Free 'Cost Analysis' service offered to prospective customers
Handepay data and fees
| Fee Category | Information |
| --- | --- |
| Card Reader Name | Handepay Card Machine |
| Contract Length | Typically 18-month minimum term |
| Terminal Cost | £200-£500 depending on model and capabilities |
| Consumer Card Fees | 0.5%-1.5% per transaction |
| Business Card Fees | 1.0%-2.5% per transaction |
| Card Not Present (CNP) Fees | 1.0%-2.5% per transaction |
| Minimum Monthly Charge | £20 (estimated) |
| Refund Fees | £0 (No additional charge for processing refunds) |
| Chargebacks | £10-£20 per occurrence |
| Replacement Reader | £100-£200 depending on model |
| Receipt Rolls | £10-£20 per pack |
| Paper Billing (optional) | £5 per paper statement |
| PCI Compliance | £5 per month (estimated) |
| Early Termination | Variable, may be based on remaining contract value |
Company information
| Category | Information |
| --- | --- |
| Founded | 2006, Merseyside, UK |
| Website URL | www.handepay.co.uk |
| Phone Number | 0800 377 7382 |
| FSCS protected? | No (Financial Services Compensation Scheme protection not applicable to payment processors) |
| FCA regulated? | Yes |
Key information
Pros and cons of Handepay
Pros
Handepay offers a wide range of solutions for businesses seeking to process card payments, either in-store, online, or through virtual terminals.
They offer a price match promise, meaning they are committed to matching or beating your current payment processing fees, which can make their services quite affordable for many businesses.
Furthermore, they provide a free 'Cost Analysis' service to prospective customers, giving transparency on potential savings before any commitment.
Cons
However, Handepay operates on a contract basis, which may not suit businesses seeking month-to-month options.
While their customer service is available around the clock, there have been mixed reviews regarding their efficiency and responsiveness.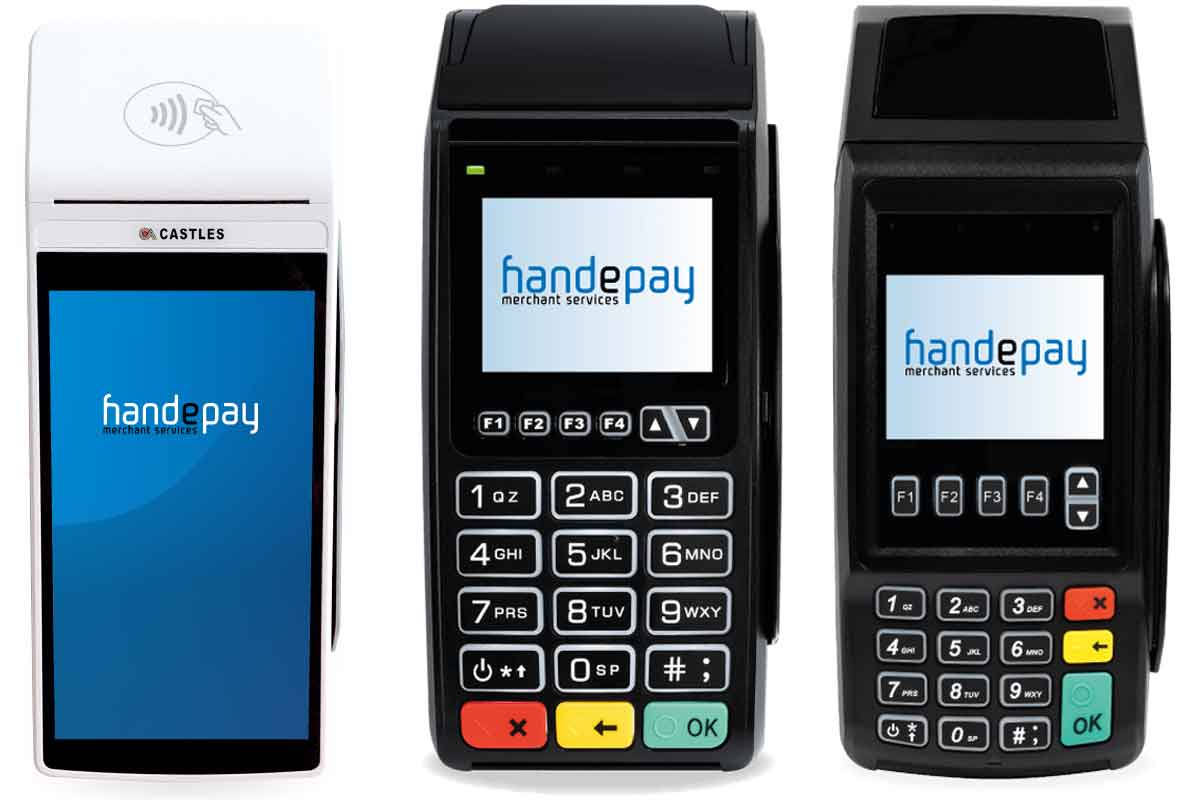 Handepay products and services
Card Machines
Handepay offers countertop, portable, and mobile card machines to cater to various business needs. The machines accept all major card types and contactless payments. Costs are bespoke to each business, so businesses would need to get in touch with Handepay for a quote.
Online Payment Gateways
The payment gateway service provides a secure way for businesses to process payments online, integrating with most e-commerce platforms. Pricing is bespoke and dependent on business needs and volume of transactions.
Virtual Terminal
Ideal for businesses taking payments over the phone or by mail order. Handepay's virtual terminal allows businesses to process payments in a secure web-based interface. Prices are customised to each business.
Pay by Link
This service allows businesses to take payments remotely by sending customers a secure payment link via email. Like their other services, the pricing is bespoke.
EPOS Systems
Handepay also offers electronic point of sale (EPOS) systems that integrate payment processing with sales reporting and stock management. It's a comprehensive solution that streamlines multiple aspects of business operations. The cost for the EPOS system will depend on the specific requirements of the business.
Cash Advance
For businesses in need of a cash injection, Handepay offers a Merchant Cash Advance product, which is a quick and flexible funding solution. This operates as an advance on future card sales, and repayments are made as a fixed percentage of your daily card takings.
PDQ Machines
Handepay provides PDQ (Process Data Quickly) machines that offer a fast and secure method for processing credit and debit card transactions. The cost of PDQ machines is provided on a quote basis, depending on the needs and scale of the business.
Each of these services is designed to suit different business needs and operational scales, thereby offering flexibility and adaptability to a wide range of clients.
Handepay reviews
| Platform | Rating |
| --- | --- |
| TrustPilot | 4.8/5 |
| Google Reviews | 4.2/5 |
| Reviews.io | 4.5/5 |
| Average | 4.5/5 |
Handepay reviews
Alternatives to Handepay
When considering alternatives to Handepay, businesses may look at other merchant services providers like Square, PayPal, and WorldPay. These companies offer similar services but have different pricing structures and contract terms.
Additional considerations
Before choosing a payment processing provider, businesses should consider factors such as contract length, cancellation fees, and the provider's reputation for customer service. Handepay offers a promising package, but like any business decision, it requires careful consideration.
Handepay company history
Handepay was founded in 2006 in Merseyside. Over the years, they have grown significantly, now serving over 30,000 businesses across the UK. Their mission has been consistent: to provide affordable, straightforward and honest card payment solutions.
FAQ
Is Handepay suitable for small businesses?
Yes, Handepay caters to businesses of all sizes, offering tailored solutions to meet the specific needs of each business.
What are the contract lengths with Handepay?
Contract lengths can vary but typically Handepay operates on an 18-month minimum term.
Can I use Handepay for online payments?
Yes, Handepay offers secure online payment gateways that integrate with most e-commerce platforms.
What types of cards can Handepay machines accept?
Handepay machines can accept all major card types including Visa, Mastercard, and American Express, along with contactless payments.
Can Handepay handle foreign card transactions?
Yes, Handepay's card machines are capable of processing payments from foreign cards.
Does Handepay provide cash advance services?
Yes, Handepay offers a Merchant Cash Advance product for businesses needing a quick cash injection. This operates as an advance on future card sales.
Does Handepay support mobile payments?
Yes, Handepay offers mobile card machines that are ideal for businesses that operate across multiple locations or on-the-go.
What is Handepay's 'Price Match Promise'?
Handepay's 'Price Match Promise' means they will match or beat your current payment processing fees. They aim to provide a cost-effective solution for businesses.
Can I integrate Handepay's services with my current EPOS system?
Handepay offers its own EPOS system, but its payment services can often integrate with other EPOS systems. However, it's best to consult with Handepay for specifics related to your particular system.
How does Handepay's 'Pay by Link' service work?
'Pay by Link' allows you to send a secure payment link via email to your customers, facilitating payments without the need for a physical card machine.