Iwoca enjoys an excellent reputation for business loans online thanks to the speed and flexibility with which this lender turns around applications for financing.
The flagship product of Iwoca is a flexi-loan, unsecured borrowing between £1,000 and £50,000 that attracts interest daily, so the sooner you repay the loan, the less you will owe Iwoca in interest.
Iwoca also offers revenue based loans, which are a form of merchant cash advance – you will repay what you can afford based on your income generated on any given month.
While Iwoca is not the cheapest lender on the market, it's one of the most inviting to SMEs and sole traders – and funds are paid out in record time for successful applicants.
Iwoca business loans and finance
Pros and cons of Iwoca for business loans and finance
| Pros | Cons |
| --- | --- |
| ✓ Loans of up to £500,000 available at short notice | ✗ APR on loans can be high if you allow the borrowing to to run to term |
| ✓ Transparency on fees and repayments required upon a successful application for funding | ✗ Minimum annual turnover of £50,000 required for loans, or monthly income of £500 for revenue based lending |
| ✓ Successful applications pay out extremely quickly – Iwoca claims the record is under 3 minutes | ✗ Not regulated by the FCA |
| ✓ Greater flexibility on lending than a bank – decisions are not based solely on a credit score | ✗ Must have been trading for at least 6 months for a revenue based loan, and 12 months for other borrowing |
| ✓ Members of the Consumer Credit Trade Association (CCTA), so some regulation is at play | ✗ Borrowing is capped – £10,000 for start-ups, 10% of income for flexi-loans, and twice your monthly take for revenue based loans |
Iwoca business loans pros and cons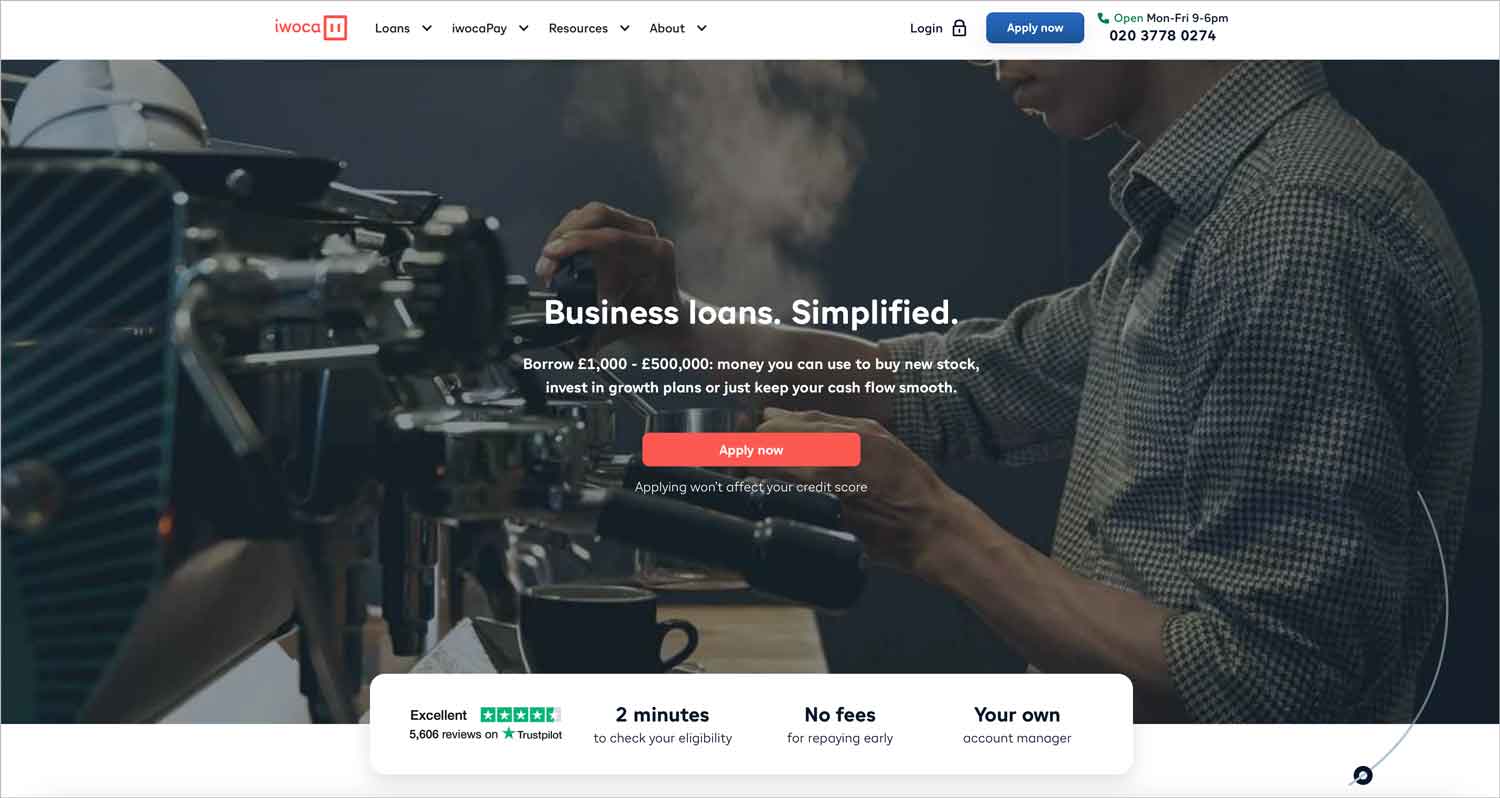 Business loans
While the Iwoca website discussed multiple types of business loans, the unsecured business loan by this company comes under one central banner, known as the flexi-loan. Flexi-loans are available to any business that has been trading for at least 12 months and has an annual turnover of £50,000 or higher.
This was the original product offered by Iwoca, and the product that made this lender's reputation. A flexi-loan can be taken out for between £1,000 and £500,000 (limited to £10,000 for start-ups) and repaid for any term from 24 hours to two years. Your credit limit will usually be around 10% of your annual income.
It only takes five minutes to apply for a flexi-loan online, and the decision will be made based on your business performance. Iwoca will ask you to link to your business current account through open banking and an assessment will be made based on affordability, so your credit score will not be a deciding factor.
The term flexi-loan refers to the fact that you can repay any amount above the minimum contractual agreement. Interest is accrued daily, so the sooner you repay the loan, the less you will pay overall. There are no penalty fees for settling your loan early and you will not be charged for 'lost' interest.
This flexibility is important, as these loans can be costly. Based on Iwoca's loan calculator, borrowing £25,000 for 12 months will attract interest at an average rate of 3.33% every 30 days – that's an APR of almost 40%. You could be offered a loan at a higher or lower interest rate – it depends on your financial circumstances. Whatever the offer comes to, paying back your loan early can save you a great deal of money in interest repayments.
Merchant cash advance
While Iwoca uses a different term for this kind of lending – revenue based loan – but the philosophy is the same as a merchant cash advance. If you have been trading for at least 6 months and bring in a minimum of £500 per month from card and invoice-based income, you can apply for a revenue based loan.
Lending from this stream is capped at twice your average monthly income, with a minimum loan of £1,000 and a maximum payment of £100,000.
You will be asked to submit your business statement at the end of each month, and Iwoca will assign a repayment value – capped at 25% – on this. As a result, you'll repay less on lower-income months and more when you turn a greater profit.
Revenue based loans do not attract interest. However, you will be charged a loan fee at the onset of the agreement which is added to the balance due. This could be anywhere from 6% to 20%, so if you borrow £5,000 at a fee of 10%, you will repay £5,500 in total.
Business credit cards
Not available from Iwoca. See best business credit cards.
Asset finance
Not available from Iwoca. See best asset finance.
Invoice finance
Not available from Iwoca. See invoice factoring.
Commercial mortgages
Not available from Iwoca. See commercial mortgages.
Business vehicle finance
Not available from Iwoca. See business vehicle finance.
Iwoca key information
| | |
| --- | --- |
| Phone number | 020 3778 0274 |
| App downloads | N/A – Iwoca does not have an app |
| Website | www.iwoca.co.uk |
| Number of branches | N/A – Iwoca is an online business |
| FSCS protected? | No |
| Founded | 2012 |
Key information
Iwoca reviews
| Review platform | Score | Number of votes |
| --- | --- | --- |
| TrustPilot | 4.7/5 | 5,606 |
| Feefo | Not reviewed | N/A |
| Reviews.io | Not reviewed | N/A |
| Smart Money People | 4.63/5 | 8 |
| Which? | Not reviewed | N/A |
| Average score | 4.665/5 | 5,614 total votes |
Iwoca reviews and ratings
Business eligibility criteria
To qualify for borrowing from your Iwoca, you must meet the following criteria.
Be a registered director of an SME or partnership listed on Companies House, or a sole trader registered with HMRC
Take a minimum business income of £50,000 PA to qualify for a flexi-loan, or £500 per month to qualify for a merchant cash advance. Income can be generated through invoices, card sales, or a combination of both
Have at least 12 months of trading history, with bank statements to prove this
Business finance alternatives
Before committing to a loan or merchant cash advance with Iwoca, consider the alternatives – some of these lenders will offer a superior interest rate, while others will invariably charge more but may be more flexible on who they lend to. Rivals to Iwoca include 365 Business Finance, YouLend, Merchant Money, Capify, Nucleus Commercial Finance, and Liberis.
Additional considerations
Iwoca is increasing in size and scope, funding twice as many SMEs and sole traders in 2022 compared to the previous year and now running at a profit.
FAQ
How do I apply for funding from Iwoca?
It could not be simpler to apply for funding through Iwoca. Head to the lender's website and choose the product that interests you, and complete the form provided. Based on the information you provide, Iwoca will issue you a quote for lending if you are eligible. If you choose to proceed with the borrowing, a soft credit check will be run and the agreement finalised.
How long does it take to receive funding from Iwoca?
If your application for funding from Iwoca is successful and you will not need to answer additional questions or provide additional supporting documents, you should receive your funds within 24 hours – often the very same day.
What documents do I need to provide to get finance from Iwoca?
You will need to furnish Iwoca with proof of your identity and UK address to successfully apply for a loan. Start-ups will also be asked for information on your business idea and eventual goals, any orders or projects that you have in the pipeline, and financial forecasts. Established SMEs and sole traders will be asked to upload 12 months of business bank statements through an open banking portal.
Does Iwoca lend to a business in my industry?
Iwoca does not namecheck any particular industries that it refuses to lend to, but like all financial providers, Iwoca reserves the right to refuse to lend to a particular business if they consider the model to be high-risk.
Will Iwoca run a credit check when I apply for funding?
Upon application for funding from Iwoca, a soft credit check will be run. This will not impact your credit score, but it will reveal any historical financial issues relating to insolvency or other concerns. Overall though, Iwoca tends to base its lending decisions more on affordability than credit history.
What is IwocaPay?
IwocaPay is an additional service offered by this lender. IwocaPay is a payment platform that enables you to accept funds from a business, rather than receiving money via a BACS transfer. Best of all, you can invite your customers to spread their payments over 90 days but Iwoca will transfer you the full balance immediately – no more waiting for a customer to have sufficient liquid finance to settle your bill.