Liberis is a specialist business finance lender with an excellent online reputation that exclusively offers merchant cash advance lending to small businesses that take payments by credit or debit card.
If you have been trading for four months or longer, and process at least £1,500 in card sales each month, you will be able to apply for a cash advance from Liberis, repayable through a percentage of your future sales.
This can be a great way to bolster cash flow in the short term and manage payroll and other expenses during slower trading periods but be warned that Liberis is pretty strict on lending terms. Always ensure that you keep up with at least your minimum contractually agreed repayment, as Liberis will not be shy about pursuing funds owed.
Liberis business loans and finance
Pros and cons of Liberis for business finance
| Pros | Cons |
| --- | --- |
| ✓ Borrow up to £1,000,000 against future sales | ✗ Only available against card payments |
| ✓ £1,500 per month is a lower income threshold than some competitors | ✗ Reputation for being fast to pass debt to collection agencies if you fail to make minimum repayments |
| ✓ Only need to have been trading for four months | ✗ Not regulated by the FCA |
| ✓ Flexible repayment terms to reflect peaks and drops in business income | ✗ Liberis does not offer additional business services beyond merchant cash advances |
| ✓ Excellent online reviews | |
Liberis business finance pros and cons
Merchant cash advance
Merchant cash advance is the only service offered by Liberis, referred as Revenue Finance by this lender. If you have been trading for four months or longer, and generate at least £1,500 per month in card sales, you can borrow between £1,000 and £1,000,000 as a lump sum. If your application is successful, you should receive your money within 48 hours.
How much you can actually borrow depends on how long you have been trading, and your average monthly turnover in sales. If you have been trading for over a year and bring in £2,500 in sales per month, for example, you will be eligible to borrow up to £4,478 in a single application. Younger businesses will have a considerably lower cap placed on borrowing.
The great appeal of Liberis is its flexibility when it comes to repayments. A percentage of your future sales will automatically be siphoned off when you process a card payment and sent to Liberis until your debt is clear. This will be assigned as a percentage of your takings, and you will pay more when you bring in a larger sum, and less if you have a quiet month.
This sounds ideal for seasonal businesses, but be wary of the minimum repayment expectations set by Liberis. This lender is flexible, but only to be a point. While most online reviews are overwhelmingly positive, some business owners complain that Liberis play hardball when minimum repayments are not met, quickly threatening to escalate any money owed to a debt collection agency. If your repayments fall below 3% of the total amount due to Liberis, you will be chased. This makes it inadvisable to take out a cash advance through Liberis if you anticipate a period of extremely low or zero trade.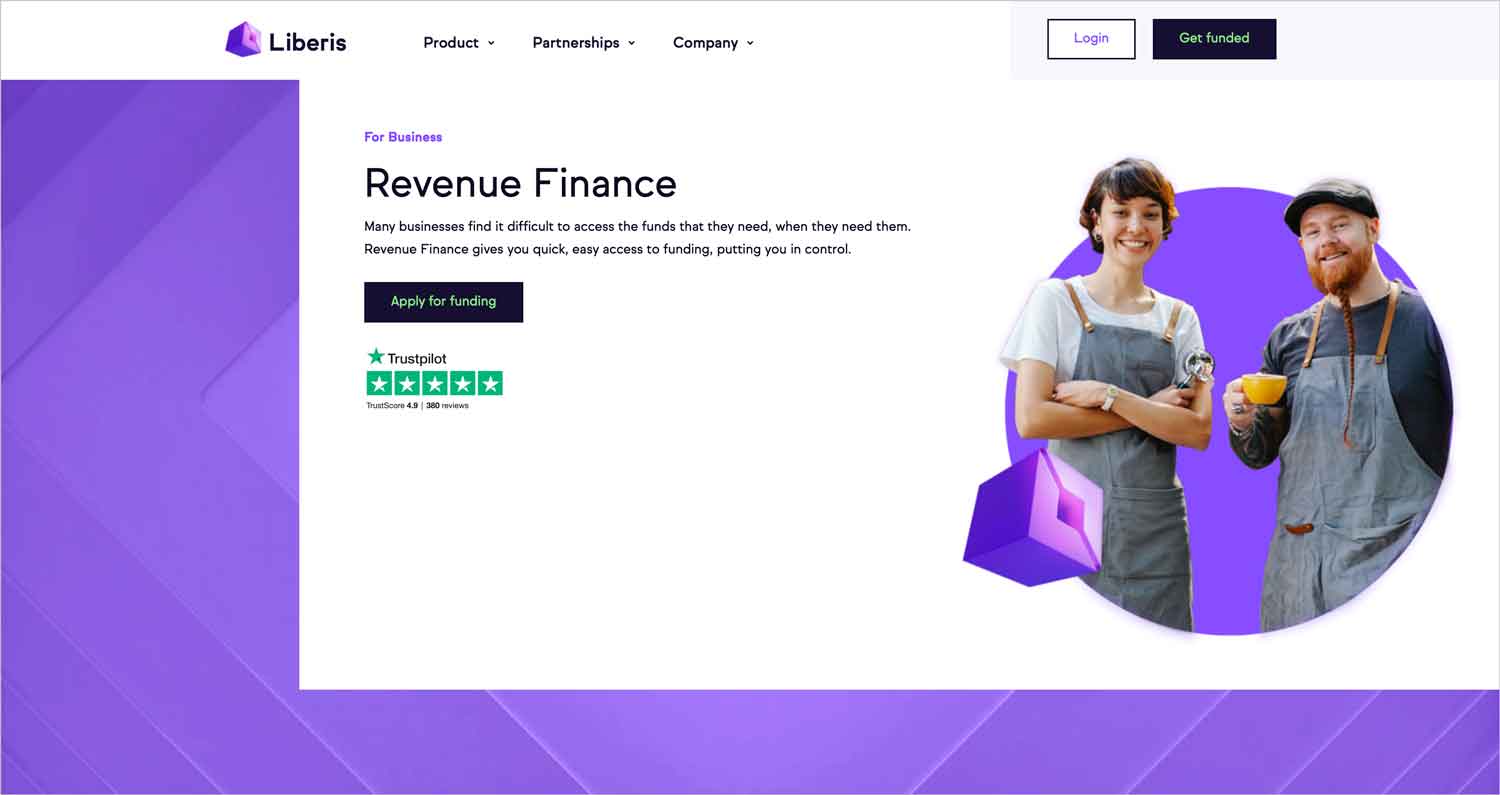 Business loans
✗ Not available from Liberis. See best business loans. 
Business credit cards
✗ Not available from Liberis. See best business credit cards. 
Asset finance
✗ Not available from Liberis. See best asset finance. 
Invoice finance
✗ Not available from Liberis. See invoice factoring. 
Commercial mortgages
✗ Not available from Liberis. See commercial mortgages.
Business vehicle finance
✗ Not available from Liberis. See business vehicle finance.
Liberis key information
| | |
| --- | --- |
| Phone number | 01276 944512 |
| App downloads | N/A – Liberis does not have an app |
| Website | www.liberis.com/product/revenue-based-finance |
| Number of branches | N/A – Liberis is an online business |
| FSCS protected? | No |
| Founded | 2005 |
Key information
Liberis reviews
| Review platform | Score | Number of votes |
| --- | --- | --- |
| TrustPilot | 4.9/5 | 380 |
| Feefo | Not reviewed | N/A |
| Reviews.io | Not reviewed | N/A |
| Smart Money People | 5/5 | 19 |
| Which? | Not reviewed | N/A |
| Average score | 4.95/5 | 399 total votes |
Liberis reviews
Business eligibility criteria
To qualify for borrowing from your Liberis, you must meet the following criteria.
Accept card payments from clients and customers – Liberis does not lend against invoices raised on a credit basis
Take a minimum of £1,500 per month in card transactions
Have at least four months of trading history
Liberis business finance alternatives
Perhaps the most direct alternative and competitor to Liberis is 365 Business Finance, another lender that specialises in merchant cash advances for businesses that take card payments, though this provider has a much higher minimum income threshold for acceptance.
If you also wish to investigate additional lending streams such as business loans or faster payouts alongside cash advances, try Capify, Merchant Money, YouLend, Iwoca, or Nucleus Commercial Finance.
Additional considerations
Liberis is an early adopter of Griffin, the latest challenger app to be offered a UK banking license, in order to streamline lending options for business customers.
FAQ
How do I apply for finance from Liberis?
Head to the Liberis website and confirm which card processor you use to receive business income, and you will be redirected to the website of this business to complete your application. If your card processor of choice is not on the list, they are not a preferred partner of Liberis. This does not mean that funding is impossible, but you will need to discuss your application with Liberis by providing information about your business and discussing the application further.
How long does it take to get finance approved by Liberis?
It typically takes around 48 hours to learn if your application for lending through Liberis has been approved and to receive the requested funds.
How much can I borrow from Liberis?
The minimum you can borrow from Liberis is £1,000, and the maximum is £1,000,000. That is a higher limit than most competitors, though naturally, such a figure will only be open to a business that brings in substantial turnover. A young business that only brings in close to the minimum qualification threshold will likely find lending capped at around 75% of monthly income, while a more established company that turns over six figures a month can borrow up to 200%.
Are there any hidden fees when borrowing from Liberis?
No, when you are provided with a quote you will know exactly how much you will be asked to repay with no nasty surprises down the line. Your repayments will consist of a percentage of your sales plus a one-off fee – no weekly or monthly interest will be accrued throughout the repayment term. 
Does Liberis set a fixed term for repayments?
No, there is no fixed term or deadline for repaying your advance from Liberis. If your sales drop, you can extend the repayment period until they pick up again. However, be warned that some online reviews claim that Liberis are not shy about calling in debt recovery agencies if this lender feels that you are not meeting minimum repayment expectations, which are usually around 3% of the total amount oustanding.
Will I need to secure borrowing from Liberis against an asset?
No, the cash advance provided by Liberis is an unsecured loan, though do bear in mind that Liberis is not regulated by the FCA so some protections and codes of conduct you would expect may not apply.