Merchant Money is an online lender that offers SMEs (and, to a lesser extent, sole traders) an array of financing options including business loans. This provider offers a range of loan products, in addition to cash advances for a business that completes transactions by debit or credit card.
The minimum thresholds for qualifying for loans are higher than many competitors, so you will need to be firmly established and enjoy substantial turnover to take advantage of what Merchant Money has to offer, but those who remain eligible will find plenty of love about this lender.
Merchant Money business loans and finance
Pros and cons of Merchant Money for business finance
| Pros | Cons |
| --- | --- |
| ✓ Wide array of lending streams available across loan and cash advance products | ✗ APR on loans can be high, and you'll need to pay a set-up fee |
| ✓ Merchant Money is regulated by the FCA, and thus needs to follow a set code of conduct | ✗ Minimum annual turnover of £350,000 required for loans, or a monthly income of £10,000 for cash advances on card payments |
| ✓ Successful applicants usually receive funds within 48 hours – 24 hours for cash advances | ✗ Must have been trading for at least 24 months to qualify for a business loan (six months for a cash advance) |
| ✓ Greater flexibility on lending than a bank – decisions are not based solely on a credit score | ✗ Options for sole traders are limited |
Merchant Money pros and cons
Business loans
Merchant Money offers a range of business loans, ensuring that most applicants will qualify for at least one lending stream.
Unsecured business loans
Open to SMEs and limited partnerships (but not sole traders) that have been trading for at least 24 months and bring in a minimum annual turnover of £350,000. This loan will not be secured against any assets, but applicants will need to sign a personal guarantee to cover any repayments if the business cannot meet the contractual agreement.
Merchant Money unsecured business loans can be taken for any sum between £50,000 and £250,000, usually capped at 150% of annual turnover. Repayment terms can be anywhere between 6 and 60 months. A set-up fee will be applied upon agreeing to the loan, and interest will be assigned based on your financial circumstances. This could be as high as 3% per month, which is an APR of 36%.
Sole traders can apply for smaller unsecured business loans of up to £25,000. Contact Merchant Money if this is something that you would like to discuss.
Secured business loans
If your business needs to borrow between £50,000 and £750,000, you can apply for a secured loan. This lending will be guaranteed against a personal asset, such as a property that you own. If you fail to keep up with your contracted repayments, Merchant Money retains the legal right to take you to court and request that you sell your asset and settle the outstanding balance with the proceeds.
Alongside the necessity of owning an asset to secure this lending against, your business will again need to have a turnover above £350,000 per year, have been trading for a minimum of 24 months, and the longest repayment term remains 60 months. Secured loans often offer a superior interest rate, however, due to the risk management provided by the asset guarantee.
If securing your loan against a property you own but do not reside in, instead renting the property to tenants that bring in a monthly rental yield, options are enhanced. A secured loan on a tenanted property can be as high as £2,000,000 (capped at 75% of the property's value) and repaid over up to 60 months. This loan is also available to sole traders, but in either case, you must provide evidence of an established tenancy and reliable rental yield that will at least contribute to contracted repayments.
Bridging loans
Merchant Money offers bridging loans for any business customer looking to finance the purchase or refurbishment of a property. Funding between £200,000 and £2,000,000 can be raised on this basis, but the loan will only be a short-term agreement, designed to plug temporary gaps in your finances.
As a result, you will need to produce evidence of an exit strategy, such as a forthcoming property sale or substantial outstanding invoice, that will allow you to repay the loan in full. Bridging loans are not a replacement for a mortgage, and cannot be used as a sustainable long-term lending strategy to be repaid in installments.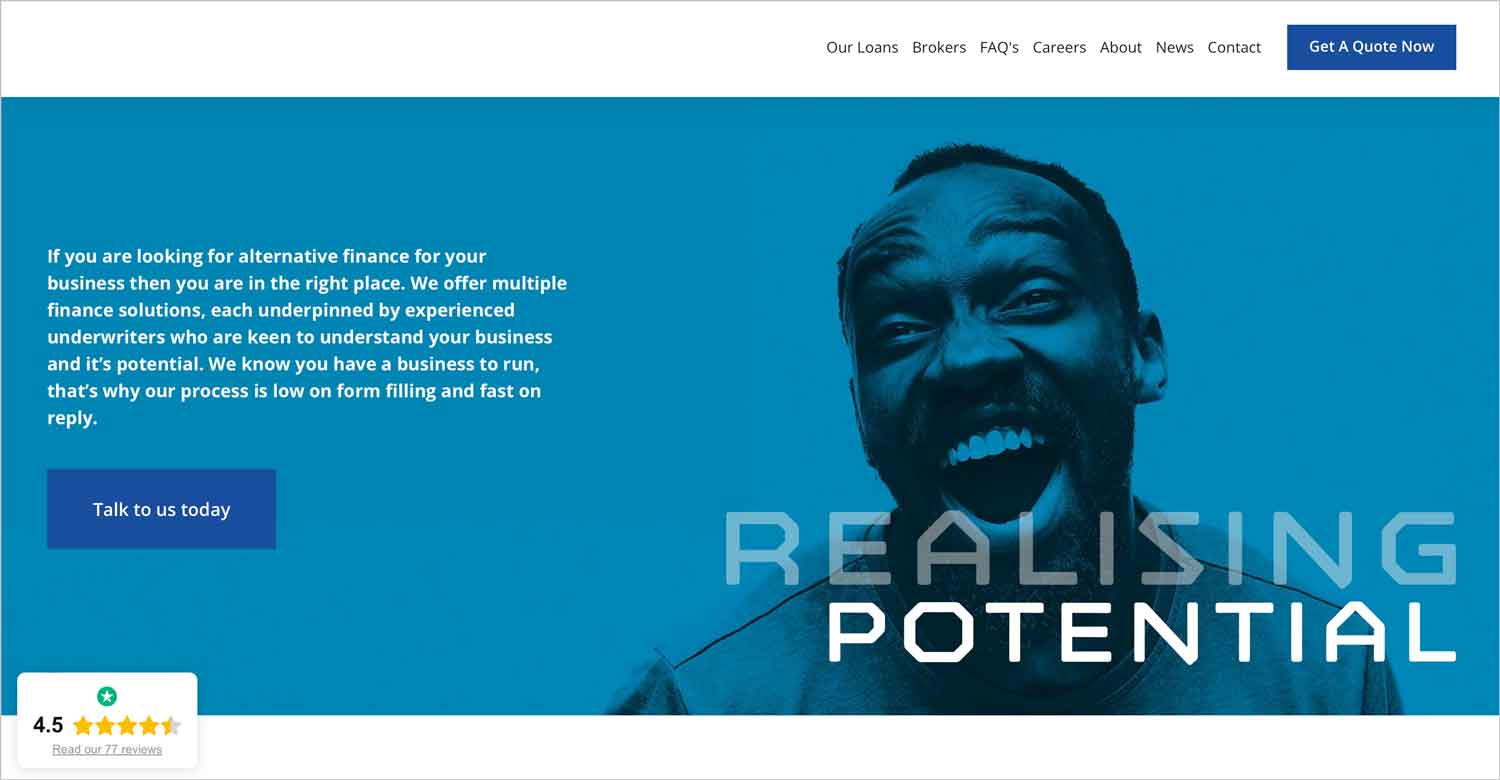 Merchant cash advance
Merchant Money also offers a cash advance service, the parameters of which are considerably more flexible than with loans. A merchant cash advance through this lender is available to sole traders and SMEs that take payments by card, and you only need to have been trading for six months.
The minimum monthly turnover for a cash advance from Merchant Money is £10,000, and you must not have any similar credit agreements in place (unless you are topping up an existing agreement with Merchant Money.)
The maximum cash advance available through Merchant Money is £150,000, but lending will be capped at 100% of your average monthly income, so if you bring in £12,000 per month, this is the most you will be eligible to borrow.
Your repayments will automatically be taken from future card sales, at a percentage agreed upon with Merchant Money. This repayment will usually be flexible, allowing you to pay less in lean months and more in periods of affluence. You will also need to pay a factor rate on top of this percentage, which will be agreed upon based on your circumstances, of 1.16% or more. The total amount repayable will be confirmed before you finalise an agreement.
Business credit cards
✗ Not available from Merchant Money. See best business credit cards. 
Asset finance
✗ Not available from Merchant Money. See best asset finance. 
Invoice finance
✗ Not available from Merchant Money. See invoice factoring. 
Commercial mortgages
✗ Not available from Merchant Money. See commercial mortgages.
Business vehicle finance
✗ Not available from Merchant Money. See business vehicle finance.
Merchant Money key information
| | |
| --- | --- |
| Phone number | 0800 848 8480 |
| App downloads | N/A – Merchant Money does not have an app |
| Website | www.merchantmoney.co.uk |
| Number of branches | N/A – Merchant Money is an online business |
| FSCS protected? | No |
| Founded | 2013 |
Key information
Merchant Money reviews
| Review platform | Score | Number of votes |
| --- | --- | --- |
| TrustPilot | 4.5/5 | 77 |
| Feefo | Not reviewed | N/A |
| Reviews.io | Not reviewed | N/A |
| Smart Money People | Not reviewed | N/A |
| Which? | Not reviewed | N/A |
| Average score | 4.5/5 | 77 total votes |
Merchant Money reviews and ratings
Business eligibility criteria
The criteria to borrow from Merchant Money varies according to the lending stream that you are looking for. Refer back to our summaries of each product to check your eligibility. However, in a nutshell, you must meet these core criteria:
Be a registered business, listed on Companies House, with at least 24 months of trading history and a minimum annual turnover of £350,000 if seeking a secured or unsecured small business loan
Be a registered business or sole trader with at least six months of trading history and a minimum monthly turnover of £10,000 through debit or credit card sales if seeking a cash advance against future transactions
Some flexibility is offered in smaller loans for sole traders, but Merchant Money does not discuss these parameters online. You will need to get in touch with the lender to discuss your options.
Business finance alternatives
Merchant Money offers a wider range of lending products than many competitors. If you are only interested in a cash advance, consider 365 Business Finance or Liberis as an alternative. If you would like to compare loans to other providers, while also retaining the options of a cash advance, Iwoca, YouLend, Capify, or Nucleus Commercial Finance are options.
Additional considerations
Merchant Money recently accrued an additional £115,000,000 in external funding, ensuring that this lender can continue offering a wide array of borrowing opportunities to a range of small businesses.
FAQ
How do I apply for funding from Merchant Money?
Head to the Merchant Money website and fill in the online application form. This should only take two minutes, and you will be contacted within an hour to confirm if you are eligible for borrowing, and furnished with a quote if so. If you wish to proceed, Merchant Money will request further documentation to support your application.
How long does it take to receive funding from Merchant Money?
Once a lending agreement is reached and contracts are signed, you should receive your money within 48 hours if applying for a loan, or 24 hours if applying for a merchant cash advance. 
Does Merchant Money work with sole traders?
Merchant Money offers business cash advances to sole traders with at least six months of trading history, assuming you process £10,000 in card sales. Sole traders can also apply for a regulated business loan for a sum below £25,000, but larger secured and unsecured loans are only open to SMEs.
Does Merchant Money lend to a business in my industry?
Merchant Money claims to consider an application for funding from any business, but reserves the right to decline lending to any business customer they consider to pose an unacceptable risk.
Will Merchant Money run a credit check when I apply for funding?
Yes, Merchant Money will run a credit check on any loan application for their own security. This will not necessarily be the deciding factor on whether you will be accepted for funding, but do keep in mind that the application will be recorded on your credit file. Merchant Money will also decline any application for lending from a business with active CCJs or bankruptcy orders.
Can I repay a loan from Merchant Money early?
If you have a loan with Merchant Money, you can repay up to 10% of the outstanding balance at any time without accruing penalty fees. If you would like to repay more, or settle the account entirely, you will be charged 2% of the outstanding balance if the loan is less than six months into the repayment term, or 1% if is within one year of opening the account.